It is no coincidence that this morning, like just about any other lately, news sources are publishing the tug-o-war between constitutionalists and those who refer to the declaratory document outlining national principles as "you know, the thing, that thing."
In particular relevance to the ongoing southern border crisis outrageously permitted to fester, law enforcement personnel overwhelm at the border bleed while the commander-in-chief's underwhelming attention span on the subject compels fume among believers in the rule of law…including the correct/legal pathway to citizenship.
Our sovereign nation's face is being black-eyed, compliments of antithetical neglectful governance by federal, state, and municipal politicos legislating on behalf of millions of non-citizens and their futures. "Sorry not sorry, citizens" seems to be the telegraph.
A lawmaker in Texas whose area of congressional representation encompasses an 800-mile stretch along the Texas/Mexico border, published an essay in which he wrote, "Our immigration system is on fire, and bad policies are fanning the flames." That implies the federal governments abdication of immigration statutes and responsibilities to enforce policies stipulated in the Constitution's spelled-out sections pertaining to pathways to citizenship legally—an invitation to the front door instead of slithering in the back door and looking over shoulders forever.
The Texas legislator cites terrifying facts which Border Patrol agents, state police officers, and local deputies have been trying to mitigate for way too long: "Although most [illegal migrants] travel to escape poor economic conditions, it is not uncommon for convicted criminals to be discovered among large groups of migrant caravans. How long before our open floodgates lead to another 9/11?"
Strong assertions, ghastly possibilities, rightly placed concerns most vulnerably experienced by those who wear justice badges charged with upholding constitutional covenants, especially the detection and apprehension of "mules" carrying narcotics destined for illegal distribution on American streets.
(Photo courtesy of U.S. Customs and Border Protection.)
Besides their killer chemistry, human trafficking enterprising by cartels and that ilk imperil lives during and after the sordid trek. Hence, the notoriously known factor is the preserve-at-all-costs mentality employed by cartel kingpins, implying nothing shy of murderous intent when encountering agents of law enforcement.
One need only look at the Department of Homeland Security, specifically U.S. Customs and Border Protection officers assaulted (some killed) working in the vast field of illegals channeling toward America. Cover and concealment are two imperative staple ingredients to every cop's survivability out in the field of operations, so working as federal agents, state troopers, county deputies, or municipal police officers thwarting illegal immigration out on desert terrain has increased vulnerabilities during duty performance, namely mortality.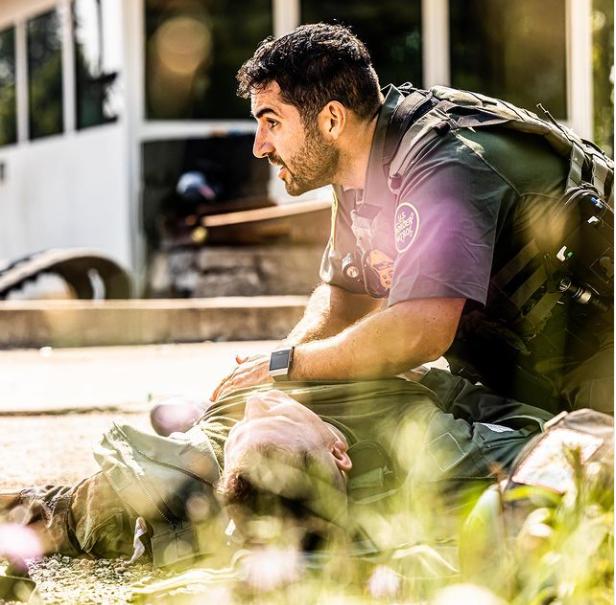 (Photo courtesy of the U.S. Border Patrol.)
A certain political party sending out invitations for illegals to make the move here is unconscionable, yet ostensibly their apparent method of galvanizing their electoral thrones.
Sometimes the proverbial beating a dead horse beckons another swing at motivations of certain governance slyly employing strategies to win additional power and retention values by essentially misguided influence over an enormous portion of people who, it is hoped, pay back the favor in the form of checking boxes for office-seeking and office-retaining politicos who are all about the numbers , never mind the trickery employed to score personal points.
Anyone can imagine how such a trait of persuading migrant individuals gazing from afar at the seeming invitation to take the torrid trek only further deteriorates the sanctity of U.S. enclaves and, frankly, needlessly burns hard-earned American dollars footing the bill via insanely adopted policy initiatives such as come one, come all RSVPs.
Emphasizing this glaringly meaty matter is one of the latest legislative actions compelling headshakes—at least it had mine rattled, giving birth to a migraine.
The NYC Council did their latest dance and gleefully proclaimed their desires to permit "non-citizens" to vote in their local election arena. From the headlines and expounded material blueprinting the legislation, many illegals could be cosseted by Big Apple darlings ostensibly enthralled by the notion of infusing overwhelmed streets with more pedestrian traffic, exacerbating roles of NYPD cops already embattled by the same government body who sought their defunding and/or outright elimination. What a modern-day horror story, that is. One among many, actually.
Indeed, New York is just one city, but it is a massive one which may ordinarily serve as a base, as a litmus test where radical notions are bottle-fed and progressives plunge wicked ways upon all, like it or not. Keep an eye on that locale, as it seeks to swell its voter base with millions of undeniable criminality otherwise known as illegal intrusions into our country.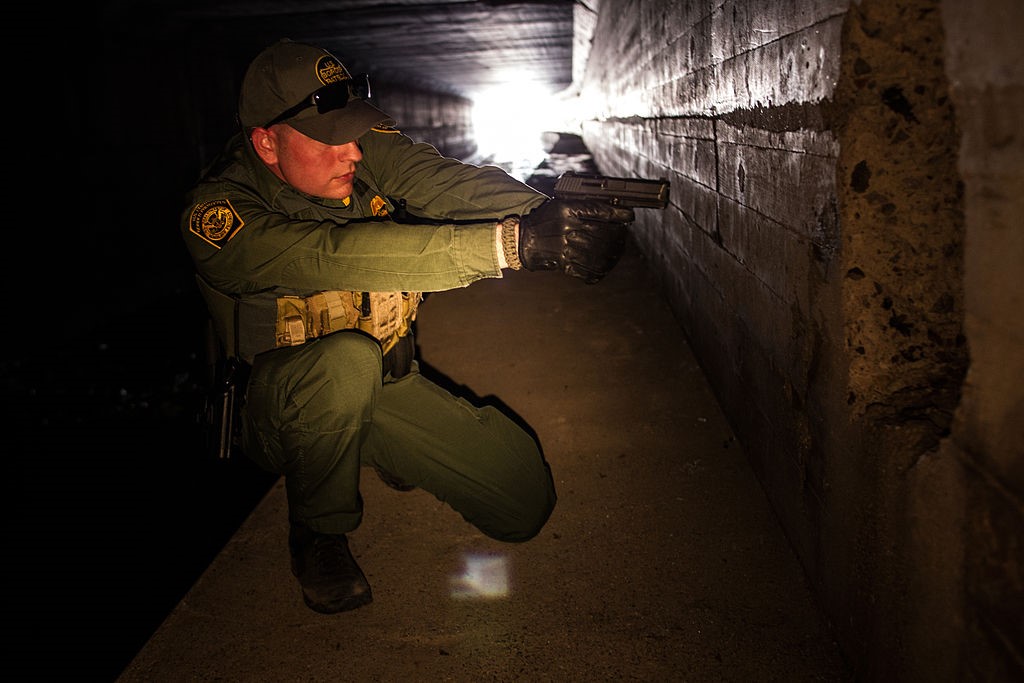 (Photo courtesy of the U.S. Customs and Border Protection.)
If American law enforcement didn't have enough to mitigate already, the magnitude of what NYC is heavily adopting and pushing through defies the rule of law, burdens public safety, and detracts from citizens' rights as accorded by the Constitution.
Bottom line: NYC's already overpopulated metropolis and its unwieldiness in terms of implementing adequate public safety will be exacerbated by millions of illegal non-citizens blending in where they have no legal basis to do so.
Picking a bone with the federal government's hands-off, selective hearing idiosyncrasies on full display, Florida's pro-police Governor Ron DeSantis once again raises the bullhorn decibel level by bellowing principles of constitutional law, effectively standing up not only for cops who are responsible for public safety but also for bona fide citizens who are law-abiding and deserve distilled, legally vetted population increases with utmost accountability.
Having been a beat cop well before the recent years' swells of illegal immigrants splashing through a still-unwalled southern threshold, the otherwise avoidable difficulties of identifying individuals driving unlawfully, violating traffic statutes and thus pedestrian lives, and/or committing crimes against persons/property…heaps more burdens upon LEOs' herculean efforts to maintain the strain.
From material pertaining to the NYC Council complicity in aiding and abetting illegal aliens by legislating it all to their liking, I am somewhat stymied by incoming newly-elected Mayor Eric Adams reportedly supporting the Council's bid to parlay political maneuvering in the name of immigration and rights to vote. None of this bodes well for the phalanx of hard-working, shortchanged, overwhelmed, under-appreciated NYPD officers continually fighting the good fight.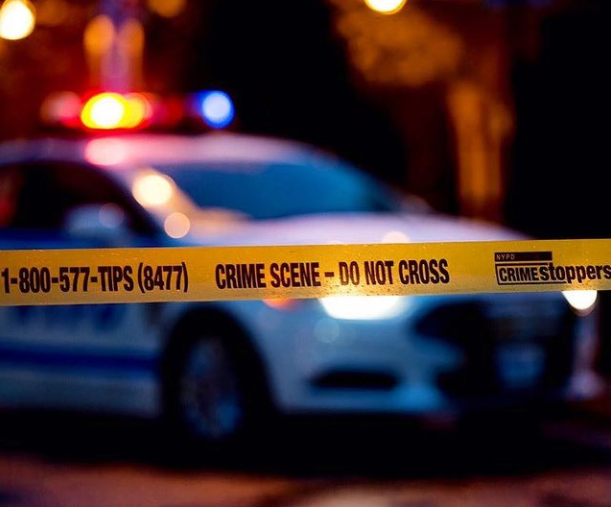 (Photo courtesy of the New York City Police Department.)
To the extent that this Council fantasy seems close to reality, I wonder if any advance notice of this in any way influenced present-day NYPD Police Commissioner Dermot Shea recently announcing his plan to retire soon. Same goes for the nation's largest municipal police agency's second-in-command, Deputy Commissioner Benjamin Tucker, who announced his retirement concurrently with Shea's public address.
Indeed, the tides are churning in NYC, and the 55,000 or so NYPD employees are closely watching events unfold while current Mayor Bill de Blasio folds his slacks and packs up before departure. The city that never sleeps needs a rest, some respite from all the chaotic actions and twisted revelations perpetuating a violent domain to ferment, otherwise defined as "political mistakes." More of the same?
It is no wonder factions of now-former NYPD cops are relocating to much smaller but receptively robust municipalities in the Sunshine State, reacquainting with respect for one of the most difficult and dangerous jobs under the sun.
While inviting police personnel from other state's where they are chronically feeling anything other than being supported and valued, Florida's political base has practically handed out keys to new, better existence as cops among any of its 67 counties, with handsome sign-on bonuses for new recruits while also providing $1000. bonuses to its pre-existing law enforcement professionals.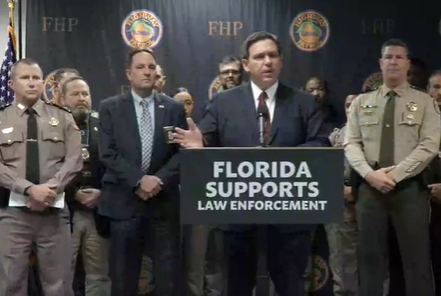 In response to the White House administration's seeming animus toward Florida governance, specifically as it relates to illegal migrants being flown and/or bussed into Sunshine State locales under cover of darkness, DeSantis caught the slider and is prepping to throw it back in the form of a "Biden Border Crisis" bill. Ready, Joe?
"In [the recently apportioned] budget, I put in $8 million for us to be able to transport people here illegally out of the state of Florida," DeSantis said in a Friday press conference. "It's somewhat tongue in cheek, but it is true, if you sent them to Delaware or Martha's Vineyard or some of these places, that border would be secure the next day."
He added: "One of the priorities that we've been working on for many months now, and we'll continue to work with the legislature when they get back, is dealing with the fallout from the reckless border policies of the Biden administration."
Bottom line: "We have a responsibility to stand up for the rule of law."
Those words are immutable concert music to any cop's ears, noting the way it ought to be, with constitutional stipulations safeguarded and citizens' rights brought forth from the backburner. In proportion to the wool being pulled over Florida's eyes, Mr. DeSantis's expository proclamations also made clear that any company which played a role in the U.S. president's sneak-fest by flying or driving in illegal immigrants will have no consideration in bids for work authorized and solicited by the state of Florida.
Let's close out today's topic with an echo from Mr. DeSantis: "It's important to know how many of these crimes are easily preventable just by having enforcement of the law."
Unequivocally yes!