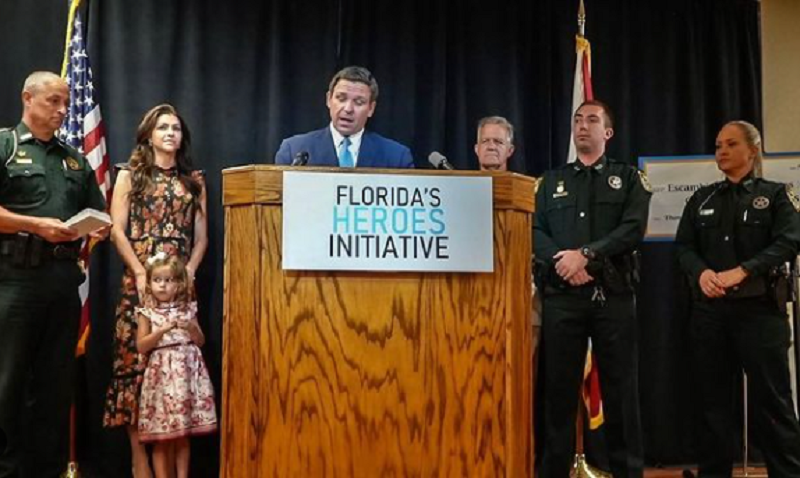 Once again, the pro-police Florida Legislature generated a robust bill to back the blue, touting "the most law enforcement-friendly state in the nation" title.
This time, it was not only pay raises and $1000 bonuses for Florida law enforcement officers (just like last year), but also $5000 signing on bonuses for cops looking to relocate away from anti-police states. Moreover, the Legislature allotted educational funds and monetary assistance for those seeking to enroll in police academies but may lack the tuition.
The additional icing on the cake this year entails non-competitive scholarships for all children of any Florida police officers or deputies. Formerly, mostly private organizations offered monetary assistance for educational ventures via a pool of competition, resulting in a board of jurors or selection committee picking only a few from the lot.
Traditionally, the Fraternal Order of Police (the nation's largest police officers' union), offered scholarships to children of law enforcement officers on a competing basis—applications were required by a deadline, from which a handful of selectees would receive monetary support for college studies.
Synonymously, private philanthropic entities fronted scholarships for cops' kids; it, too, was on a competitive basis.
In my region, the Sykes Enterprises Inc. organization, with its own skyscraper overlooking the Hillsborough River in downtown Tampa, is a company whose namesake, John H. Sykes, recognized modest police salaries could ill-afford educational pursuits for children of LEOs.
The Coy L. Sykes Memorial Scholarship Program was created and provisioned annual monetary awards to a few fortunate cops' kids who would otherwise experience shortfalls in college costs. The Sykes family experienced this personally and did something about it:
"Coy Sykes retired as Captain of the Charlotte-Mecklenburg Police Department. While Captain Sykes was unable to provide a college education for his children on the salary of a law enforcement officer, the Captain Coy L. Sykes Memorial Scholarship, sponsored by Our Heroes Foundation, has provided thousands of dollars every year to help numerous students achieve their educational aspirations. Scholarships are offered each year for full-time study at an accredited institution of the student's choice."
The Sykes Foundation also holds their annual Our Heroes Luncheon, honoring Tampa Bay first responders. Officer of the year, firefighter of the year, and paramedic of the year are categories whereby nominees are heralded and awarded for "going above and beyond" in the course of duty and "making a difference."
At every Our Heroes Luncheon, offspring of police officers are called up on stage to receive scholarships. Each selectee had to submit an application, an essay, and a demonstrably stellar high school GPA to be considered, hence the competitive basis mentioned above. (That is a glimpse of one of many private entities backing the blue and their children in the Sunshine State.)
In Florida's House Bill 3 (HB3), however, legislators structured scholarships for all children of law enforcement officers.
Pro-police Governor Ron DeSantis happily endorsed the law, saying "we're not going to demagogue them…we're not going to sit idly by [while] the media or politicians smear them."
Governor DeSantis not only cited moral support for cops but also boasted we "put money where our mouth is."
The son of a retired New York City policeman, Florida House Speaker Chris Sprowls echoed the governor, saying, "During my time as Speaker, I made it a mission to demonstrate my appreciation for our law enforcement officers not only in word, but in action."
"While other parts of the country are mistreating, marginalizing, and defunding law enforcement, in Florida we continue to prioritize and appreciate our law enforcement officers," said Governor DeSantis. "This legislation encourages Floridians to pursue careers in law enforcement and attracts high-quality law enforcement officers from other states who are sick and tired of the mistreatment they experience, [encouraging them] to bring their skills to Florida. From $1,000 scholarships to $5,000 bonuses to $25,000 adoption incentives, we are putting our money where our mouth is, and we are backing the blue."
Give a listen to the press conference expounding on the components of HB3 and Florida's diligent stance on public safety, heralding law enforcement officers who take on the mission:
Mr. DeSantis mentioned "equivalent training," otherwise known as "comparative compliance," which is a legislative measure to ensure cops relocating to Florida satisfy the Criminal Justice Standards and Training Commission criteria in abbreviated form (not having to redux the entirety of a police academy).
Generally, police training is mostly universal but states' laws vary, so it is more of a legal study, after which candidates test and garner Florida police officer certification. And Florida is providing elsewhere-certified candidates $1000. toward that requirement.
Similar to that, the back-the-blue bill stipends interested but inexperienced police aspirants tuition dollars to attend a Florida law enforcement training academy, generally "covering tuition, fees, and up to $1,000 of eligible education expenses for trainees."
Previously reported by the NPA, Florida's 67 counties entail basic police training programs offered/operated by community colleges (some with college credits upon academy completion). But the tuition has traditionally been paid out-of-pocket by prospective cadets.
Sponsorships, whereby respective law enforcement agencies vouch for and even pay tuition for a recruit with whom they are familiar (usually a civilian police employee), have largely fallen by the wayside through the years. HB3's Law Enforcement Academy Scholarship Program makes this a moot point.
As covered above, the one unorthodox but worthy element among the many wonderful features of HB3 entails a foray into the realm of subsidized adoptions by police families, helping to defray a reportedly overpopulated foster care demographic, including "special needs" children.
As a parent of an autistic child, and as a retired cop who once witnessed way too many youngsters awaiting placement in a loving home of their own, this portion of HB3 resonated as a meaningful aspect to help mitigate the population of children in the foster care system.
The governor rounded out the pro-police supportive measures with a whopping $10,000 paid to law enforcement households who adopt a child. Conversely, the state will pay $25k per year to police families to subsidize "special needs" adoptions and care.
Florida's top cop, Attorney General Ashley Moody offered the following sentiments: "Florida is the most pro-law enforcement state in the nation, and this new law is the perfect example of how our leaders back the blue. As the wife of a law enforcement officer, it is so important to me that we support the courageous men and women who swear an oath to protect and serve. This law does that and will also boost law enforcement recruitment efforts through our Be A Florida Hero initiative. Thank you, Governor DeSantis, and each and every member who voted for this important legislation."
Let's close with a pledge from Florida Rep. Tom Leek, who said, "We want the men and women of law-enforcement to know that we support you, we respect you, and we appreciate you. In Florida, we don't defund the police. Not today. Not tomorrow. Not ever."