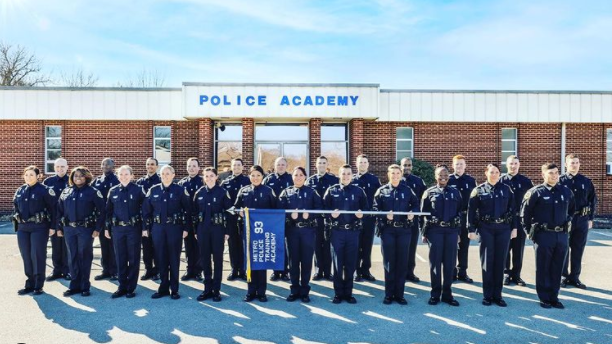 Like the mountain goats who scale rocky ledges and push to new highs, determined souls join police academies and discover untapped energy levels and skillsets to help keep them alive on the job. With the reduction of police staffing due to anti-cop idiocy compelling cops to depart the profession, these freshly minted law enforcement officers are saviors preparing to mitigate out-of-control criminality.
Much like we witnessed post-9/11, with scores of young folks enlisting for military duty to combat terrorism and snuff out bad actors abroad, police academies are graduating cadets and refilling seats with fresh recruits. Although the ratios vary from one jurisdiction to the next, police posts are consistently populating social media forums, hailing those who made the grade after months of demanding rigors shaped them into police professionals readied for street duty.
The largest among the lot is the NYPD which ordinarily transforms batches of cadets by the hundreds. Conversely, much smaller police departments, anywhere from a dozen officers or just one new hire, are also employing/deploying new officers in their respective neck of the woods.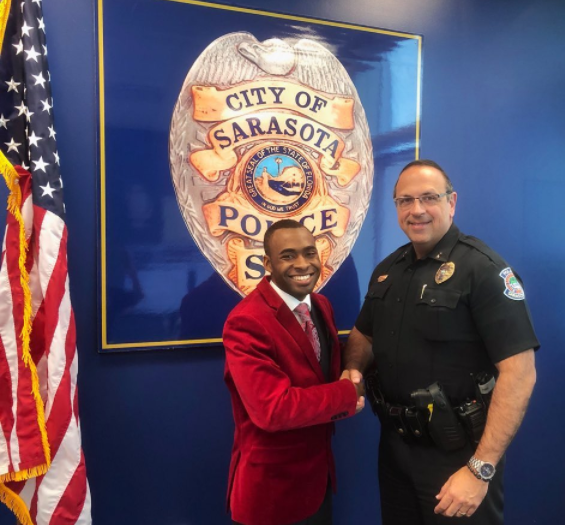 (Photo courtesy of the Sarasota Police Department.)
Although the Great Reset comes with new tunes, the song remains the same at academies churning out America's public safety pros: up at the crack of dawn, attentive formation for flag raising and its allegiance, then onto strict criminal justice academics bolstered by physical realms and highly attuned mindsets dedicated to public service. To paraphrase from Bryan Adams, these were some of the best days of my life. The regimens situationally tailored for police academy cadets is some of the best conditioning.
But it is not all peachy…
Pepper Spray Day  
Generally, throughout the course of one day, every police cadet in my academy class mandatorily endured being doused with OC spray (oleoresin capsicum aka pepper spray). Deployed by an academy instructor, a direct stream to the eyes. It was a painful way to completely clear out sinus gunk, but effective. The objective was to experience what potential suspects will feel when a cop uses the hot stuff. In rotation, one half of the academy class would get doused in the morning while the other half stood over tubs of cold water, then reverse roles. As a sinus sufferer since relocating to Florida, I appreciated the immediately effective remedy (after the stinging subsided).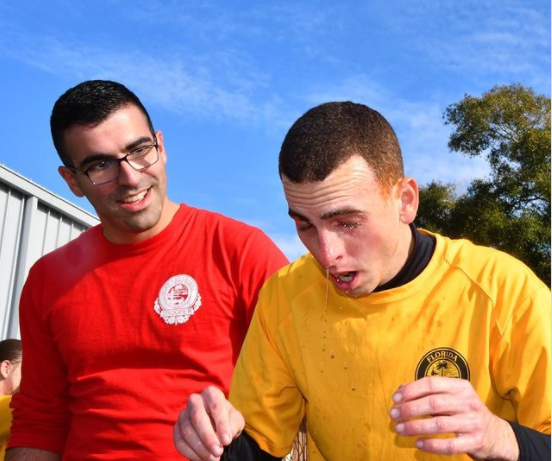 (Photo courtesy of the Florida Highway Patrol Training Academy.)
Given the oft-referenced "paramilitary" design and rituals derived from our U.S. Armed Forces, police cadets meet muster in a highly disciplined fashion.
Although localized academies have training sessions reminiscent of a business week schedule and dismiss cadets when the playbook is exhausted for the day, federal and state law enforcement academies house their ranks in barracks. A few rungs above cots, standard beds are made with precision before the class convenes at the flagpole. After, the studies and physical realms commence. This design is the minority. Most academies are county-level, some operating their own public safety academies while many are actually conducted by criminal justice institutes conducted by community colleges. Florida has such a model.
Almost all of Florida's 67 counties run a Basic Law Enforcement Training (BLET) program designed to mold police cadets and teach them state-mandated materials composed by the Criminal Justice Standards and Training Commission (CJSTC). This means that prospective academy cadets independently apply to the community college's criminal justice program; upon completion, a graduation certificate is garnered. Official police officer certification, though, is conferred once academy graduates successfully pass the state police officer examination—when I tested, roughly six hours was the time limit to complete it all, then wait on the state to post results. Anyone underperforming was eligible to sign up and retest at future dates. A lot goes into tailoring future cops.
The image depicting the Sarasota police chief shaking hands with a police recruit is an example of a "conditional offer" pending final details (such as a state certification after success on the exam). Sarasota PD posted the following: "WELCOME TO OUR SPD FAMILY. Jordan Davenport received a conditional offer from Interim Chief Troche this morning at our Headquarters. Jordan is attending the Southwest Florida Public Service Academy in Fort Myers and will graduate in April."
The Southwest Florida Public Service Academy is "an extension of Ft. Myers Technical College [and] is comprised of two separate Public Safety Academies: The Southwest Florida Criminal Justice Academy and The Southwest Florida Fire Academy."
Like most law enforcement agencies implement nowadays, criminal justice programs conducted by community colleges entail screening and background checks, including polygraphs. Certainly want to ensure only the best of the crop gains entry accordingly. This method, different than vetting and acceptance by federal and state agencies (some metropolis PDs also operate their own academies, but they're few in number) which compensate cadets at their academies, comes at a cost to applicants at the county community college level.
Albeit inadvertently, the cost factor may be counterproductive in the overall effort to attract police academy applicants. The number of otherwise qualified candidates may forego such a career due to inability to afford the academy tuition (SW Florida Public Service Academy tuition is $3,535.40 for in-state and $10,971.45 out-of-state.
Conversely, the minority of academies paying cadets (tax dollars) who screened well and made the cut may likely realize more applicants than the majority of college-operated programs which charge tuition rates. Makes for a robust study.
There is a middle-ground, though.
Sponsorship
One way to get into the academy, at no expense to self, is by being sponsored by a law enforcement agency whose command staff have had an eye-witness account of a prospect in whom to invest. Generally, civilian staff hired to support operations and facilitate the mission (think dispatchers), and who harbor desires to become a sworn police officer, are sometimes offered a sponsorship to the academy. In exchange, the sponsored individual agrees to serve for a period of a minimum of a few years, akin to a barter arrangement. This is how I was able to enter the academy (albeit in two part-time segments) while also continuing to serve in civilian capacity for a salary.
In this context, the agency already had the breadth of a typical background investigation completed, only updating it by doing a brush-up review. Another plus was that, upon completion, each academy cadet scored 30 college credits. That extra benefit positioned cadets to further their general education, potentially procuring a two-year degree. At that time, some police agencies in my area required at least an Associates degree to be considered for hire.
The Vegas Valley Police Academy in Las Vegas recently had an academy class of 12 recruits, some of whom were from varying law enforcement agencies being sponsored by respective police departments, denoted by different shoulder patches upon uniforms: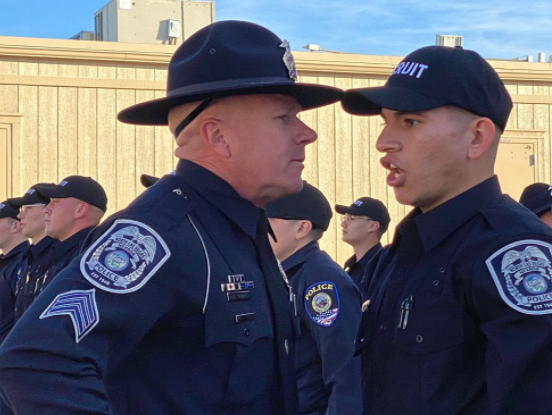 (Photo courtesy of the North Las Vegas Police Department.)
No matter the variables and rituals and/or costs to get it accomplished, academies are filling seats. Given our complicated climate nowadays, and cops constantly subjected to scrutiny even when it has zero basis, body-worn cameras are a thing. Basic law enforcement instruction now may also include instruction on body-worn cams, their usability, and constituted privacy concerns. Instrumentally, though, cops donning these recording devices outs liars and false reporters attempting to twist truth and jam up police officials.
(Photo courtesy of the New York State Police.)
Per the New York State Police academy officials, body-worn cameras made their way into instructional manuals and onto the chests of cadets: "Members of the 210th Basic School are trained on and issued body worn cameras they will use on patrol after graduation. Body-worn cameras are an important tool that not only reinforce public confidence in the great work our Troopers do every day, but also serve as a critically important investigative tool. The use of this technology will provide real benefits to the communities we serve."
Speculatively, the police academy materials I have been culling may offset some of the recently mentioned deficits of cops, stemming from the exodus from jurisdictions where they felt devalued/demoralized. Even though the FBI maintains reams of census-type data, including the number and distribution of law enforcement officers throughout the United States, by the time they go to press and publish the specifics, the info is already altered by movements in demographics and for any number of reasons.
In any event, we can attest academies of all sizes and levels are receiving and churning new cops to help mitigate the shortfalls in policing. Despite the hurdles encountered by academy candidates, it speaks volumes about each interested party who, notwithstanding any expense, nevertheless enter a training regimen toward fulfilling a life-threatening role on increasingly violent streets.
Overall, police academies are hugely thrilling and fun, especially made so by fantastic instructors either retired from law enforcement or actively engaged in police duties, each offering to new faces focused on donning a justice badge in a highly important career…when citizens need it most.