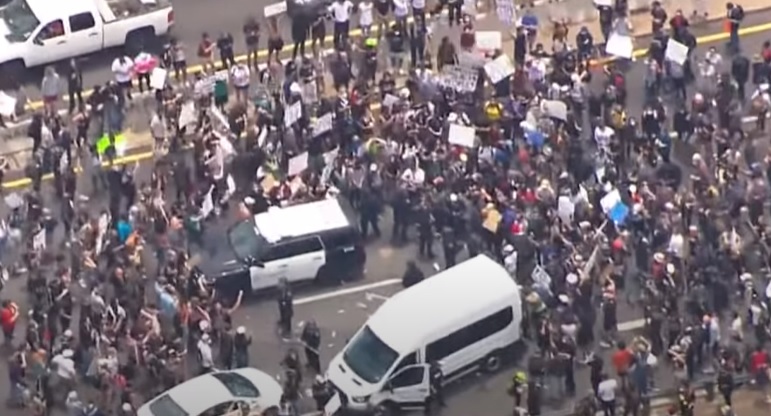 Austin, Texas Police Chief Joseph Chacon stepped up to the microphone to slam the public announcement of his officers' indictments for their actions during riot conditions. "I am disappointed to hear the D.A.'s press conference statements regarding anticipated indictments related to the 2020 protests. As a department, we asked officers to work under the most chaotic of circumstances in May 2020 and to make split-second decisions to protect all participants. There were significant portions of times that the crowds were riotous and violent," he said. "I am not aware of any conduct that, given the circumstances, these officers were working under would rise to the level of a criminal violation by these officers."
As the old saying goes, a D.A. could get a grand jury to indict a ham sandwich, an indication of the sway a prosecutor has in seeking charges. This particular district attorney is notoriously in the camp of many around the country whose hope and purpose is the persecution of police officers.
Protests related to the death of George Floyd spread to over 2000 towns, some of which resulted in a record-breaking loss of up to 2 billion dollars and dozens of deaths. The extent of violence and destruction is that over 14,000 people were arrested in connection with the nearly six hundred identified riots that sometimes accompanied the many peaceful protests. Many prosecutors routinely dropped charges of those arrested even when assault and property damage was evident. Some prosecutors announced in advance that there would be little criminal prosecution.
The Austin Police Association (APA) president Ken Casaday released a statement claiming politicization of the announcement. "The district attorney is using this case to drive voters to the polls, He is driving people to vote for a far-left radical ex-city councilman who is running for Congress. Greg Casar did more to ruin the city of Austin through spearheading the defunding of the police movement more than anyone else in the history of the city of Austin, and DA José Garza is following in his footsteps. If there are officers who have done something wrong we understand, but these officers were only doing what they were told to do with the equipment the city of Austin provided them during those days of the riots."
Recalling the intensity and persistence of frightening disturbances across the country. Police officers, often understaffed, fatigued, without appropriate protective gear, and restricted by restraints from judges and politicians, faced immeasurable dangers. During the height of the protests, APA reported on Facebook "We are so proud of the Officers of APD! Yesterday, they took on massive crowds who were rioting and blocking Interstate 35 and other roadways. The protest began peacefully, but quickly got out of control when Antifa types started to agitate the crowd." In May of 2020 Fox news 7 of Austin reported that "Protesters threw rocks, bottles, paint, and other dangerous items at police officers. Officers responded with pepper spray, rubber bullets, and bean bag rounds in an attempt to control the crowds of protesters. A few fires were also set near APD headquarters. One vehicle was doused with gasoline, a dumpster for a gas station nearby was also set on fire. Restaurants and stores on Dirty Sixth Street were also damaged and vandalized."
At the time Casady urged officers not to report for duty "unless they get the equipment needed to protect themselves and citizens during those protests. Now, they've taken our abilities to deal with riots and people that are creating havoc in our city. They've taken our CS gas away … which hurt nobody on the interstate that day. The people left in about five seconds. It was a very effective tool."
An August 13, 2020 headline in the Texas Tribune read "Austin City Council cuts police department budget by one-third". A year later, a September headline on the KVEU television website read "With 60 homicides this year, Austin reaches all-time high". Of course, police critics refuse to acknowledge a cause-effect relationship between the two headlines. But Travis County District Attorney Garza apparently thinks prosecuting police officers from the front lines of rioting by imported antagonists is good for Austin.
Elections have consequences, and public safety is among them.