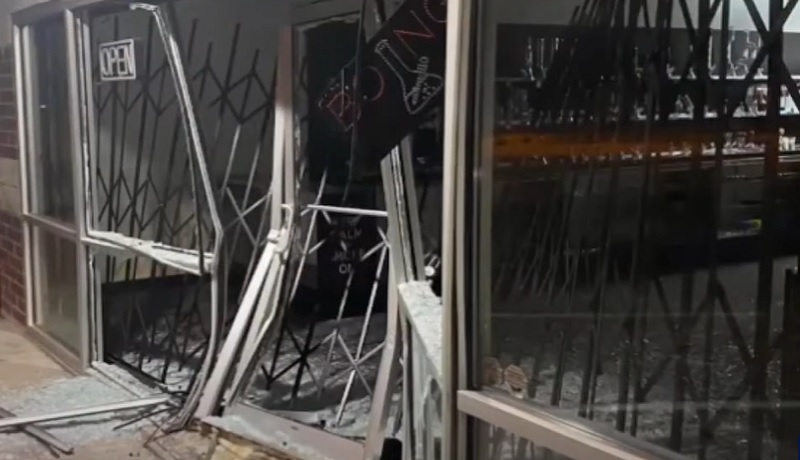 By Steve Pomper
We recently celebrated the rare cops allowed to do their jobs. The Pyramid Lake Paiute Nation's Nevada Rangers freed multitudes of drivers whom climate radicals had blocked on a hot desert highway.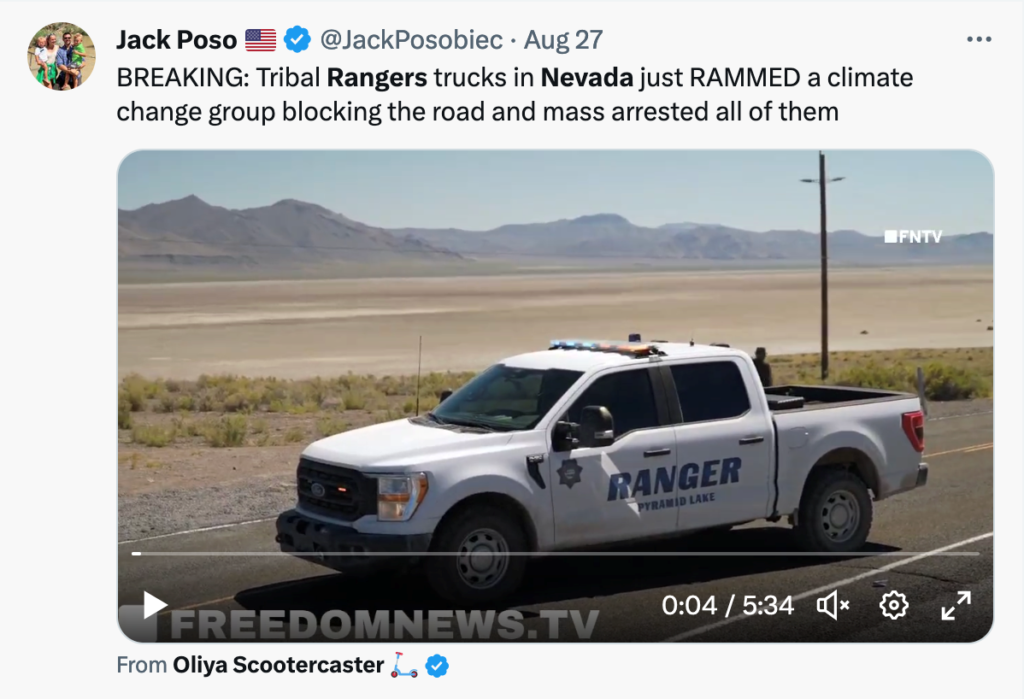 There's another example of traditional policing encouraged by a young, resolute, and innovative Washington State sheriff. Thurston County Sheriff Derek Sanders (maybe the state's youngest ever sheriff, at 29 when elected) has had it with "police reform laws" that hinder cops while encouraging criminals. The county, about 60 miles south of Seattle, includes the leftist lunatic state capital of Olympia.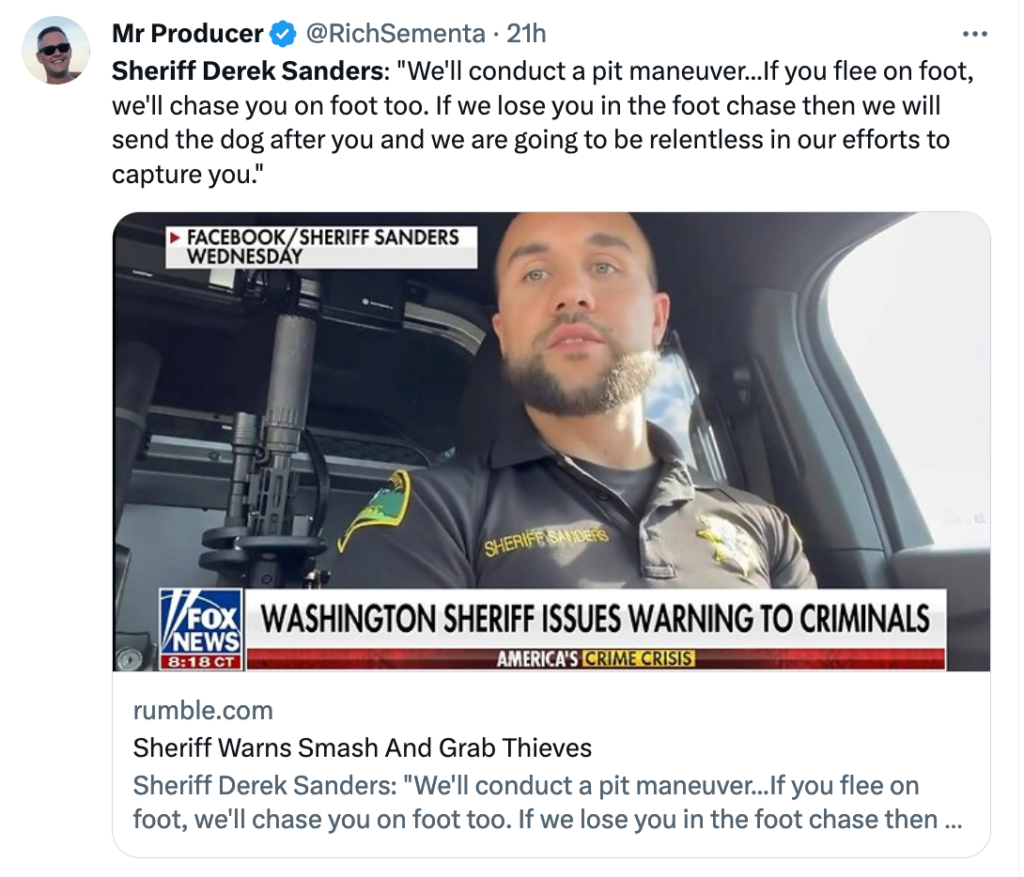 Sheriff Sanders recently advised bad guys, "If you're planning on coming over to Thurston County [WA] with your buddies to do a bunch of damage to our businesses and flee from the scene… we are now going to chase you."
How ridiculous that any American sheriff needs to utter words society once took for granted. Cops chase robbers. At least that's how my childhood friends and I played the game.
But before we learn more about this sheriff, a recent incident may have been that straw-camel's back thing. The incident illustrates Washington's criminal injustice system under Gov. Jay Inslee's (head climate commie) cop-hating tyranny.
The Chronicle's Mitchell Roland wrote an article titled "Lawmakers blast lack of bail after arrest following high-speed pursuit in Thurston County." The state reps blasted the Thurston County superior court judge for releasing an 18-year-old felony suspect without bail. The sheriff arrested him after he'd allegedly committed three felonies and a misdemeanor, including leading cops on a perilous, high-speed pursuit.
WA. State Rep. Travis Coture (R-Allyn) said this is a "growing problem that sends a clear message to criminals that their actions have no consequences and Washington will not hold them accountable. If we don't change that message soon, our families will become more at risk than they already are."
Fellow 35th District State Rep. Dan Griffey (R-Allyn) also "criticized the decision of [the]… judge. The teen was booked for eluding police, possession of a stolen vehicle, unlawful possession of marijuana with intent to deliver, and a misdemeanor hit-and-run charge following an Aug. 16 pursuit and crash."
Griffey added, "If you break the law in Washington state, you must be held accountable — it's that simple." He said such releases not only encourage more crime but also draw more criminals to this state.
The sad state of Washington's politically (not public safety) motivated pursuit laws provoked Sheriff Sanders to dissect them. Though cops were allowed to pursue in the above case, the pursuit restrictions are a crucial issue. They allow criminals to escape.
When I said, "the sheriff arrested…," I was being literal. The hands-on Sheriff Sanders was personally involved in the suspect's arrest (captured on police video). They (with a K-9's help) found him hiding in a Honey Bucket.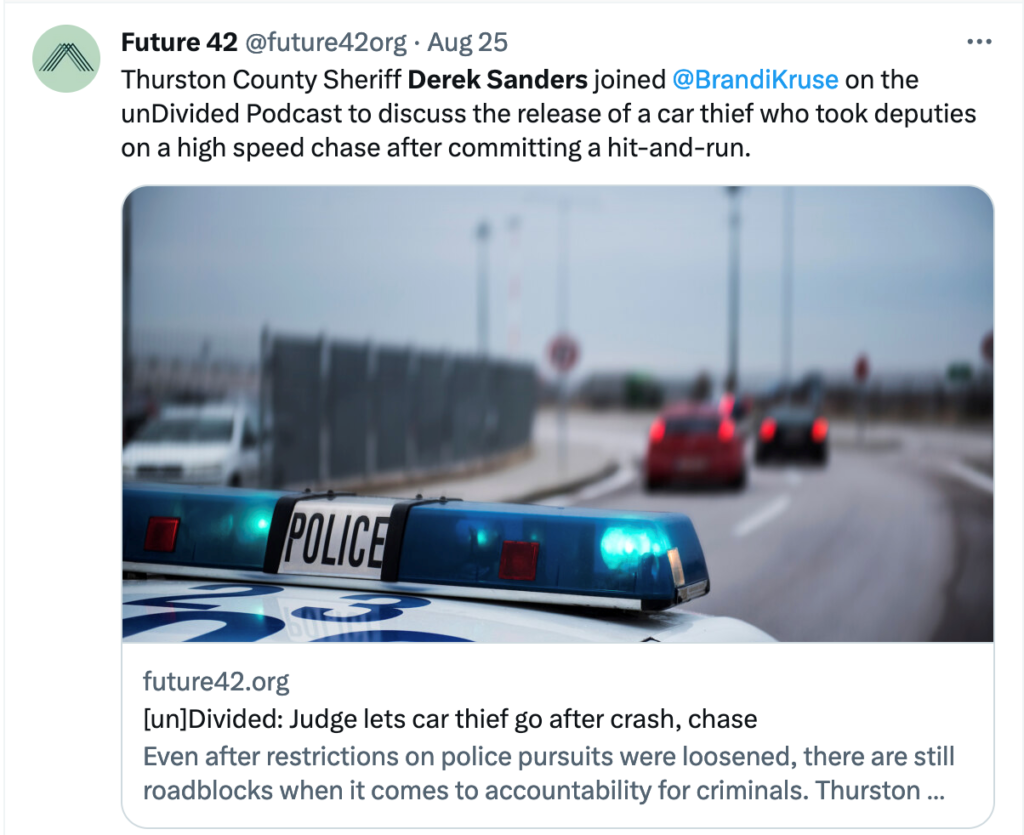 On Rumble, Sheriff Sanders tells bad guys, "We'll conduct a pit maneuver…If you flee on foot, we'll chase you on foot too. If we lose you in the foot chase then we will send the dog after you and we are going to be relentless in our efforts to capture you."
According to FOX News 13's Jennifer Dowling, in response to "reform" laws passed in 2021, spurred by anti-police politicians and activists, Sheriff Sanders reassessed the laws in a broader context.
The sheriff contacted the Thurston County Prosecuting Attorney and after scrutinizing the law, they agreed on a new analysis for deputies. The TCSO now considers these vehicle smash and grabs to be First-Degree burglaries, a Class A felony. "It's as serious as it gets," Sheriff Sanders said. They're using cars as "'deadly weapons,' putting the crime in a different category and making it a pursuable offense."
Suspects using stolen vehicles to smash into a pot shop and a pipe store prompted Sheriff Sanders' warning criminals to avoid Thurston County. Unsurprisingly, "Both of the cars used… were stolen out of Seattle [whose cops' ability to pursue suspects has been grievously limited for well over a decade]."
The sheriff described the businesses as looking "like an IED went off in the building and just blew it apart." He believes it cannot be argued that a vehicle used like this is a "deadly weapon…" or that crashing a car into a store not knowing (caring) if people are inside is "deadly force."
The sheriff added, "It's home invasion burglary. It's the home takeover. It [First-Degree burglary] does not talk about someone being in the building when the burglary occurred." If you park the car outside and then burglarize the store, not a deadly weapon. But if you ram two tons of Ford through the front door, then you possessed a deadly weapon during a burglary.
Sheriff Sanders is concerned about small business owners experiencing irreplaceable losses (so much for those who say, "It's only property that can easily be replaced"). He said, "We're not seeing the Walmart's get hit [it] is the little marijuana stores, the little boutique stores, and they are the ones least likely to recover from it."
The sheriff said this legal interpretation does not take away his deputies' discretion who still decide whether to pursue based on the circumstances at the time. But the sheriff wants his cops to have "more options to prevent crimes like this from happening in the future."
Amazing! A top cop and prosecutor who want to enforce the law. Oh, how that must make the anti-cop radicals squirm and the good, taxpaying, law-abiding Americans celebrate.