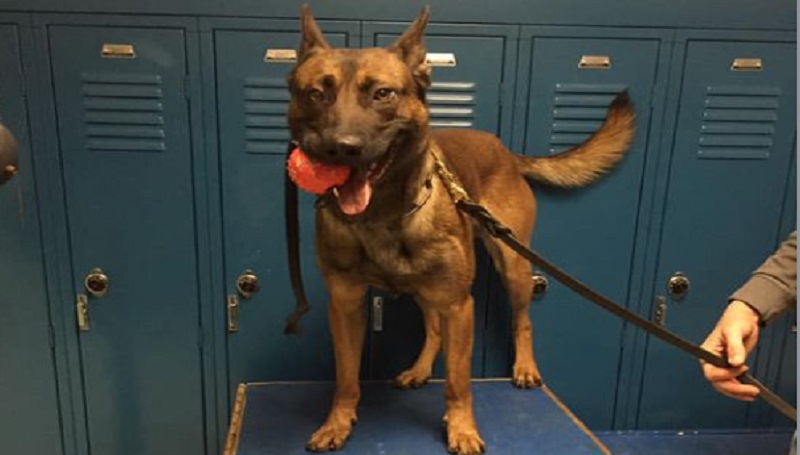 There are boundless energies in our nation's police canines, unfailingly illustrated in these hard-charging working dogs that advance police work. Sometimes they are injured in the line of duty…and just do what they do best: Keep fighting.
Indianapolis Metropolitan Police Department (IMPD) K9 Ringo is one such example…and he showed us what he is made of when he walked out of the emergency animal hospital on all fours, shaved in patches, stitched up here and there, tongue exposed, likely sniffing the air for wafts of his fave toys.
(Photo courtesy of the Indianapolis Metropolitan Police Department K9 Association.)
According to WISH-TV, "K-9 Ringo's road to recovery started after he was attacked and stabbed by burglary suspect Brandon Ramirez at Green's Auto and Truck Service on Friday," September 1, 2023, which happens to be National Police Dog Day.
"The injuries were very significant," declared IMPD Lt. Melissa Moody, who heads the agency's K9 unit.
Indianapolis reporter Kody Fisher explained the sequence of events leading up to a canine cop's life on the brink: "When K-9 Ringo's handler released him to go after the suspect who refused to exit the business [peacefully surrender], he was allegedly stabbed three times by Ramirez with a large knife. Ringo was rushed to IndyVet in critical condition."
Here is what Indianapolis-area media reported:
As I've said amply throughout the years, police canines are bastions of battle-ready crimefighting and suspect-apprehending prowess, often putting ends to otherwise volatile situations by merely barking/alerting their presence, usually helping bad actors to capitulate without further hubbub.
That is ideally the primary strategy of law enforcement organizations investing in and employing dogs in the policing profession. Optimizing outcomes is a part of the playbook. Prepping for less-than-ideal results is a principled covenant weaved into any police officer's oath.
Speaking on this particular police incident, Lt. Moody's statement encompasses all of American law enforcement about canine cops and the unbridled bravery and fortitude, holding the hill until the mission is accomplished, albeit sometimes with casualties…
"Any time we actively go in and look for people, we know that there's an inherent risk, and we accept that and so do our partners, every day that we come into work. But this really brought it home, that it is a real reality for us," Lt. Moody offered.
Seemingly, there is an endless supply of knuckleheads who foolishly chance a fight…one with unfavorable odds. In this case, an evildoer brandished a blade and maliciously hacked at a certified police animal. While human counterparts mitigated the evolving event and eventually placed the burglar with a blade in custody, K9 Ringo was rushed to IndyVet.
Lt. Moody fills us in…
"The two doctors that worked on Ringo came in from their homes and I think he was in surgery for about 5 hours. I mean, they worked really hard to save his life," she said.
"If you would have told me this Friday night, I would have been astounded that he'd be walking out or being able to leave the vet's office on Tuesday," added Lt. Moody.
From the pages of the Indianapolis Police, we glean the hoped-for rebound of a dedicated crimefighter who battled back to walk the walk:
"After a challenging time, we're thrilled to announce that our hero, K9 Ringo, is now safe and sound at home.


"Ringo is a 6-year-old Belgian Malinois who has faithfully served the IMPD for four incredible years as a dedicated patrol dog.

"K9 Ringo played a vital role in helping our officers search for individuals wanted for felonies or armed with weapons.

"Now, Ringo is embarking on a journey of recovery, surrounded by love and care. It will be decided at a later time whether he will return to his duty, but for now, our focus is on his well-being and ensuring he enjoys a happy life at home.

"We want to extend our heartfelt gratitude to all those who supported K9 Ringo during his time at IndyVet, and to our amazing law enforcement officers who work tirelessly every day to protect our city."
It's a pretty heartening story stemming from bittersweet circumstances posed by armed criminality.
The bonds between canine and human badge-holders are unbreakable, both on- and off-duty.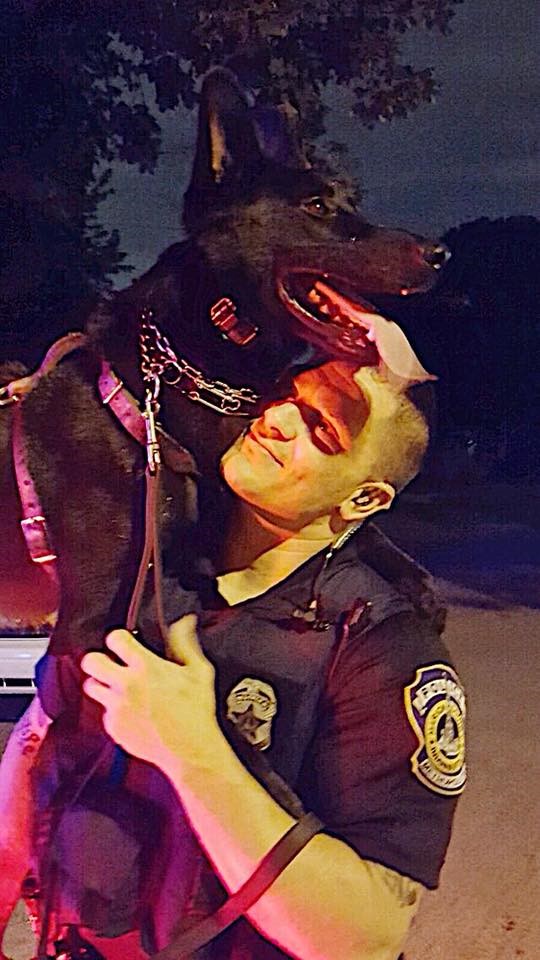 (Photo courtesy of the Indianapolis Metropolitan Police Department K9 Association.)
In circumstances such as K9 Ringo's, his handler, IMPD administrators, and Lt. Moody will acutely monitor the animal's recovery process and rehabilitation efforts, factoring into a decision of returning to active duty or retirement.
It is a difficult crossroads…and time will tell. I think everyone can agree that K9 Ringo served well and has no bones about putting up a great fight for the right reasons, all on behalf of citizens and police partners.