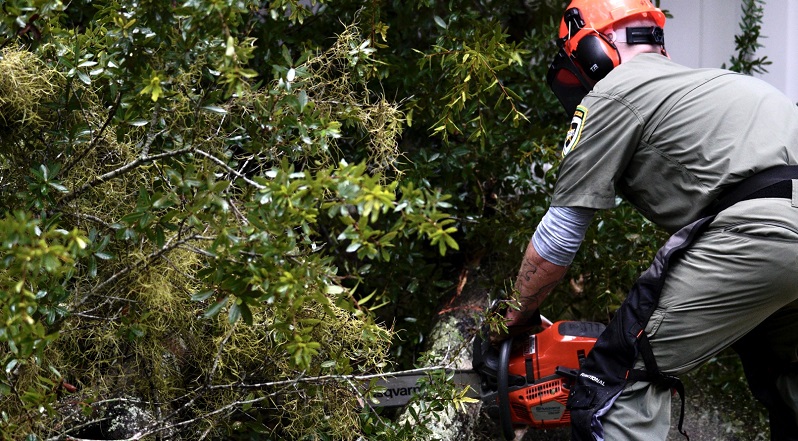 Hurricane Idalia moved swiftly along the Gulf Coast of Florida before creeping inland at the Sunshine State's "armpit" (otherwise known as the Big Bend, where the coast curves) before flattening the city of Perry and others in the region. Even before that instance, first responders whose jurisdictions were spared already had a playbook formed to pack equipment and gather staff to trek into treacherous terrain (cars tossed by tornadoes) to help other local governments and citizens recover from the devastation.
Given that we are in hurricane season and have experienced some catastrophic weather conditions over the years, Florida's first responders are no strangers to search-and-rescue and general rebuilds, bringing themselves and resources to affected folks to start anew. (Even first responders from the Big Apple are among the mix of rescuers; we'll cover that in a moment.)
From the state-level agencies, the Florida Department of Law Enforcement (FDLE) packed and shipped a contingent of agents ordinarily focused on training the state's officers.
"Normally, FDLE's Sworn Training Unit (STU) teaches Florida officers how to respond to active shooter and ambush situations. But when a hurricane hits, they put their chainsaw skills to use. Members of STU deploy, making temporary, emergency repairs to the homes of first responders so they can quickly get back to work serving the citizens of Florida," an FDLE spokesperson offered.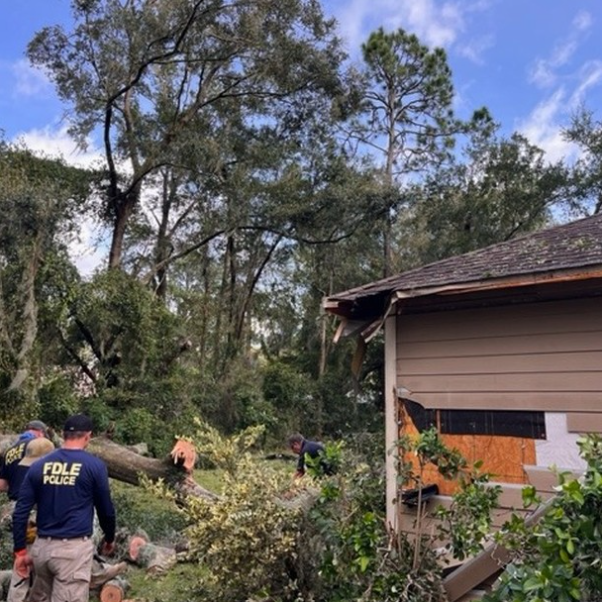 (Photo courtesy of the Florida Department of Law Enforcement.)
Before all that, FDLE's sworn and civilian personnel gather in any of their regional hubs serving as emergency operations centers (EOCs) populated by various government officials working together toward the common goal of public safety.
It is within these EOCs that the overall situation is scrutinized by trained and experienced professionals, like players attuned to a chess board, except the mission is no game. With many lives confronting catastrophe and potential of property destruction levied by hurricane-force winds plowing through at breakneck speed, often changing course (spaghetti models) and upending any plans made by first responders, years at the helm of combatting inclement weather still get challenges.
Mother Nature is notorious for being highly unpredictable, thus an all-hands-on-deck approach transpires in situation rooms, with an array of public safety pros serving others' families while theirs are fending homesteads.
Coordinated efforts such as these are commonplace in a state that is almost an island. A good reason why the FDLE also has a Mutual Aid Team (MAT) designed to aggregate resources and deploy them to hard-hit regions.
"FDLE's mutual aid team is coordinating Florida's law enforcement response with dozens of missions including helping with evacuation and pre-staging resources ahead of Hurricane Idalia." This centralized method is akin to playing chess, scrutinizing all the pieces on the playing board (except it is not a game), constantly reassessing the life-saving mission, and continually ensuring concentrations of first responders are distributed accordingly.
With that, here is an example of how the law enforcement community manifests resources and dispatches where aid is most needed: Direct-hit jurisdictions). And that circles back to the city of Perry and the modest 22,000 population in Taylor County, Florida, a hurricane-bombarded beachhead the state EOC figureheads listed as a primary locale needing reinforcements and resources…
A few counties east of me is the Volusia County Sheriff's Office headed by Mike Chitwood. His spokesperson wrote the following about first responders saddling up as Hurricane Idalia spared them and was carving through other parts of Florida, namely Taylor County:
"Help is on the way from Volusia to Taylor County, where Hurricane Idalia made landfall.

"A team of VSO deputies and Edgewater police officers hit the road this afternoon and will be boots on the ground shortly.

"From Sheriff Chitwood, EPD Chief Mahoney, and all of us here at home, thank you, and come home safe!"
Sheriff Chitwood addressed the media and described the "voluntary" effort of his sworn/civilian personnel:
"The Good Lord spared us and now it's our turn to repay the favor. We are being deployed to Perry, Florida. We have 12 deputies who are heading up, [along with officers from Edgewater PD], as you just met, and the captain's mom who runs a technical college. She is the only one that I think has power up there," adding, "We'll probably be the first boots on the ground up there."
The police captain's mom Sheriff Chitwood referred to said this: "Thank you all very much for what you do."
Edgewater police Chief Mahoney offered, "We were spared here in Volusia County, you know, from significant impacts of the storm. So, we're eager. We're sending five police officers who volunteered to put their personal lives on hold to go help out Taylor County. So I'm proud of them and I think teamed up with Volusia [deputies], we're going to do a bang-up job up there in Taylor."
As a policeman, I've been on both sides of hurricane seasons, either among the machinations of public safety assets deploying to torn territories or as a civilian whose personal property was bombarded by natural fury.
In the former context, cadres of cops are summoned by EOC officials and deployed for a stay to be determined by emergency operations managers under the governor's office. I served on behalf of the city of Bowling Greem, Florida for a three-week stint after Hurricane Jeanne in 2004 decimated their city and flattened their police HQ. Municipal or county-level LEOs are deputized to provide police services outside their regular jurisdictional boundaries, all governed by state-level authority and oversight.
In the latter context, as a retired cop/civilian, a recently-moved-in neighbor, a deputy with a neighboring county sheriff's office, was just released from many hours across several days of duty after Hurricane Irma blew through, yanking a mature tree from my front yard and tossing it like a toothpick. The only problem was…a portion of the tree lay across the trunk of my car. I didn't have the power tools to chunk this large tree, properly dispose of it, and free my auto. But the deputy did…
With a fatigued facial expression, exhibiting many hours of toil on his uniform, this deputy discreetly sized up my situation, armed himself with his chainsaw, and quietly traipsed across the street to chunk my fallen timber. That was how we met, new neighbors sharing common bonds, the primary of which was a first responder's servant heart…coming to the rescue of others.
I imagine the Bowling Green cops, forlornly gazing upon their flattened Headquarters marked by a rectangular "Police Department" sign swinging from the only still-standing, rusted-metal rafter, harbored the same sentiments influenced by a brush with death teased by natural disaster.
As Sheriff Chitwood conveyed: "…I'm honored that my folks behind me volunteered to be up there for a seven-day deployment. Edgewater [cops] jumped right on board, to get all their equipment in, so there will be a total of 17 law enforcement officers from Volusia County up there doing everything that we can for the residents of Perry, Florida."
Similarly, deputies in Jackson County, Florida, who dealt with the blow of Hurricane Michael in 2018, were aided by other police organizations. Now, they packed, prayed, and hit the road to the Big Bend region: "…people flooded in to help us. Now we're able to pay it forward and help those impacted by Hurricane Idalia. Small town proud."
The all-sworn Jackson County-certified chainsaw gang arrived and cleared trees bowled over by Idalia.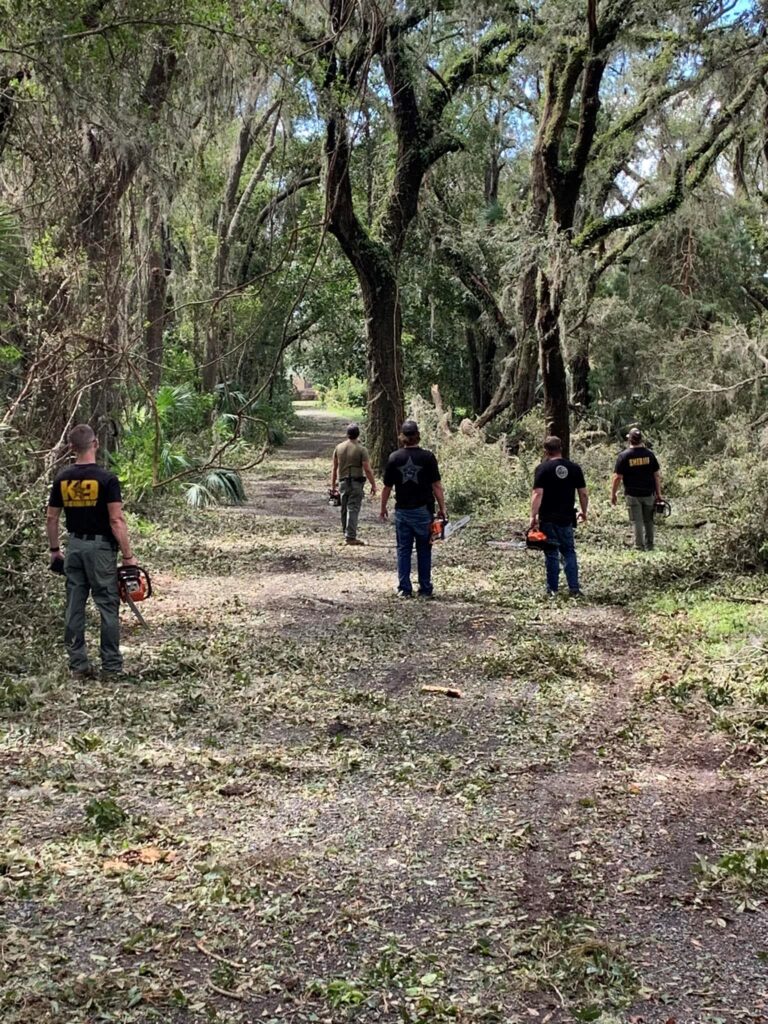 (Photo courtesy of the Jackson County Sheriff's Office.)
Traversing nine counties, first responders with the Sarasota County Sheriff's Office (SCSO) Disaster Response Unit destined to assist Lafayette County (neighbor's Taylor County). Mind you, Sarasota County is also a coastal enclave; it, too, was harshly lashed with rains from Hurricane Idalia, but it doesn't stop saviors from saving others roughly 255 miles away.
Madison County, Florida has Interstate 10 coursing through it. Many downed trees were strewn across lanes. Although everyone was warned not to drive under perilous conditions, first responders still needed to navigate major thoroughfares responding to calls for help. Like the Jackson County Sheriff's chainsaw gang, troopers with the Florida Highway Patrol buzzed around and chunked trees so needed resources could get through. Great timing, because deputies with the Seminole County Sheriff's Office will need to get through…
"The Seminole County Sheriff's Office is gearing up to provide relief assistance to those affected by Hurricane Idalia. Trucks were loaded today with supplies in preparation for deployment tomorrow to Suwannee County, Florida. A team of 35 SCSO members will offer their expertise and assistance to those impacted by the storm. The Sheriff's Office is committed to supporting our fellow citizens in times of crisis, and we take pride in sending a team to assist with relief efforts in Suwannee County.
As mentioned at the beginning of this material, Hurricane Idalia had other states in its pathway, one being South Carolina, whose projected pummel was heeded by our brothers and sisters several states north…
The first responders in the Big Apple are not necessarily prone to hurricanes but their hearts are rightly stirred and serving others. NYC first responders packed duffels and boarded their special apparatus to help pillar South Carolinians, especially residents of Columbia, its capital city, who braced for the life-threatening elements posed by Idalia.
Executives with New York City Emergency Management sent NY Task Force 1 to Columbia, in advance of the hurricane's wrath. The 46-member team of first responders comprises NYPD cops, FDNY firefighters/paramedics, and emergency management personnel, outfitted with "specialized rescue equipment and trained canines."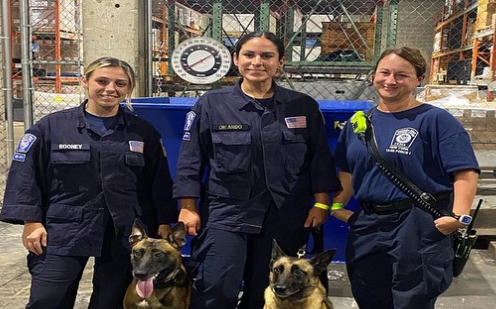 (Photo courtesy of FDNY.)
No matter where you are, first responders from near and far are geared to come to the rescue.