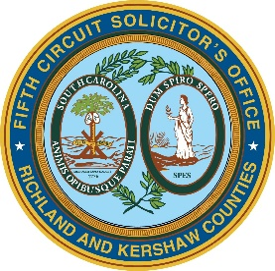 By Doug Wyllie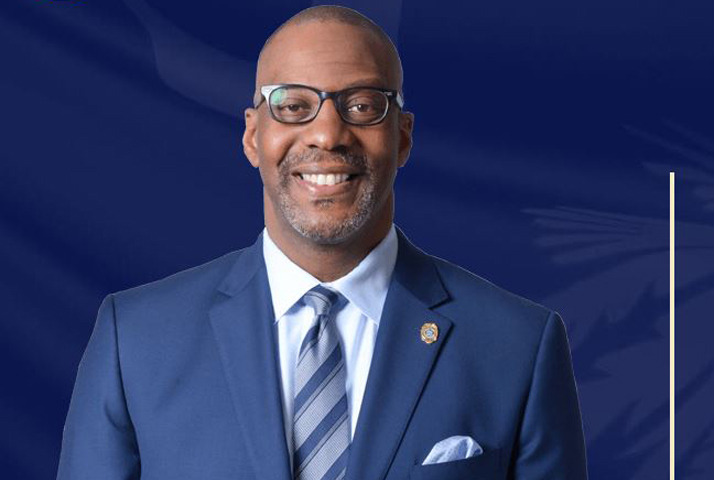 South Carolina's Fifth Judicial Circuit Court Solicitor Byron Gipson won the office in 2018 after crushing incumbent—and fellow-Democrat—Dan Johnson 72% to 28% in the primary and defeating write-in candidate John Meadors in the general. Before that he was a defense attorney. What better professional background can a person have to prosecute criminals than two decades of defending those criminals from criminal prosecution? Image courtesy of South Carolina's Fifth Judicial Circuit Solicitor's Office.
On the first Sunday in September, deputies with the Richland County (SC) Sheriff's Department were dispatched to a domestic violence (DV) call involving a subject reportedly armed with some manner of weapon and threatening a woman's life.
Upon arriving at the location—an apartment complex at the northwest corner of Columbia—deputies observed a man attempting to flee the scene, driving erratically throughout the parking area and side-swiping parked cars.
According to WIS-TV News, deputies began an attempt to stop the suspect—identified as 26-year-old Raqwan Lamont Williams—who then intentionally drove headlong into one of the pursuing patrol vehicles. Deputy Michelle Burnside was injured in the collision, and Williams abandoned his disabled ride. He then fled on foot and—after a brief pursuit—was apprehended by a K-9 Unit and taken into custody.
According to WLTX-TV News, Williams has now been charged with Armed Robbery, Assault and Battery, Attempted Murder, Failure to Stop for Blue Lights, Grand Larceny, Pointing and Presenting a Firearm, Possession of a Weapon During a Violent Crime, Reckless Driving, Unlawful Possession of a Firearm, and a few other sundry items.
Deputy Burnside was transported to a nearby hospital where she was treated for her injuries and briefly kept in supervised medical care for further observation. She has been released from hospital, but—at the time of this writing—has not yet returned to work due to the pain from her injuries.
A Too-Familiar Refrain
Following the incident, Richland County Leon Lott said, "My deputy would not be in the hospital if he would have been in jail where he belonged."
Frequent readers of this space will be unsurprised to learn that Raquan Williams was out on bond for a murder charge when he caused the chain of events that put Deputy Burnside in a potentially life-threatening situation.
The problem was/is, Raqwan Lamont Williams was charged with murder and possession of a weapon during the commission of a violent crime in connection with a shooting outside a Waffle House restaurant on an August afternoon in 2021. The victim died at a nearby hospital not long before Williams posted bond and walked free as he awaited trial.
This week, a judge revoked that original bond and denied any bond in Williams' most recent criminal case, so at present he remains remanded at the county jail.
The one person who may have the most influence on whether or not Williams remains incarcerated for any protracted period of time is South Carolina's Fifth Judicial Circuit Court Solicitor, Byron Gipson.
So, who is Byron Gipson?
A Former Defense Attorney
Gipson won the office in 2018 following an unusual primary election and an essentially uncontested general election. In the Democratic primary, Gipson unseated incumbent Dan Johnson, who at the time was under considerable scrutiny by the press and the public.
The problem was/is, some 30,000 documents—including audits, budgets, bank records, credit card statements, accounting records, check requests, and receipts—were posted online by a "political watchdog" group revealed questionable purchases by Johnson while in office.
You see, according to those documents, Johnson allegedly used taxpayer dollars for things like a luxurious resort vacation in the Galapagos Islands.
Johnson denied any wrongdoing, but taxpayers were none-too-pleased and Gibson crushed his fellow Democrat 72% to 28%.
For reasons that are unclear at best, the Republican Party declined to even run someone in the general election. Into that void entered career prosecutor John Meadors, who secured the necessary signatures to run as a petition / write-in candidate.
Meadors lost that race, but several years later went on to help win one of the most noteworthy criminal cases in Palmetto State history—he was part of the team that successfully prosecuted Alex Murdaugh for the murder of his wife and son.
Before taking office as the top prosecutor Richland and Kershaw Counties—essentially the entirety of the state's capital city of Columbia as well as the mostly rural land northeast up to the Sandhills National Wildlife Refuge—Byron Gipson was a defense attorney.
Of course he was.
What better professional background can a person have to prosecute criminals than two decades of defending those criminals from criminal prosecution?
According to his official bio, Gipson "practiced with the law firm of Johnson, Toal & Battiste, PA for twenty-one years in the areas of criminal defense and personal injury, becoming a partner in 2005."
According to his LinkedIn page, Gipson handled "major criminal matters in all State and Federal Courts in South Carolina" and guided clients through "difficult stages of the criminal process including investigation, indictments, bond matters, and trial."
According to E Pluribus Unum Fund—which Influence Watch calls a "center-left public policy think tank" that "operates outreach and educational programs supporting left-leaning racial and economic policies in the American South"—Gipson "believes he and his team should be 'ministers of justice'."
Technically speaking, Jim Jones, David Koresh, and Marshall Applewhite also considered themselves to be "ministers" but… whatever.
No Stranger to Controversy
Understandably, Gipson has his critics and detractors, particularly among people who tend to think dangerous and violent criminals should be kept separated from docile and law-abiding citizens. Irrespective of his relatively short prosecutorial resume—and that's being generous to the point of absurdity—Gipson has said and done things as Solicitor that warrant criticism and derision.
Take for example the curious case of Jeroid Price.
Price was found guilty of murder in connection with the 2002 death of Carl "Dash" Smalls Jr.—a promising college football player at the University of North Carolina—in a nightclub shooting.
The problem was/is, Price was about halfway through a 35-year prison term when he was quietly released on a judge's sealed orders in March of this year.
The victim's father later called Price's release "part two" of their family's nightmare, which began when they received a "robo-call" recorded message indicating that their son's killer would be set free with "no probation, no supervision, and or restrictions." The Smalls family sought the help of State Attorney General Alan Wilson, who then petitioned the South Carolina Supreme Court to unseal the records of Price's release.
During that process, the Court reversed the release—resulting in an arrest warrant that ultimately ended in the fugitives' capture in New York City several months later—and also revealed that Solicitor Byron Gipson worked with SC State Representative Todd Rutherford in securing the convicted killer's freedom.
According to the Post & Courier, Rutherford—who also serves as Price's attorney—said in a court filing that Gipson was "involved" in drafting Price's release order and had verbally made a motion to now-retired state Circuit Judge Casey Manning reduce Price's sentence.
Rutherford said in the court document, "Solicitor Gipson initiated the communication with Judge Manning, proposed Price's sentence reduction, and formalized his request by an oral motion before Judge Manning in chambers."
Needless to say—but we'll say it anyway—it's not a good look for a prosecutor to secretly secure the freedom of a murder, only to have that action not only revealed, but reversed in a dramatic judicial rebuke.
Like his compatriot in the Price fiasco—Representative Todd Rutherford, whom we've previously discussed here—Byron Gipson isn't much of a villain when compared with other folks who have held that role on our Wall of Shame like George Gascón, Kathy Hochul, or Larry Krasner.
The problem was/is, Byron Gipson isn't much of a prosecutor either.