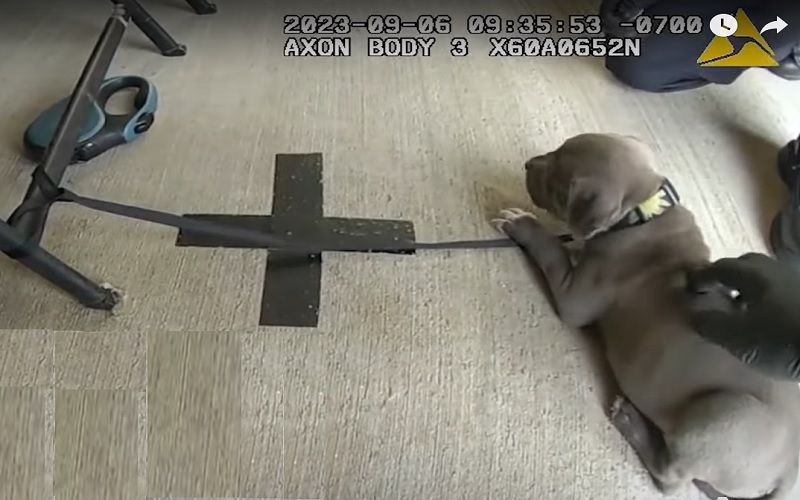 For law enforcement officers, arresting shoplifters is a common occurrence, especially nowadays…with the idiocy of cash bail policy freeing sticky-fingered bad actors to recidivate and revictimize. But it is not every day that cops handcuff illegal narcotics users in a California big box store and discover an overdosing puppy.
Irvine, California police officers responded to a Walmart in their jurisdiction. Although it is the likely reason, the report doesn't cite "shoplifters" as the primary purpose for police response; it only indicates that two narcotics users were arrested in the store.
Given Cali's rampancy of relatively sanctioned shoplifting and looting by flash mobs, we can be confident that theft of some kind was the catalyst for cops to show up.
An Irvine Police press release accompanied by brief footage explained how one thing led to another, including cops having to use Narcan on a precious puppy:
"Yesterday, two people were arrested at Walmart for narcotics possession. Their puppy inside the car was exposed to fentanyl and began to show signs of an overdose. Officers gave the dog a dose of Narcan, and she immediately began to recover. An IPD officer quickly transported the dog to an emergency veterinarian for treatment.

"We are happy to report the dog is recovering fully, and our Animal Services Unit will take possession of her.

"Caleb Aaron Gibson, 29, of San Juan Capistrano, and Katherine Marylou Menke, 27, of Santa Ana, were arrested. We have asked the DA to charge the pair with felony animal cruelty and possession of narcotics. We thank the officers for their swift actions."
I am elated that these officers not only recently completed training in Narcan administration ("used for the emergency treatment of known or suspected opioid overdose"), and effectively infused the life-saving nasal-spray antidote to a helpless puppy whose tiny size could have easily succumbed to the poisons introduced by its "owners," but also that they readily served as the voice of the 8-week-old animal by including a felony charge on its behalf.
And to think that some anti-cop mouthpieces are still barking about abolishing law enforcement officers! Tsk-tsk…
This is one among many animal abuse and neglect stories cops attend and do whatever it takes to right wrongs against creatures by the malicious hands of some humans.
Such a travesty —harming a defenseless baby animal— testifies to the rampancy of reckless behavior encountered by cops, resulting in some agencies forming an Animal Cruelty Task Force, comprising LEOs who investigate complaints provided by the citizenry and their means of sleuthing.
The police officers involved in saving this puppy's life from chemical ingestion are undeniably true-blue characters fulfilling their oath to society, even the meek demographic.
Reflective of the metallic hue of police badges, this law enforcement response/action comes with a silver lining: The saved puppy has a growing list of people who wish to adopt her from the animal rescue facility.
Incidentally, given California's blatant propensity to introduce bizarre legislation favoring law breakers more than law-abiders, the eventual custody of this puppy will be decided by a judge. As for the animal cruelty charge, having that prosecuted remains to be seen.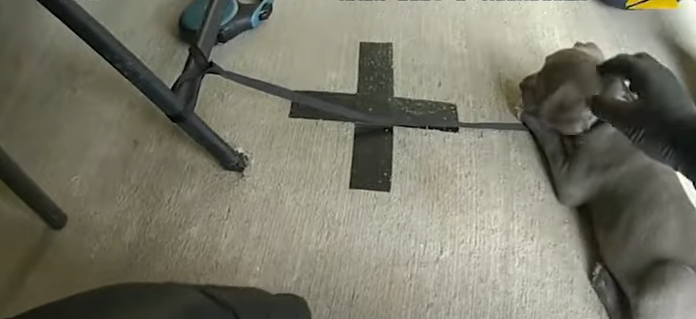 (Photo courtesy of the Irvine Police Department.)
When I was sworn in, I soon learned that not all charges officially imposed on suspects "stick," despite officers dutifully establishing probable cause to effect arrest/submit charging documents.
Some charges may be "dropped" by prosecutors for whatever reason…but the charge stays listed on the suspect's criminal history, ordinarily denoted with a byline such as "Lacking evidence," or some other verbiage implying a bargaining chip used in those pesky plea deals that do not serve victims but extend olive branches to victimizers, devaluing the case and the perilous work cops invested.
I didn't concur with that part of the judicial process, at all, and harbored resentment because of it. However, the stain remains. Bad actors may "get away" with some crimes but there are perma records they may have to answer to down the road (karma), such as employment engendering background checks (unless expungement is petitioned). Thus, flawed laws and weakened criminal justice systems have moderate win/loss ratios.
Circling back to our topic…
Never had to consider animals overdosing. Because of this story involving Irvine police officers reviving a pup, I went digging and came across similar instances whereby a curious, sniffing Golden Retriever puppy stuck his snout in a cigarette pack lying on the ground…and went down in seconds.
Listen to the story and how veterinarians are also stocking Narcan, the antidote the Irvine cops used, effectively saving the lives of animals…
Thankfully, law enforcement agencies ordinarily equip their police personnel with canisters of Narcan for use on humans…and now animals.
As Irvine police Sergeant Karie Davies mentioned to the media, their police force added Narcan to their arsenal of saving lives and received requisite training in recognition of possible overdose and proper application to revive/restore people (and puppies), growing the number in the Saves column.
With the scourge of fentanyl being exacerbated by border-crossing cartels ("mules") catering the deadly narcotic into our nation, even cute animals are not safe.
Given their readiness on the streets and provisions of Narcan in police cruisers, America's cops are most suited to confront life on the brink of extinction due to fentanyl…and do something to reverse the destructive ingredients.
More generic, though, is the propensity for law enforcement officials to come upon stray animals, many of whom become family members.
It is common for law enforcement officers to cross paths with stray dogs roaming the streets for food and water. Midnight-shift cops know this well—stray, scared animals fare better nocturnally when foraging for food is more accessible due to less presence of people and vehicles (intimidations). But day-shift officers also have meetups with pups, skittish or not.
As you observed in that brief video, some dogs found by cops cater therapy after a hugely stressful tour of duty, consistently. Conversely, some dogs specialize in therapeutic delivery for both law enforcement practitioners and the citizenry they serve.
As the adage goes, a human's character can be measured by how they treat animals: Some go to jail…others go back on patrol.