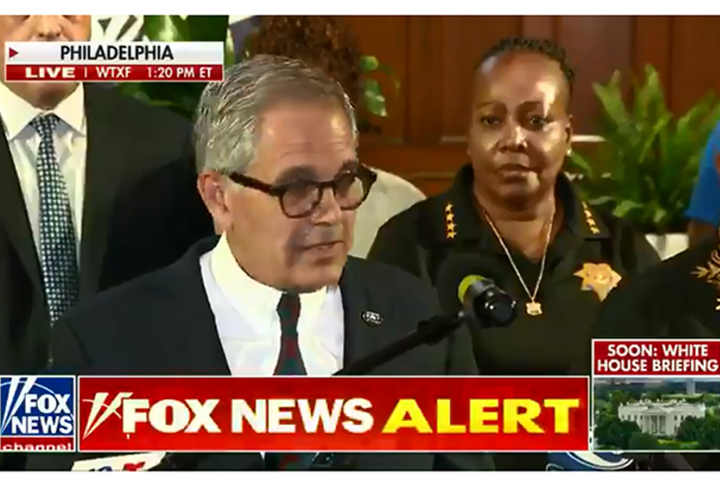 By Doug Wyllie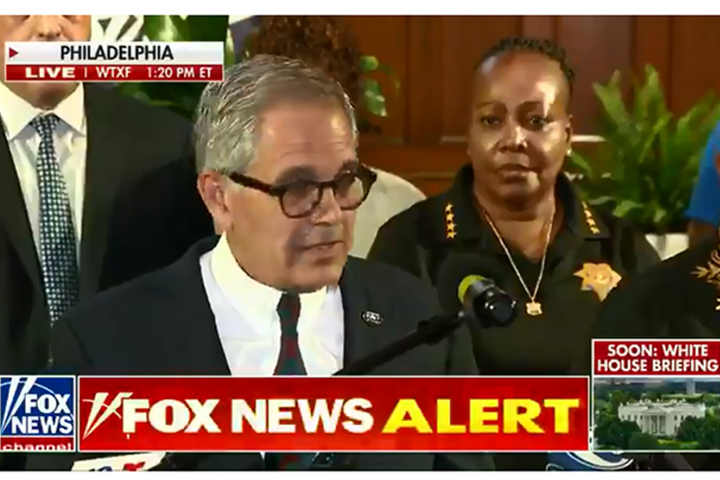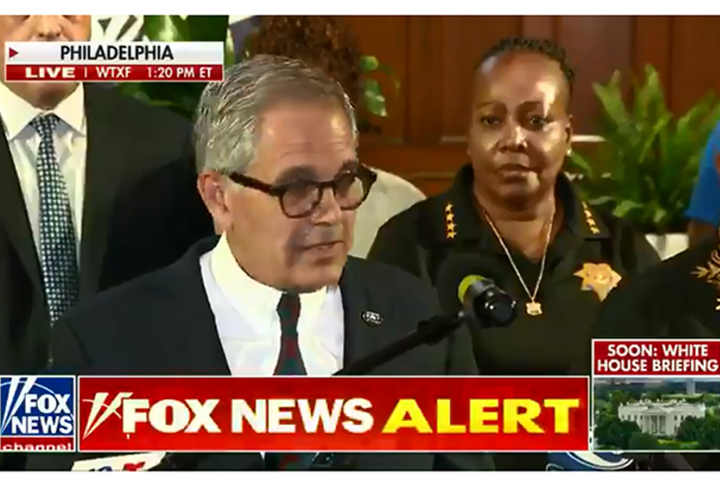 Larry Krasner is in the news again. This makes Larry Krasner happy. Larry Krasner will tell you he's not happy—he'll appear stern and serious and surly, act incensed and irate and ill-tempered—but when he's in the news, Larry Krasner is happy.
This is because with only rare exceptions, Larry Krasner is all about Larry Krasner. He's a politician, so he'll say he's all about the people, and the policies, and the public service—but that's what politicians say to get (and stay) elected. That's how he—with the help of liberal billionaire financier George Soros—won election to the office of Philadelphia District Attorney in 2017, and won reelection in 2021.
Larry Krasner is in the news again because he practically sprinted to the stage—and the lights and the microphones—in the immediate aftermath of a tragic shooting over the Independence Day Holiday that claimed the lives of five people and wounded two others.
Officials identified the decedents as 15-year-old Daujan Brown, 20-year-old Lashyd Merritt, 59-year-old Ralph Moralis, 29-year-old Dymir Stanton, and 31-year-old Joseph Wamah. A toddler and a teenager—neither of whom was identified by name—were wounded and are reported to be in stable condition.
This atrocity was carried out by 40-year-old Kimbrady Carriker, who was apprehended, arrested, and charged with more than 30 offenses, including assault, aggravated assault, attempted murder, murder, and weapons charges.
When news of this horrific tragedy broke, Larry Krasner stood at the podium and chose—in one of those rare exceptions—to not make it all about Larry Krasner. However, instead of making it all about those victims (or even about the perpetrator of the crime) he made it all about his political opponents—people who are essentially two degrees of separation from Larry Krasner.
Before we proceed further, let's pause a moment to pay respects to the five dead and say a prayer for the full and speedy recovery of the two who were wounded.
Now, let's make this all about Larry Krasner.
Radical, Fantastical, Phasmophobia
One day after the shooting—and well before any of the dead had been buried—Krasner began to politicize the incident. He began by taking aim (pun intended) at elected leaders who have recently worn lapel pins supporting the Second Amendment.
"It is time for everybody and our legislature—including the ones who would like to walk around with an AR-15 lapel pin—it is time for every one of them to face the voters," he said.
Two days after the shooting, Larry Krasner appeared on CNN This Morning and said, in part, "It is time for this legislature and, frankly, legislators across the country to swear off their addiction to NRA money and to swear off their addiction to this gun fetish…" and to "swear off this absurd interpretation of the Second Amendment."
He also targeted reports that two of the weapons used in the crime were so-called "ghost guns."
"The NRA has done a hell of a job of trying to make it difficult for people to investigate the source of a weapon," he said, adding that "there is good reason to believe that his purchase of the AR and his either manufacture or purchase of a ghost gun, which, of course, they're not sold through official vendors, there is good reason think that it may have been obtained illegally."
Rob Pincus is a former law enforcement officer presently serving as Vice President of 2AO.org and Director of Gun Makers' Match. In an exclusive interview with NPA, Pincus explained—in plain language—how the vilification of privately made firearms completely misses the mark.
"Criminals have been using firearms that couldn't be traced directly to them forever, [and] private gun making kits and 3D-printing have never been a significant part of that problem," Pincus said. "Stolen guns and guns sold privately—legally or illegally—are the primary means by which someone with criminal intent comes into possession of firearms that aren't 'traceable' to them."
Pincus explained further that there are only a handful of cases where privately made kit or printed firearms have actually been involved in violent events.
"When it comes to high profile crimes, such as mass shootings, murders that occur between known persons, 'crimes of passion,' and suicides involving firearms, the vast majority of the guns used were legally purchased by the person who use them in those acts and are 'traceable' to them," Pincus said.
It merits mention that despite what viewers are subjected to in the tired tropes of primetime television dramas, very few crimes are solved because of a gun being "traced." At best, such "traces" offer corroborating evidence—in addition to various other pieces of evidence—tying the most obvious suspect in a case to the crime.
It also worth noting that the Biden Administration's recent rule change that attempted to hamper businesses that support private gun makers was recently vacated and deemed unconstitutional.
Rabid, Fanatical, Philosophy
It's a clichéd bumper-sticker slogan but it's true that guns don't kill people—people kill people. It's also true that Larry Krasner is oftentimes essentially two degrees of separation from the people killing people in Philadelphia.
In March 2020, Corporal James O'Connor—a 23-year veteran of the Philadelphia Police Department—was serving a warrant on a suspect at an alleged "stash house" and was met with a hail of gunfire. One bullet narrowly slipped past his protective body armor, fatally wounding him.
According to CBS News, the man who fired those shots was 21-year-old Hassan Elliott, wanted for a March 2019 robbery and murder. The DA's office had repeatedly over time given Elliott a series of sweetheart deals—including free passes on parole violations, failures to appear in court, and reduced charges in criminal cases—and as a consequence, the budding career criminal was free to illegally obtain a gun and murder a police officer.
In January 2021, a 25-year-old man named Milan Loncar was walking his dog in the Brewerytown neighborhood on the north side of Philadelphia when he was approached by two men in an apparent robbery attempt. One of those men—later identified as Davis Josephus—fatally shot Loncar before fleeing the scene.
According to the New York Post, just two weeks before this incident, Josephus had been freed on bail—on a sum which had been reduced from $200,000 to $100,000 to a trivial $20,000—pending court proceedings in a motor vehicle theft and kidnapping case. Josephus had been arrested five times since January 2019.
In September 2022, 50-year-old community activist and advocate Charles Gossett was shot to death in the Overbrook neighborhood just west of the Philadelphia Zoo. The gunman—later identified as 32-year-old Jamir Harris—fled the scene but subsequently surrendered to police without further incident.
According to ABC News, a year before killing Gossett, Harris had been released from prison after being exonerated on another murder conviction. In that case, Harris was found guilty in the 2012 shooting of 45-year-old Louis Porter—which occurred directly in front of Porter's five-year-old son. Prosecutors with Larry Krasner's "Conviction Integrity Unit" had been instrumental in overturning of a life-without-parole sentence, claiming that Harris's "constitutional rights had been violated at the time of his prosecution."
There are dozens—perhaps even hundreds—of other altogether-too-similar cases in which Larry Krasner has failed to protect the citizens of Philadelphia.
All About Larry Krasner
Since taking office as district attorney, Larry Krasner has presided over an unprecedented period of lawlessness throughout Philadelphia.
According to ABC News, over the past three years there has been an average of about 725 sexual assaults, more than 7,300 vehicle thefts, over 5,000 robberies, and nearly 9,000 assaults reported to police annually. According to local and FBI crime data, Philadelphia ranks third in the nation—behind St. Louis and Detroit—in homicides per capita. According to PPD CompStat Reports, there were 494 murders in Philadelphia in 2020 and 551 murders in 2021. Homicides declined slightly last year, numbering at "only" 504 fatalities.
Larry Krasner is a career criminal defense and civil rights attorney masquerading as a prosecutor. His campaign website proudly declared that in his first term he "exonerated the innocent" (not the job of the District Attorney) and "held police accountable" (also not the DA's job). The site said further that he "reduced future years of incarceration and supervision while helping to drop the jail population" (neither of which is in the job description of the DA).
Legislation proposed in 2022 placing term limits on the Philadelphia District Attorney's Office was overwhelmingly passed by the Pennsylvania House but died in the State Senate's Judiciary Committee, so Larry Krasner is presently free to seek a third term in 2025.
Hopefully, the voters in Philadelphia make that election cycle all about Larry Krasner.