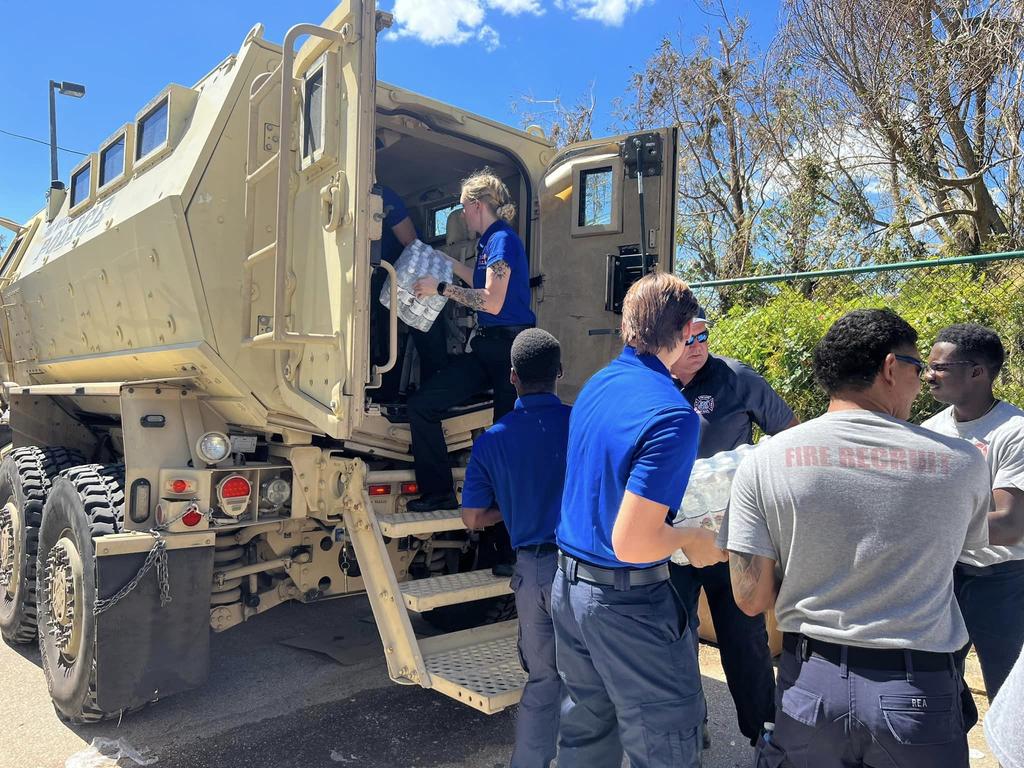 As Hurricane Ian entered from the Gulf of Mexico, demolished oceanfront cities, dredged across Florida, and exited via the Sunshine State's east coast, its trajectory targeting South Carolina, law enforcement executives from all over poured in police resources to engage in search-and-rescue operations, especially in jurisdictions flattened by nature's unstoppable fury.
Given the depth of destruction, various municipalities' police forces were simultaneous servants/victims.
From a Fort Myers Police spokesperson, "You may see multiple agencies from the Miami area that have come to assist our Officers that have been embedded here since pre-Ian impact. There are multiple agencies, and they will be working intersections and running calls for service within the city." (More on "mutual aid" agreements in a moment.)
"7-Eleven's gone. The Whale's gone. All the restaurants are gone. The whole entire Times Square is gone. It's leveled," said Fort Myers Beach resident Mitch Stough.
I've heard and read about people talking as if their former city of residence is no longer in the zip code. Deeply mind-boggling disaster.
Per the Naples Daily News, "Fort Myers Beach and Sanibel appeared to take Wednesday's brunt of the 150 mph winds and storm surge that reached double digits at a level not ever recorded before, local and state officials said."
Outlying areas that were nevertheless in the hurricane's cone were bashed but fortunately spared the utter devastation suffered by Fort Myers, Sanibel, and Captiva Island, to name a few in the Southwest Florida region.
"There's not a single structure that hasn't been impacted. I'm not saying all destroyed, but it's noticeably worse than [Hurricane] Charley and the worst I've seen in 20 years." Those words came from Sanibel Police Chief Bill Dalton.
From Cape Coral Mayor John Gunter: "Any outside help, we will surely welcome it. We are definitely going to need help to get through this."
After I chunked my own downed trees and helped neighbors de-shutter windows and collected roof shingles like a dropped deck of cards, I revisited the goings-on being posted online. I was not shocked whatsoever to discover a plethora of police forces either already in Florida or gearing up for the trek south, for as long as it takes.
And we are not just talking about neighboring states, either.
Even with a contingent of state troopers already helping hurricane-ravaged Puerto Rico with search-and-rescue operations and distribution of basic needs such as water, New Jersey State Police Colonel Patrick Callahan made a special trip to one of New Jersey's state police barracks, providing a supportive speech before sending off yet another batch of cops to aid Florida's post-hurricane dig-out:
"Here we are, again, just this great collective group of women and men putting other people before themselves. So, again, I would've come from opposite ends of the earth even if just to talk to you for sixty seconds. One, thank you. Two, be safe! Three, just know that you are doing New Jersey proud, as always, and I trust that you'll go down there and make a difference in that…probably one of the most devastating storms to hit the United States."
Pure pride in police stewards.
Resource Allocations and Delivering Assets
Given that hordes of structures are now mounds of rubble obstructing roadways, how do public safety reinforcements and outfits sent to clear/rebuild get to where they're needed?
Waterfront real estate confronting Florida's hurricane-proneness is now a benefit, allowing barge-transported police vehicles, fire/rescue apparatus, power company bucket trucks, public works vehicles, crane company rigs, and all sorts of gear and sustenance to offload from the Gulf of Mexico, right onto impacted shores, allowing cleanup from the first step and inland.
Naples-based reporter Phil Fernandez said, "The barge will transport emergency vehicles, including Department of Public Works trucks, police cars, and fire engines evacuated before the storm, as well as electric repair trucks." (The barges were expected to touch the Florida coast on October 2.)
Does this mean the state troopers and police officers and deputies traversing from the north may be impeded, delaying assistance? As we've echoed often, cops are a resourceful bunch. Thankfully, they don't waste time after hitting a proverbial wall, standing there rubbing their foreheads. Nope, overcoming adversity punctuates their skill sets.
In constant communication with the Florida Office of Emergency Management (EOM), routes are typically worked out so reinforcements of public safety pros can get through and get to work. The barges are an element of facilitating physical aid and requisite equipment to direly impacted jurisdictions.
From what I understand, Florida Governor Ron DeSantis preemptively (wisely) elicited the help of the U.S. Army Corps of Engineers (ACE). This faction has unique maritime ramps designed to offload heavy, wheeled, and track-maneuvered equipment from barges direct to shorelines (much like ferry transports lower the ramp to load/unload vehicles).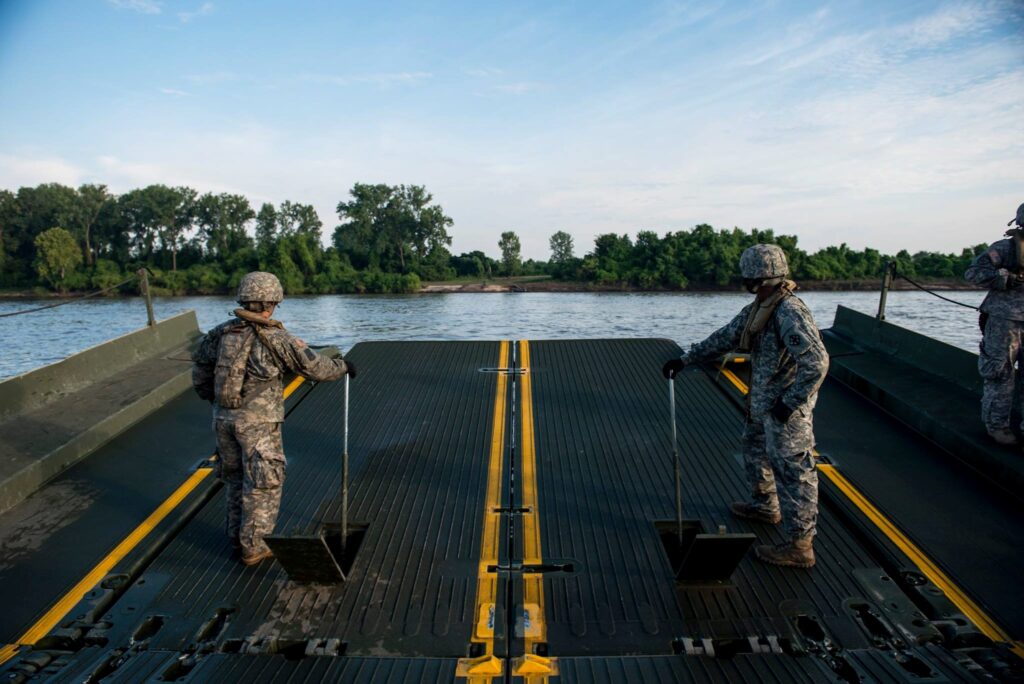 (Photo courtesy of the U.S. Army Corps of Engineers.)
To work effectively, finding a clear landing is key, since all local boat launches are clustered with boats. It has been said that Ian resulted in more boats on roads and more cars in the sea. Thus, reinforcements arriving from afar can circumvent blocked roadways by waterborne transports.
Once on the ground, some of the cops here to roll out recovery efforts will board U.S. Coast Guard helicopters and conduct search-and-rescue ops aerially (in addition to police drones assigned to specific areas, assessing further via remote police-user protocols).
In the same way police troops offloaded equipment destined for the demolished mainland, growing piles of debris and structural parts can be loaded onto the barge for a trip elsewhere, clearing land and allowing restoration efforts by public safety officials.
Mutual Aid Pacts
As mentioned more frequently, especially here on the pages of NPA, law enforcement and mutual aid agreements realize the inherent salvation within the contextual language pledging What's ours is yours. During my police career and thereafter, I've never seen covenants among cops waiver, at all.
All manner of LEOs working land, sea, and air come together well, for dire or menial purposes.
Since many traffic lights were plucked and tossed like ragdolls, self-governance is key. The law enforcement officers from afar, here to help, are duly marked as police personnel. Jurisdictional authority is customarily delineated in mutual aid agreements containing language to assuage blurred lines.
Conferred authority, underscored as temporary, is the factor mitigating the need to take action outside one's usual jurisdictional scope. In my career/experience, such constructs are settled by pairing out-of-area cops with locally-sworn law enforcement officers—a deputization-like model.
We can all hope everyone just plays nice. Yet we all know nefarious humans prey on the most vulnerable during dire circumstances. This is why Gov. DeSantis went public, resounding how Florida is a Second Amendment state, telegraphing to illicit-minded individuals how criminal actions will be severely dealt with.
Looters don't listen, though. Lee County deputies already arrested a clique with sticky fingers.
Surrealism and Safety
Heck, my neighbors told me about sharks sighted where sharks shouldn't be, like in rear yards encircled by canals, the surge so significant that different species of sharks were pushed inland, mere yards away from pools and BBQ hubs.
Even Florida Gulf Coast University in Lee County wished they had a bigger boat: "There were sharks, we had about three. I think one black tip. I don't know what the other one was," said Curtis Drafton. "But then we also had tarpon. We had tarpon on land [at] FGCU, we had one downtown on Main Street and Monroe Street. There were sharks out of water as well, so it's been weird." Landsharks?
Despite the surreal nature of sharks on land and wallowing in the shallows thanks to Ian's inward insistence, the Florida Fish and Wildlife Commission's (FWC) law enforcement officers and civilian marine biologists take up the effort to mitigate the shark phenomena, transporting specialized equipment to deploy in the impacted area, including shallow draft boats, ATVs, and 4-wheel drive vehicles.
(Photo courtesy of the Florida Fish and Wildlife Commission.)
Leaving shark-ushering to wildlife cops, the Marion County Sheriff's Office deployed an airboat to navigate shallow waters and search/rescue stranded inhabitants of the humankind, easily steering it directly onto its boat trailer, without touching a thing.
In that context, mutual aid goes beyond accords just among police entities, they exceed that and engender pacts between sworn wildlife cops and animal rescue and rehabilitation facilities.
Florida is ripe with animal rescue operations and rehabilitation facilities whose staffing are open-armed when LEOs call for assistance and/or bring in injured species. Given our nation's populace who have one or more pets who may be in the affected area, animal resources from as far away as Washington State pledge relief:
While we are touching upon wildlife and animals displaced and distraught by Hurricane Ian, the Sarasota Police Department sent mutual aid to the Northport Police Department. I've been culling material for an article specifically covering cops rescuing mostly domesticated animals strayed or AWOL by natural disasters.
Here is a dog named "Zeus" who found himself in a police vehicle, and he appears to be smiling in a Sarasota PD Humvee, happy to be saved by the good guys: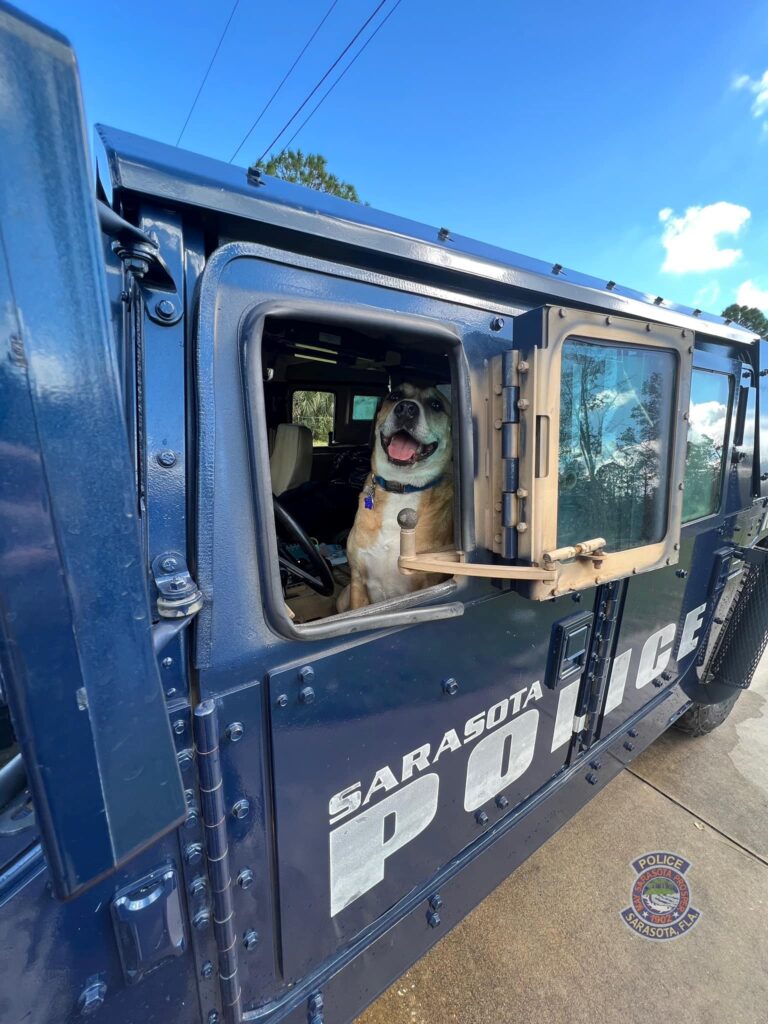 (Photo courtesy of the Sarasota Police Department.)
Speaking of good guys and dogs, the City of Miami's South Florida Task Force #2 deployed this specialized team that works with search-and-rescue canines. Maddie, a "live-find" dog, plays a crucial role in sifting for survivors amid tons of weighty rubble, recently dubbed "Ground Zero" of a different origin.
The greatest mutual aid pact of all time, though, is the one forged between a community's citizens and its cops.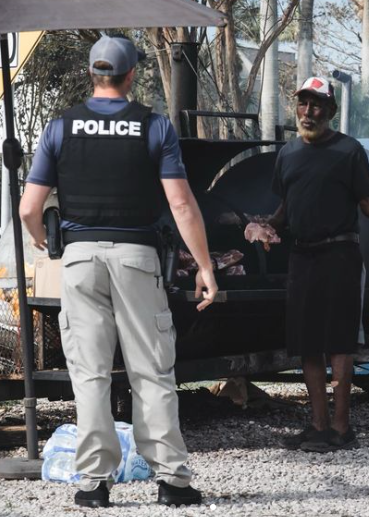 (Photo courtesy of the Fort Myers Police Department.)
With that, residents who survived Hurricane Ian somehow manifested cooking accouterments and their last bits of food, feeding law enforcement officers from the area and beyond. To witness the fabric of America, mutually aiding those who routinely aid them, is especially reassuring after too many months of anti-this or anti-that behaviors.
Perhaps the biggest gesture of mutual aid by citizens is supporting their home-based tax-payer-funded public safety resources dispatched elsewhere, to serve others too hard-pressed to help themselves.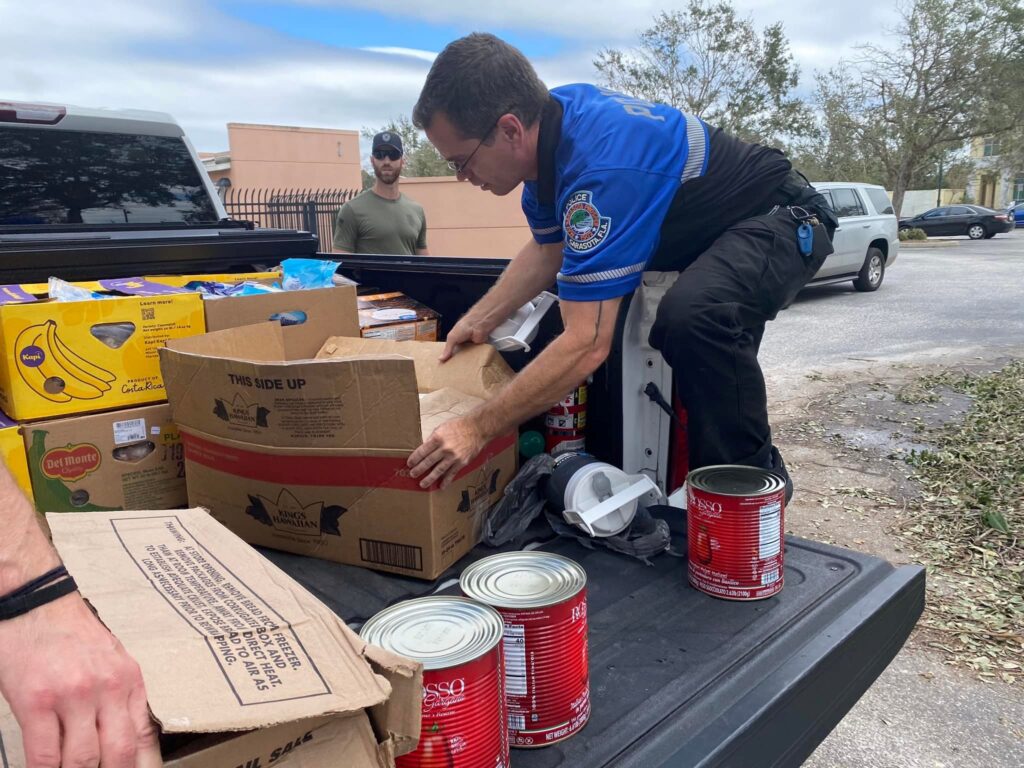 (Photo courtesy of the Sarasota Police Department.)
As a Sarasota PD spokesperson said, "We know so many are hurting. We're working as fast as we can to get help where it's needed."
Similarly, Governor DeSantis got busy at a Waffle House in Punta Gorda, Florida, grilling and serving hots for first responders working the aftermath of Ian. Here in my county, I watched a caravan from our sheriff's office head south to aid Lee County first responders and their constituents. Sheriff to sheriff, Hillsborough's top cop and Lee County's understandably fatigued top cop met down there and embraced like leaders do when the cavalry shows up to the battle, together.
Let's close with a phrase spoken to the ears of New Jersey State troopers departing for Florida's hurricane-ravaged terrain: "Thank you all for simply giving a damn about giving a damn."