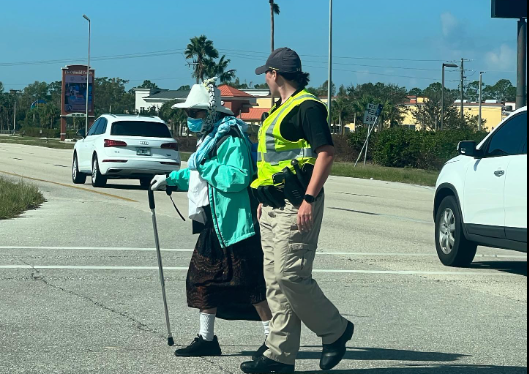 Poignant backstories emerging after the havoc of Hurricane Ian are starting to flood the web, generating the positivity that we long for, and many of the chapters involve cops caring for our elderly folks who may need that extra helping hand, respectfully extended by law enforcement officers.
Since Florida is world-renowned for its sunny climate warming retirement communities whose residents chose deep south to anchor their golden years, inclement weather can be especially debilitating for elders.
Ian was my ninth hurricane experience of no-joke weather that came with a name. As such, it has been ingrained that mobile home parks largely inhabited by our senior citizens are grievously vulnerable. Evacuation orders typically entail first responders going to every mobile home to ascertain the welfare and prepping of elders, echoing the need to vacate and extending hands to facilitate relocation to safer territories.
However, human nature can be…deeply rooted. Not everyone wishes to depart their homestead. Some people "hunker down" and deal with the hits as they come. Others evacuate and recoup losses where they are. In all of this, there are dutiful cops.
Orlando police School Resource Officer Tyshone Bolden, working hurricane task force duties since schools were closed, came upon a distraught elderly woman whose cell phone was on the fritz.
Although Officer Bolden responded to check on an area hotel, a Sarasota evacuee and occupant of one of the rooms spotted him and his cruiser outside and approached him "for help because her phone wasn't working, and she was trying to reach her daughter to let her know she's okay."
Officer Bolden provided the senior citizen directions to the nearest cell phone provider. Reportedly, she seemed ambivalent to go alone. For her comfort and safety, Officer Bolden escorted her to the store. In short, he stayed with her until the Verizon store manager repaired the woman's phone, restoring a vital source of communication.
But the Verizon employee didn't just stop there. She wrote a letter to the Orlando Police Department administration, saying:
"Don't see this often but I need to put a City of Orlando Police Officer on shout! I am District Manager for the Verizon Store on Sand Lake by Panera. Officer T. Bolden encountered a woman who had a phone issue and personally escorted her to our store and stuck around to make sure she was okay! This was above and beyond for him. All she needed was a phone reboot. This officer took the time to assist! He exemplifies 'Protect and Serve'! Thank you, Officer Bolden, for going above and beyond!
"On behalf of @thecitybeautiful community, thank you Officer Bolden for showing compassion and, yes, exemplifying what it means to 'Protect and Serve'!"
(School Resource Officer Tyshone Bolden. Photo courtesy of the Orlando Police Department.)
Just imagine the glorious police work Officer Bolden performs for all the youngsters on campus where he is a school resource officer. He clearly takes a lead and circles back with resolution(s).
Orange County Sheriff's Office deputies responded to more impacted areas southwest of their county, bringing much-needed high-water rescue vehicles and helping hands.
Given the high-rise of water necessitating high-rise vehicles, some senior citizens may need a boost from a first responder, and OCSO deputies were happily obliging throughout their many rescue operations.
An expression of relief emerges after a life-threatening situation is abated by first responders' hands and reassuring presence; it looks like this: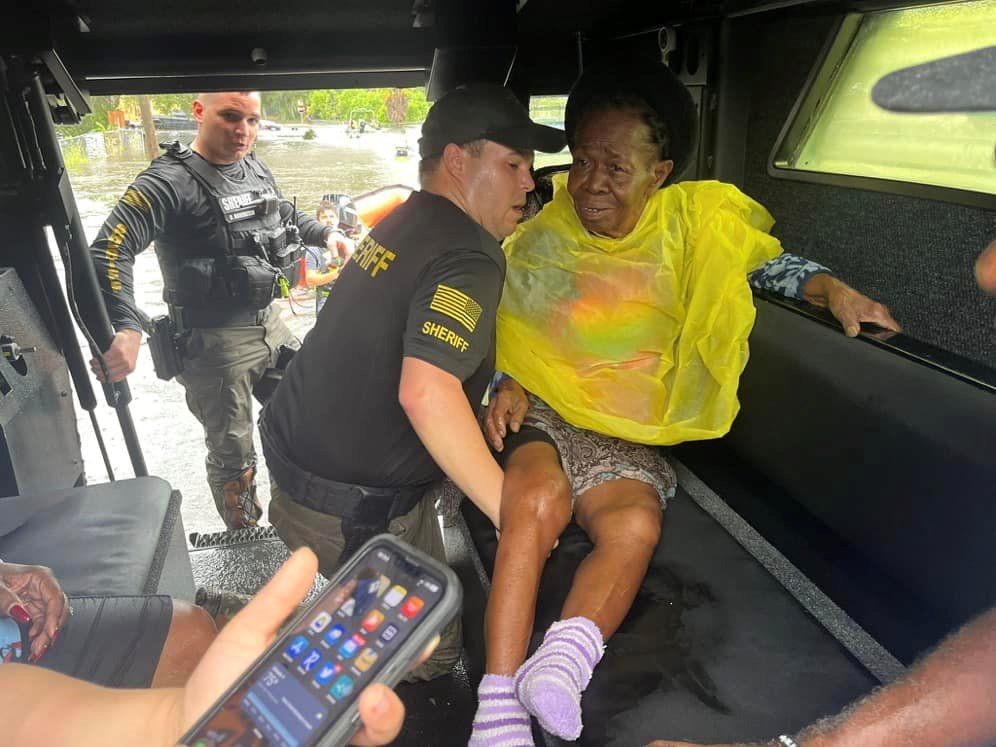 (Deputies with High-Water Rescue Vehicle save seniors from Hurricane Ian's havoc. Photo courtesy of the Orange County Sheriff's Office.)
At the core of Hurricane Ian's destruction are Lee County Sheriff's Office deputies supported by visiting law enforcement agencies personnel and an array of equipment to get the job done and turn the page.
I came upon a particularly heartrending instance illustrating the depth of compassion by cops. Lee County first responders boarded a senior gentleman whose medically necessary life-sustaining apparatus was jeopardized due to a power grid defeated by Hurricane Ian. Law enforcement shouldered his breathing instrumentation and ushered him aboard a police vessel, transporting him to safety and clinical stability.
Speaking of stability, first responders aboard a U.S. Coast Guard helicopter located a lone gentleman who seems to have gotten swept away in his boat. Hurricane Ian apparently tossed him like a toy. First responders found him stranded in mangroves, plucked him from his boat, and brought him to shore where deputies aided him with medical evaluation and sustenance:
No Evacs, Just Guiding Hands
As mentioned above, Florida is known for its senior demographic, many of whom reside in assisted-living facilities and the like.
Given vast hurricane experiences, law enforcement in regions where Ian seemed destined visited the elderly populations and explained plans regarding evacuation procedures and all things survival related. With that, people are informed of the array of rescue equipment their police force enables on their behalf, painting a picture of salvation and how it will happen—preparations for resources to come and the steps to take.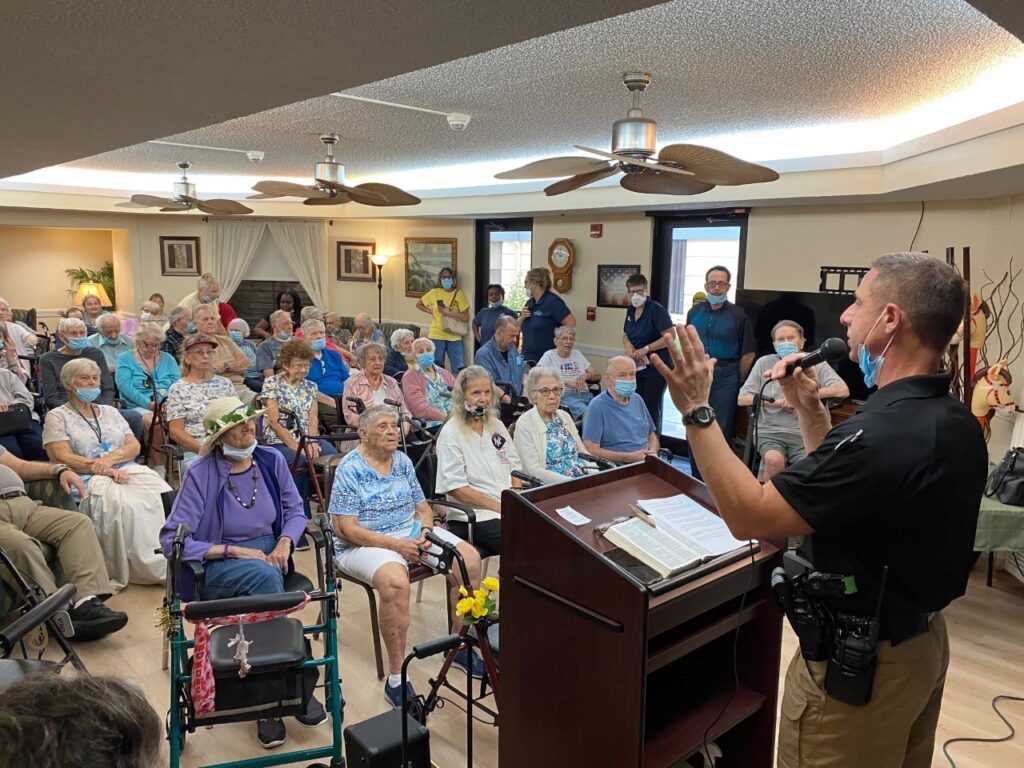 (Photo courtesy of the Lee County Sheriff's Office.)
One unfortunate realm of tragedies is the typical crop of scammers who pop up and prey on the trusting nature of seniors, defrauding them of monetary sustenance and breaking hearts when they realize they've been duped by dopes.
Generally working in tandem with prosecutors' offices, police agencies have Economic Crimes Units to preempt elders from getting scammed out of money. Economic crime detectives investigate cases after, unfortunately, seniors are swindled.
Synonymous with Economic Crimes cops are police personnel assigned to law enforcement agencies' Elder Affairs Units whose primary purpose is to thwart exploitation of the elderly and their physiological decline leading to the possibility of poor choices, some dangerous to themselves and others.
Both in terms of crime prevention and victims' advocacy, Elder Affairs cops teach seniors what to beware of and pursue investigations against suspects who prey on good-hearted folks who didn't realize the con until it was too late. Synonymously, aspects of general welfare are evaluated and discussed by cops working with our seniors, wherever they may be.
On that note, Florida's Silver Alert program monitored by the state Department of Transportation and Motor Vehicles aids law enforcement officers by displaying BOLOs (Be On the Look Out) across overhead interstate LED bulletins, purposed to locate seniors who may have wandered off and can't recall their way back.
"The Florida Silver Alert is used to locate missing persons suffering from an irreversible deterioration of intellectual faculties. Law enforcement agencies must activate a local or regional alert as described below in an effort to locate the person prior to the issuance of a State Silver Alert," the Florida Department of Law Enforcement explained.
As with any law enforcement-issued alerts, the objective is to "engage the public in the search for the missing person and provide a standardized and coordinated community response." Working together is forever paramount and being informed is key.
Police officers assigned to Elder Affairs or Crime Prevention or Public Relations units endeavor to ensure elders are well informed, and it may be merely over coffee with cops, whereby law enforcement officers visit assisted-living facilities and chat over cups of joe.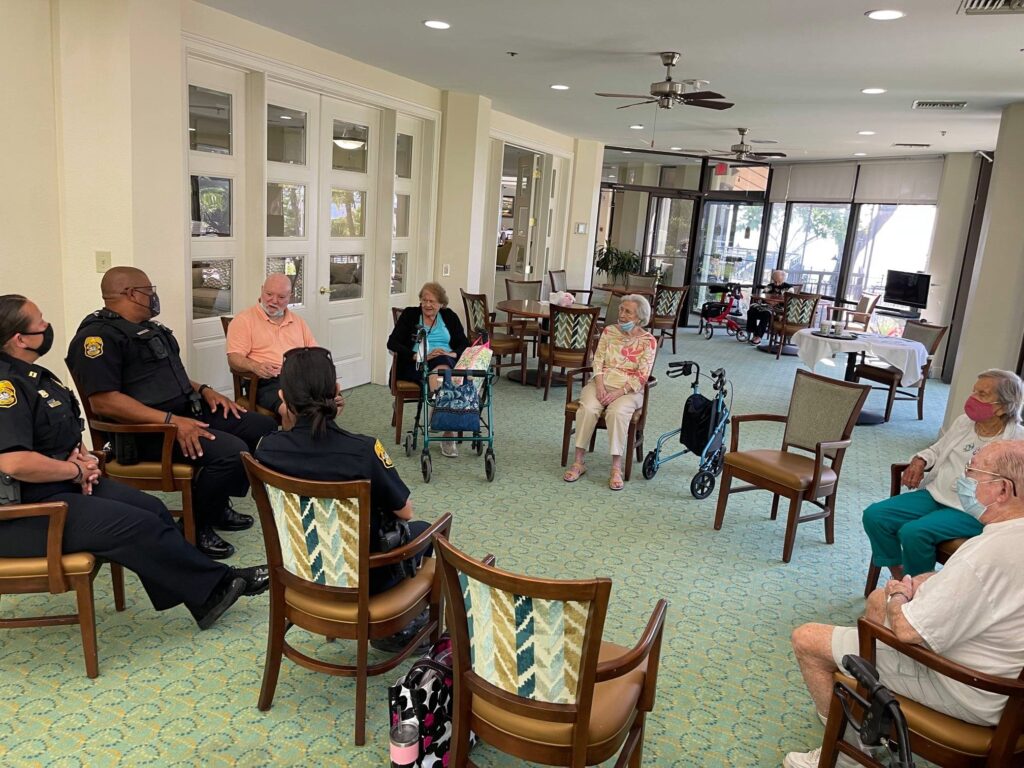 (Photo courtesy of the Tampa Police Department.)
In moments of kindness, cops amazingly switch gears from the gamut of bad instances to humanistic ones. Even though our elders slow their roll, as the inescapable realm of human physiology takes a toll (none of us are immune), some seniors embrace independence and give it a go—frailties be damned.
Not to take away from their abilities but to simply extend helping hands with otherwise cumbersome chores, law enforcement officers know when to pitch in, especially when time is of the essence and a monstrous hurricane is about to strike severe blows: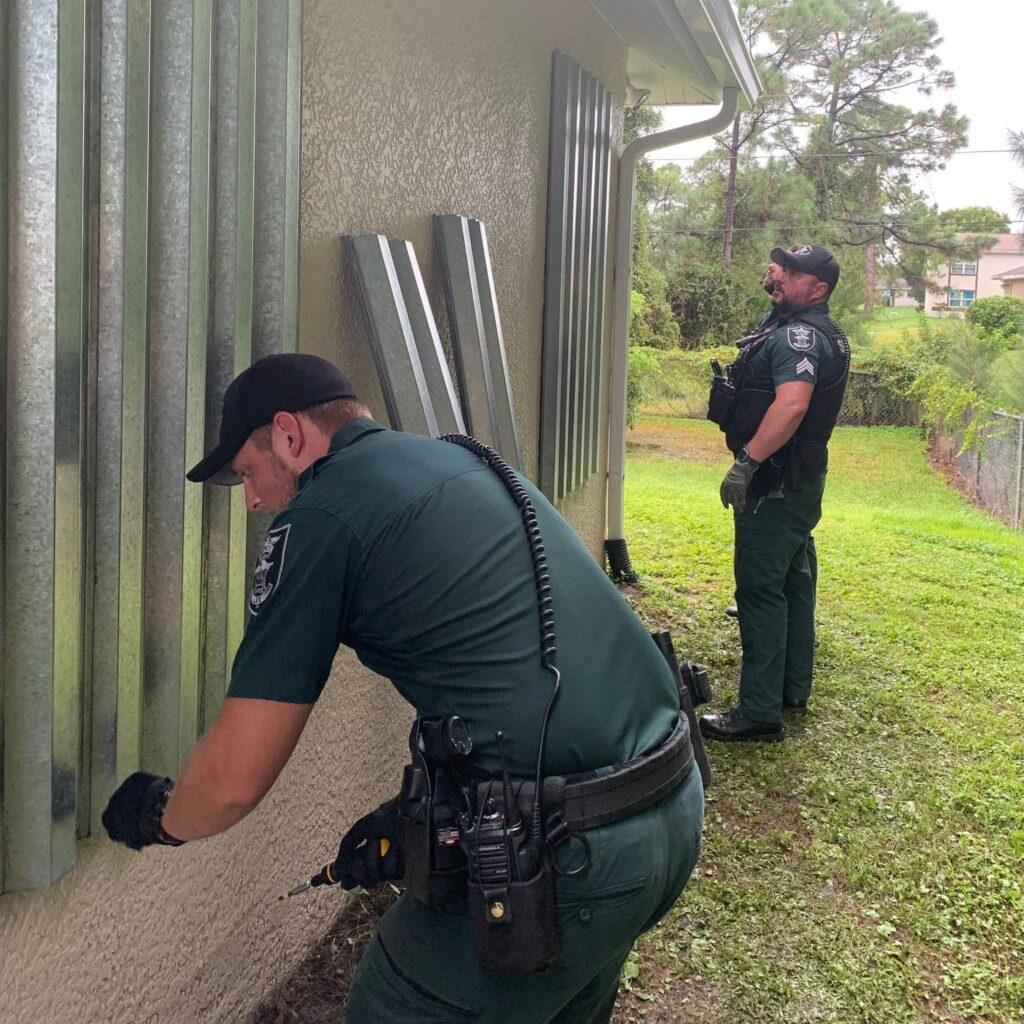 (Photo courtesy of the Lee County Sheriff's Office.)
In that context, cities whose cops are not horrifically under attack but revered for the role they assume have elders who recognize the good guys from the bad guys, taking hold of helping hands and forging bonds.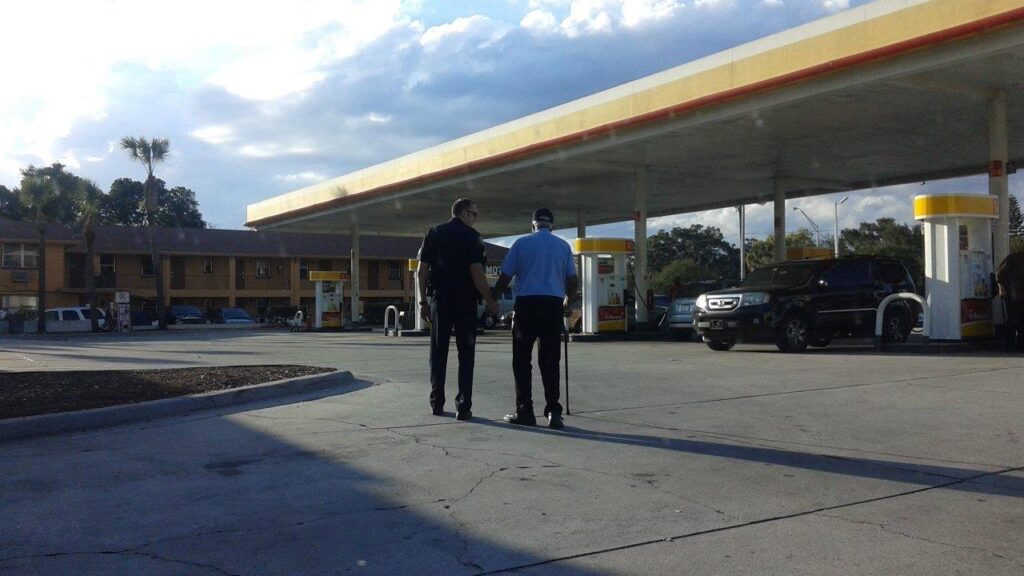 (Pacing with police. Photo courtesy of the Tampa Police Department.)
In closing, I recount my very last call for service as my police career concluded…
9-1-1 calls flooded our emergency operations center one pre-dawn morning. The dispatchers fielded calls from a batch of folks claiming they heard what sounded like a weak yet somewhat audible female voice crying out for help.
Isolating the callers' addresses, we homed in on one building among many in a large apartment complex. In relative darkness, an ajar ground-floor door availed the outstretched, bloodied armed punctured by a nasty broken bone suffered by a 90-something-year-old woman who, once I knelt close enough to hear her whispers, I learned had fallen.
She explained she couldn't get up to the corded telephone on the counter, so she dragged herself to the front door and began her pleas of "Help me!"
The trail of blood from the kitchen counter to her front door was graphic. As such, I was impressed by her calm demeanor. Her soulful crystal-blue eyes matched her housedress, her silky white hair slightly slackened from her bun. (She reminded me of Gloria Stuart, the wisdomful elder woman who played the role of the older "Rose" in "Titanic.")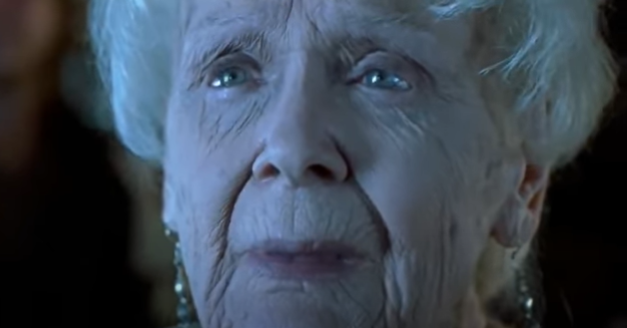 I stayed kneeling, reassuring her "the ambulance is on the way."
"Will you stay with me?" she asked in a fatigued voice, her forearm bone protruding like a snapped branch spearing the air.
"Yes, ma'am," I guaranteed her. Some squad-mates stood behind me; she peered up at each of them and somehow managed to offer a mild smile.
I would later find out her son was a retired NYPD cop and continued serving as a security officer at the county courthouse.
That was the final page in my police career, one ripe with senior citizens whose wisdom always assured me throughout the multitude of shifts —often laden with tragedy— that poignancy will surface and sanctify humanity, even when it seems dark and bleak.
Indeed, good always prevails…just ask our elders who have championed life holding the helping hands of friends.