Contingents of state troopers from the New York State Police and the New Jersey State Police were bid adieu at northeast airports after they deboarded buses and hopped on airplanes headed to Puerto Rico after Hurricane Fiona ravaged the island, leaving it powerless and in despair.
As with prior natural disasters, first responders bagged equipment, booted up, and flew to render aid.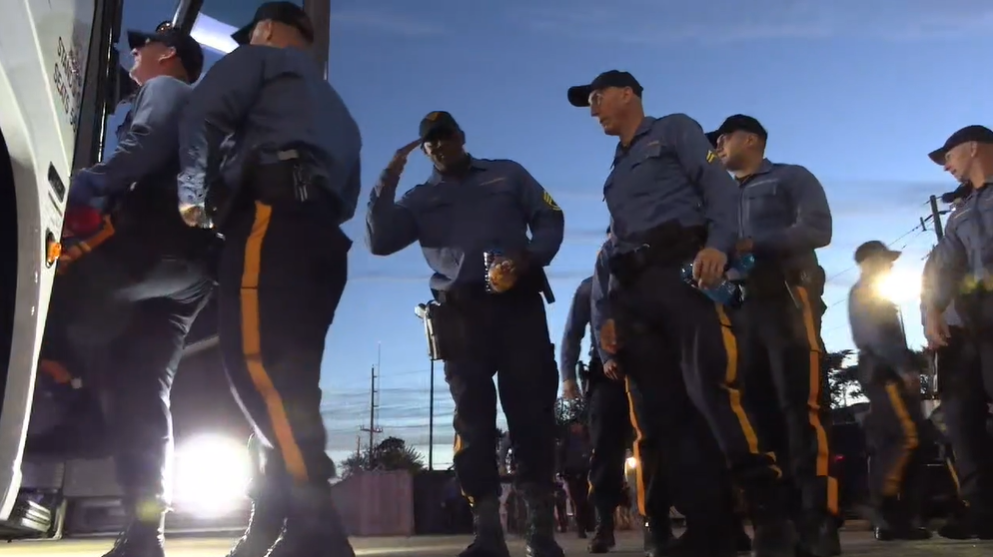 (New Jersey State Police members board busses to the airport. Photo courtesy of the NJ State Police.)
As New Jersey State Police Superintendent Colonel Patrick Callahan said before his contingent of state troopers boarded planes for Puerto Rico on Saturday, "You heard me say it before, the fact that there is an 'NJ' on the side of our shoulder doesn't mean that we just serve people here in New Jersey."
Referring to Puerto Rico, Superintendent Callahan reminded his troops of their continued dedication to duty, even serving at destinations afar, saying, "This will be our third time down there in the last two years [signifying legacy of restoration efforts by state police] and I still hear people talking about those last few deployments. To the fact that here we go again…is a tremendous source of pride for me personally and professionally."
(Photo courtesy of the New Jersey State Police.)
The irony is not lost on me, that JetBlue planes were filled with some of New Jersey and New York's finest. (Reportedly, the airline comped the entire transport operation.)
According to WROC in Rochester, New York, "The first wave of 50 Troopers, along with 74 New Jersey State Troopers flew out of JFK airport around 10 a.m. September 24. The flight was donated by Jet Blue Airlines. The second wave of 50 NYS Troopers will also be deployed in the coming weeks."
Indeed, these blue-clothed bravados are going to an island without electric power, the nighttime abyss being modestly illuminated by the flashlights of troopers navigating terrain in duty boots worn by selfless souls leaving their families behind to serve others surrounded by seawater.
Colonel Callahan offered a departing devotion, saying, "Each and every one of you is going to be the light that those people are looking forward to seeing hit the ground, when that plane lands with you and 50 New York State troopers, that's what service looks like, that's what law enforcement looks like."
Here is the first batch of first responders Puerto Rico's citizens will receive, except they will be less posed and more poised to get the job done on behalf of all islanders:
What are these LEOs going into? Well, here is a compilation of footage depicting the fury of Fiona, the aftermath of which these cops will contend:
Now, with Hurricane Fiona's destruction coming across the media, painting a bleak outlook, courageous voluntary reinforcements from other police agencies in the states plan to put boots on the Puerto Rican terrain, to pick up the pieces, remove gigantic obstacles, restore utilities, and maintain order among a hurricane-prone populace residing amid severely outmoded infrastructure.
Per Superintendent Kevin P. Bruen, heading the New York State Police, "New York State Troopers have always answered the call for assistance wherever it's needed, from Louisiana in the wake of Hurricane Katrina, to our first assistance mission in Puerto Rico following Hurricane Maria. Our Troopers will be on the ground assisting our partners with the Puerto Rico Police Department with public safety and recovery efforts as long as necessary."
From what I gleaned, Puerto Rico Governor Pedro Pierluisi placed requests, specifically asking other state governments for Spanish-speaking police officers. That will overcome any language barriers among Puerto Rico's LEOs and citizens who, collectively, will engage in laborious efforts in removing debris and obstacles deposited by Hurricane Fiona. Synonymously, bilingualism will aid non-native cops with the lay of the land and key points for consideration.
According to City&State New York reporter Sara Dorn, "Some regions, particularly in southern Puerto Rico, are at risk of landslides and mudslides, and a significant portion of critical infrastructure has been destroyed, including roads and bridges in rural mountain areas."
Puerto Rico's main news source, PR Informa, posted a compilation of brief videos depicting Hurricane Fiona's wrath.
As I compose these words, Puerto Rico's post-Hurricane Fiona situation is compounded by the lashes of incoming Hurricane Ian (headed my way) outer bands throwing gusts and water everywhere, predominantly to PR's southwestern quadrant. This…as cops from the states poured in to help.
On Saturday, PR Informa posted imagery of first responder reinforcements arriving from the states: "140 agents from the NY and NJ State police arrived today at Puerto Rico to support local Police in efforts to reduce the increasingly high rate of crime after Hurricane Fiona hit the island. Carjackings, gas/diesel and food theft, ransacked stores and FEMA/federal personnel impersonators are among the top crimes reported in the last 6 days."
According to a tally chronicled by PR Informa, the death toll on Sunday reached 16: "Fiona death toll in Puerto Rico at 16. Number expected to rise as more investigations start."
When Hurricane Maria struck the island in September 2017, roughly 3000 deaths resulted. Then, cops from various U.S.-based law enforcement agencies flew to Puerto Rico, rendering aid as best possible in a non-navigable environment carved incongruously by unstoppable climate fury.
Once again in PR, the typical depravity American cops confront back in the states will be addled by walking amid scenes of utter destruction and forlorn residents seeking sustenance and any semblance of security, a repeat due to another catastrophic episode of natural forces generating disastrous tolls and defacing the landscape, leaving "100% of Puerto Rico without power."
The Puerto Rico police force of approximately 11,500 cops (2020 estimate) had their hands beyond full.
Then, law enforcement officers from the states made their way there and resolutely participated in search and rescue operations, plucking people from rooftops surrounded by muddy tides and humidity.
When a natural disaster of significant magnitude compels government officials to call in reinforcements from elsewhere, it is equivalent to a mutual aid agreement between sovereign jurisdictions to supply support, equipment, and confer temporary, limited authority concerning public safety providers.
Early in my career, a hurricane bore through Florida. Many small towns and cities were flattened, literally. Respective police departments were no more. My agency caught windswept rainstorms but little damage. Thus, our police force was in the chute to render aid, in a municipality several counties away.
The Gameplan
The Florida governor's office collabs with state-level emergency management officials in general. With particularity in police presence, the Florida Department of Law Enforcement (FDLE) was authorized by the state government to develop a list of law enforcement agencies able/equipped to respond to police entities destroyed by hurricanes.
My department was assigned to entirely cover the small city of Bowling Green, Florida (population 2,500 back then). Plans are hatched, analyzed, and revamped several times in the interest of logistical integrity.
Dates are set for volunteer cops to meet and ship out after all equipment is checked and double-checked. Respective cruisers are loaded. The breadth of gear and apparatus is packed into trucks (we rented U-Hauls). In advance, we were informed that there were no still-standing living quarters at our assigned destination…
Now what?
Fortunately, this was yet another occasion whereby the cops and community work together for the good of all: A renowned RV manufacturer/distributor headquartered in our municipal fringe heard of our predicament (one of our sergeants serviced his RV there and mentioned our operational plan and its shortfalls).
Lo and behold, the RV corporation's CEO signed over a full-size demo model RV to our city PD, handed over the keys, and resolved housing issues while on this mission. Of course, RVs can house only so many, so we devised how shifts would work and who would get bunked while others would patrol what was left of Bowling Green.
What an experience!
The entire city was paralyzed: if spared by the hurricane, businesses were without power. Roadways were strewn with massive, aged trees which utility crews had not gotten to yet. Power lines laced around like discarded shoestrings. Desolation reigned. A rare sighting of residents peering from damaged doors, waving to our police officers driving by, was rare yet packed a punch in terms of despair giving way to signs of salvation.
The Bowling Green police chief was the sole officer taking any calls for service; we were his backup, serving in a deputized fashion.
Turns out the police chief fulfilled all police service calls, responding directly from what was left of his residence, allowing his modest force of only a few cops to fully tend to theirs. One domestic violence incident, one boisterous drunkard, and a handful of theft calls engendered us supporting the chief throughout our mission.
Generally, we rotated between 12-hour patrol shifts and bedding aboard the consigned RV. The state funded this entire mission, meaning taxpayers supported the effort just as they would if their community was upended by nature—as outlined in the mutual-aid mention above.
Bittersweet, indelible scenes clog every law enforcement officer's psyche. A paramount one glued to my cranium was when we got to meet the Bowling Green police force (about six in total) and their loved ones.
Downtrodden is an understatement. Yet they assembled and cooked us dinner. They cooked US dinner!
Canned foods were mixed into pots and pans heated over camping-style burners powered by propane then plated (paper and plastics) on doctored furniture piecemealed together after the hurricane's fury left it in splintery heaps.
Quietly, somberly, we broke bread with Bowling Green cops. Humbly, I glanced and saw them glumly looking around at what was formerly their police headquarters building. The official Bowling Green Police Department sign rested against the curb.
While eating, a Bowling Green police sergeant got up and walked to the sign (mind you, we ate in what used to be their breakroom, now void of any walls), picked it up, and positioned it on the floor where we ate quietly on fold-out chairs. He choked back tears. His wife hugged him. His school-age children stared, their confused and frightened expressions prevalent in lingering silence.
In all, we prayed together. We formed new friendships. We witnessed the hardships of small-town cops whose chosen careers were reduced to rubble due to a natural event no Stop sign or police whistle could curtail.
While there for an unlimited duration (until the state Emergency Management officials declared it time to do so), I met LEOs from many different agencies —city, county, and state— at the generator-powered fuel pumps one county away.
I paint this picture to illustrate what the various law enforcement agencies assisting in Puerto Rico will likely experience. Akin to New Jersey State Police Colonel Patrick Callahan mentioned during his troopers shipping out to PR, "To the fact that here we go again…is a tremendous source of pride for me personally and professionally."
When trouble strikes, first responders go all in…