As the largest municipal police agency in America, the NYPD employs a robust contingent of law enforcement officers to respond to just about anything imaginable, ranging from crimefighters investigating morose depravities to Mounted Unit farriers fashioning new shoes for its police horses. Then there is the NYPD staff uniquely skilled at conducting sting operations…in the literal sense.
In the city that never sleeps, being prepped for anything that can possibly go wrong, and smoke the situation before anyone gets harmed by natural causation…is yet another among the myriad specialties honed by unorthodoxly positioned NYPD cops on behalf of its huge population of citizens.
Recently, the NPA published stories about police officers possessing a wide array of non-police skills that they happily cater to citizens coping with some of life's daunting hardships. In post-Hurricane Ian days, we saw cops from all over descend upon the SW Florida swath stricken by Ian's unstoppable fury, leaving a trail of destruction for homeowners and merchants alike. Cleanup and rebuilding efforts came…compliments of cops.
In the aftermath of fallen law enforcement officers who went out on yet another perilous mission and didn't make it home one more time, newly certified police horses were granted namesakes of those enshrined in categorical line-of-duty deaths. From this material, we learned of farriers who cater to the needs of police horses requiring new shoes.
The common denominator among any of these rather unorthodox police roles is that largely unheard-of skills are brought to the job, a job for which the police academy training would require curriculum and vocational credits to boot. On that note…
Never would I think to call the police for beehive infestations and the potential dangers that surround such a buzzy activity of potential kamikazes…but the NYPD somehow at sometime figured to equip its armament of crimefighters with something to combat the nasty stingers.
Bee-ginnings
So how would it all begin for a person who knows nothing about beekeeping to muster the patience required to coax the buzzers and then apply it to police work?
NYPD police Officer Darren Mays, the department's beekeeper sometimes seen on national television demonstrating his special skill involving hive activity where too many people congregate (NYC overpopulation), ideally suited and slowly thinning out a thick beehive by collecting the colony for remote relocation, shared his story…
Turns out his beekeeping mission as a patrolman was a fluke influenced by a friend who was in-the-know, mentioning that he was in a "beekeeping class." As Officer Mays stated publicly, he thought it was a funny "hobby," amused by anyone who thought it would be a good thing to do.
Evidently, his curiosity grew. He visited his beekeeping friend's home, observed the process, and "got sucked into it." I suspect he never thought it would make for a sought-after skill scalable in a premier law enforcement entity in Gotham.
Suddenly the terms "queens" and "larvae" and "brood" and "drones" were among his nomenclature, leading to a role as a police beekeeper among New York's Finest. Per the New York Daily News, Officer Mays assumed the vacancy left by Officer Anthony Planakis aka "Tony Bees," who retired.
Per New York reporter Michael Sheridan, cops voluntarily pledged to the NYPD Beekeeper Unit "still work primarily as regular police officers" on patrol. When the need arises to support this kind of sting operation, these handy-dandy cops are on-call, assigned to handle swarms reported to the police dispatch center.
Given that there are only a handful of cops in the Beekeeper Unit, Officer Mays became a frontrunner in mitigating hives around the city, ultimately rehoming many of the bees in "12 colonies of 12 hives" in his backyard in Upstate NY. He got the bug, it seems.
Nowhere near a swarmful, the NYPD Beekeeper Unit drew the interest of a few cops who love the science of bees:
One of Officer Mays's colleagues, Detective Robert Travis, made the media buzz when he was dispatched to a reportedly 10,000-strong beehive clustered to a street light pole at the busy Avenue of the Americas/W. 47th Street intersection in Manhattan.
Patrol cops strung yellow crime scene tape to help protect gobs of onlookers watching the dangerous duty being performed.
No-so-ideally suited (in the garb sense, his skills were orderly), Det. Travis hovered in an NYPD bucket truck, vacuumed the honey makers with a suction-controlled bee-vac, and relocated them to less populated parts (Upstate NY, more on that in a moment). Why no beekeeping attire? Apparently, bees are typically calm at night, so Det. Travis opted out of protective layering, saying, "By the time I got there it was pushing the evening hours and they were docile. That's why I didn't wear the full [beekeeping] suit."
(As you heard in that brief footage filmed in September 2021, the NYPD Beekeeper Unit, which operated under the wings of the Special Operations Bureau, was abolished not too long ago, then reinstalled. Wonder if that had to do with the bizarre budget cuts stemming from the pesky police defunders.)
As mentioned above, cops bring many interests and skills and know-how to the field of policing, and Det. Travis is among the lot. "I'm fascinated by [bees]. They can all coordinate together to form one big task," he said during an interview with New York Post reporters Tina Moore and Natalie O'Neill.
Pressing him for the skinny on the buzzers and interest in taking over for retired NYPD beekeeper Officer Mays, who became a commercial beekeeper marketing honey under his own label, Det. Travis availed his beekeeping hobby on his property in Upstate NY, where he said he keeps about 40,000 bees and studies them informally. Det. Travis offered his personal experience from which he garnered his unique skills:
"The yellow jackets, they like to sting me more than the honeybees. You get stung enough times you know what's coming," adding, "Honeybees, I probably have a few hundred stings in my life. But those are more like mosquito bites compared to…to other winged friends, like yellow jackets and bald-faced hornets…those are a little different."
Not bad for a cop who spent years on the beat, followed by a stint in the coveted role as an Emergency Services Unit (ESU) officer, responding with special equipment aboard police trucks assigned to the contingent known for scaling any of the Big Apple's gargantuan bridges where suicidal folks often demonstrate utter despair.
In any event, the commonly comprehended police sting operations involving getting drugs off the street or clearing away prostitution rings or netting arms dealers illegally selling weaponry, or anything contraband-related nefariously and clandestinely trafficked, is an entirely different category for which cops employ certain skills.
Now we can justly add police stings directly engendering beekeeping measures performed by cops keeping the community safe, despite the unorthodoxy.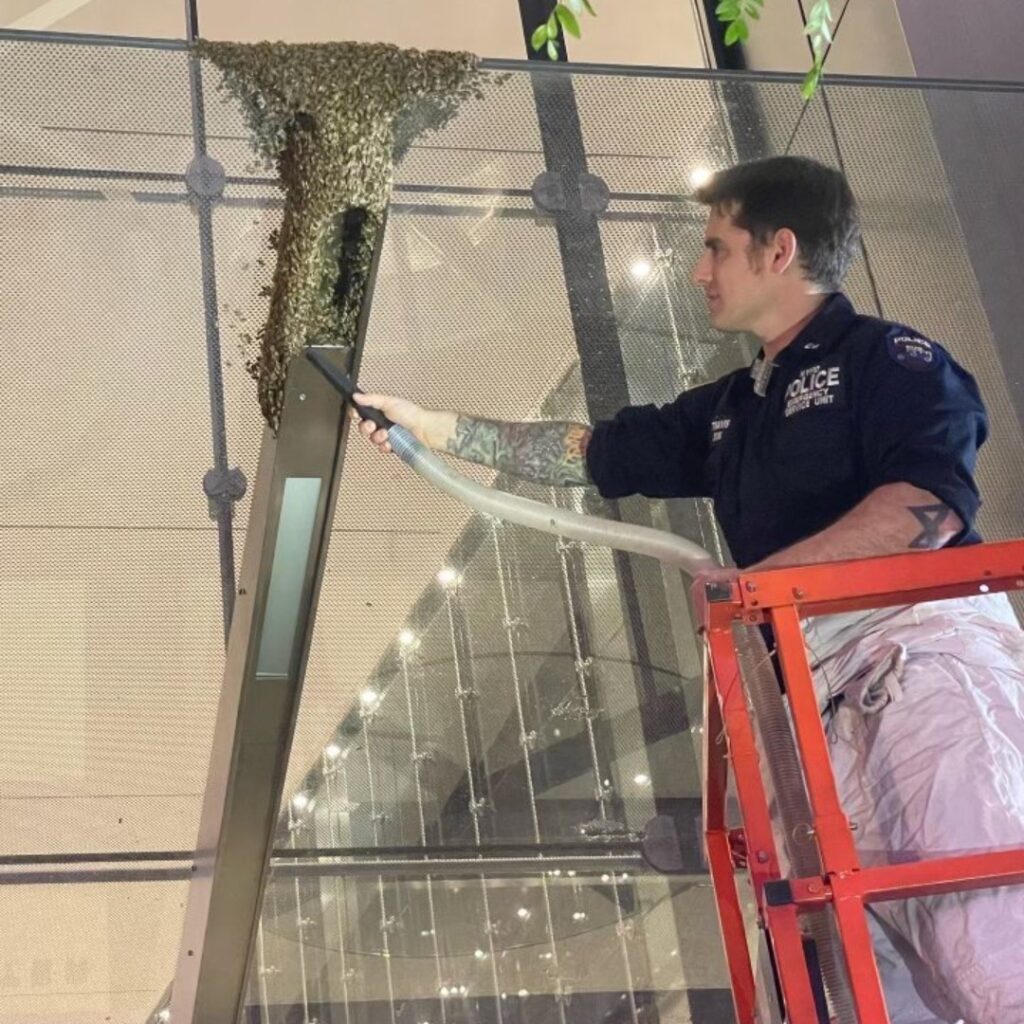 (Photo courtesy of the NYPD.)
If you are pondering how rare this trait is in law enforcement circles, compelling wonder of cops elsewhere having abilities to tame active beehives by collecting and relocating them, I know it is extremely rare in law enforcement. My department's "beehive complaints" were mitigated by notifying contracted beekeepers who were more than happy to come out and do the deed (sting operation) at zero cost.
The NYPD's reason for creating its very own beekeeper contingent? The New York Post reported in 2019 that "the need for a special bee unit arose in 2010 when the Big Apple legalized urban beekeeping" and that the city's "amateur beekeepers let the critters escape, leading to fluctuations of swarms invading the city."
As Detective Travis suggested, beekeeping instills wonder and lends lessons about a species absolutely vital for our planet. With the reportedly dwindling population of bees, we are grateful some cops suit up for that dire circumstance, certainly when it is a public safety concern.
With that said, each of these beekeeping cops is doing a good deed in more ways than one.