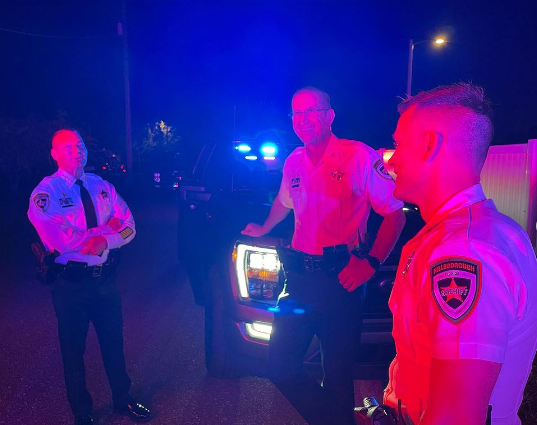 Nowadays, the word "progressive" has a negative connotation due to a political party plunging their hair-brained policies and schemes down our throats, tyrannically telling us how to live. Positively, a county sheriff's command staff is progressively hitting the street beat, illustrating Why they entered the law enforcement profession.
"Going out on patrol reminds us of why we got into this business: to protect and serve," said Hillsborough County Sheriff Chad Chronister.
Once again, the Hillsborough County sheriff and his ranking executive team members took to the streets of Tampa, Florida, conducting traffic stops, responding to calls alongside road deputies, and engaging with community members.
Command staff also visited the county detention system's facilities, catching up with deputies "on the block."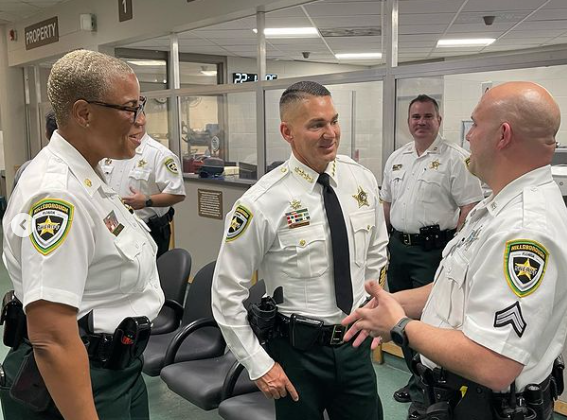 (Photo courtesy of the Hillsborough County Sheriff's Office.)
For a considerable metropolis population and vast jurisdictional territory, command staff generally handles obligatory operational controls and manifests the machinations of a large law enforcement organization so that citizens can be served with utmost capacity.
No question, organizational challenges are a steady stream, especially in an increasingly fluid climate of often impromptu upheaval and many players insisting we all cater to their blueprint and/or politicos pushing ideologies with which not everyone agrees.
Add to that the myriad appearances necessitated by speaking engagements before governmental and civic groups and the like, a law enforcement executive may discreetly pray for a deserved breather, a 25th hour to recoup.
But pressing on is the mainstay among those in the policing profession, and rightly so as the burgeoning population presses in, invariably generating dilemmas requiring the law to step up and lean in with mitigation and resolve.
If that last part sounds like a back-to-basics philosophy, then you have tracked the bouncing ball correctly.
Leading by Example
Under the leadership of Sheriff Chad Chronister, the Hillsborough County Sheriff's Office (HCSO) has among its many programs what is referred to as "Patrol and Detention Operations Night," which "gives Command Staff time to connect with night shift team members while keeping the community safe."
With Patrol assets, frontline deputies working a beat in any of HCSO's five districts may find themselves receiving back-up from Sheriff Chronister or other executives donning brass insignia on their uniform collars.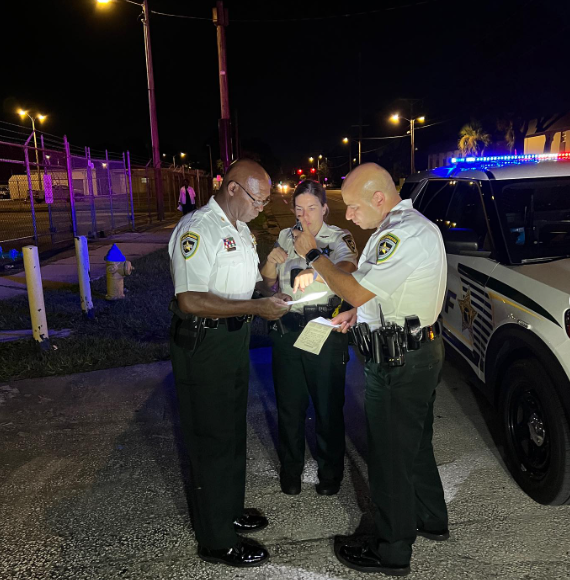 (Photo courtesy of the Hillsborough County Sheriff's Office.)
"Major Jackson [pictured above, far left] says evenings like this are important to him because it allows him to connect with deputies on the night shift to see what they're going through."
On the Inside
At HCSO's jail facilities, "Commanders Night Out" entails Detention leaders overseeing the labyrinth of pods containing incarcerated people awaiting trial or serving court-imposed sentences.
"It's Commander's Night Out at Orient and Falkenburg Road Jail. Take a look at what our Detention Command Staff has been doing tonight!"
Orient Road Jail is like a vast city encircled by tall fencing, the perimeters of which are patrolled by detention deputies in marked HCSO cruisers on a 24/7 rotational basis. It is the central jail where all the county's law enforcement agencies, including some federal level ones, bring their arrestees for processing/Booking and determinations of bond (based on the severity of criminal charges) or holds (court appearances).
It is where all arrests I affected were transported. The operation is massive. The dangers are ubiquitous. The sworn and non-sworn staff were typically hypervigilant, understandably so. Without fail, there were usually a few unruly people creating a ruckus ("drunk and disorderly") and proclaiming law enforcement jammed them up for "no reason whatsoever!"
Detention deputies and corrections officers Anywhere, USA, have my respect. Dealing with throngs of suspected (arrested) criminals in one space takes courage made of steel, hence, commanders essentially pillar the detention deputies in the pods loaded with many malfeasants who detest law enforcement of any stripe.
For any detention deputy working 12-hour shifts, seeing/hearing any sheriff's office executives "in the armpit" of the criminal justice system, feeling the same feeling as deputies entrenched, is akin to soldiers sharing a foxhole.
Conversely, the presence of command staff bears witness to rehabilitating inmates and the deputies who mentor them through ordeals involving confinement.
On that last note, HCSO offers just about any kind of program for convicted folks serving time to start anew when they get released, beforehand being provided vocational traits to rejoin society in productive ways.
Some Hillsborough County inmates revel in "a momentous occasion in getting their lives back on a positive path" as our "first all-female inmate class graduated from the Automotive Training Program. To see the pride these individuals had as they received their certificates was quite moving. This program demonstrates the transformational power of education and skill development," said Sheriff Chronister.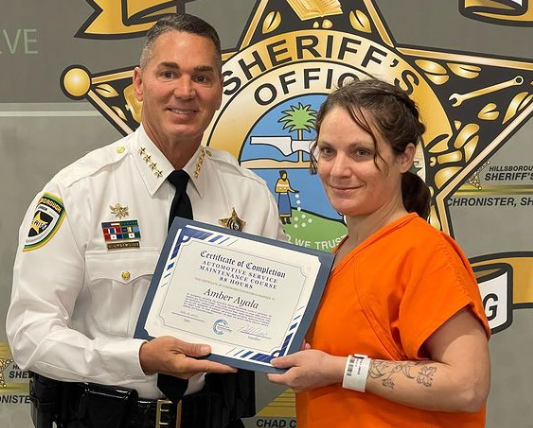 (Photo courtesy of the Hillsborough County Sheriff's Office.)
As Major Brown said in the brief video exposé linked above: her presence in the jail (not the sheriff's administrative office downtown) enables her to visit some of the inmates, garner rapport, and hear success stories from them and the deputies who oversee the population.
In particular, Major Brown recounted the repeat visits of one individual who, since his teens, she has seen re-arrested and Booked time and again. This harkens back to when she was a frontline detention deputy being overseen by sheriff's office executives. The lineage of leadership changes but the mentorship modality stays intact.
Circling back to our beginnings, the word progressive is denoted by HCSO Colonel Anthony Collins:
"All of our department commanders, division commanders, the chief deputies, and the sheriff…we're out here, out here to serve and protect our community.
"Sheriff Chronister always implores us to find more innovative ways to serve our community. This is a better way for us to do that: out here being in the community, coming in contact with our citizens, finding better ways, and hearing from our citizens on how we can do things better. But also, conversely, being out here with our deputies. Find out how we can provide them with better tools and provide better service to the community."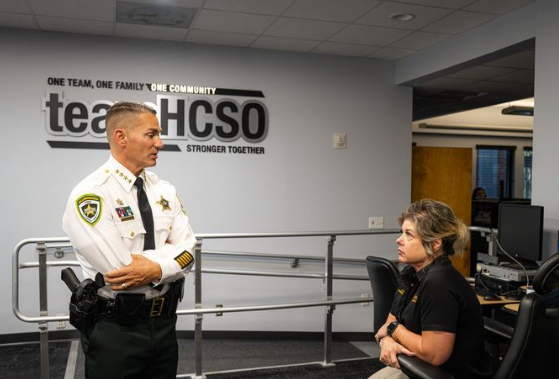 (Photo courtesy of the Hillsborough County Sheriff's Office.)
Their law enforcement agency credo —Team HCSO, Stronger Together— is more than a prideful banner…it's publicly displayed.