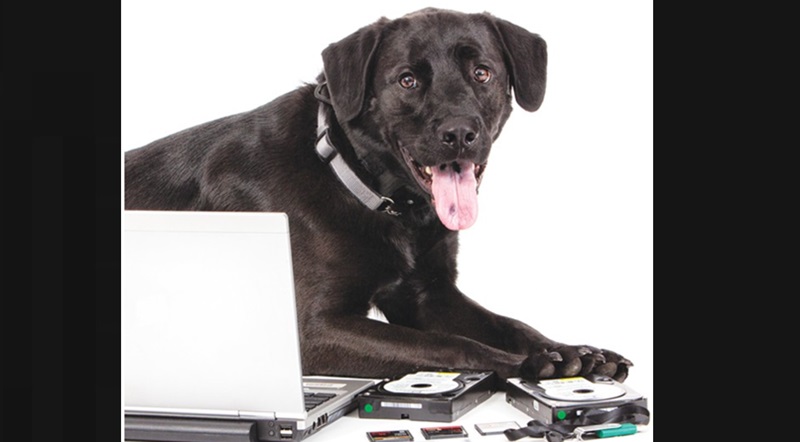 By Steve Pomper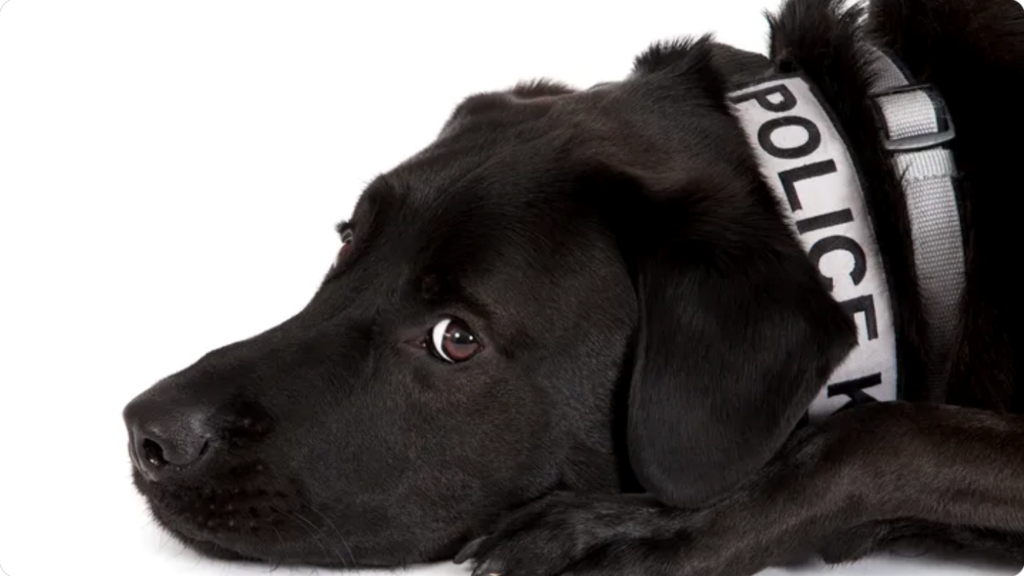 Bear: now-retired electronics-sniffing dog (ESD) K9 officer
This is a great story that's mostly been around for a while, but it's worth our recollecting it. And there are updates about a close call for police K9 Bear in his retirement. Sadly, I don't often get to start stories about law enforcement with such positivity. I could find "feel-good" cop stories, but that wouldn't be organic. I like stories that jump up, grab me, and say, "Write me!" Most often, the stories that do this are about exposing cop-haters hatin' on cops.
But this one jumped up and dared me not to write about a remarkable K9 and the program that's bringing monsters to justice. All decent people grit their teeth in anger when they hear about child sexual exploitation. Several states even made rape a capital crime. In 2003, in Louisiana, a court sentenced a convicted child rapist to death. The rape of his stepdaughter was so vicious she "require[ed] extensive surgery." Although several states allowed the death penalty for rapists, SCOTUS shot it down in 2008."
But, aside from searching for rape suspects, in what other ways can a K9 help in child sexual exploitation cases? Glad you asked. By sniffing out the electronics child predators use to commit their crimes and store/hide the evidence.
Bear, after starting his career in the Midwest, was adopted by the Seattle Police Department's (SPD) Ian Polhemus, a detective assigned to the Internet Crimes Against Children Unit (ICAC). Though the convicts cannot land on death row, about Bear's "arrests," KING 5 News reported, Polhemus said, "Close the door and throw away the key? Man, life doesn't get any better for me."
Polhemus said he wanted to stay in the ICAC Unit but was thinking about transferring out because looking at child sexual abuse daily was taking a toll. A former K9 officer, his captain suggested he contact the Connecticut State Police (CSP) and find out about their ESD (electronics-sniffing dog) program. The detective said, "'If I could work a dog again and not have to look at child pornography, I'll stay.'"
Polhemus went to Indiana, where Bear was working, acquired him for the SPD, trained with and got to know him over two weeks, and then headed back to the Pacific Northwest with "one of the first three dogs in the world trained to sniff out electronic devices."
But how exactly does an ESD K9 sniff out electronic devices? According to Alison DeNisco Rayome at Tech Republic, in 2015, Bear and his then-partner Indianapolis Police K9 trainer Todd Jordan (of Jordan Detection K9) were brought in for what they told Jordan was "kind of a big deal" but gave no details.
Ten minutes later, an FBI agent told Jordan they were about "to hit Jared Fogle's house" in Zionville, Indiana. If that name sounds familiar, he's the infamous former Subway national spokesman who had a second career as a child predator. He was convicted, in part, thanks to Jordan and Bear. Forbes reported the 2022 documentary Jared From Subway: Catching a Monster can be streamed on Discovery.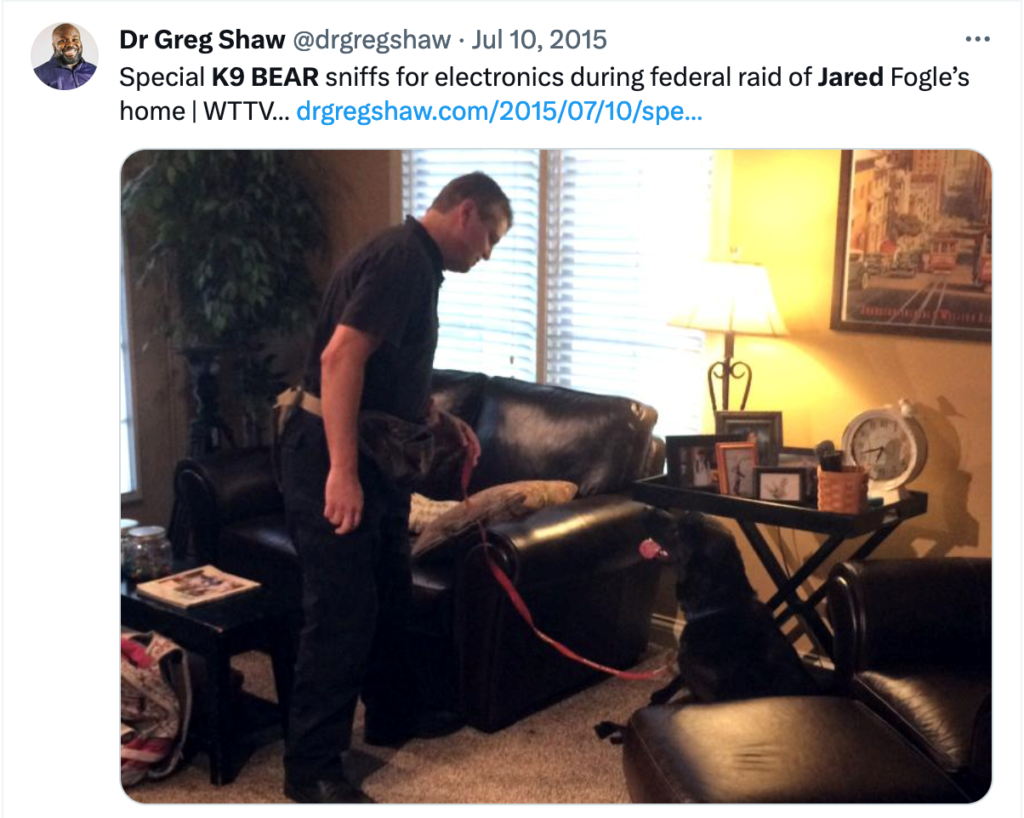 "Investigators from the FBI, the Indianapolis police, the Indiana State Police, and the US Postal Inspection Service searched the former Subway spokesman's house for two hours, carrying away computers and electronics, looking for evidence of Fogle's alleged child pornography distribution." With Officers Jordan's and Bear's help, Fogle pleaded guilty, was fined $175,000, and sentenced to 15 years.
Officer Jordan likened the size of a micro SD like Bear can locate to a human pinky fingernail. He said, "It would be almost impossible for [human] investigators [to find]."
Often, K9 handlers say they'd bring an ESD K9 into a crap-stacked room that investigators had fine-tooth combed for hours. Then, the dog will find missed, often miniscule, electronics "within 10 minutes…." Where human cops missed evidence due to understandable limitations, Bear and other ESD K9s aren't so limited.
The ESD program was born in 2012 when Connecticut State Police Trooper First Class Mike Real's boss asked him a question. "Could a K9 be trained to find computer hard drives." Not yet.
A state police sergeant in the computer crimes unit explained that detectives were missing electronics, especially small items, during warrant searches. He added this was a nationwide problem. However, the CSP may have been predisposed to find ingenious uses for K9s. "In 1986, the Connecticut State Police trained the world's first arson dog."
First Arson Dog: Mattie (Screen grab Connecticut State Police)
Next, they consulted a Division of Scientific Services, Connecticut's state forensic lab, chemist. He was skeptical but had more than 30 years working with narcotics, arson, and bomb dogs, "so I have a lot of faith in the dogs… and… their capabilities…," he said. It's about teaching the dog to sniff out chemicals used to construct electronics.
After examining electronic devices, he narrowed a common denominator down to their circuit boards. About half a year later, he "identified a [chemical] compound… which covers the circuit boards in all storage devices from large hard drives down to micro SD cards to keep them from overheating."
They also found another common chemical used on "removable media, such as CDs, DVDs, Blu-Rays, and even floppy disks."
Then, with a couple of Labs and using large amounts of the chemicals, they began training handlers and dogs for their unique mission. They chose Labrador Retrievers because of "their high-energy nature and strong retrievalcapabilities." As the training progresses, trainers use less and less of the chemical and consistently reward their dogs when they find the target.
A unique aspect of this training is "All of Connecticut's and Jordan Detection K9's ESD dogs are on a food-reward diet: They only eat when they find a device, so handlers must be prepared to run trainings every single day to keep their skills sharp and their bellies full."
Tech Republic also examined Bear's tenure in Seattle. "Bear's first year in Seattle, he assisted on 56 search warrants, and assisted in the identification of more than 500 devices in pre-searches. In post-searches, he uncovered 16 devices that would have otherwise been completely overlooked by the human search team. That means about 25% of the time, Bear finds a device that the search team did not," Polhemus said.
Unlike other investigations specific to illegal drugs, firearms, explosives, robbery, homicide, terrorism, and sex trafficking, including child sex exploitation, and etc., nearly every criminal uses an electronic device—at least a cellphone. So, dogs like Bear can span the investigative spectrum.
The use of ESDs has exploded since the program's inception in 2012. In early 2016, the CSP started training other agencies, using five labs for a five-week session and later, for another six-week session. Agencies participating were from the Anchorage (AK) PD, St. Charles County (MO) PD, Southern Virginia ICAC, Massachusetts State Police, and the FBI.
There's a bit of a follow-up to this story. Another more recently retired officer I know, who also served in the SPD K9 Unit, updated me on Bear's retirement. First, there was some bad news. According to the officer and a GoFundMe page (where you can read the details) organized by Detective Polhemus, this summer, the retired K9 cop was suffering from a severe ear and skin infection, which could affect him neurologically. Medications gave him limited relief, so surgery was the only option.
Since the city of Seattle doesn't provide veterinary care for retired K9s (or medical for most retired human cops either, for that matter), Detective Polhemus, with the assistance of generous donors, including the Retired Seattle Police Canine Fund (RSPCF), wanted to assure there are enough funds to cover the surgery and post-op care. Polhemus said he will donate any excess funds to the RSPCF.
Detective Polhemus updated Bear's status last July with some fantastic news. "Update! Bear did fantastic overnight. No complications, and his pain will be well-managed with take-home meds. Our sweet dog is home now and resting comfortably! A big shout out to Dr. Emily French and her team at Veterinary Specialty Center in Lynnwood. We'll continue to keep you posted on his recovery. Thank you again to all of you who made this life-changing surgery possible for him!