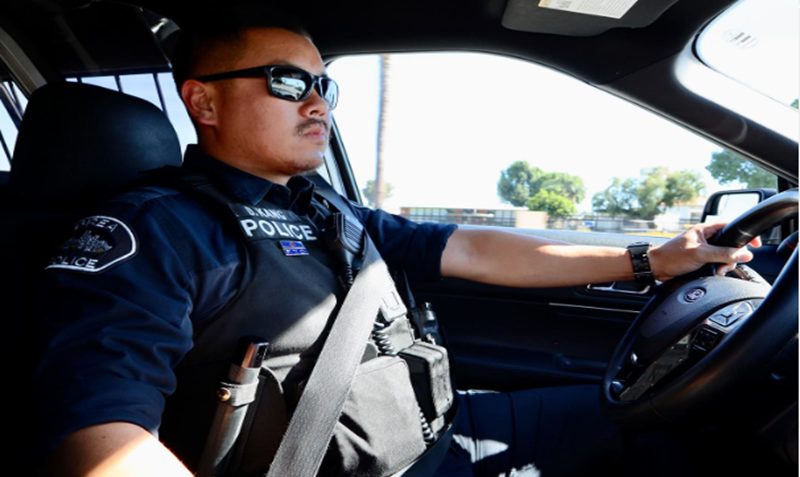 One other advantage of body-worn cameras (BWCs) used by law enforcement officers for varying purposes is the unique ability to be a vicarious spectator witnessing major police actions unfold…and all the supersensory stimuli that go with it.
Such a hair-raising scene experienced by law enforcement officers is the mobile police pursuit whereby all the senses ignite and the objectives taught during ample training days come to fruition (or close enough to score a win).
Recently, the Volusia County Sheriff's Office (VCSO) in Florida uploaded footage recorded by a deputy's BWC as he maneuvered his cruiser during a pursuit, in rainfall, exhibiting a dizzying display of automobile handling at super-high speeds.
Stop sticks were involved. Multiple police agency coordination was also a key component.
Here is what a VCSO spokesperson published on their blotter, laying the foundation for the pursuit:
"Last night [OCTOBER 12, 2023] around 8 p.m., deputies received a BOLO [Be On the LookOut] from @orangecosheriff for a stolen vehicle heading into Volusia County after an armed carjacking of a 59-year-old woman."
For geographical orientation, the violent crime occurred in the heavily touristy Orlando area, meaning a typically robust population throughout most of the day/night.

VCSO's narrative continued: "Law enforcement technology confirmed the stolen vehicle was in Deltona, and Orange County deputies later advised they had eyes on the car at Epic Theaters. VSO deputies got in position for a traffic stop, anticipating the vehicle might flee.

"It did take off fleeing, reaching speeds of about 113 mph eastbound on I-4 to Daytona Beach, with Sgt. Woell and Deputy Ingram are in pursuit. Officers with @daytonabeachpolice got a stop stick hit on Beville Road, and Deputy Ingram initiated a PIT maneuver, disabling the car and safely ending the pursuit with no injuries. (An earlier stop stick hit in Deltona, it turned out, was ineffective.)"
PIT (precision immobilization technique) maneuvers are taught at police academies during the emergency vehicle operations course (EVOC) phase during which cadets learn the technique for the first time and seasoned cops recertify, everyone honing skills in handling (stopping) a fast-moving automobile to apprehend bad actors while also being keen on safeguarding themselves and the general public.
Back to the Volusia County Sheriff's Office chase and culmination: "Three occupants of the car, all 17 years old and from Orlando, were taken into custody. The driver was charged with grand theft auto, aggravated fleeing and attempting to elude, and driving without a valid license. A black semi-automatic firearm was found on the ground near the stolen vehicle.
"All three were transported to the hospital to be medically cleared, then to the Volusia Family Resource Center. Charges in the armed carjacking incident will be handled by Orange County SO."
Let's get to what it all looked and sounded like, as per the BWC's record of events:
There you have it; that brief video afforded you the vicarious experience of what it is like to be at the helm of a police cruiser pursuing criminals. Notice the BWC's perspective of the deputy's driving capability while all the sensory stuff is flashing and the cacophony clogs the ears, having to pay attention to a multitude of concurrent activities and imperative communications without missing a beat…or a turn.
The cornucopia of stimuli engendered doing police behind the wheel, with well-appointed equipment that ignites all senses, is a factor not often considered in the public safety realms.
The PIT-scoring deputy in the Volusia County chase received kudos from his agency's brass.
Volusia County is known for its sheriff "working the streets" and physically getting involved in pursuits, backing up his deputies during hugely perilous police work. As such, Sheriff Mike Chitwood was right on the scene as the pursuit was put to bed and the armed suspects arrested.
Via the deputy's BWC in the cockpit and then out at the PIT/crash scene, you can see/hear Sheriff Chitwood and Chief Deputy Brian Henderson (both in full uniform) analyzing the event and giving kudos to the primary deputies who activated all wares and closed this case in a jiffy.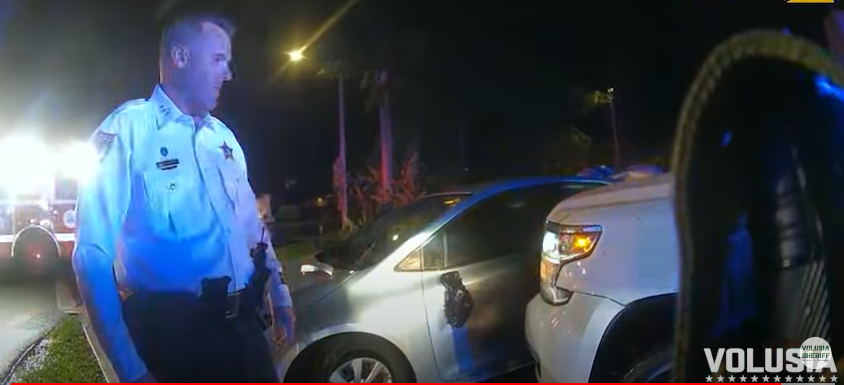 (Screenshot courtesy of the Volusia County Sheriff's Office.)
Astutely observing, a citizen in Volusia County commented: "Great job! Thanks for all you do to keep us safe!! Does Sheriff Chitwood ever sleep?"
Not sure about the sheriff's slumber schedule but we can be certain the 57-year-old female victim is breathing sighs of relief and resting easy knowing the three young thugs armed with a firearm may have significantly jolted (or ended) her life but they were nabbed by law enforcement after an epic chase.