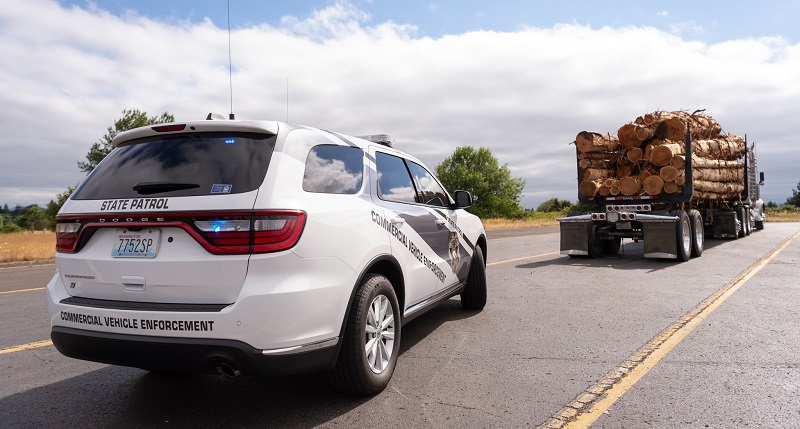 The ubiquity of dangers we face while driving on America's highways and byways is being mitigated by law enforcement officers specializing in commercial vehicle enforcement, stopping and inspecting huge rigs carrying major loads of products, some of which are marked "Hazardous," offering clues to potential disasters if safety features are unheeded.
Although any certified law enforcement officer can conduct traffic stops on trucks for violations of traffic safety codes, the realm of commercial vehicle enforcement is typically performed by state troopers who possess statewide jurisdiction, thereby enabling them to stop a truck and not have jurisdictional protestations in their ears.
Conversely, limited jurisdiction cops such as deputies (countywide) and municipal police (city-limits) enforce the trucking industry rules and regulations within their sovereign domain, sometimes teaming up with state troopers.
Having said that, let's examine the state-level LEOs for what they do and how they do it, all while operating amidst plenty of perils (Move Over Law, DUIs, inclement weather, etc.) on behalf of the motoring public.
The Florida Department of Highway Safety and Motor Vehicles (DHSMV) is sort of the parent to the Florida Highway Patrol (FHP), a contingent of certified cops primarily dedicated to motor vehicle enforcement. A subset of the FHP is their Commercial Vehicle Enforcement (CVE) troopers who are more macro-focused on the transportation (trucking) industry and its drivers' safe operations and rigs being up to snuff and roadworthy.
To do so is a safety-based action that troopers must be mindful of, especially on the nation's uber-busy interstates and the many machinations sharing space on the asphalt.
State troopers specially trained and assigned to Florida's Commercial Vehicle Enforcement cadre invest ample time in "Safety Enforcement." Here is a summary of their mission and requisite qualifications to do the job:
"The mission of the Office of Commercial Vehicle Enforcement (CVE) is to prevent crashes and protect property by performing commercial motor vehicle inspections and enforcing Florida's traffic laws. Safety Enforcement is performed by CVE Troopers who have approximately 500 additional hours of commercial motor vehicle specialized training."
Although the Michigan State Police refer to their CVE cops as "Motor Carrier Officers," recruitment of LEOs to fill vacancies in this capacity encourages those with mechanical know-how to apply:
"We are currently looking for motor carrier officers to join our team! Motor carrier officers specialize in commercial vehicle enforcement, by enforcing traffic safety laws, conducting commercial vehicle and driver inspections, assisting in emergency situations, and more."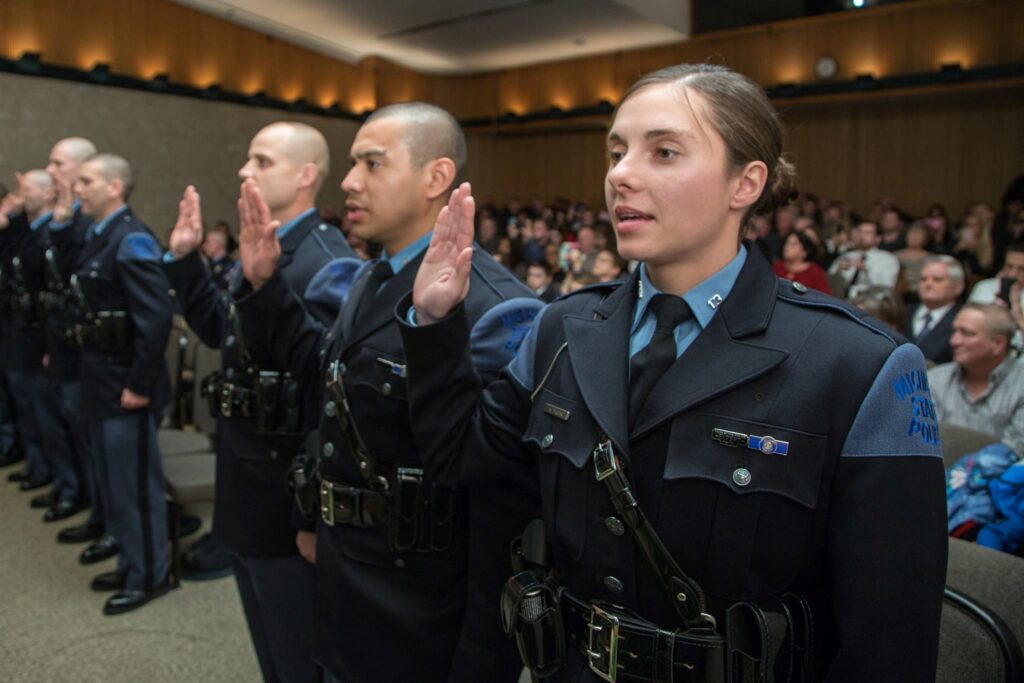 (Photo courtesy of the Michigan State Police.)
Police academies everywhere instruct recruits in emergency vehicle operations and conduct pursuit training as a part of the curriculum required by state Criminal Justice Standards and Training Commission bodies overseeing law enforcement indoctrination. However, the vast details involving the technical minutia of trucks do, as the blurb above mentioned, require an additional training venture to be bona fide CVE officers.
I have heard some troopers describe the "500 additional hours" as a combo deal whereby they are practically garnering certified mechanic education/skills to bolster law enforcement officer know-how regarding large transportation vehicles being safely operated and in stellar condition to be on the highways and byways.
Generally, CVE officers pull truckers over to the shoulder and commence a roadside inspection. But CVE troopers do not necessarily require conventional statutory probable cause (unlike most LEOs in other capacities, anywhere); some of these commercial vehicle cases go to court and are argued by both sides.
According to the Florida DHSMV's CVE operational doctrine, "Current Florida Statutes gives any CVE Trooper the authority to require the driver of any commercial vehicle operated to stop and submit to an inspection and enforce the traffic laws of this state with an emphasis on violations committed by commercial vehicles."
Regarding the trucking industry, sometimes safe operations can go bananas due to mechanical failure. For example, days ago an 18-wheeler caught fire and browned some of its at-capacity cargo of boxed bananas. This was on Interstate-75, where FHP troopers are usually present and swiftly responsive to ward off harm to any of the motoring public.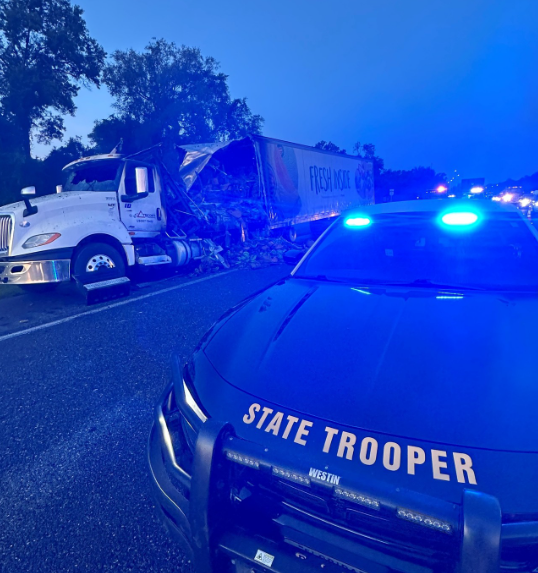 (Photo courtesy of the Florida Highway Patrol.)
Looking at that truck's banana inferno, I can imagine a trooper assigned to the CVE team preempting this burn by a routine traffic stop during which the rig's wiring and electronics system powering the refrigeration components are closely inspected and deemed too hazardous to continue operating.
And that's the thing about the transportation industry and its trained operators: a lot is going on and the accompanying noise levels likely impede awareness of malfunctions in the making. Hence, CVE officers conducting traffic stops for inspection purposes save untold lives by performing safety inspections.
Our feature photo today illustrates the high potential for things to go horrifically wrong. Logical to assume the rig transporting a load of logs caught the attention of the Washington State Patrol's Commercial Vehicle Enforcement officer, for several reasons.
Regarding commercial vehicle operation statutes in the state of Washington, one can confidently imagine the uncovered load of logs is susceptible to incendiary woes (tarps ordinarily cover exposed cargo). Also, the load looks uneven/imbalanced (which CVE officers refer to as "cargo securement"), which may cause the law of physics to kick in and result in some serious damage and/or death to surrounding vehicular traffic.
Heck, the stop may be due to driver actions or lack thereof…
"According to the Commercial Vehicle Safety Alliance (CVSA), drivers' actions contribute to 94% of all traffic crashes. We can all work together by making good choices whenever we get behind the wheel," the Washington State Patrol press release offered.
One of the basic things truckers are required to do is test the integrity of each of their many tires. Not just the treading but also the lugs being securely tightened.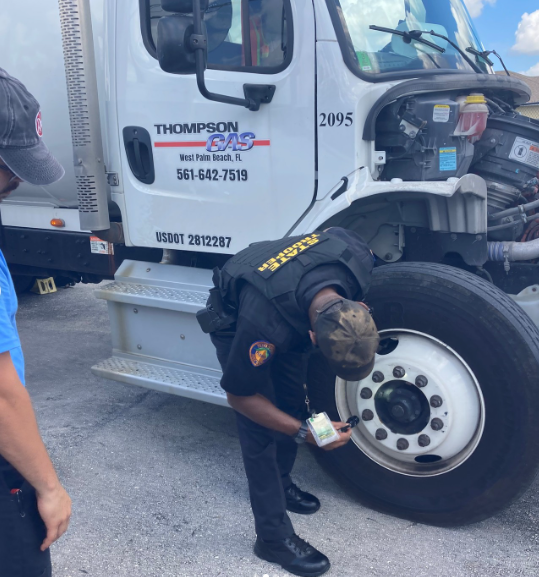 (Photo courtesy of the Florida Highway Patrol, Commercial Vehicle Enforcement unit.)
On every interstate, the alligator-like strips of tire pieces from blown truck tires gives credence to CVE officers stopping rigs for comprehensive inspections, before lives are jeopardized by such a snafu.
That leads us to something I've heard as a cop quite often, and reading comments under CVE posts echo the whines of some people rebuking cops for issuing citations for motor vehicle violations. One such comment was barked about troopers making truckers' lives worse by ticketing drivers. Wouldn't cops not doing their duties make others' lives deeply scarred or bluntly lost if not for ensuring the operational safety of all motor vehicles and the drivers behind the wheel?
In that context, law enforcement officers assigned to CVE units routinely offer any members of the trucking industry an overview of what they are trying to preempt from physically happening on the roadways, for free. It's less about punishment and more about preservation.
Accompanying the above photograph were the following details, underscoring how CVE cops are preemptive and not punitive (although it is within their discretion, especially when transportation outfits fail to heed the requisite basics of motor vehicle safety and are tooling among the unsuspecting public):
"CVE Training Unit participated in The FL Pest Management Associations Taste of TECH days held in Clearwater, FL on 4/25/23. Tpr. Kevin Nelms demonstrated how to perform a proper pre-trip inspection some other topics also discussed were CDL qualifications, medical cards, Interstate Commerce, and loads on vehicles."
That was a few months ago, and the Florida Highway Patrol (akin to other states' certified CVE teams) offers these and similar events to those employed in the transportation sector—another example of how law enforcement is proactively engaging the community's citizens and preserving personnel and mechanical assets in which they are deployed.
Besides mobile CVE officers operating fully marked patrol vehicles, states have weigh stations specifically relegated to evaluate the integrity of trucks. Travel on any interstate and you will invariably see these weigh stations. Generally, each one is staffed by a mix civilian of technicians (operating the scales and recording the results) and sworn law enforcement officers (emplaced to take any necessary enforcement actions such as citations and/or custodial measures when a transport operator has personal issues such as a load of cargo that is illegal).
Given the relentless efforts of drug cartels to smuggle contraband across national and state borders, weigh station-based CVE officers have significant opportunities to scrutinize all the nooks and crannies of a semi, getting close-ups of the guts and looking for anomalies that give rise to illicit activity.
(Photo courtesy of the Florida Highway Patrol, Commercial Vehicle Enforcement unit.)
As you can see, subsurface cutouts (think oil-change station designs) allow CVE cops to examine the belly of a rig, not only for concealed contraband but also to ensure mechanical engineering meets calibration specifications and roadworthy integrity.
Weigh station scales to measure the truck's weight limitations stipulated by statute are not defeated if they are down or if the line of trucks to enter the facility process is long. CVE officers drive larger police vehicles to handle the extra weight of portable scales stowed in the rear, enabling weighing rigs wherever they are stopped.
Next time you observe a police vehicle marked as a "Commercial Vehicle Enforcement" or "Motor Carrier Compliance" unit, and they appear heavy/tilted in the rear, it's caused by these portable scales and other related equipment, not an overfed police canine.
Last but not least, CVE officers also cater to kids in schools, demonstrating their patrol vehicle equipment, how it all functions, and why they employ it for overall public safety feats.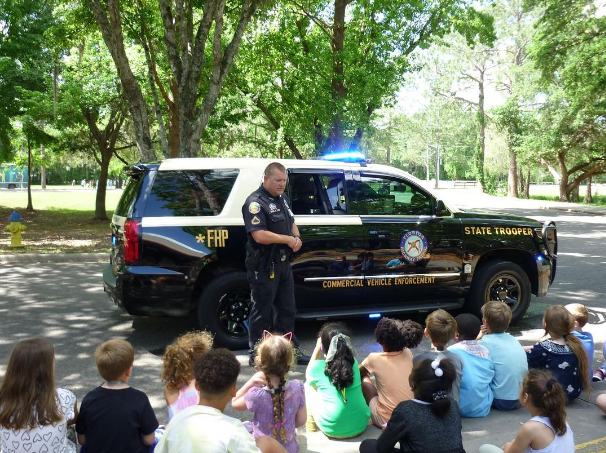 (Photo courtesy of the Florida Highway Patrol, Commercial Vehicle Enforcement unit.)
A few months ago, Florida Highway Patrol CVE Trooper J. Sims attended Vehicle Day at Talbot Elementary School in Ocala, exhibiting an FHP Chevy Tahoe. As always, the youngsters became enamored when Trooper Sims "demonstrated how the emergency lights work, explained how they warn motorists, affect traffic, and why officers use them. 182 students were able to participate in this positive interaction with law enforcement."
There you have it: Commercial Vehicle Enforcement professionals are out there, under there, and over there…eyeing transportation safety, instructing operators in preemptive measures, and teaching kids early about the importance of roadway rules and regulations so that their loved ones are safeguarded while out for a family drive.