Cops are dutifully fashioned to pay attention to details, and they cover the gamut of everything under the sun and the moon and the stars. Law enforcement officers come up with some novel approaches and programs offered to the American public for paramount safety, personal enhancement, and overall best-foot-forward existence.
Speaking of best-foot-forward existence, some among us took the wrong road and found themselves in a backward trajectory. Detention deputies and corrections officers working the jails and prisons sought to ameliorate the rhetoric of recidivism, turning so-called "lost causes" into success stories.
The Walton County Sheriff's Office in Florida published such a saga. After training one of its inmates to operate a trucking rig by using a county sheriff-owned tractor-trailer cab while incarcerated, upon his release, the now-former prisoner unlocked what he learned and put it to good use.
Here is what a spokesperson at the Walton County Sheriff's Office explained:
"You wouldn't know it, but on the very day this picture (above and below) was taken Joe was released from Walton County Jail. But not before a quick visit to the DMV in DeFuniak Springs.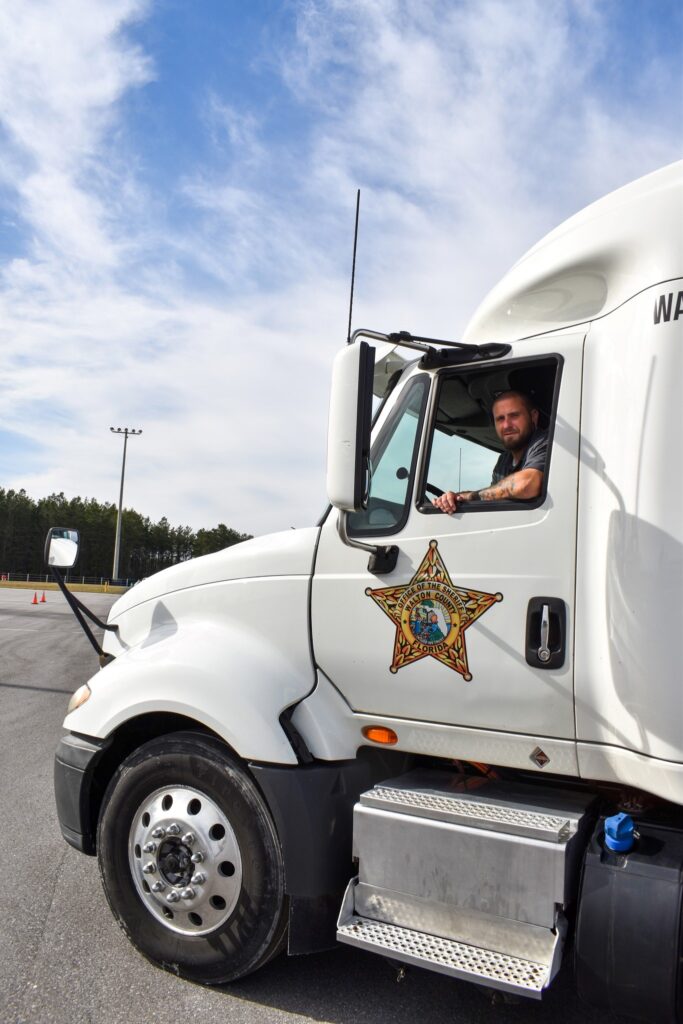 (Photo courtesy of the Walton County Sheriff's Office.)
"Joe would tell you he was nervous, but he passed the test all the same. Practice makes perfect after all and driving a 26,000+lbs truck isn't all that nerve-wracking. Right?
"For the last seven weeks, Joe spent the latter part of his sentence in Entry Level Driver Training, or ELDT, learning how to drive a semi. Learning how to double clutch, turn, and park on the hilly, windy country roads of northern Walton County.
"The effort earned him his Commercial Driver's License – the first out of the Walton County Jail's newest program."
Safe to say we all can get behind this kind of unorthodox concept, especially given our nation's reported significant shortage of truck drivers to haul merchandise over the roadways, essentially loosening the knot we know as "supply chain" bottlenecks.
A Walton County sheriff's spokesperson heralded the insights and effort: "Beginning this year, inmates can be tested by a jail employee who is now a certified CDL third-party tester and Joe was a perfect candidate. Just your average Joe."
Doing nothing while doing time? Hardly…at least not for Mr. Joe Switalski (common spelling).
I researched beyond the gist and found a bonus gist, which makes this sheriff's office novel program a multi-beneficial one: "This is the BEST program you could have created and we are 100% on board. Send me the graduation dates for both heavy equipment and CDL graduates," wrote an executive from a trucking company.
Another patron said, "OMG! This is the most awesome program yet! Whose idea was this? Freakin GENIUS! This will be life-changing for anyone who completes this program and gets their CDL. Thank you for doing this! You have no idea how much hope this will give!"
Lifting for a Second Chance
Similar to the Walton County Sheriff's Office training Mr. Switalski to acquire his CDL upon post-sentence release, the Hillsborough County Sheriff's Office conducts vocational training in their jail system.
Over two dozen inmates participated in skill-building seminars followed by practicals in using heavy equipment, culminating in the attainment of federally mandated certifications required for employment viability after incarceration periods are fulfilled.
In December 2022, the sheriff's office announced, "A HUGE congratulations to 24 inmates who successfully completed training as Scissor Lift Operators and earned OSHA10 and Forklift Operator certifications."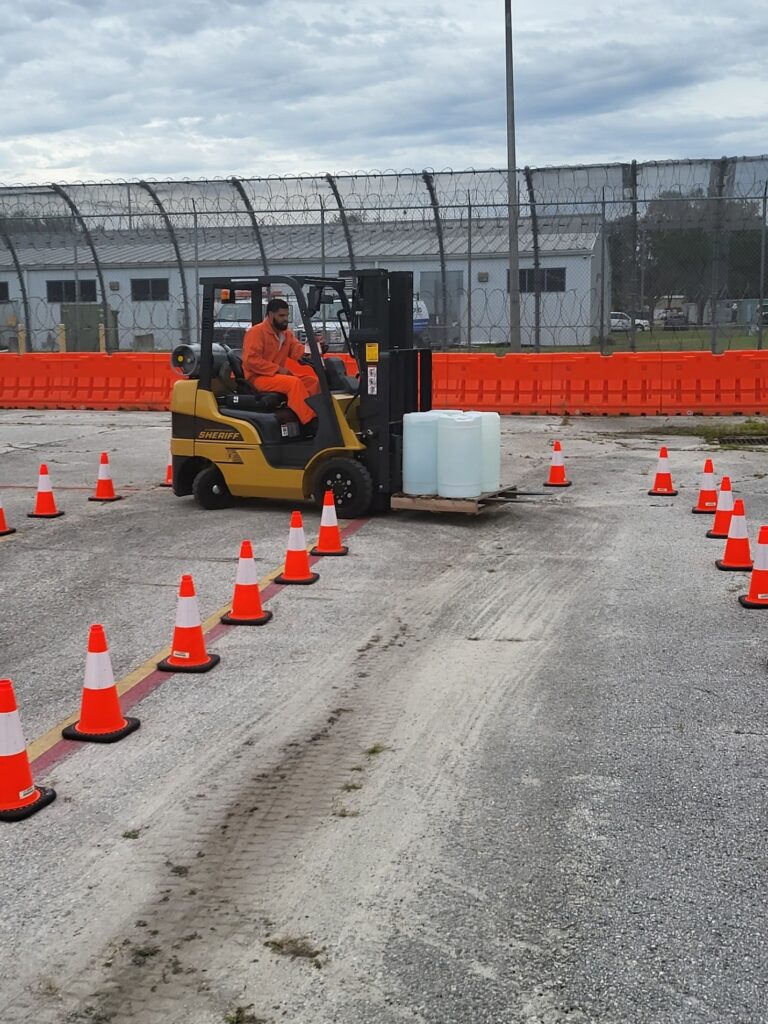 (Photo courtesy of the Hillsborough County Sheriff's Office.)
Highways and Airwaves
Switching gears to where the only toll is sitting too long, the California Highway Patrol (CHP) drove home some traffic safety tips for the listening public behind the wheel.
Have you noticed the seeming increase in boneheaded motor vehicle operators bastardizing rules of the road? The traffic cops with CHP sure have, underscoring its namesake by not only being out there in a cruiser but also behind a radio station mic, echoing all-things-traffic-safety to motorists navigating congested highways and byways.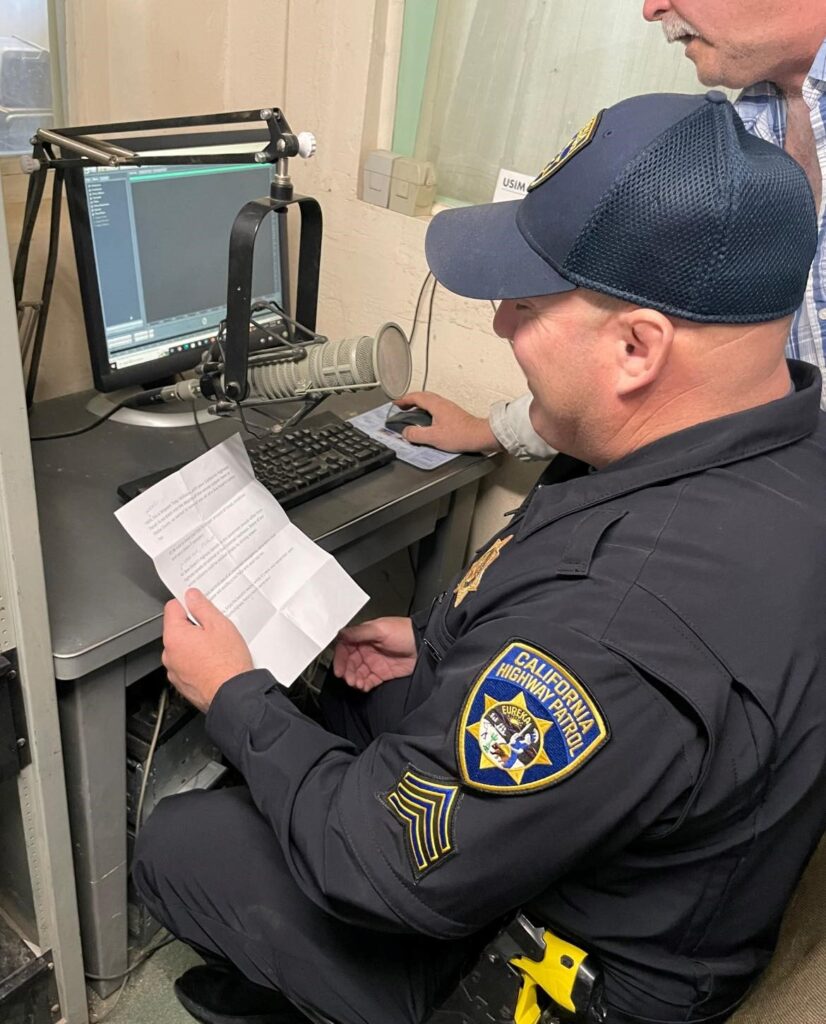 (Photo courtesy of the California Highway Patrol – Alturas.)
"Sergeant T. Williams recording our latest driver safety tips at the local radio station for the people of Modoc County. We are thankful to our local radio station for the support in allowing us to share our passion for safety within the community," explained a CHP bulletin.
Cops as DJs? We here at NPA have often written about how resourceful law enforcement officers are!
I'm certain that reiteration of the Move Over Law is on Sgt. Williams's list for listening ears, rightly so. That legislation is still being treated by motorists as a mere suggestion, even though overhead LED signs remind drivers that "It is the law." Cops and wrecker operators and utility workers are still being struck like bowling pins.
InVESTing in Public Safety
In my neck of the woods exists an oceanfront county park, a large landscape where I walk my dog and relish nature's bounty. It is a park fronting the Gulf of Mexico thus a massive boat launch is one of the elements the county caters to the public.
At the lip of the boat launch is a sign erected by the Hillsborough County Sheriff's Office. Dangling from the sign's base are several neon-orange life preservers for folks with a boat trailer who may have somehow forgotten to equip their vessel with the statute-mandated life-saving vests. (The supply of life vests was donated to the sheriff's office by a public safety-supporting mega marine supply distributor in the region.)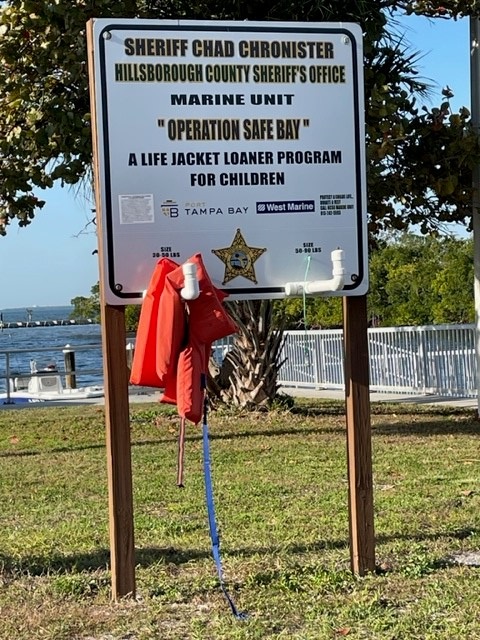 (Photo courtesy of Stephen Owsinski.)
HCSO's "Operation Safe Bay" is intended for adults to ensure accompanying youngsters are suited with life vests (instituted by the deputies assigned to the Marine Unit) with varying sizes based on a child's weight.
The "Operation Safe Bay" concept is a "life jacket loaner program! Your kids under 6, if the vessel is under 26' in length, NEED to wear a life jacket. At some ramps, you will find life jackets that you can use and return for free to keep your kids safe," an HCSO bulletin explained.
(Law enforcement officers with the Florida Fish and Wildlife Conservation Commission —FWC— launch their boats there routinely, parking their marked pickup trucks in view of all users.)
(Photo courtesy of the Florida Fish and Wildlife Conservation Commission.)
Members of the county sheriff's Marine Unit, consisting of deputies who are certified divers often tasked with the gloom of body recovery, recently experienced three people who encountered a riptide: one adult father trying to save his toddler son, and another adult Good Samaritan who took to the water to save the father/son duo, was swept under and never resurfaced.
The tragic incident occurred on a nearby beach in the same zip code as the boat launch mentioned/pictured above. Of the triple-drowning, HCSO Sheriff Chad Chronister said the following:
"When you have areas that are clearly marked 'no swimming' it's for a reason. I'm asking every parent out there don't put an infant child near any type of moving or open body of water without having a life jacket on." I walk that beach weekly, its shallow waters give way to a steep drop about 20 yards out.
Novel or otherwise, this is a modest batch illustrating that cops are doing whatever it takes to provide for public safety in myriad ways…throughout yesterday, today, and tons of tomorrows, for the good of all.