By Steve Pomper
Shamefully, police chiefs in some of America's biggest cities have been banning law enforcement's Thin Blue Line flag. Cops hold the Thin Blue Line (TBL), which the flag emphasizes, sacred. It is also often displayed to pay respects to fallen officers, similar to when cops wear the TBL bands that too often shroud officers' badges.
The NPA's Chief Joel F. Shults, Ed.D., in a Police1.com article, explores the history and defines the meaning of the TBL flag. He traces it to 2014 and a company founded by Andrew Jacob when he was in college. Jacob said he created the flag to "show support for law enforcement."
Now, it seems every week we hear about another police chief or politician banning the TBL flag due to complaints from a few people who hate cops. Reportedly, the LAPD police chief recently banned the TBL flag for the 10,000-officer department due to a single complaint.
Jacob noted, "such opposition is wholly misplaced. 'The flag has no association with racism, hatred, bigotry,' he said. 'It's a flag to show support for law enforcement—no politics involved.'" Period!
How many officials who have arbitrarily banned the TBL flag have taken the time to learn this history? Zero would be my guess.
U.S. Marshals carrying TBL flag during Police Week running event 2018
The TBL represents the roughly 700,000 American law enforcement officers, serving a nation of 340 million, who risk their lives by standing between criminals and civil society. These chiefs are allowing themselves to be stooges for the radical leftist, anti-police gaslighting, attempting to convince Americans the TBL symbol shouldn't be displayed, even by cops, because the radical "right-wing" has usurped the image for their negative purposes.
Journalist Lara Logan calls law enforcement leaders appeasing radical leftist, cop-haters, "copaganda." In the NPA's book, The Obama Gang, I wrote, "'Copaganda' is how Logan describes Antifa's ploy to use police concessions [similar to banning the TBL flag] to enhance their messaging—for example, showing cops… taking a knee with the BLM and Antifa radicals."
Hey, chiefs! They can only succeed, if you help them.
There's an instant problem with the chiefs doing this, right? What positive symbols couldn't be similarly conscripted by any negative group to attack people or a group they don't like? The only way this censorship has any sway is if pandering political and law enforcement leaders appease these crazy people.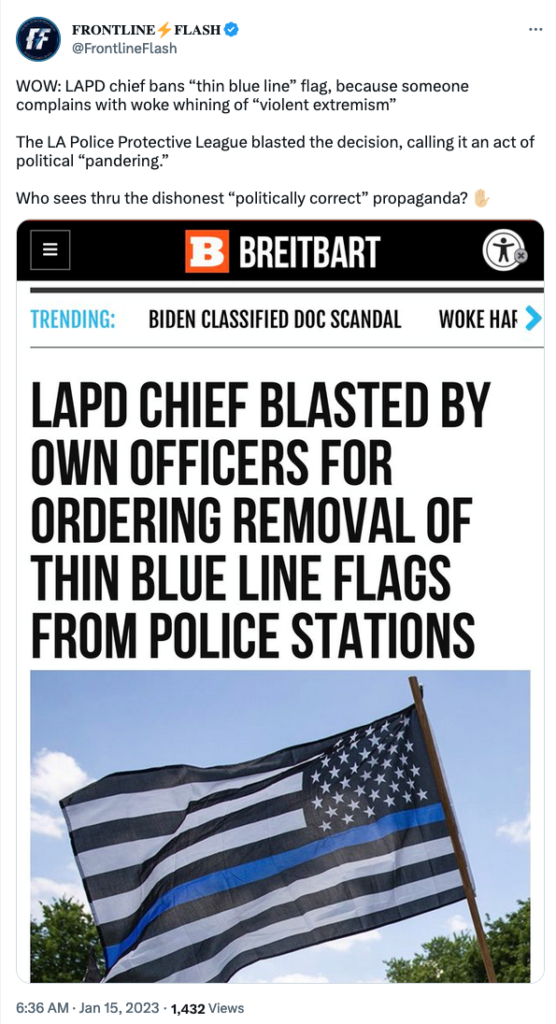 Couldn't they say the same thing about the American flag since groups like the KKK and neo-Nazis fly it at their gatherings? Why wouldn't anti-American groups call for banning Old Glory, too (they probably have)?
Though we've covered this issue before, I've become aware of a new TBL flag banning that breaks my heart. Seattle Fire Chief Harold Scoggins has banned firefighters from displaying the TBL flag. As with the LAPD, he appears to have based his decision on a cop-hater's complaint.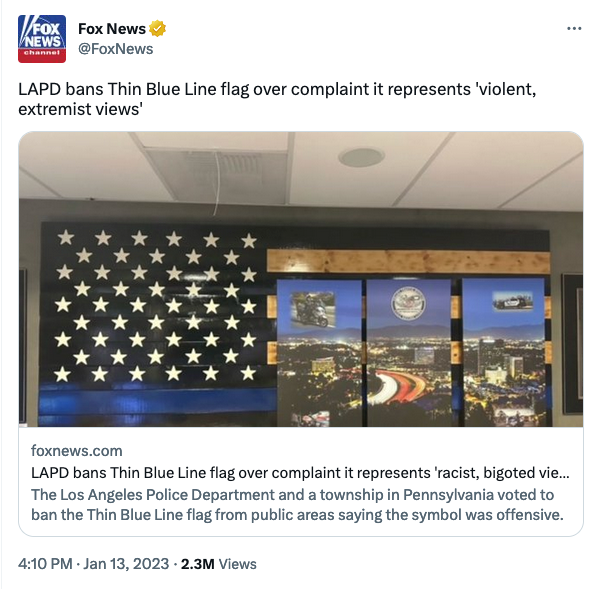 First, as a Seattle cop, I worked closely with Seattle firefighters for my entire career. We worked together on calls, and I even joined them at firehouses on occasion for a delicious meal. Second, my wife is a retired firefighter, having served for 25 years in a department north of Seattle.
According to KVI Radio host Ari Hoffman at the Post Millennial, "Firefighters in Seattle were instructed to take down a 'Thin Blue Line' flag from the public area of one of the fire stations. The flag is a symbol that shows support for police officers. A similar symbol, with a thin red line [TRL], represents firefighters. Merchandise with that symbol are sold by the local firefighters union. It was recently decided that proceeds from the sale of 'Thin Red Line' apparel would be donated to BLM."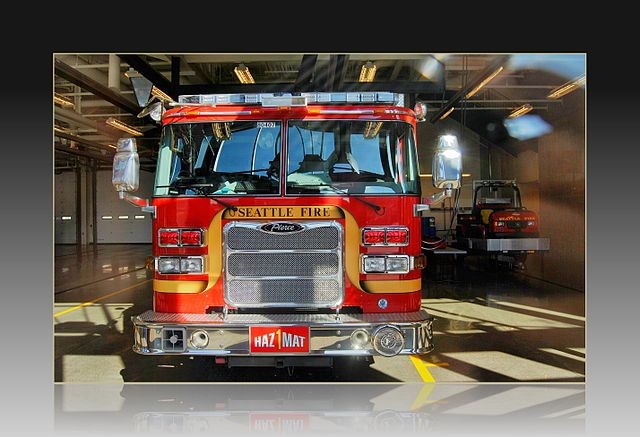 Seattle Fire Department truck
Are they kidding me? It's not bad enough that the fire chief bans the TBL flag because of cop-haters, but the union, that represents the rank and file, votes to donate TRL merch funds to a cop-hating— "What do we want? Dead cops. When do we want it? Now!" radical leftist organization.
Yeah, it hurts.
It also reminded me of an article I wrote for Lifezette about some firefighters in my home state of Massachusetts, who, in 2020, refused to remove a BLM flag flying from their fire rigs.
"According to the Patriot Ledger, in Hingham, Massachusetts, some woke malcontent has decided that a flag exclusively intended to honor police officers is actually a political message. Imagine how far our nation has fallen that honoring police officers is now political, even according to some police and fire chiefs."
The flag was originally placed on fire dept. vehicles to honor a Weymouth Police Dept. sergeant "who was killed in the line of duty."
In response to the letter from the police and fire chiefs to remove the flags, the firefighters' union asked the town to reconsider the order. Further, they added, "We regret to inform you that over the past four days no member of Local 2398 was able to sacrifice his or her moral fortitude in order to remove the flags from the apparatus."
According to reports, as in Los Angeles, that Massachusetts flag ban was provoked, "'after a citizen complaint.' Yes, singular."
What we need in American is more fortitude like those Mass. firefighters who know where their priorities lie. Knowing right from wrong is not hard. But doing right rather than wrong is what seems to be hard for some elected or appointed officials.