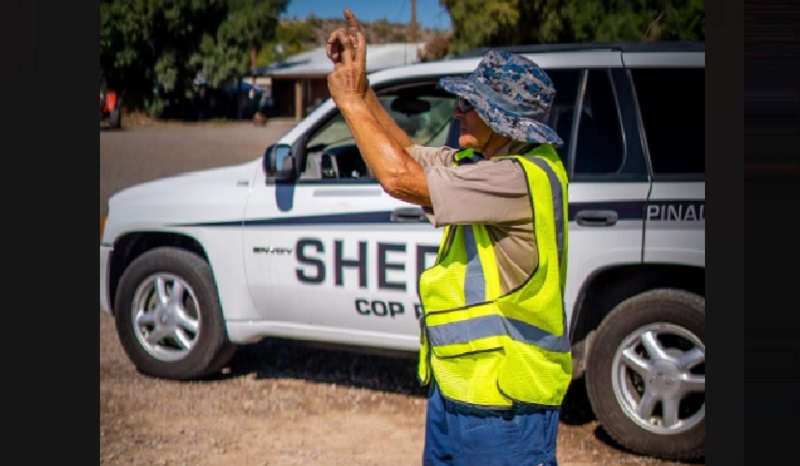 With the anti-police climate resulting in fewer law enforcement officers due to an exodus, one saving grace in communities across America is the selfless service and infinite hours spent by Volunteers In Policing, making each one a true-blue VIP.
Volunteer Appreciation Week spanned April 17 thru the 23rd. It showcased quite a number of police volunteers from small, medium, and large law enforcement agencies.
There are several duties volunteers in policing perform, effectively freeing up sworn police officers to respond to more urgent matters.
A big help thanks to volunteers in my department was them tending to the 24/7/365 constancy of police records pouring in. Each report completed by a law enforcement officer was administratively processed and filed accordingly. In turn, the flow of citizens requesting copies of reports was handled by volunteers.
When an on-duty law enforcement officer came upon a free-roaming dog (or other animal; loose cows were sometimes impeding our roadways in rural outskirts), a police volunteer would make the necessary calls to animal control for the dogs, sift out and contact the errant cow's rancher, or notify a wildlife officer when cops came upon injured birds of prey.
Another benefit we had was our volunteers chaperoning our Citizens Police Academy, handily doing set-up and breakdown of refreshments.
Ordinarily, volunteers attend the Citizens Police Academy and get a front-row seat regarding exposure to fundamental operations of police work and the special units (including designated equipment), kind of an informal training venture.
Ride-alongs were popular. Akin to what we require for new police dispatchers, getting a glimpse of field- work for police lends well to a complete understanding once 9-1-1 operators take a seat at the other end of the radio, proverbially telling cops where to go and why.
Our vols served as ambassadors during any widely attended city events requiring traffic control, taking posts to help citizens safely through the crosswalks and navigating parking snafus (coordinating vehicular placements).
Although police entities refer to their volunteers differently, some going by the common Volunteers In Policing (VIP) moniker, most departments call these helping hands (and eyes) Citizens on Patrol (COP).
Some law enforcement organizations refer to their intern-like individuals as "police aides." Near me, the Orlando Police Department has its volunteers comprising its Citizen Observer Program (also COP).
The Pinal County Sheriff's Office calls their police volunteers Citizens on Patrol (COP) Posse, or Patrol Posse (pictured above), citing the unit as "selfless volunteers [who] give thousands of hours each month and are vital to the success of many of our special events and programs."
Volunteers in policing come from all walks of life, originating from distant lands. "Originally from Brazil, Orlando PD volunteer Cleiton Bezerra decided to volunteer 5 years ago so he can help people in @thecitybeautiful community he now calls home."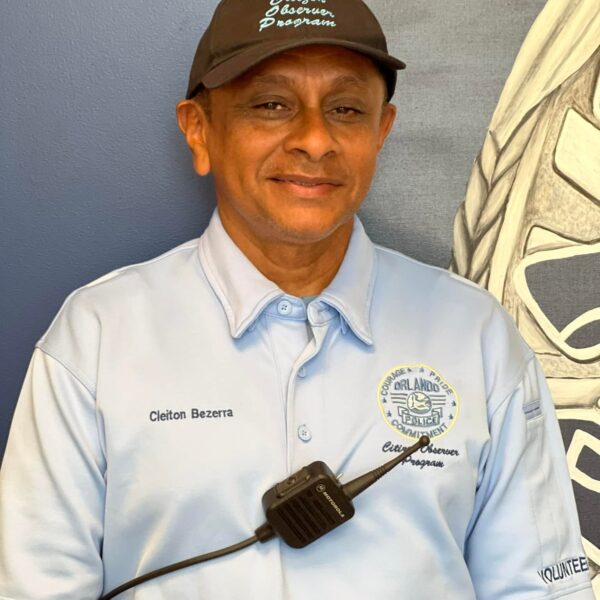 (Photo courtesy of the Orlando Police Department.)
Speaking of Florida, the Sunshine State is home to quite a large population of seniors who, albeit retired, still seek some engagement in/with their respective communities.
The retirement enclaves generally have a Citizens On Patrol chapter, normally occupied by two senior citizens patrolling the community and reporting their observations in a ledger. If/when real-time matters arise, they contact the local police or county sheriff, convey their location, and provide a detailed description when enforcement authority is necessitated by sworn officers.
Generally, Volunteers in Policing in any context are trained to not get involved with situations that seem volatile. As alluded to above, volunteers assisting law enforcement agencies are excellent eyes and ears, providing descriptions (as per basic training seminars offered by sworn cohorts), making them wonderful witnesses.
Among the great aspects of any Volunteers In Policing program is the fact that each member serves pro bono. Other than expenses for background checks and vetting by a sworn officer, tax dollars are largely reserved. The only nominal expense my department invested in was VIPs' soft uniforms (polos, caps, slacks, police ID cards).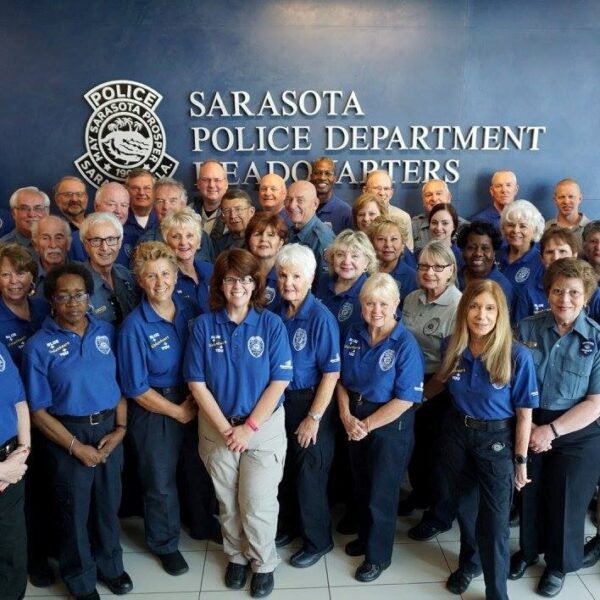 (Photo courtesy of the Sarasota Police Department.)
As one example of huge savings to a law enforcement agency and the jurisdiction's tax base, the Newport Beach Police Department gave a tremendous shout-out to their contingent of 21 police volunteers who aggregately donated over 4000 hours of time in a fiscal year.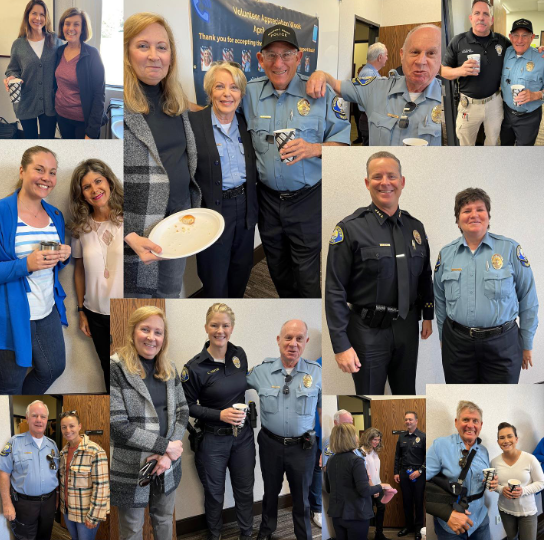 (Photo courtesy of the Newport Beach Police Department.)
Pretty fascinating group, well-versed in giving back, eh?
Speaking of giving of self, a veteran volunteer with the Ventura Police Department is rather iconic in terms of police voluntarism. His name is Dave Carlson.
Shy of two decades of giving back to the community, Mr. Carlson continues serving as one of Ventura PD's police volunteers. Here are the accolades provided by Ventura Police administration:
"This man sure is a VIP!"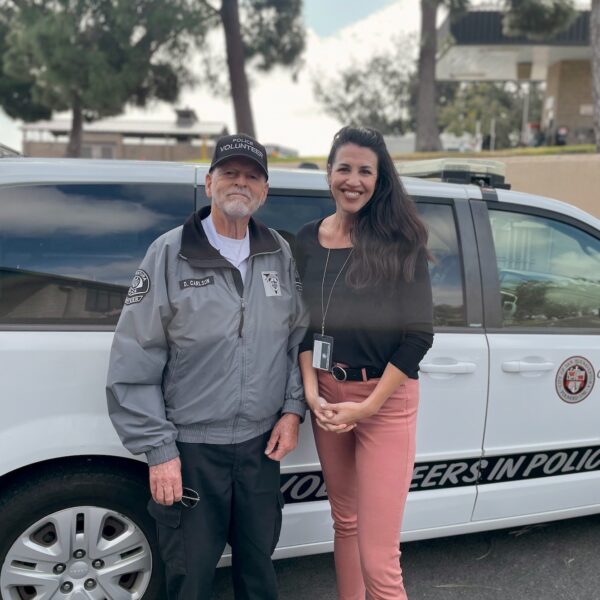 (Photo courtesy of the Ventura Police Department.)
"Dave has been serving VPD in a volunteer capacity for over 16 years, is extremely dedicated, logs consistent weekly hours, is productive, and regularly offers suggestions to better the program, like creating 'cheat sheets' to share with others," said Volunteer Coordinator Natalie Wilkes. "He is also willing to assist with volunteer training, is eager to learn, and truly just loves helping others."
With that, Mr. Carlson was granted Ventura PD's Volunteer of the Year award. Impressive gent!
The volunteer beat goes on while the chronic nature of police tasks burgeon with population growth.
Some police volunteers serve alongside emergency dispatchers, helping to transmit electronic correspondence (teletypes, facsimiles) with other law enforcement agencies around the nation. A bevy of ancillary duties are necessary in police emergency operations centers, and dispatchers are typically tethered to a police radio console and/or answering 9-1-1 calls via phone banks. Thus, a volunteer is seated nearby to offset the octopus-like multitasking undertaken by operators, ably handling other routine matters.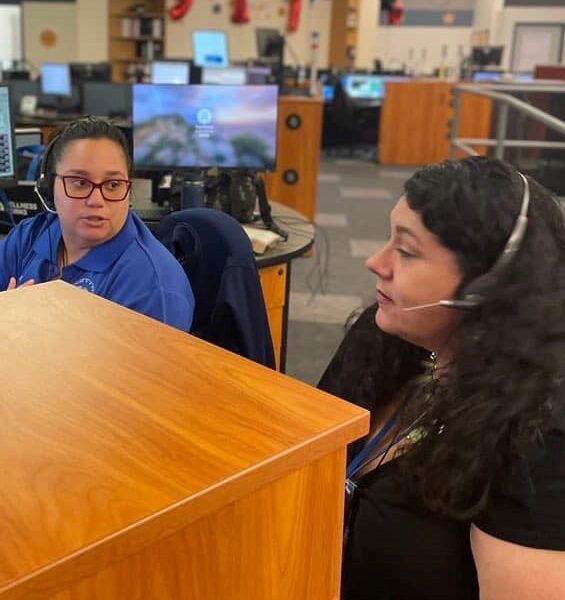 (Photo courtesy of the Orlando Police Department.)     
This week, the Westminster, California police department posted kudos and praised their Volunteers In Policing, celebrating them for "their commitment and dedication to the community. They work a variety of assignments from vacation checks, patrolling parks and schools, giving out department tours, and clerical and administrative support."
The Westminster PD holds a Public Safety Open House each year. This year, the Open House is held at the conclusion of Volunteer Appreciation Week (serving while being accorded accolades).
As one may imagine/expect, sworn staff are relegated to patrolling the streets. However, a small cadre of cops join their contingent of police volunteers. Together, the visitors get to tour the station and meet the staff who throttle the public safety mission, all chaperoned by volunteers who know the innards well (and may have a few stories of their own to share).
(Photo of the Westminster Police Department.)
Much like the Citizens Police Academy, the WPD Open House entails all kinds of police divisions and special units, personnel from the fire department and their apparatus, and goodies to take home. Generally, an educational and fun-filled day for all.
In all of this, what ordinarily transpires during Volunteer Appreciation Week in cop shops is a deserved round of applause for people selflessly serving and helping their jurisdiction's police force to succeed the public safety mission.
What better way to do that than to cater a luncheon or similar gathering to recognize each volunteer for their dedication and time spent to ensure citizens are served accordingly.
(Photo courtesy of the Westminster Police Department.)