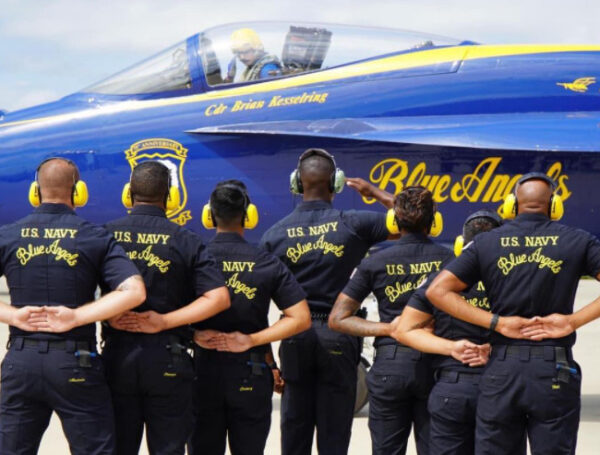 This is a piece perfectly illustrating honor among service men and women—military and law enforcement. It also echoes the police-supporting citizens and community entities who easily recognize the value of America's frontline warriors taking up the fight against evil.
On August 07, 2021, Chicago Police Officer Ella French was slain when she and a police partner stopped a car on South Bell Street in the Windy City. As her partner, Officer Carlos Yanez, remains couped in a hospital gurney, recovering from gunshot wounds sustained by the same shooter's firearm, Officer French was memorialized on August 18, 2021.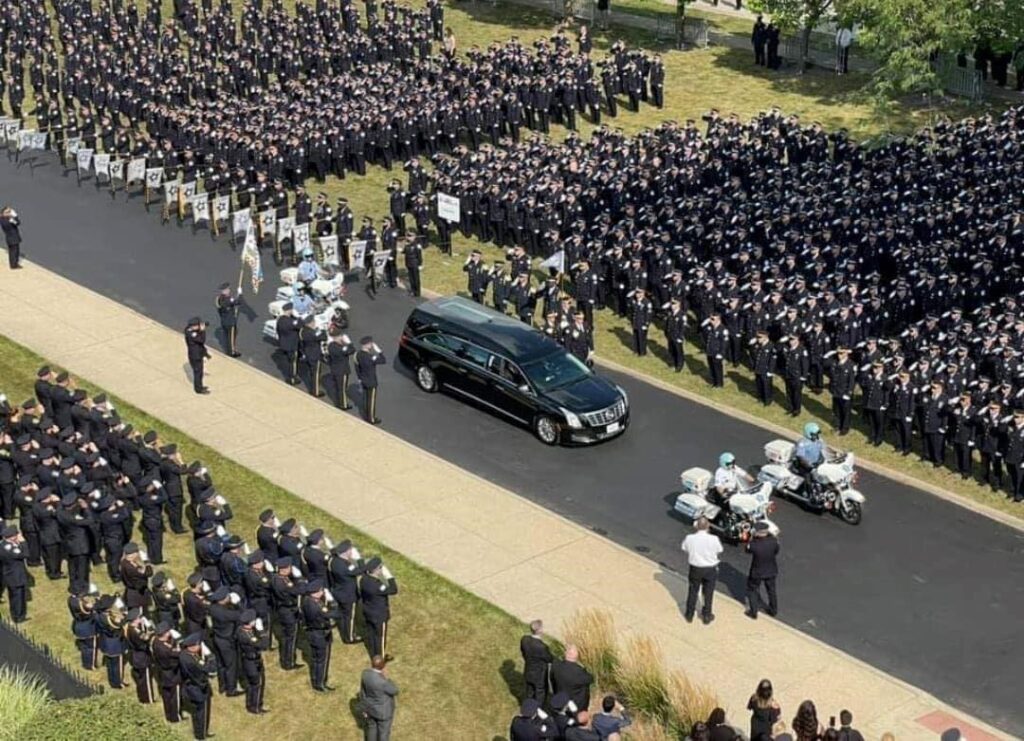 As the proverbial sea of blue stood attentively and respectfully saluted Officer French on level ground, other warriors in service in the sky were honoring her amidst altitudes.
While the cacophony spewed by the anti-cop corps pollutes the air, the Blue Angels adorn the skies with all things patriotic and protective, their booming boosters drowning out the browbeat of nitpicky noisemakers who carry defund the police banners.
On August 22, the U.S. Navy's Blue Angels took it to all-new heights when Cdr. Brian Kesselring boarded Officer Ella French's police badge and soared to astronomical levels, honoring a fallen officer in blue while piloting an F-18 Super Hornet colored in blue.
No stretch of the imagination that that happened and came together as it did.
Per the Chicago Police Pipe Band, the "Police star worn by fallen Chicago Police Department Officer Ella French, soared above the Chicago skyline one last time. Her star was on-board with the U.S. Navy Blue Angels during their demonstration at Chicago's air and water show. Today fallen Officer French flew with the Angels."
Angels with angels just makes all the sense in the world, and beyond.
I read the heartfelt eulogy which Officer French's mom, Elizabeth French, conveyed at the church funeral service. According to CBS Chicago, "Escorted to the podium by [Officer] Yanez' father and Officer Josh Blas, who was also at the scene that night, Elizabeth French read a letter she wrote to her daughter years earlier about the day the pair met for her adoption."
Although it is sad that Mrs. French lost a child on August 7, 2021, respectfully, she gained a family in the form of a sea of blue uniforms and badges of all shapes donned by cops from around the country, all aggregated as pillars convened in a church, where they stood in ovation and praised her maternal presence.
In yet another grounded feat honoring Officer French, the Chicago Police Knights Baseball Club struck a grand slam when they paid tribute to Officer French during pre-game rollout, a team spokesperson saying, "Game day! This one's for our sister!"
The Chicago police department baseball team unveiled an unoccupied yet pristine Police Knights baseball jersey embroidered with Officer French's last name, under which was "15013"—her badge number—displayed for the crowds, matching the one forged into her official Chicago police star which the Blue Angels buffed in the clouds.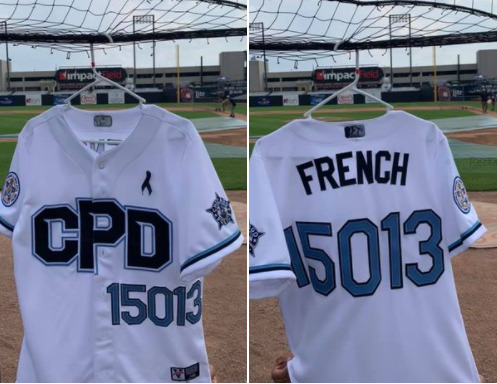 (Photo courtesy of the Chicago Police Knights Baseball Club.)
That honorary baseball game was played on August 20, 2021, specially "honoring and playing in dedication to our sister, Officer. Ella French. Our Angel in the Outfield," declared a team bulletin.
From his hospital room, Officer Yanez was watching the game while recovering from his physical wounds and, one can imagine, the mental weight of having survived an ordeal in which his partner succumbed.
Aptly named Impact Field is where the game was played, making quite the impact on a crowd still stunned by the horrific homicide of one of its police force battling in a hugely hostile anti-cop climate.
Pertaining to Officer French's badge number across the back of that jersey, one of the comments I came across facetiously asked "Is that the murder rate in Chicago?" Touché to that statistician who knows how to make a point bluntly.
Whether up in a jet or somewhere on the ground, the Fraternal Order of Police: Chicago Lodge No. 7 is ensuring many have the opportunity to don the memory of Officer French: "P.O. Ella French was made an honorary delegate from Lodge 7 and the National FOP Conference in Indianapolis. We thank her mother for sharing one of her duty shirts so we could have her spirit shared with all the delegates. We passed out over 2800 t-shirts so her name will carry back to every state in this country."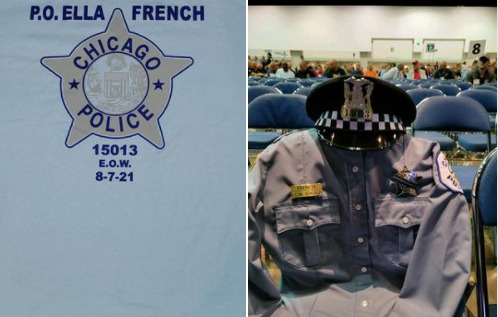 (Photo collage courtesy of Fraternal Order of Police: Chicago Lodge No. 7.)
These are the things heroes and their supporters are made of. From myriad accounts I read about Officer French, her on- and off-duty personality matched the heartfelt gestures and tributary tokens shown here as well as in submissions from the public attesting her professional policing efforts resulting in salvations.
In closing, here is a brief view recapping excerpts from Ella's life and death, a media production composed by the Chicago Police Department, called #FrenchForever: