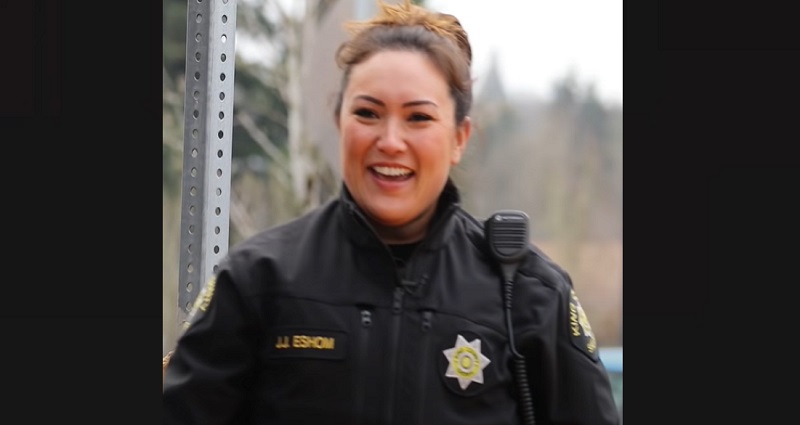 By Steve Pomper  
It wasn't only that agencies are firing law enforcement officers based on (I'll be kind) dubious "science." It's that the officers' experience, qualifications, conscience, and concerns didn't matter at all. Rather than the health of employees, it seems to have become about "comply or else." Damn the future consequences intended and unintended.
For example, On The Dori Monson Show, KIRO Radio 97.3 FM, Monson interviewed a now-former King County Sheriff's Office (KCSO) sexual assault detective, Jen Eshom. Eshom's law enforcement qualifications and experience are impressive. She'd also worked for the Seattle Police Department (SPD) for 12 ½ years, where she earned a spot as an instructor at the Washington State Criminal Justice Training Commission (police academy) where she taught for 4 years.
Eshom refused to comply with the (not being so kind) virtually useless, for healthy, young people, state/county "vaccine" mandate. So, the KCSO fired her. Even if she'd stayed with the SPD, it's likely, that agency would also have fired her. To make matters worse, they fired her husband, too, who was also a KCSO employee.
The family escaped anti-cop, dictator Gov. Jay Inslee's Washington State to a free state. That's when some unintended consequences reared up. Perhaps unintended, but not unexpected for Eshom.
Within a few months of being fired and moving out of state, she told Monson, "that the King County Prosecutor's Office started sending her 'quasi-threatening emails' demanding she returns to Seattle from her new out-of-state home to testify in a child rape case. The irony still appalls the former sexual assault detective."
Eshom wasn't trying to duck appearing in court. But she was dealing with the reality of the move forced on her by King County and the state. She said it was a "chaotic time" finding their footing in a new community.
She told the county officials, "I can't just pick up and leave," after they gave her only a week's notice to appear. She said it wasn't just the expenses her family would have to incur, but her husband could not take time off of his new job, and they hadn't found trustworthy childcare yet.
But further insult after firing such a well-qualified, experienced cop, Eshom, before they fired her said, "I warned the prosecutors 'you have many cases of mine that I am the primary detective, and I may not easily be able to drive to Seattle and testify for a case. Shouldn't you keep me employed until these cases are adjudicated?'"
Obviously, she is a much more conscientious person than anyone in the hierarchy of the county or state government.
Monson asked, "So they had to fire you and your husband because you were not vaccinated, but then they said, 'please put on a mask and get on a plane and come to the King County Courthouse?' If that's all okay, why wouldn't you still be working?"
Eshom told Monson it got even more ridiculous than that. She said she made arrangements to return to Seattle to testify (after all, it was a child rape case). King County ordered her "to appear in the King County Courthouse and the King County Administrative Building."
It was ridiculous because these were the buildings her employers prohibited her from entering "because I was too much a danger to my coworkers and the public." The double standard is more than frustrating; it's immoral.
Eshom said she expects a conviction in the case. But she doesn't regret her move to a free state. She emphasized the significance of her life-changing move.
She concluded, "I don't want to be overly dramatic, but it really is life-changing," Eshom said. "I admire the people who are willing to stay in the leftist areas of Seattle, but, for our family, we did not see light at the end of the tunnel." How tragic is this for Washington communities?
For an agency like the KCSO or the SPD to so callously cast out exceptionally qualified and experienced officers like Eshom, her husband, and others and then complain about not being able to keep excellent officers and hire qualified recruits is insane.
An SPD Special Assault Unit sergeant recently went public about Seattle not having enough staffing, so they can't investigate many rape cases. Her superiors' response was to criticize her for "over simplifying" the situation.
Self-destructive city and department officials are devastating so many law enforcement agencies with self-inflicted wounds. There is always a lag time between recruiting candidates and getting new officers on the street. And the new officers will not hit the streets with the experience of the veteran officers they are replacing.
Officers like former Det. Jen Eshom, without whom the residents of King County are now less served and protected because their county leaders tossed her (and other good folks) out—for no good reason.