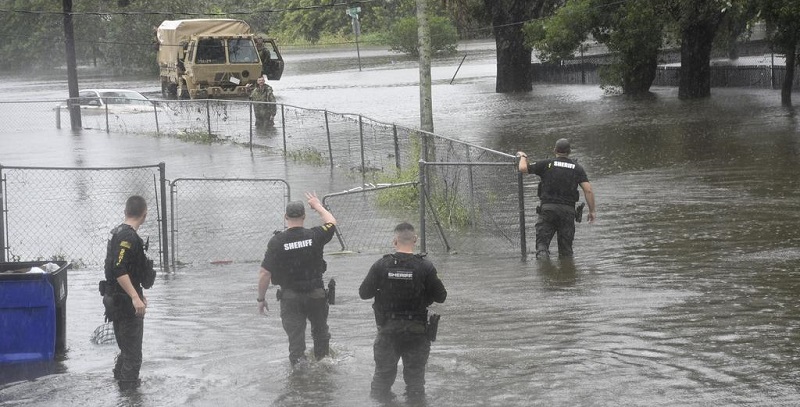 In the worst of times, we may see the best applications of unique equipment meant for major incidents such as natural disasters, and that's where we find ourselves as Florida's public safety agencies deployed unorthodox apparatus to combat the impacts of Hurricane Ian.
Marshaling equipment engineered for land and waterborne search-and-rescue missions goes on behind the scenes, typically right after police departments and sheriff's offices are granted their fiscal year operating budgets. Looking ahead, law enforcement executives weed through apparatus options they wish they'd had for the last major disaster, then form a consensus on what to purchase for the emergency ops expeditions.
The National Hurricane Center (NHC) on Wednesday afternoon labeled Hurricane Ian's torrents as an "unsurvivable storm surge," right before the eye crawled closer to the landmass in the Naples, Florida area.
With Hurricane Ian relentlessly battering Florida, we now see some of the life-saving goods law enforcement agencies deployed, using ideal apparatus for situations it was intended.
The Lee County Sheriff's Office (LCSO) and its Agricultural Unit availed an amphibious-oriented elevated platform on wheels, a novel piece of equipment meant to navigate hurricane-ravaged conditions:
"The LCSO swamp buggy has been loaded & is being taken to shelter. The buggy will be immediately deployed after Hurricane Ian passes. It's an important asset to the Sheriff's Office because of its ability to drive through rough terrain and high water," plucking people along the path.
Similar to Lee County's swamp buggy, the Miami Police Department deployed its self-explanatory "High Water Response Vehicles," driving across the state to assist citizens in Fort Myers "for as long as it takes."
"Arriving just in time to be deployed as we begin to feel the effects of Hurricane Ian, these High-Water Response Vehicles will give Officers the opportunity to reach areas that are being affected by high flooding in the event that anyone has an emergency and needs to be reached," the Miami PD website explained.
Designed with specs intended for use by Miami Fire/Rescue personnel, a few of these were provided to the police department. Each is outfitted with roll-out platforms stocked with fuel jugs, chainsaws, and cases of Heater Meals.
The Florida Highway Patrol powered up Mine-Resistant Ambush Protected (MRAP) vehicles for use in high-water rescue operations.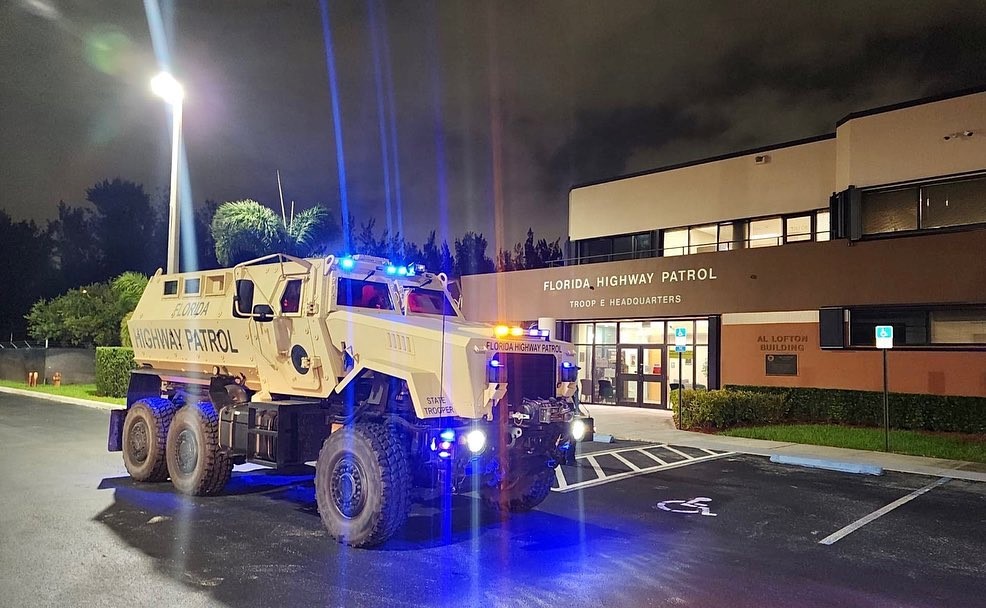 (Photo courtesy of the Florida Department of Highway Safety and Motor Vehicles.)
"…more than 125 troopers from FHP's Quick Response Force departed to SW Florida to aid Hurricane Ian response efforts. These teams from NW and SE Florida are equipped with heavy equipment and chainsaws to support search and rescue and road clearing efforts."
Although fighting intense winds may pose problems, FHP nevertheless deployed drones to conduct aerial assessments and chronicle rescue operations (people stuck and needing assistance). On the aspect of being stuck, hurricanes put the brakes on just about everything. Any auto registrations and driver's license requirements hindered by storm-caused inabilities were met with the state Department of Highway Safety and Motor Vehicles mobile deployment program.
The state DHSMV deployed 5 Florida Licensing on Wheels (FLOW) units "to provide no-fee driver license and identification credentials, vehicle registrations and titles, and vessel registrations and titles to impacted individuals," getting it all done aboard a roving DMV office. DLs and state-issued ID cards lost in flooded homes and/or cars can be reissued right then and there.
This, even though the governor issued executive orders waiving "replacement fees for driver's license and identification credentials, vehicle registrations and titles, vessel registrations and titles and temporary parking permits for impacted individuals."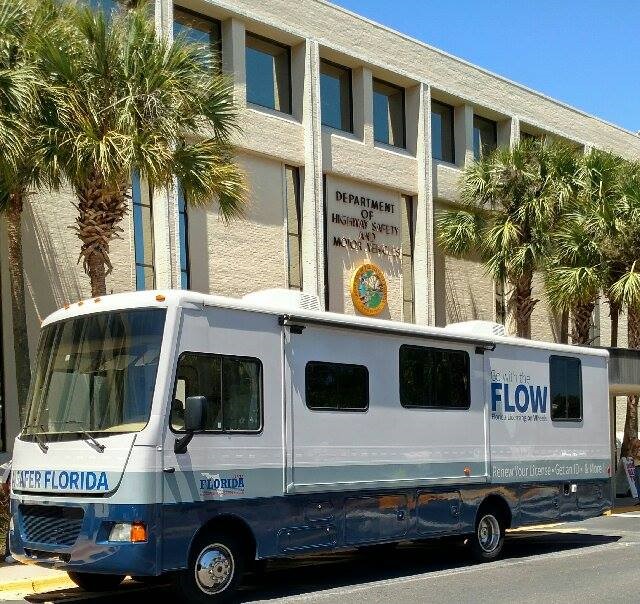 (Photo courtesy of the Florida Department of Highway Safety and Motor Vehicles.)
Given Florida's hurricane-proneness, several law enforcement organizations devised groups of cops or deputies assigned to "Cut Teams." Armed with the latest in chainsaw technology, these LEOs respond to downed trees impeding roadways and "chunk" them, removing all the parts to a mulcher operation.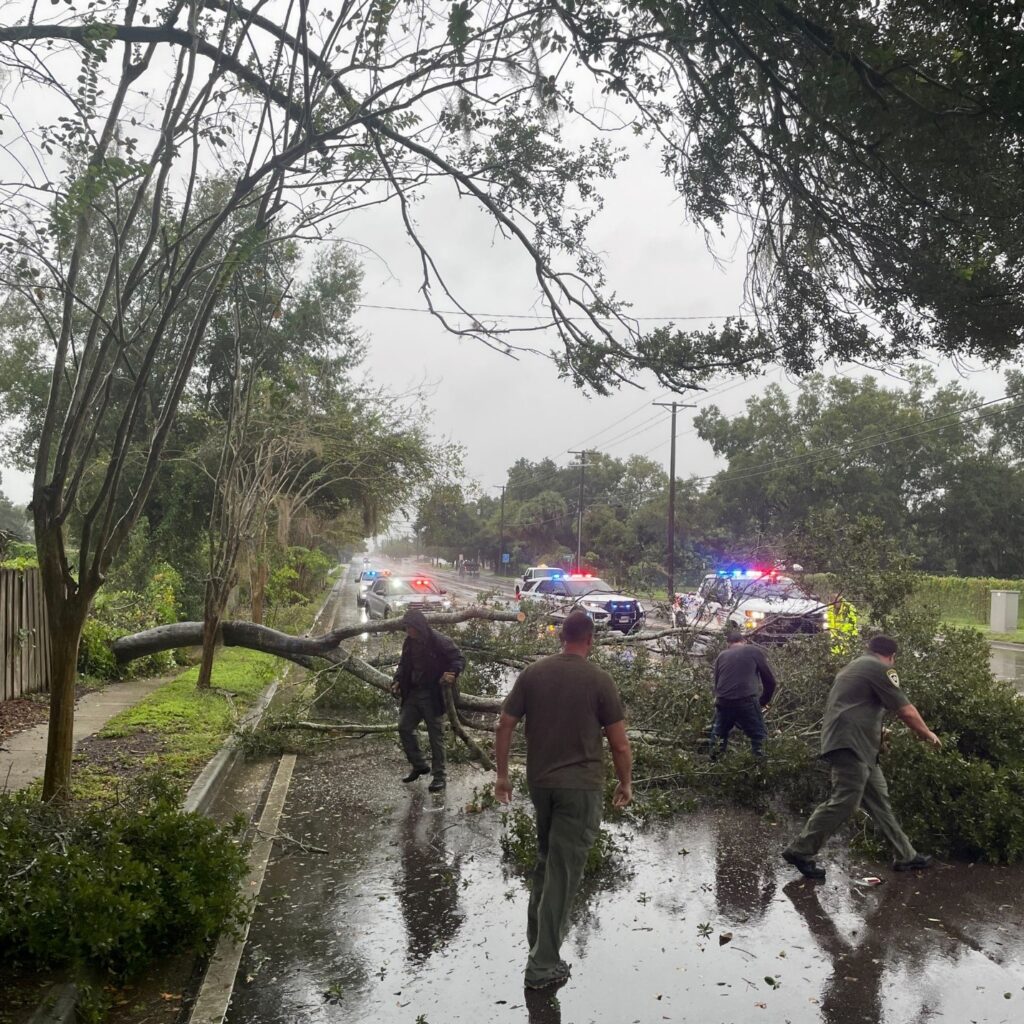 (Photo courtesy of the Hillsborough County Sheriff's Office.)
"Earlier today, a large tree was downed and blocking the intersection of S. Parsons Ave and Parson Reserve Ct as a result of Hurricane Ian. Thanks to Team HCSO's District 5 Cut Team and a Good Samaritan who teamed up and were able to clear the roadway of all debris."
What is fairly new is neon-colored attire slipped over class B uniforms, making LEOs more visible as well as providing some protection against splinters and sharp flora covered with thorns, etc.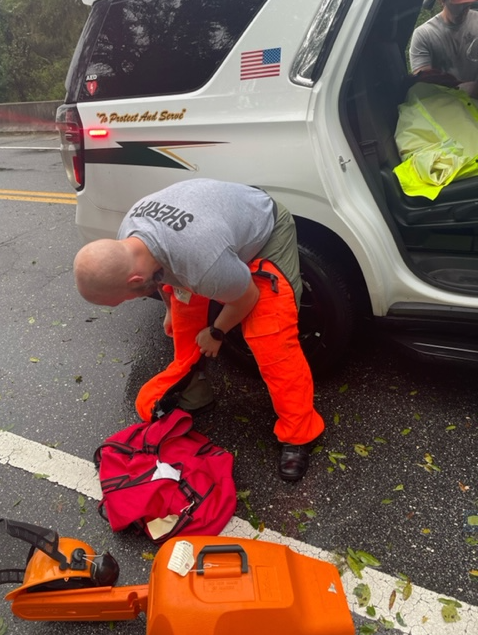 (Photo courtesy of the Hillsborough County Sheriff's Office.)
Although trailers hitched to cart away debris left created by natural disasters are not necessarily new, the décor on one surely is, and a wonderful stripe to keep dear. The Good Samaritan (mentioned above) helping the HCSO Cut Team showed up in colors emblematic of the Thin Blue Line, a police-supporting statement in more ways than one: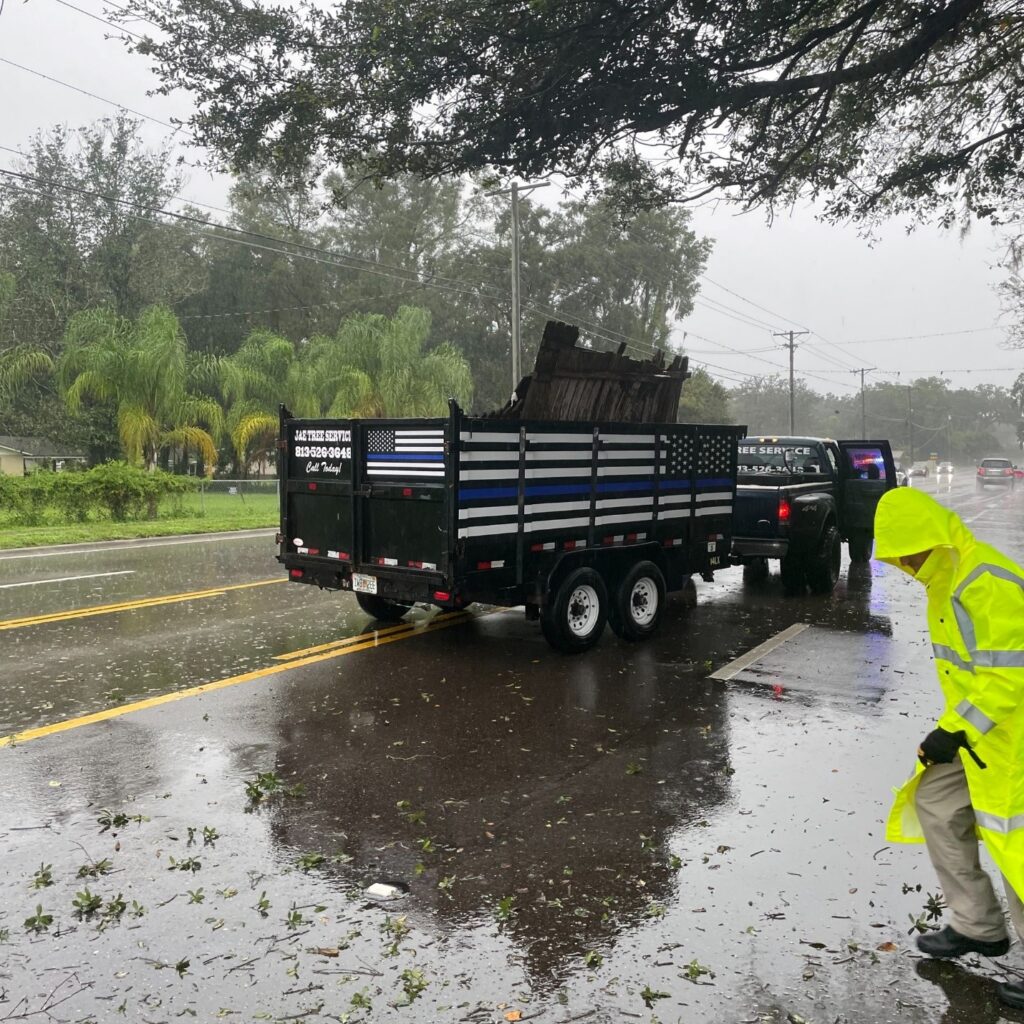 (Photo courtesy of the Hillsborough County Sheriff's Office.)
This next tidbit is not exactly unusual equipment but more of an infrequently used muscle flexed during state-declared emergency orders from the governor. It casts an undeserved warning to would-be opportunists deciding to take advantage of storm conditions and the non-presence of usual pedestrian/vehicular traffic.
Volusia County Sheriff Mike Chitwood announced the penalty enhancements for those klepto-fingered foes and others of the illicit-minded ilk committing crimes during a state of emergency:
"When the power goes out, opportunistic burglars will be looking for easy targets. The business community, please take extra security measures and lock up valuables, firearms, prescription drugs, and other targeted items. The Sheriff's Office is fully staffed and will be conducting extra patrols in addition to responding to calls for service. Penalties for certain crimes are enhanced during a state of emergency.
"Criminal activity will not be tolerated," and "the curfew is in place to keep unnecessary traffic off the roads, not to keep you from getting to work if you have to go in. Please share this message and help us get the word out! Stay safe. We have our high-water rescue vehicles ready to go," said Sheriff Chitwood.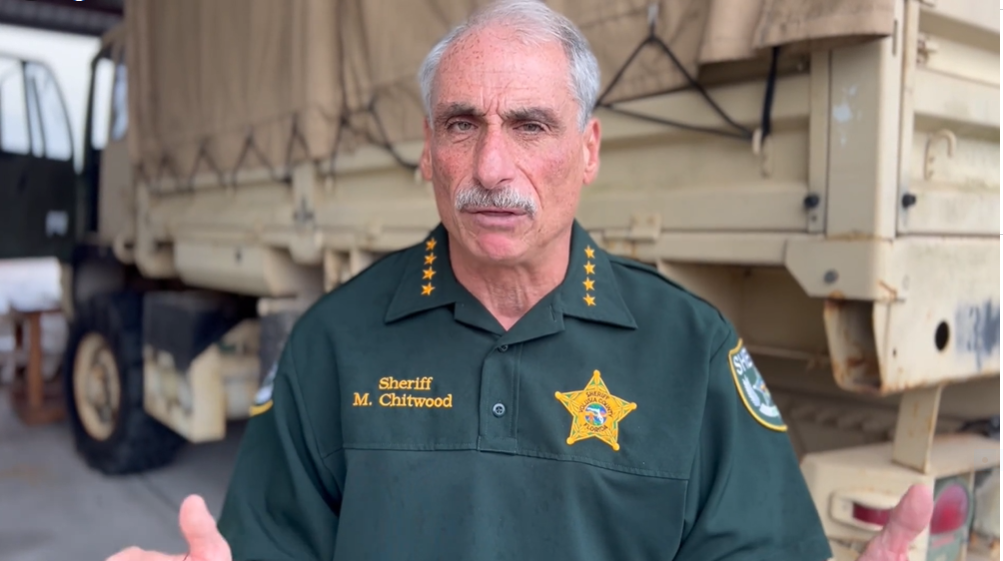 (Photo courtesy of the Volusia County Sheriff's Office.)
If the high-water rescue vehicle Sheriff Chitwood is pictured with above sounds familiar, it is because it is one of the batches that Mr. Obama and others chalked up as "scary" and frighteningly "militaristic" to the American public. I wonder how people rescued from the tragic effects of Hurricane Ian feel about it showing up and pulling them from miserable conditions.
Here is one testimony from a young lady named Kristina, who was elated to see a Bearcat show up and evacuate her to a shelter after Hurricane Irma pounded Florida in 2017.
Traffic control of a different sort compelled Tampa cops on patrol to lighten up despite the contentious climate conditions. One keen-eyed officer cruising in the early stages of Hurricane Ian noticed something about the sway of an overhead traffic light…and slowed.
Good move, because the red/yellow/green hulk of traffic lighting came crashing down, almost on top of his police cruiser. County transportation departments have specially designed trucks deployed to repair/replace traffic control devices such as lighting and overhead wires powering their functionality.
I hate to dampen things more than Hurricane Ian already has but a certain key point must be underscored, providing a massive testimony on a nationwide scale: what if the other side got their way and defunded the police to where these and other pieces of imperative life-saving equipment were not among the array of law enforcement agencies?
Some people pushed for abolition, selfishly negating the prospect of natural disasters requiring courageous public safety personnel and the apparatus they employ to ensure folks see another day…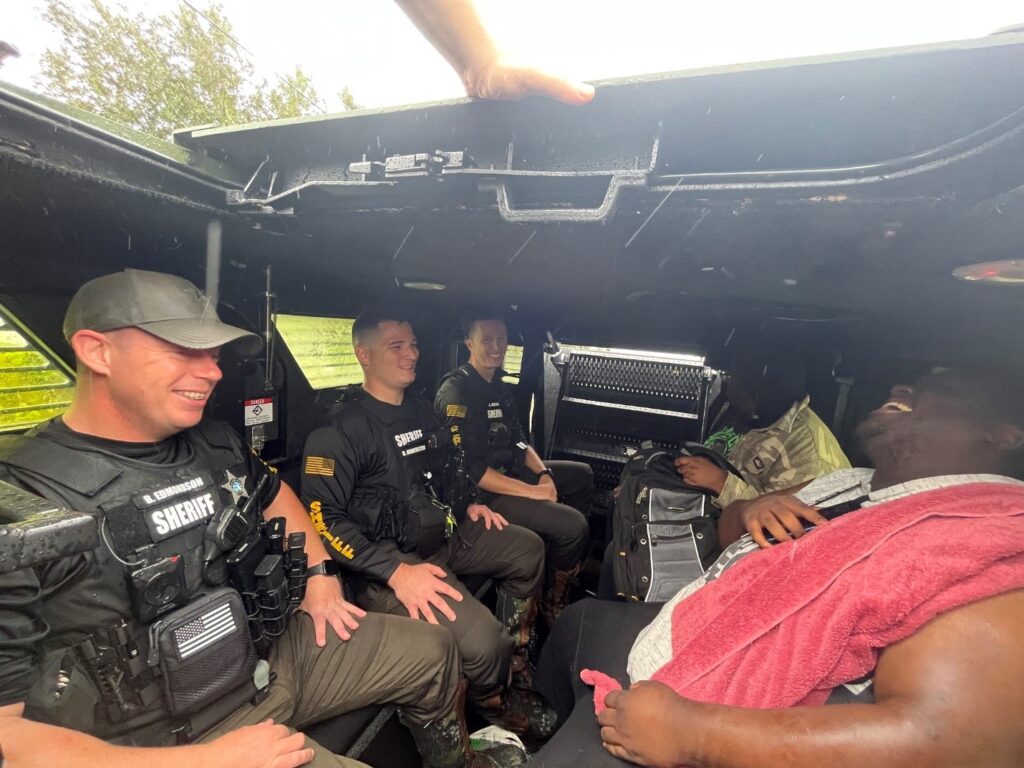 (Photo courtesy of the Orange County Sheriff's Office.)
Thankfully, though, Florida is a pro-police state and enacted legislation against anti-cop movements and the dearth of defunding.
Florida Governor Ron DeSantis didn't waste any time beefing up resources to mitigate the stark impacts of Hurricane Ian. Incredibly, he amalgamated resources and personnel pledges from 26 states well in advance of Ian. Roughly 40,000 linemen were amassed (escorted throughout the state by cops). Tons of rescue apparatus were aggregated.
With keen senses against the fraudsters out there typically creating fake GoFundMe accounts to scam good-hearted people wishing to donate to those impacted and left with nothing, Mr. DeSantis publicized FloridaDisasterFund.org, a government source operated under the Florida Division of Emergency Management.
Speaking of emergency management, such a fund (if utilized) largely preempts the multitude of complaints to municipal and county police agencies from people defrauded by scammers. Every public safety professional is deeply dedicated to alleviating burdens deposited by this latest natural disaster.
Having said that, Florida law enforcement agencies, at least those still standing, continue to clear roadways and safeguard some semblance of navigation. Once travel arteries were deemed relatively navigable, police personnel safely fielded the stacks of "welfare check" requests (concerned folks checking on loved ones they've been unable to reach).
As with every natural disaster, the stark reality of potential fatalities weighs heavily. On September 30, Gov. DeSantis and spokespeople from FEMA and the Army Corps of Engineers took to the podium and briefly explained the "body count" thus far, distinguishing between "confirmed" and "unconfirmed deaths" chronicled during Hurricane Ian — disaster-related versus unrelated…as eventually determined by official medical examiner reports (which takes time).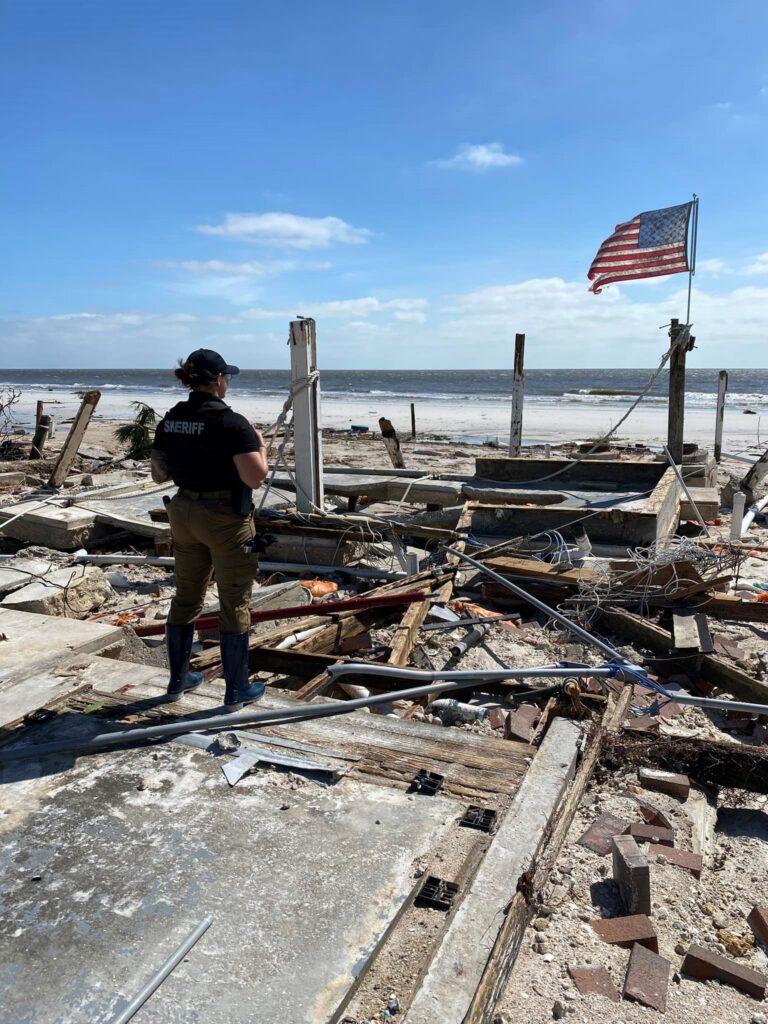 (Photo courtesy of the Lee County Sheriff's Office.)
In all of this, they discussed safely "getting to" rescue scenes, deploying specialized equipment operated by public safety pros pressing on while working Alpha-Bravo shifts (much like state troopers are doing down in hurricane-ravaged Puerto Rico)…until life-saving missions and body recovery is exhausted. Only then will it be declared relatively stable, ushering rebuilding of Sunshine State terrain flattened by Ian.