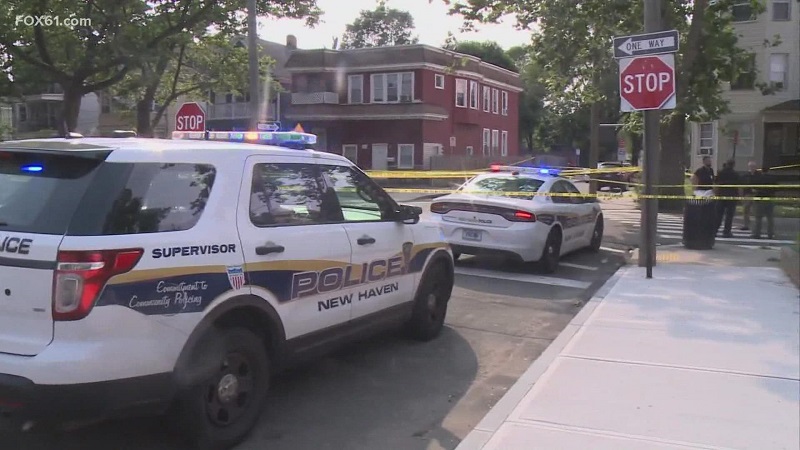 (INDIANAPOLIS, IN) – The National Police Association is announcing a $5,000 reward for information leading to the identification, arrest, and conviction of the individual responsible for the shooting of a police officer. Officer Chad Curry was shot after he responded to calls about a motor vehicle collision around 1:30 a.m. on October 7, 2022. The collision happened near the intersection of Chapel Street and Blatchley Avenue.
"One of the people involved in the motor vehicle accident attempted to leave the scene," said Chief Karl Jacobson, New Haven police. "The officer attempted to stop them and then there was an exchange of gunfire. We don't believe at this time the suspect was shot, but we don't know."
Curry was hit in the shoulder and ear, police said.
The incident was caught on Curry's bodycam.
Following the gunfire exchange, the shooter was last seen on Blatchley going towards Saltonstall Avenue. He wore an orange sweatshirt and a white hat. He was described as standing 5′10″ tall.
It is not known how many individuals were passengers in the vehicle at the time of the collision. However, police said they determined that the vehicle the suspect was in had been reported stolen.
Anyone with information is encouraged to call contact the New Haven Police Department Investigative Services Division at 203-946-6304. Callers may remain anonymous or submit tips anonymously by calling 1-866-888-TIPS (8477), or text "NHPD (plus your message)" to 274637 (CRIMES).
The NPA's reward program terms and conditions can be reviewed here https://nationalpolice.org/rewards/.
The National Police Association is a 501(c)3 nonprofit with a mission of educating supporters of law enforcement on how to help police departments accomplish their goals.
###