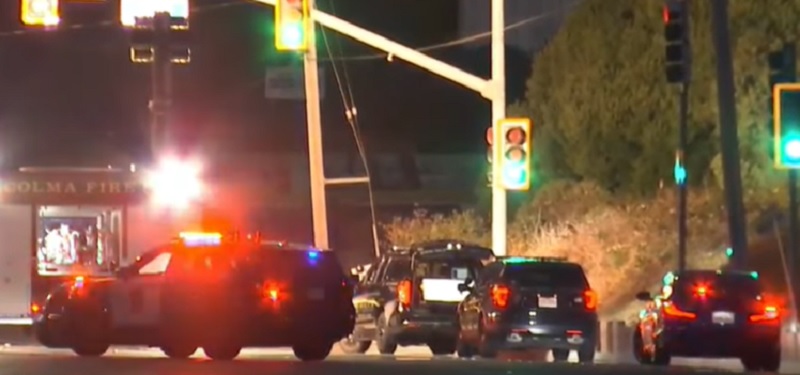 Summertime and the living is dangerous. In Hillsborough County, a corrections deputy was being strangled by an inmate using a towel around her neck. She was saved when other inmates intervened. In California, two El Monte police officers responded to a possible stabbing at a motel and came under gunfire immediately on their arrival. The suspect was killed by another officer on the scene. Corporal Santana leaves behind his wife, a 9-year-old daughter, and twin 2-year-old boys. Officer Peredes leaves a wife, a daughter, and a son. The gunman was on probation on a previous firearms charge.
A mother's scream created what is known in law enforcement as exigent circumstances when Miami-Dade police officers arrived to a report of a disturbance in a normally quiet suburban apartment complex. When the officers asked the apartment's occupants to open the door, they were met with more screams. They forcibly entered the apartment to see the woman's son attacking with two knives. The officers commanded the suspect to stop, but had to shoot when he continued his attack. The knife-wielding man died at the hospital later.
Meanwhile, back in the state of California, two Arizona men are behind bars in San Bernadino after using a flame thrower to take over a street for drag racing. The device, used in agriculture rather than a military device, was used to melt asphalt for better traction. The California Department of Transportation estimated that the act caused $150,000 in damage. Drag racing and the takeover of streets have become increasingly common along with unruly crowds.
In Washington state, where restrictive laws restraining police officers have given unrestrained permission for criminal activity, a kidnapping suspect being pursued by police called 911 to complain that he wasn't supposed to be chased. The man, Isaac Sissel was being chased by Seattle Police after Sissel was wanted for taking his girlfriend and her cat hostage last month. Dispatch recording revealed that Sissel said, "It is an illegal pursuit and my license is suspended, and this is an illegal pursuit … They're not supposed to be able to pursue."
In Durham County, North Carolina, deputies discovered that their location was being tracked by a GPS device that had been surreptitiously attached to their patrol vehicle. Officials fear that the purpose of the device was to monitor the deputies for an ambush.
A traffic stop in Los Angeles by a 27-year-old California Highway Patrol officer erupted in gunfire after a struggle between the officer and the driver of a white Ford Fusion. The driver and occupant were later arrested after a manhunt located them at a homeless encampment. The officer was shot and in critical but stable condition. He is expected to recover, but that good news is always shrouded in the possibility of permanent disability, chronic pain, and psychological distress.
State troopers with the Utah Highway Patrol stopped a vehicle for illegal window tint and discovered that a 7-year-old girl was hidden in the back seat in a smuggling attempt by the driver and occupants. Alejandro Marcos Carrillo-Lira, age 33, and Brandon Alexis Vargas Cardoso, 21, were booked on one first-degree felony count each of aggravated human smuggling. The alert officers realized that the driver's explanation was not consistent with the men's statements and discovered the little girl was being smuggled across the country. Glad these officers were enforcing what the anti-police crowd says are minor and unnecessary stops.
Duncanville, Texas police officers killed a would-be child killer who was armed with a handgun and fired into a community field house where 150 kids were attending a summer camp program. Officers arrived about two minutes after the report of shots fired, exchanged gunfire with the shooter, killing him at the scene.
A fugitive in Wicomico County Maryland murdered Sheriff's Deputy First Class Glenn Hilliard was killed Sunday evening while fleeing on foot from an apartment complex. The killer was caught after a manhunt. Deputy Hilliard was a 16-year law enforcement veteran, a husband, and the father of three children.
That's a sampling of a few days in the lives of our men and women protecting and serving with honor and courage. How was your week?