On June 10, 2022, Florida's pro-police Governor Ron DeSantis signed a bill into law on behalf of the Sunshine State's retired police K9s, ensuring provisions of care while the furred crimefighters wile away the days.
"In Florida, we back the blue, and that includes the K-9s that are often the first to go into a dangerous situation. After dedicating their lives to protecting and serving our communities, it is important that we ensure that these K-9s are cared for by providing the resources necessary for handlers or adopters to afford veterinary care," said Governor DeSantis after endorsing the Act on behalf of police dogs.
Initially filed in September 2021, Senate Bill 226, otherwise referred to as the Care for Retired Police Dogs Program Act, "will help caregivers of retired police dogs pay for veterinary costs of the dogs. The program is housed under the Florida Department of Law Enforcement and will be administered by a non-profit organization dedicated to the care of retired police dogs," a Floridagov.com press release indicated.
Some canine enthusiast sites dubbed it the Medicare program for law enforcement service dogs.
Here's how the Care for Retired Police Dogs legislation works: each police canine will receive an annual allocation of $1,500 on a reimbursement basis toward veterinarian costs. A press release broke it down by saying the vet tab generally engenders "wellness checks, vaccinations, parasite prevention treatments, medications, and emergency care for the animals.
"The program has an appropriation of $300,000 in recurring funds" and will be payable to the active or retired law enforcement officer handlers whose canine partners served a minimum of five years of police service, validated by submission of retirement papers issued by the employing law enforcement agency.
Exceptionally, any police canine retired earlier than the five-year threshold (from "three years or more") due to injury sustained in the line of duty is also eligible.
Whether or not anyone has witnessed it in real-time or read about it or viewed footage of police canines during active-duty stints, these animals love to work and go full-bore without fail.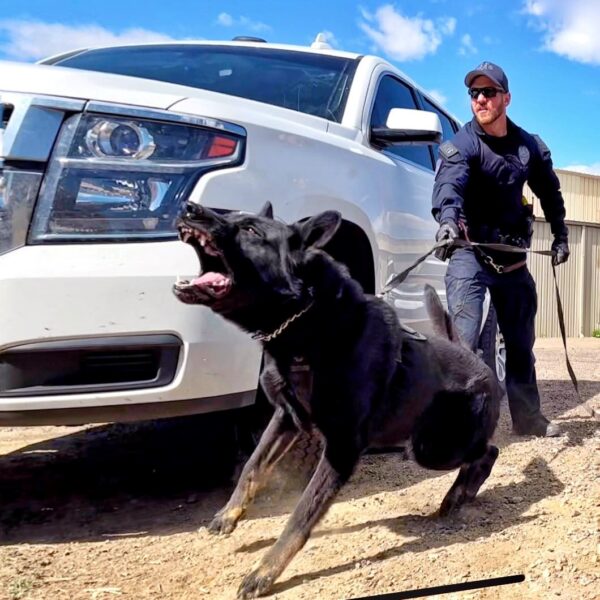 (Photo courtesy of K9s United.)
Perhaps one of the most difficult aspects of being a police canine handler is the covenant that each dog is often the first one into bona fide perilous situations. Some canines do not survive. Others do, but with obvious injury. They all give the Energizer Bunny a run for the money; they keep going and going and going…
As one of my department's certified canine handlers often uttered about his assigned dog's vigor, "These paws don't pause." Like human counterparts, though, active duty takes a toll on physiology.
As Representative Sam Killebrew stated, "This is a great bill. It is the same as an NFL player playing for 8 or 9 years and they are beat up and retiring. These dogs are beat up after they serve and they need medical attention. This money is going to go a long way to help."
According to Mr. Killebrew's political campaign site, "He regularly sponsors legislation to protect Veterans, animals, and children and families." In this case, one of his campaign promises is filled and police dogs score points.
Because police canines are government-certified as bona fide police officers and employed by public safety organizations, any charitable contributions are subject to proverbial red tape and bureaucratic vetting processes.
The monies allocated toward the Care for Retired Police Dogs legislative act are influenced by an entity called Emma Loves K-9s which is the brainchild of a teen entrepreneur. Following is a poignant tale influencing a wonderful legislative Act.
"As soon as I learned about the lack of funding for retired police dogs, I wanted Emma Loves K-9s to assist their handlers with food and medical expenses," said Emma Stanford, Founder, Emma Loves K-9s. "The retired dogs have served us and our communities, and I believe that they deserve the best possible care."
According to German Shepherd Country, Emma Stanford is an eight-grader who lives in Palm Coast, Florida, an unincorporated city in Flagler County patrolled by Sheriff Rick Staly's deputies and canines. 13-year-old Emma "connected the dots between care and resources and started a foundation years ago to help retired police or correctional dogs."
According to Volusia County Sheriff Mike Chitwood, Emma visited his agency's K9 unit and expressed her aspirations to become a police canine handler one day. Here is Emma sharing her story:
From the get-go, police agencies go to great lengths involving tons of analysis, predominantly considering initial costs and upkeep regarding police canine unit assets. Law enforcement executives explore every means of financial support for retired law enforcement canines, but budgets always have big bites taken out by various operational costs. Often, retired dogs' handlers pick up the tab from their personal pockets. Sheriff Staly spoke of a few examples, as his agency does not necessarily provide for retired dogs…enter the Care for K9s Act.
My department went above and beyond (just like the dogs did when they were in-service crimefighters otherwise known as "fur missiles") to ensure monetary costs for each of our certified canines were covered, for both active and retired animals.
Given that government organizations generally operate on tax bases which may not translate to robust coffers, some police entities may be hard-pressed to even purchase a police dog, let alone requisite financial support throughout the canine's crimefighting career (retirement being a relatively moot point).
This canine-centric Act will help defray any costs footed by law enforcement entities.
"Each one of these retired dogs, with no serious medical issues, costs about $3,000," said Sheriff Staly. "Last year, we implemented supporting our retired canines, but that is the exception, and this bill will correct that and take the burden off the handlers. Not only are they partners for life, but they become family members."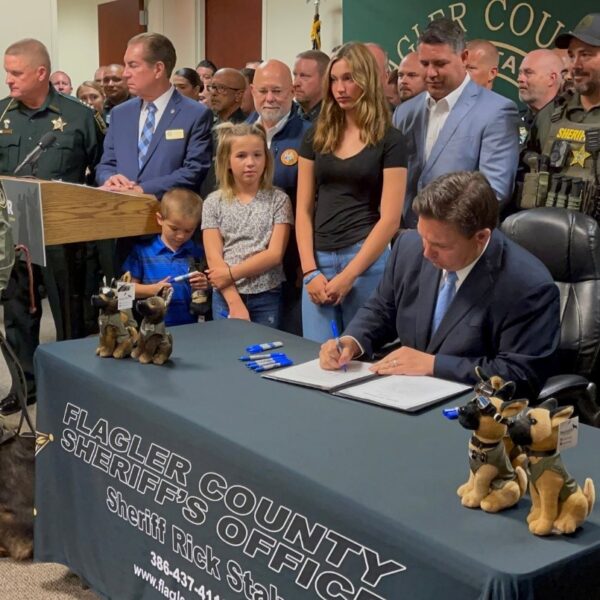 (Photo courtesy of the Flagler County Sheriff's Office.)
Echoing Sheriff Staly, St. John's County Sheriff Robert A. Hardwick offered these sentiments and praise:
"Senate Bill 226 not only gives a chance to fund and help our deputy sheriffs [and municipal police officers] as they take care of these retired warriors, but it also gives them a chance to partner with a not-for-profit. Governor, we thank you again for signing another bill that benefits this profession and helps make this state the safest state with the safest cities to live, work, and retire."
And that is the real skinny here: cops who are fortunate enough to be partnered with an unwavering dutiful dog and who routinely pick up the tab for whatever the canine's needs are…now have subsidies. Those canine cops with whom I shared many midnight shifts pushing back on criminal elements…treated their assigned police dogs as if they were their very own children, sparing no expense.
Indeed, this Act is a gift.
The governor's office has charged the Florida Department of Law Enforcement (the Sunshine State's version of the FBI) with contracting with "a nonprofit corporation to administer and manage the program" and overseeing the Act's intended purposes.
The Care for Retired Police Dogs Program Act is effective July 1, 2022, providing a well-earned retirement boost for law enforcement canines whose longevity is already chronologically abbreviated by nature.
Via his Twitter account, Governor DeSantis spread the good news: "I signed legislation today that will provide funding for our retired K-9 officers, so they are well taken care of and repaid for their service. In Florida, we back the blue and that includes our great and loyal K-9s!"
He concluded: "We recognize that support for our law enforcement community must include recognition for our four-legged friends, and we're doing that here today. They are going to live a good retirement because they've earned it."
That's an earnest big bowl of blue cheer!