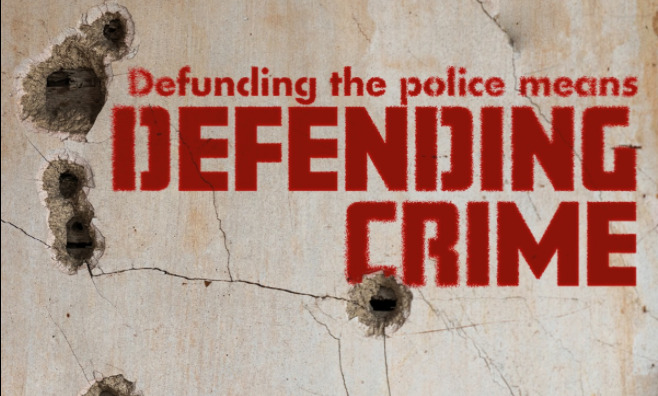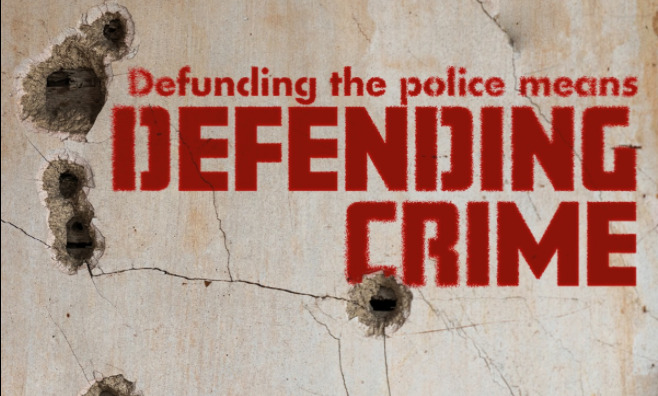 As witnessed from the get-go, the defund the police thrust culminated in easily foreseeable spikes in crime and victimization. Many law enforcement agencies sustaining loss in funds to effectively operate and fulfill the public safety mission had no choice but to cleave some of their specialty units.
Increased criminality stemming from downsized police departments segues to an inherent law enforcement shuffle whereby certain investigative units and their profound functions default to ensuring basic patrol principles.
City streets require conventional coverage (beat cops) thus special teams such as cold case detectives pursuing age-old murders and other major unsolved felonies are abdicated—collateral damage compliments of illogical anti-police squawkers and the kowtowing politicians who listen myopically.
Splintered by the sheer stupidity of others, defunded PDs find their experts in investigative measures and stellar police prowess stacking cases in order to meet standards of street patrol while not exceeding severely knee-jerked budget chops.
It is perhaps the most common cause-and-effect calculus on the planet: diminishing cops' capabilities equals a feast-like buffet for criminals and their take, take, take tendencies.
Nothing new. Nothing which can't be overcome and ameliorated with some sound reasoning. Yet here we are, deliberately defiled, derided, deficited, and betrayed.
It is astonishing how "leaders" became more like followers, trumpeting the anti-cop nonsense spewed by witless whims.
As LAPD Officer Deon Joseph recently wrote, "The most dangerous aspect of leaders like these [in California] is their world views and ideologies are far more important than the human beings they are supposed to be serving. You can be as liberal or conservative as you'd like personally. But when you embrace the extreme aspects of your values in a position of responsibility, you fail everyone. Even the people you want to help."
B-I-N-G-O!
Officer Joseph's accurate assertion underscores recall efforts regarding California Governor Gavin Newsom and Los Angeles District Attorney George "Let criminals reign" Gascon. In the former, the RecallGavinNewsom site reiterates his "soft on crime" tendencies resulting in soaring crime. Surprise, surprise. In the latter figurehead, the RecallGeorgeGascon site lists this so-called prosecutor's proclivity of copiously distributing "get out of jail free" cards, betraying his oath to "Stand Up for Victims."
While certain politicians defund police, they hoodwink taxpayers for personal gain—shocking, I know. Check this out, and pay particular attention to the part where former U.S. Congressman Trey Gowdy succinctly underscores our topic today:
From the Austin Police Association, we learn that prosecutorial roots there are also cultivating weeds. Even in the largely pro-police Lone Star state, criminal justice matters are unjust:
"The Travis County District & County Attorneys implemented policies counter to the interest & general safety for the public. The policies & broad rejections of lawful arrest, based on probable cause, are leaving victims with little to no hope for justice. We need prosecutors who are willing to their jobs helping to bring back a 'Safer Austin.'"
That was in rebuttal to a KVUE expose titled, "A new policy means Travis County prosecutors are rejecting hundreds of criminal cases."
Now, I know not every criminal case arriving at the DA's office is slam dunk —cops go above and beyond to cement cases as best possible based on probable cause and evidentiary pillars— but to make policy to toss filed cases instead of solidify minutiae where soft spots are perceived is contrary to justice principles and victim's rights. (And if defunding is causing knee-jerk decisions, then undo the idiocy so crime victims are not shortchanged by the twisted rhetoric.)
I can only imagine how every Travis County law enforcement officer feels about this ridiculous premise and judgments about their arduous work. Speaking of judgments, some on the judiciary bench are failing us also.
Speaking to NPA spokesperson and retired police Sgt. Betsy Brantner-Smith, Sgt. Chris Jones (retired), who serves as a training director with Combined Law Enforcement Associations of Texas (CLEAT), gave us the skinny on the preposterous misdeeds going on in Travis County and other regions with regard to backward criminal justice practices:
Having been one, I can tell you every cop's dismay stems from certain components in our criminal justice system permitting bona fide bad actors who recidivate time after time go scot-free for crimes.
And as Sgt. Jones explained, prosecutors going after cops to satiate their political swag and perfect pander is another travesty of justice.
We arrive at the juncture of reality reporting how Los Angeles governance defunded the LAPD by $150 million, compounding the growing woes of cops combatting crime with far fewer resources and "leaders" caring not one red cent. If the devil is in the details, cutting the LAPD operational budget by that much meant exactly what we referred to above—shortchanging citizens who expect and deserve better.
As a Los Angeles Times report distilled it, defunding the LAPD means reassignment of 200-plus specialized unit cops as a "broad reorganization aimed at preserving patrol and community engagement functions."
Per a CBS Los Angeles news affiliate, police "station desks will no longer be manned on weekends under the plan, along with planned cuts to LAPD Metropolitan Division, and air support, robbery and homicide and gang and narcotics divisions." That report was in November 2020; I wonder how many case files burgeoned with this ridiculous maneuver and reckless display of power over police.
Syracuse, New York police took reports on six stabbings in one nightshift recently. Each of those cases is ordinarily assigned detectives to pursue in the absence of already-arrested perpetrators. An adequately funded police entity would pick up the report and go far and wide to secure arrests provide victims some semblance of closure. A defunded PD…not so much, and it's not their fault whatsoever.
As Officer Parker recently articulated, "Leaders don't lead, and the interests of the People were placed second to a game of politics." Sad game they're playing, and victims already at a loss due to being maligned by criminals are essentially revictimized by subpar oofs holding elected office whose self-importance on steroids bombs oath-taken vows. Swearing in with fingers crossed?
Over in Oakland, California, where their police force was funded, comments from city council are unnerving, calling stratospheric crime rates "a bump in the road." Who the heck thinks that way in context of crimes and victims?
I admire the rebuttal from Oakland Police Chief LeRonne Armstrong, who said, "Well, for me, those 'speed bumps' are 65 lives so far this year. Whether it's shootings, robberies, carjackings, sexual assaults, all of these crimes are not speed bumps. These are people ."
Let's follow that up with a Fox News article titled, "Defund the police Dems are silent after DC passes 100 homicides in 2021." Well, well…how could such a thing happen? What are the mechanics behind such soaring street violence? Could it be hampered cops and diminished capacity due to budget-hacking political hacks whose common sense is paralyzed by power?
Pick any jurisdiction where police were defunded…and you'll easily see rampant crime and victims being ghosted.
In a recent broad-daylight Wild West-style shooting in DC, citizens went scrambling for safety as the fusillade of bullets whizzed by. And Robert Contee, the police chief of the defunded DC Metro police force, had this to say about that:
"…the justice system that we have right now, it is not functioning the way that it should. I'm mad as hell about this.
"I'm saying to you, enough is enough." He added, "Most of the communities I've talked to have no clue what happens with these cases — they don't.
"But I'm gonna tell you the truth," Contee continued. "The real issue is we have a vicious cycle of bad actors who do things, no accountability, and they end up back in [the] community." Back in the community where police forces are being whittled and victims are being victimized or re-victimized.
Those are excerpts from a New York Post feature article in which Chief Contee unloosed his frustrations and anger and disappointment in the system of which he is a component. I recommend reading the piece in its entirety.
The subject matter is disheartening, but Chief Contee's rebuke is beyond apropos, especially in the context of our topic: You just cannot expect cops anywhere to do more with far less and deny victims their right to justice…as criminals frenzy and feast.
As Oakland police Chief Armstrong said, "When the yellow tape is gone and when the streets are cleaned up, there is still hurt and pain and tragedy in our community. I hope that we can put politics aside and put public safety first. Put people's lives first before political agendas."