Well before the March 28 White House announcement regarding the 2023 fiscal budget, especially the portions pertaining to law enforcement, America's police academies have all been business as usual.
Although police recruitment efforts have been a challenge in some regions of the nation, law enforcement training centers I continue analyzing are priming for the future of public safety.
I came across several police academy grand openings, which means that funds proposed by the Biden administration complement the investments already made by law enforcement executives. This, all while many were shouting anti-police nonsense in the form of defunding or abolishing the police.
The anti-police brouhaha has especially simmered after the rancor resulted in glaring evidence of what will happen when cops are lambasted and malcontents are waved on like race-car drivers road-raging at every turn (feeding the hunger for violence).
Call it egg-on-face or whatever, but some members of the federal government now have a different tune.
Remember Mr. Biden's State of the Union address, in which he said the following: "We should all agree: the answer is not to defund the police. It's to fund the police. Fund them with resources and training."
That ticked off some diehard anti-police politicos. One can suppose rose-colored glass houses are occupied by these naysayers. Surely, victims of crime (who survived) and the loved ones of victims whose lives were ended see it clearly, full-knowing how instrumental cops are in our society.
On Monday, Mr. Biden and company disclosed plans to strengthen communities and disburse dollars toward law enforcement in the U.S., claiming his budget reflects "security — security at home and security abroad. My brudget [sic] — my budget tackles security in two keys ways.
"First, it secures our communities at home. This is an issue families in every part of the country face. I've said it before: The answer is not to defund our police departments, it's to fund our police and give them all the tools they need, training, and foundation, and partners and protectors that our communities need.
"The budget puts more police on the street for community policing so they get to know the community they're policing; allows the Bureau of Alcohol, Tobacco, and Firearms and the FBI to hire the agents they need to help fight gun crime and other violent crimes in our communities; and funds body cameras and makes sure police work with our local communities and are accountable to these communities.
"It funds crime prevention and community violence intervention, drug treatment, mental health, criminal justice reform, and reentry for people coming home after incarceration. All demonstrable ways to reduce crime — and proven ways."
Given how law enforcement entities annually go to bat for dollars at budget meetings in their respective communities, they have not relented—occupied academy seats are tangible evidence.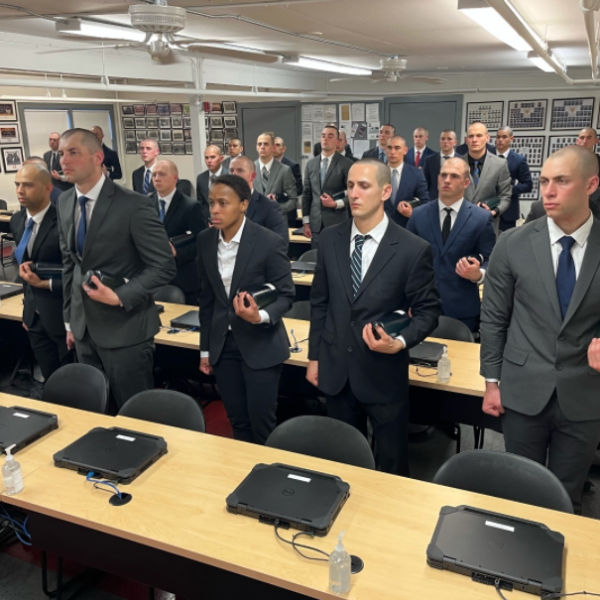 (Photo courtesy of the Rhode Island State Police Training Academy.)
It is always reassuring to know that police professionals have neither rested on their laurels nor surrendered to the naysayers' ludicrous whims.
Nope, law enforcement agencies have maintained the push for public safety, despite the recruitment woes and retention dilemmas. As mentioned, whereas some are still constrained by a mostly dry (discouraged) applicant pool, other regions are seeing robust interest.
The Phoenix Police Department incentivized recruitment to fill seats at their police training academy, welcoming future LEOs who, despite the anti-this and anti-that climate, signed up, walked in, and got right down to duties. Prospects who possess a two-year degree are automatically waived from the written test. And PPD's $7,500 hiring bonus is handsome too.
Phoenix Police recruiters have been traveling the country, scouting for future Finest talents to join their force, "speaking to Marines and Sailors! Thank you for giving us the opportunity to speak to potential applicants from your ranks and thank you for serving our country."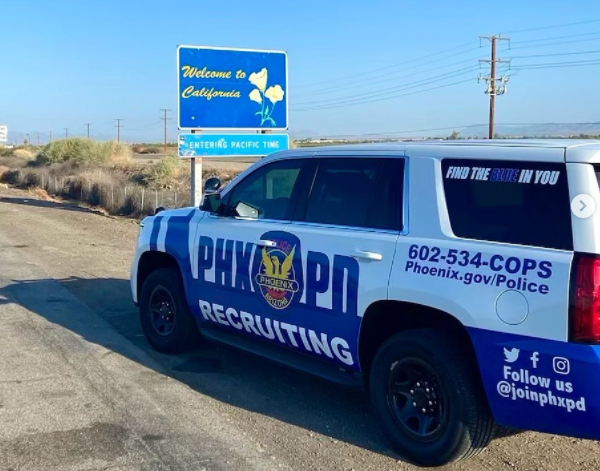 (Photo courtesy of the Phoenix Police Department.)
Reportedly hard-pressed to recruit/retain officers, the Boulder, Colorado police department partnered with the University of Colorado-Boulder police administration in efforts to launch a new police academy on campus, "where recruits can be trained and receive college credit."
From the Daily Camera: "It's time that our Colorado communities start conscientiously making space for police officers in their conversations going forward about police reform and finding ways to show community support for policing. Boulder can start by fully supporting a new police academy. Because if we don't, we are saying that we don't support officers and human beings like Boulder Police Department's Eric Talley, and that would be a massive shame."
My county sheriff's office engaged its own law enforcement academy program and has seen robust numbers of cadets loaded with duffels move into the groove of academy culture, checking in before the sun makes its daily rise.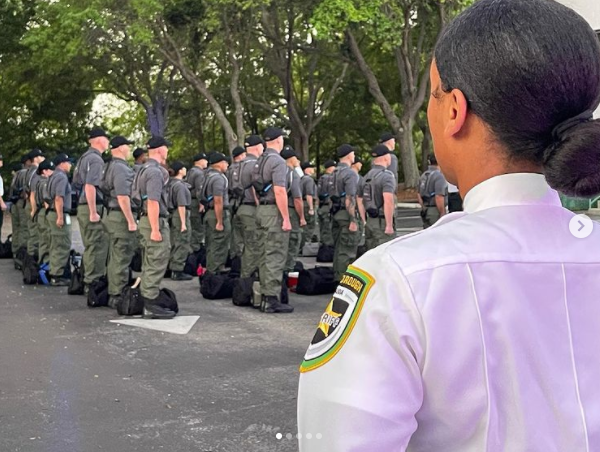 (Photo courtesy of the Hillsborough County Sheriff's Office.)
As well, a metro police department near my zip code welcomed police recruits and active-duty cops in its newly constructed training academy and range.
Mind you, these academy cadets, no matter where they may be training, saw everything we witnessed: Public safety betrayal resulting in bedlam and destruction.
However, none allowed chronic chaos to dissuade them from doing something about it.
They continued pacing their floors and dissecting details in their minds, mulling matters throughout the time it takes to process and endure the multi-phases of hiring rituals. Not everyone makes it in. Conversely, not everyone makes it in the time-frame they imagine. Larger metropolitan PDs and sheriffs' offices generally have long wait times for aspiring candidates focused on becoming police officers.
The waiting can be called the What if… stage. Ironically, the What if… stage while waiting to hear back from police recruiters sets in motion a potential career in processing tons of What ifs. Florida Highway Patrol Trooper Toni Schuck more than alluded to this in the brief video above and took decisive action.
When I initially tested for the NYPD back in the day, contenders were placed on a waiting list which was good for a full four years (each candidate was provided a number among 64,000 test-takers at that time). Names/numbers not solicited by the four years expiry date were encouraged to try again.
Many did…and waited. Dedication to duty, then, seems to forge well before being pinned at a swearing-in ceremony.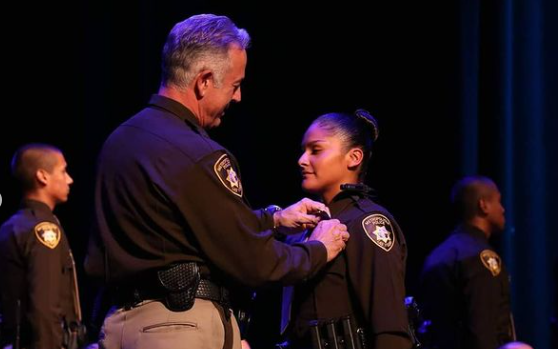 (Photo courtesy of the Las Vegas Metro Police Department.)  
As anyone may imagine, there is a ton of things which factor into attracting, vetting, processing, training, and certifying future law enforcement officers. It is reassuring to know that many selfless individuals do the work and patiently pend their day of being called up to serve communities.
As our training staff at the Riverside County Sheriff's Office put it, "Never give up on a dream just because of the time it will take to accomplish it. The time will pass anyway."