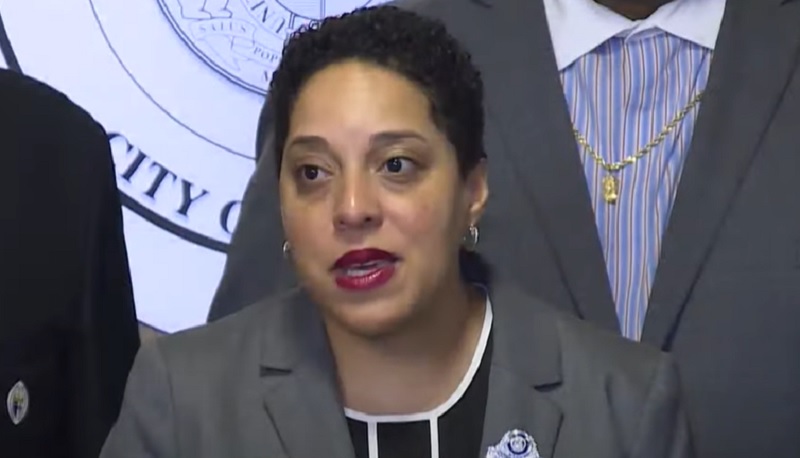 By Steve Pomper
St. Louis Circuit Attorney Kim Gardner is a treasure—for the anti-cop radical left. This George Soros-funded prosecutor (one of too many in the U.S.) has established a soft-on-crime/hard-on-victims and cops criminal justice system.
Like all of these Soros-styled solicitors, here are a few markers that define their law enforcement philosophy. They don't prosecute high percentages of criminals, especially leftist criminals like BLM/Antifa rioters. They fabricate crimes against law-abiding people who attempted to defend themselves and their property. And they really don't like cops.
Gardner infamously failed to prosecute rioters who threatened a couple at their St. Louis home. Then she attempted to prosecute the couple for using their God-given right to self-defense.
As we wrote in NPA's recent book, The Obama Gang, "Just look at what … Gardner… is doing to Mark and Patricia McCloskey." A violent mob damaged property to enter onto private property and reportedly "shouted threats to commit arson, rape, and murder" against the couple.
The couple armed themselves. never fired a shot, or even pointed a gun at any of the suspects. Also, from The Obama Gang, "the activist prosecutor, rather than charging the violent mob, charged the couple." There were also reports that Gardner allegedly "tampered with evidence" to hedge her bet in charging the McCloskey's with a fake crime.
But a warped leftist non-prosecutor is nothing new. But this one achieves new heights in irresponsible prosecutorial behavior. Gardner's office recently, according to FOX News, "declined filing charges against a man who allegedly attempted to carjack a marked police SUV while two officers were inside, according to police."
St. Louis police officials wanted first-degree armed robbery and resisting arrest charges filed against the carjacking attempt suspect. A spokeswoman for Gardner's office, according to 5 On Your Side, said the case "is under investigation." They also declined to answer why they didn't file carjacking charges but, as reported by KMOV News, "only charged Robinson with unlawful use of a weapon."
Can you imagine living in a country where a prosecutor in a large American jurisdiction won't file charges against a suspect who pointed a gun at police officers? Well, thanks to so-called prosecutors like Gardner, you don't have to imagine. This is the country we're now living in.
So, you probably want the details about why Gardner doesn't feel the evidence rises to the level of filing charges, right? I mean, she must have a good reason not to bring charges related to the attempted carjacking—of cops, yes? Well, let's see about that.
Officers responded to a "shots fired" call at 3 a.m. in St. Louis. FOX News wrote, "The officers in the marked police SUV said a man stepped in front of their car as it was moving, before the man stood next to the passenger's window and pointed a gun" (at cops!).
It appears the suspect wasn't quite as stupid as the headlines imply, though he dod allegedly point a gun at cops in a cop car. Apparently, when the suspect realized it was a fully marked police vehicle occupied by police officers, he ran away.
Here's where the stupid comes roaring back. After the original targeted officers put out a description and direction of travel, police located the suspect in a nearby restaurant parking lot. Officers arrested him. Allegedly, he still had the gun on him. Officers recovered a weapon from him during a search incident to arrest.
The suspect, identified as Allen Robinson, 27, according to 5 On Your Side, is facing previous charges of domestic violence assault, violating a protection order, and first-degree property damage. He's being held in the Jefferson County Jail—for those charges.
Also reported by KMOV, Gardner's office attempted to justify the lack of charges in a statement. "Any suggestion that the evidence provided by SLMPD supports [the] charge of robbery 1st/carjacking in this incident is an unfortunate and inaccurate characterization. Investigations take time, and we should wait until the facts are submitted and reviewed."
Jay Schroeder, president of the St. Louis Police Officers Association, said though the alleged "crime was shocking…," he's not shocked by Gardner's office's non-action. None of us should be.
The cops who were there, who were the victims of the alleged attempted carjacking, who had a gun pointed at their faces, described an attempted carjacking. But they're just cops. What do they know?
But Kim Gardner, who was not there, who wasn't a victim of an alleged attempted carjacking, and who did not have a gun pointed at her face, apparently knows better.