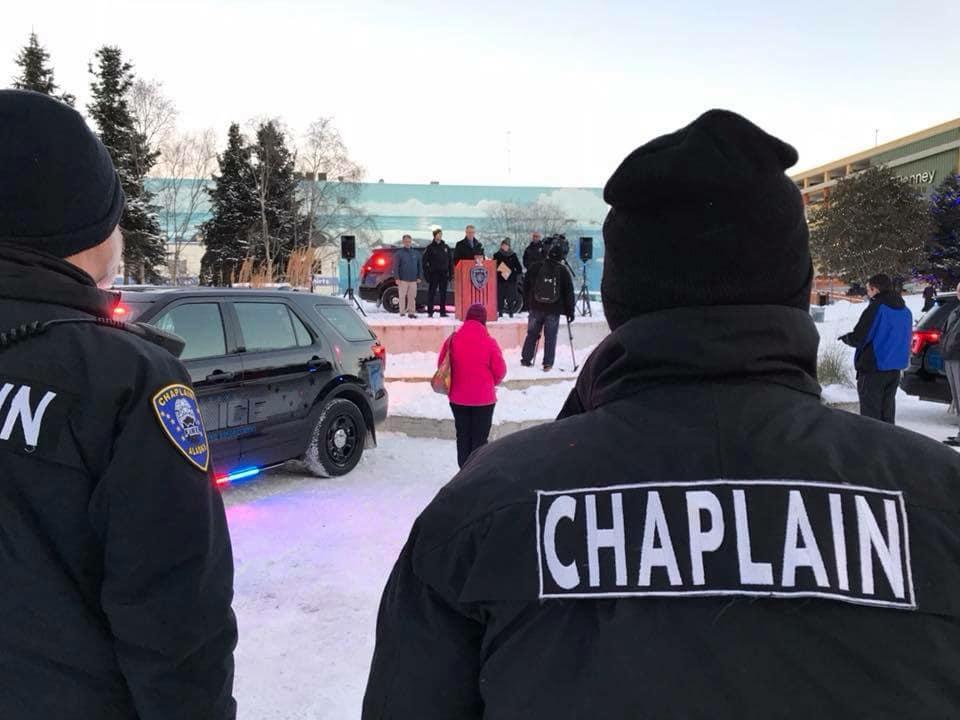 The most severe facet among America's law enforcement officers is the constancy of responding to acts of human depravity and absorbing society's ugly side. If only our species were coated by Teflon…
As humans with emotional capacity, events in our lives tend to sway, sometimes making our thoughts seem like cliffhangers…with no easy answer in sight.
For cops, the battle drums seem to echo unrelentingly.
Yes, the cliches of hours of boredom have some merit. However, those blocks of boredom are always easily outdone by the spontaneous crackle of radio communications describing horrendous victimization, catapulting law-abiding lulls to mayhem—from 0-60.
Physiologically, that brand of occupational calling weighs heavy and gradually chisels away at the human design while also challenging the psyche.
Spiritually, law enforcement officers generally closet their job-related emotions, almost by necessity to be as primed as possible for the next call, without fail.
Indeed, cops talk to each other, and some decompression may be the reward at the end of a car-to-car chat.
Lingering thoughts, though, can weld together with many other lingering thoughts deposited by the job.
As a Catholic-raised cop, I stifled many ponderous moments during which I wondered where our Higher Power was when grotesque situations flared up, some resulting in casualties and caskets. After each, I prayed for forgiveness for daring to entertain such thoughts. Only human…
The human psyche is complex. And anything complicated beckons better understanding by tapping a trusted friend (sounding board) on the shoulder and asking for perspectives, for clarity. In cop culture, the go-to people may be a squad-mate or a true-blue supervisor or a police chaplain.
The National Sheriffs' Association offers a resource manual for police chaplaincy, defining the role: "As a community-oriented profession, we train law enforcement not to disclose feelings at such incidents. The nature of the profession asks that feelings and normal reactions to the extraordinary be put aside. This can result in higher rates of alcoholism, drug abuse, divorce, and, sometimes, suicide. In a service profession to law enforcement, as well as to the incarcerated, and former inmates, the chaplain has a unique perspective of, and possibly is better equipped to address basic problematic events and emotions."
According to a law enforcement bulletin published by the FBI, police "Chaplains improve the overall functioning of law enforcement through involvement in correctional facilities, community-police relations, line-of-duty death notification and burial service facilitation, crisis intervention, and officer and department well-being."
The Shreveport Police Department defines a police chaplain as "clergy persons who have a passionate interest in the quality of life of our citizens and the specialized training for pastoral care in the volatile world of law enforcement.
"The police chaplains are led in [their] own faith to be available and ready to serve those who are in need. The chaplain's ministry provides a source of strength to the law enforcement officers and their families, other city employees, the community, and the incarcerated."Our police chaplains listen to and participate with the Shreveport Police in the workplace of law enforcement officers with empathy and experience, advising calmly in the most strained situations, and offering assistance when appropriate or requested."
The Shreveport PD calls their cadre of clergy "Chaplains on Patrol," occasionally pairing chaplains with patrol officers serving the community.
The San Diego County Sheriff's Department's 27-page chaplaincy manual contains requirements such as investing hours on patrol and in various other duties defined as "ministry of presence" (visiting injured cops in hospitals, police-family relationship counseling, etc.).
In 2020, the Winston-Salem Police Department sought to start a working relationship with area clergy, blueprinting plans for diverse members of the cloth to attend a luncheon during which priests, ministers, imams, pastors, rabbis, and other religious leaders were exposed to information about the launch of a "Pastors on Patrol" initiative.
Per a WFMY News2 report, police officers "encouraged local religious leaders to receive training and ride along with patrol officers to help de-escalate any sort of confrontations with the public."
When the program officially rolled out, eyes were opened…
"You get an entirely different view of the city when you're riding along with a police officer versus a snippet on the evening news," said Dr. Ron Baity of Berean Baptist Church. "It's a whole new world when you're out there facing reality."
The "Pastors on Patrol" concept is akin to the structure of national police unions such as the Fraternal Order of Police (FOP) and the Police Benevolent Association (PBA), with local chapters aligned in serving police jurisdictions across America.
Mid- to large-sized law enforcement agencies typically have a contingent of police chaplains at the ready. Police chaplains generally respond to scenes or convene back at Police HQ, prepped to console cops assailed by traumatic events and ensure listening ears sans stigmatization.
Many chaplains are either active or retired cops, well aware of the travesties in law enforcement circles, thus quite suited to preach to the choir. Similar to non-sworn members involved in the police mission, church clergy serve dually.
Located in Florida, a spokesperson with the International Conference of Police Chaplains said, "Often we are so focused on our mission of service to officers that when our work is completed, we simply return to our regular ministries without telling the story of our work."
My agency had a few police chaplains among our sworn staff, each marked by a gold cross pinned atop their kaleidoscope of ribbons. Our sworn contingent was backed up by pastors from the city's largest church, the clergy of which unfailingly responded to horrific scenes in the dead of night. We beckoned, they responded and staged on-scene for police officers and victims alike.
Where some police chaplains are in full police uniform, identified by the collar or lapel pins in the form of a cross, others don casual attire such as a police polo with "Chaplain" embroidered on the right side of the shirt and a police badge insignia sewn on the left.
While drafting this material, I came across a social media post portraying a man who was a key element during my police academy era. More matured and less musculature, a picture of my academy director at the time, Clarence Nathan, depicted him as the president leading his local chapter of "Pastors on Patrol."
(Photo courtesy of the Tampa Police Department.)
Mr. Nathan served his police career as a Tampa cop. After retirement, he helmed the police academy operated by the local community college. His occasional morning pep talks to our recruit class seemed to have paved his way toward a police chaplaincy role. Blessings abound…always in service to others.
Reminiscing, I recall every monthly Fraternal Order of Police (FOP) union meeting our sworn staff attended, each joined by at least one police chaplain. All were sworn, unionized police officers either assigned to patrol squads or handling a caseload as a detective; their ministry of presence conveyed opening/closing prayer at our FOP gatherings.
In the hybrid personal/professional realm, police chaplains cater confidentiality with whomever they console for whatever reason. This serves as one way a troubled cop could confide self-destructive ideations without the traditional sting of being blacklisted after sharing such conundrums with police executives.
Since divorce is so tragically high in law enforcement, police chaplains listen and help mitigate matters of the heart. Conversely, as members of the cloth, some have even officiated cops' weddings.
Generally, though, chaplains try to mitigate angst. In my experience as a beat cop, it seemed our police chaplains interpreted facial expressions, basically inquiring how things were going. This approach often eased officers mired in stressful events (both professional and personal), essentially providing an open door to counsel, with the hopes of diffusing duress.
Naturally, the most extreme duress cops and their families confront are line-of-duty deaths (LODDs). No different than anyone confiding in their church clergy and seeking comfort, police chaplains are relegated to pillaring events involving law enforcement casualties.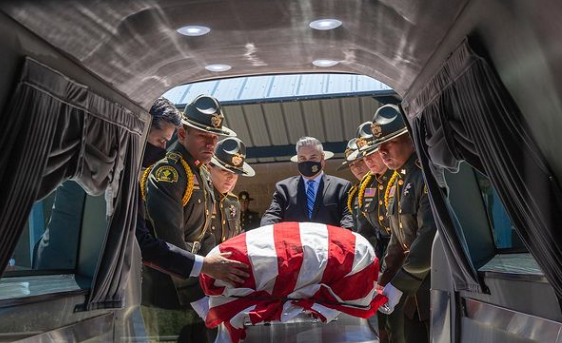 (Photo courtesy of the San Bernardino County Sheriff's Office.)
As mentioned in the FBI bulletin above, police chaplains often deliver the bad news to law enforcement families that their loved one is not coming home. Synonymously, chaplains preside over police funeral services at church and burial sites.
In life and death, police chaplains serve on pulpits, in police cruisers, and in precinct roll-call rooms. As the Georgia Sheriffs' Association put it, police chaplaincy "is not for every pastor or layperson, but for those who have a heart for the men and women in uniform."
Following is a brief pictorial of the all-encompassing duties of police chaplains stewarding over cops and the community: