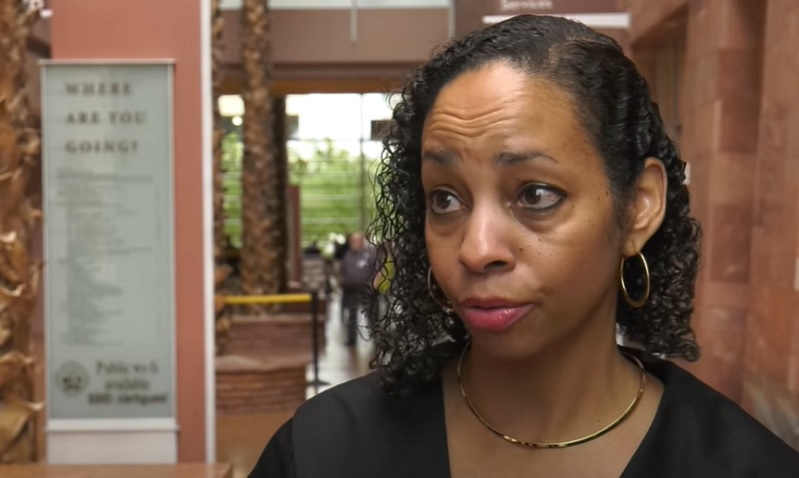 By Steve Pomper
I was first made aware of this deplorable incident when I saw a tweet from the NPA's own Sgt. Betsy Brantner Smith. She said, "Nevada Circuit Judge Erika Ballou needs to resign for her racist, anti-police, anti-justice rhetoric in the courtroom." Many agree with her.
Sgt. Smith is right and then some. This judge is a real charmer. I don't know if I've ever seen or heard of another judge quite this self-unaware. Although, there probably were. I knew many judges during my career.
Judge Ballou was presiding over a hearing when she spewed some contemptuous, rabidly anti-police comments. To make it worse, the defendant she spoke to was on trial for allegedly assaulting a police officer.
The Daily Mail reported the judge told the defendant, "You're a black man in America. You know you don't want to be nowhere where cops are cause I know I don't, and I'm a middle-aged, middle-class black woman. I don't want to be around where the cops are because I don't know I'm going to walk away alive or not."
That's a sitting judge, in her courtroom, telling a suspect who allegedly assaulted a police officer he was dumb not because he assaulted a cop but because he, as a black man, never should have interacted with the officer because there was a high likelihood that officer might have killed him.
This is bad enough coming from BLM activists, Antifa militants, or university professors. But this is a county district court judge responsible for adjudicating cases that end up on her docket which is precipitated by police officers' arrests and investigations. What chance do the cops have with someone so scornful of cops sitting on the bench?
Her words prompted calls for her resignation by a Nevada Republican gubernatorial candidate and the Las Vegas police union.
"Sheriff Joe Lombardo," according to Breitbart, "the Republican nominee for governor in Nevada, called on a Nevada judge to resign…."
Sheriff Lombardo also tweeted: In a courtroom incident earlier this week, Judge Erika Ballou espoused anti-police rhetoric from the bench, immediately causing grave concern among members of the law enforcement community. Judge Ballou's comments and courtroom conduct demonstrate bias against law enforcement and stand in complete opposition to a fair and independent judiciary. Today, I'm calling upon Judge Ballou to resign, and I'm also calling upon Governor Sisolak to demand Judge Ballou's resignation.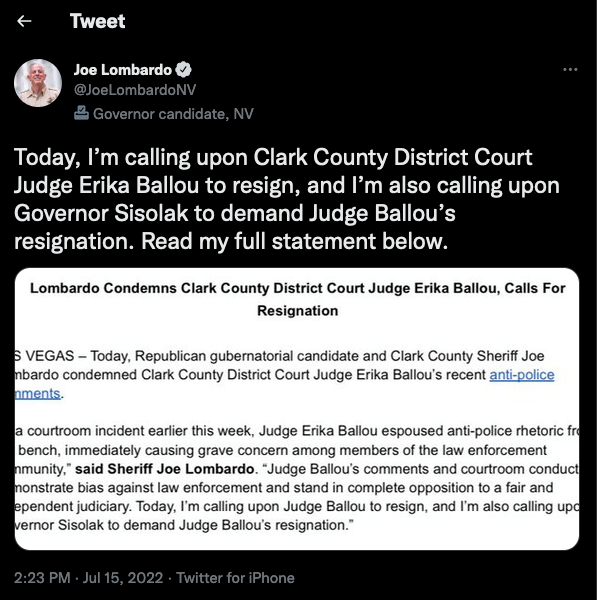 The Las Vegas Police Protective Association posted their displeasure on social media.
On behalf of the men and women of law enforcement, the Las Vegas Police Protective Association takes exception to Judge Erika Ballou's disparaging comments about police officers. We call upon Judge Ballou to resign from the bench. We also ask the Judicial Ethics Commission to sanction her for violating the Nevada Code of Judicial Conduct. Among other obligations, the rules require the judiciary to, '[A]spire at all times to conduct that ensures the greatest possible public confidence in their independence, impartiality, integrity, and competence.' Judge Ballou has demonstrated that she is biased against law enforcement and cannot live up to the standards required of a jurist. Judge Ballou's comments, from the bench, that she, 'does not want to be around where cops are because I don't know whether I am going to walk away alive or not…' are both unethical and irresponsible. Police officers and the law-abiding citizens of our community deserve better from the judiciary. YOU ARE A DISGRACE TO THE BENCH. #removejudgeballou #trashjudge
The union has also requested sanctioning by the Judicial Ethics commission. They allege the judge has violated the Nevada Code of Judicial Conduct.
But this is nothing new for Ballou. Back in 2016, as a defense attorney, she attracted attention for wearing a BLM pin in court. BLM is obviously political, but Ballou didn't see it that way. She said she believes support for the BLM movement/organization "is not political."
Responding to a judge after he told her to remove the pin in his courtroom because of its impropriety, Ballou said, "I believe a courtroom is the proper place to make issues about criminal justice. This is not political speech; it's not supporting a particular candidate."
How stupid is that for an attorney to say, especially in court—to a judge. Just like when the left says something, it's fact and information, but when the right says something, it's lies and misinformation, she won't admit her ideological views are politically partisan.
In a short article on the subject, at The Tatum Report, I wrote, "Would Judge Ballou support a police officer wearing an NRA pin on his or her uniform? After all, he or she carries a gun for a living, so it seems being on duty is the "proper place." It's not political speech; it's not supporting a particular candidate."
Cops already have the proverbial deck stacked against them with Soros-funded progressive prosecutors tipping the scales and ripping the blindfold off Lady Justice. Do the cops really need judges who overtly despise them presiding over the cases they help bring to court?