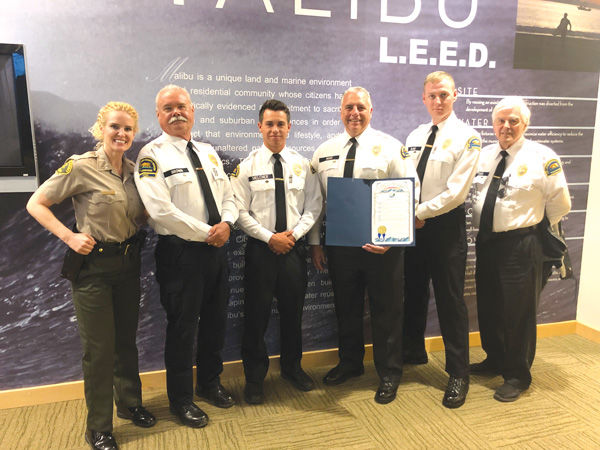 The Malibu California City Council has honored Los Angeles County Sheriff's volunteer patrolman Mark Russo with a commendation for his leadership of Volunteers on Patrol.
The Volunteers on Patrol division is a volunteer group under the auspices of the Los Angeles County Sheriff's Department dedicated to community-based patrol and is instrumental in helping to keep peace and safety.
Russo has dedicated thousands of hours of service to the community through the program and, due to his commitment and passion, is being described as "an amazing man" doing "indispensable" work for Malibu. All this while raising two teens and maintaining a career.
Russo actually received two awards — the other from the Los Angeles County Sheriff's Department in reaching a milestone of 5,000 hours of community service as a volunteer patrolman.
"What I really like is it's a very proactive type of program," the volunteer said. "The training is fantastic and they really put you in front of the community. It's the essence of community-based policing, because you're out there in uniform, in a sheriff's car and you're responding to a lot of situations where the help of the sheriff's department and the fire department is actually needed."
The volunteer group is looking for recruits and Russo explained a little about it.
For his part, the volunteer leader hopes more residents become interested in serving as volunteers on patrol.
"It's a great opportunity for the citizens to not only serve their community, but work with a great bunch of people in the sheriff's department. Go out there and make a difference. It's an exciting opportunity for people to serve their community," Russo encouraged.
For information on joining visit http://shq.lasdnews.net/pages/PageDetail.aspx?id=1313