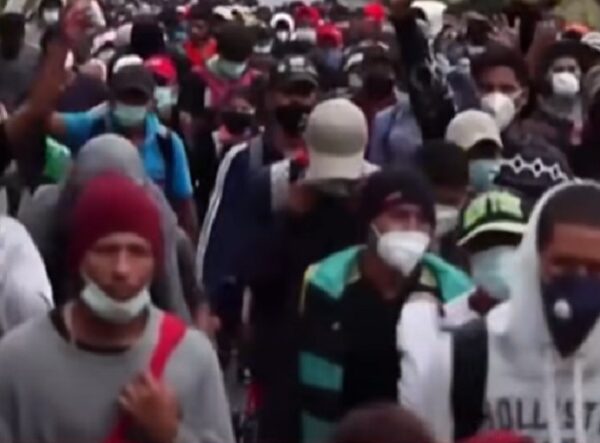 By Steve Pomper
A porous U.S.-Mexico border affects law enforcement officers in two ways—at least. It affects federal cops and their state and local partners working the insanity at the border. Then it also affects state and local law enforcement officers as the illegal immigrants, within which criminals hide, flow into various communities across the United States. Of specific concern are the drug and sex traffickers—and possible terrorists.
Simultaneously, the U.S. has announced the opening of its legitimate ports-of-entry to "non-essential" Mexican and Canadian visitors to the U.S. Ironically, these legal visitors will need to show their "vaccine" papers to enter. Illegal immigrants may continue crossing the border with zero virus restrictions.
For those who wish to be informed and pay attention to the very few media sources reporting on the border, the catastrophe is obvious. The Biden administration has worked terribly hard to hide from the American people the disaster at the southern border. Reportedly, an overflow immigrant holding facility in Yuma, AZ. was recently ordered to be emptied in anticipation of a visit from Senator Lindsay Graham (R-SC).
But it gets worse. FOX News, in an exclusive report, headlined "Leaked Border Patrol docs show mass release of illegal immigrants into US by Biden administration." Further, they're released "often with little or no oversight."
The numbers are staggering, especially when you consider who is likely hiding within the masses of otherwise law-abiding illegal immigrants. Reportedly, the Biden administration has released, "at least, 160,000 illegal immigrants… into the U.S." This includes a generous interpretation of "limited parole authorities" to issue work permits to illegal aliens.
Fox News reported Border Patrol documents they obtained show the government made over 30,000 of those people "eligible for work permits since August." This is adding low-skilled workers into an already devastated economy.
On Twitter, FOX News' Bill Melugin tweeted, "According to Border Patrol documents provided by a source, the federal gov has released over 70,000 illegal immigrants into the U.S. since August 6, including 31,977 released via parole (temp legal status, eligible for work permits). 94,570 released via NTR [Notice to Report] since 3/20." Something similar has already happened that the U.S. should have learned from.
I remember, even a year after I began my law enforcement career in 1992, police in cities across America were still dealing with an immigration crisis from 1980 exploited by Cuban Dictator Fidel Castro called the Mariel boatlift. Along with law-abiding Cuban refugees fleeing oppression, Castro opened his prisons and also sent dangerous criminals to the U.S.
Of course, that immigration crisis primarily affected south Florida. But in a South Florida Sun-Sentinel article, they wrote that the "successes" of the majority decent immigrants assimilating into American life, were "overshadowed by the actions of an estimated 16,000 to 20,000 criminals and other misfits who have contributed to an alarming increase in South Florida crime."
As time passed, that crime problem drifted to other cities across the U.S. The Miami District Director of the U.S. Immigration and Naturalization Service, Perry Rivkind, said, Castro "'should be tried for moral complicity in murder, rape and robbery' committed by Mariel criminals upon their arrival in the U.S."
Both the American and Cuban governments overtly or tacitly sanctioned the effort. Some 125,000 Cubans and 25,000 Haitians came to the U.S. between April and October 1980. Cuban exiles in the U.S. amassed some 1,700 boats with which to pick up immigrants at the Castro-authorized Port of Mariel in Cuba.
But, according to ImmigrationHistory.org, "During this period, reports that the Cuban government also released prisoners to travel to the United States prompted the U.S. Coast Guard to blockade some 1,400 boats; however, hundreds of Cubans continued to arrive in Florida daily."
In 1993, investigated by my agency, a suspect raped and murdered Seattle musician Mia Zapata. It would take nearly 10 years to find, arrest, and prosecute her killer in 2004. In 2002, the Washington State Patrol Crime Lab had checked DNA evidence collected from Zapata's body at the time of the crime.
According to a story in Rolling Stone, the DNA matched "Jesus Mezquia, a fisherman living in Florida. A Cuban who came to the U.S. during the 1980 Mariel boatlift, Mezquia, reportedly had a criminal history that included robbery, kidnapping, and aggravated battery." He died in prison this year on January 21st at 66 years of age while serving a 36-year sentence.
There were many Jesus Mezquias back then and there will be more this time.
Today, there's no foreign communist dictator to blame for dispersing illegal immigrant criminals (perhaps even terrorists) throughout America. We only have the Biden administration to blame. As time passes, police agencies will start reporting on illegal immigrant criminals who will be traced back to this deliberate border crisis.
And the Mariel boatlift appears miniscule by comparison to the invasion America is now experiencing as the Biden administration continues to ignore federal immigration law. Currently, another 90,000 people are en route from South and Central America, along with others mixing with them from all over the world. The New York Post reported, as of July 2021, over one million illegal immigrants had crossed the border so far this year.
This comparison between then and now is important because it shows what cops today are likely to face because of these insane federal immigration policies. And this is happening as jurisdictions are defunding police, are losing officers because of atrocious treatment, and are now about to force more out the door because of "vaccine" mandates.
Cops, who are already working with significant deficits, will have to deal with the consequences of these irresponsible federal and some state, county, and city policies. Hopefully, we won't see the horror perpetrated against Mia Zapata committed against other people. But, frankly, even if the flow of illegal immigrants, including criminals, stopped today, I don't see how we cannot.