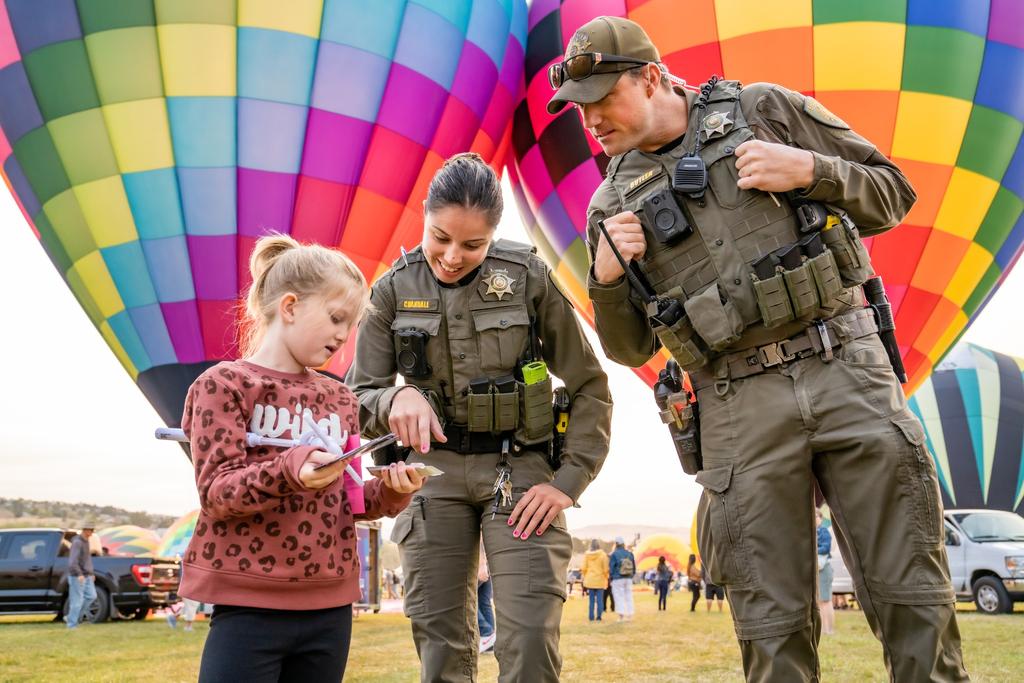 There is always something to be said about first impressions. For young minds, there are GIGO principles shaping them in one of two ways: Goods In, Goods Out or Garbage In, Garbage Out.
There is also much to be said about first responders who diligently try to instill the good version of GIGO in our country's children, especially in these trying times of upheaval and resettlement as the new school year finds its legs.
The pandemic for all ages delivered a punch that no one necessarily expected. From this, our nation was thrust into a human experience for which everyone on the planet wished they had the playbook. Many continue to talk about the pandemic's Twilight Zone-ish nature.
I found it confirmative that John J. Farmer, Jr., a former Attorney General of New Jersey whose current status is a university professor and director of the Eagleton Institute of Politics at Rutgers University, wrote a resounding redress about the failures of government in both the pandemic and 9/11. In his article titled, "As with 9/11, your government has failed you — again," published by The Hill, he offers the following rebuke:
"Although the Centers for Disease Control and Prevention (CDC) announced they will be taking a hard look at their handling of the pandemic, political officials of both parties have transitioned seamlessly from swearing that they were going to 'beat this virus' to discussing the virus as 'endemic,' with little to no explanation for the failures to prevent, contain, and even to mitigate the virus's deadly spread.
"Comparisons of the preparedness and response to 9/11 and COVID are inevitable, and were made, in fact, in the earliest days of the pandemic, when a government official, echoing CIA Director George Tenet's warning prior to 9/11, said that the public health care system had been 'blinking red' since January 2020."
That straightforward heap of reality and the blinking red phrase colorized the tremendously surreal situation we are all still boggled by.
Health-related circumstances relegated children of all ages to learn to lockdown, which translated to a virtual goodbye from principals and remote instructions to learn how to learn in an unorthodox manner.
Confusion and chaos were what we kept reading about. Parents grappling with newfound home-boundness. Children suffering from depression and anxiety were noted. Sadly, youngsters felt like astronauts lost in space. Fear! Not much of a roadmap there. Until cops stepped up…
In all this, our nation's contingent of law enforcers, who were relentlessly badgered by anti-police idiocy, showed up regardless of the uber-perilous circumstances exacerbated by a cloaked killer (virus). Day in and day out, cops went every which way they were summoned.
Kids noticed.
Even when grown men and women were pitting against police like wailing warlocks.
Lockdowns meant increased use of and focus on online viewership. There is where hate-driven propaganda about law enforcement permeated airwaves and festered like the rot it truly is.
Kids noticed.
Thankfully, kids are quite adept at cutting through nonsense and searching for truth. Given that students were relegated to learn exclusively online, their school rituals were supplanted, which meant lean-on-me school resource officers were not necessarily seen mixing it up with students on the campus grounds, leaving the maze of hallways empty.
SROs check their assigned schools, which resembled ghost-towns. Cops were impacted as much as kids.
(Photo courtesy of Webster Middle School.)
Generally, when school is not in session, most law enforcement agencies reassign their SROs to short-staffed units, typically the backbone such as the Patrol Division.
Always resourceful, though, school-based cops adjusted to distance-learning mandated by school boards, touching bases with families electronically. LEOs with laptops became a household norm on the receiving end.
SROs, often joined by some patrol officers, invested online time to assure kids that although life was topsy-turvy, things would be all right. Advice typically follows. Here is an example for any kids at any school, pandemic or not:
As my pastor recently reminded folks, "Kids ask questions, adults wonder." It is no wonder cops are ever-present to field kids' queries and just be there…for one another, working through whatever.
In the thick of the pandemic, social media sites populated with cops connecting with students holed up at home. Kids grabbed the LEO lifeline and found themselves smiling again!
The number of times I came upon social media posts uploaded by either cops or kids' families seems infinite. Many first responders, in full uniform from wherever they were online, were all ears. Kids expressed how much they missed school, learning, structure, peers, and school resource officers. That last ingredient for development was mutual, especially given formidable circumstances compelled by forced isolation.
Campus cops get to know the student base as if each were their own flesh-and-blood children. It's always been that way, school-based or otherwise.
SROs ordinarily get the gig at schools after working the beat for a batch of years. When cops set their sights on becoming an SRO, they compete for it among other interested colleagues. They attend in-service courses to be effective in the campus-based role. The National Association of School Resource Officers (NASRO) offers courses around the country and empirically advocates for cops preserving student safety on campuses.
"School and student safety is obviously a main priority with our officers," said Brennon Warren, community relations officer with the Midland Police Department. "That's why the connections that we can make as resource officers — they're there for the students, their safety and wellbeing. This is just another way to promote their school safety, and I think it is a crucial thing. That is what the main goal is here."
The special bonds and kindling between cops and kids are classic. While in lockdown mode, just looking for police history, I came upon the following throwback, perfectly illustrating our point: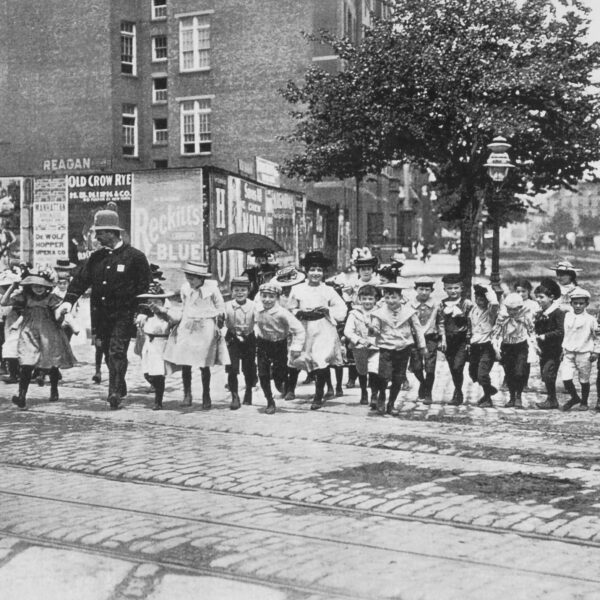 (Photo courtesy of NYPD Vintage.)
The adage "If ever in danger, go to a police officer" ballooned in youngsters' minds back in the day. Not much different nowadays, despite the anti-cop propagandists seeing LEOs as punching bags instead of lifesavers. Again, kids can usually discern truth from fiction.
Despite these pesky antagonists, cops continued to do the job, as usual.
Kids noticed.
And it wasn't only SROs cementing relations with community kids. Police officers, deputies, and troopers plugged in electronic devices and reconnected with youth seeking facetime with Officer Friendlies.
Zoom became a mega-conduit for officers to stay in touch with students exercising a healthful social distance. Not the same thing as being there, but it's close enough. The important part is that law enforcement officers maintained positive relations in an ultra-bleak period of fear and intimidation through long periods of abyssal absence.
Humans are social creatures, and kids are the most vibrant testimonies of that factor. Stories of antsiness abounded.
Cops noticed. They did what cops do.
Silos of support provided by school resource officers continue to feed positive thoughts to young minds, despite being grotesquely and unjustifiably attacked through recency. Schools waging to rid cops from school campuses remains one of the biggest absurdities ever.
What a bittersweet message for young minds to filter and file. Like asking children to comprehend the split personalities governing the community. Bewildering.
Cops, though, set that straight, or try to if not intervened by one of the split personalities or their frenzied minions.
By happenstance, while taking a break before the final edit of this material, I took a stroll on the beach. Pulling in, I saw a deputy patrolling the parking areas. About 80 yards away, a middle-school-age youngster watched the back of the marked police cruiser head out. She kneeled and scrawled the following in the sand: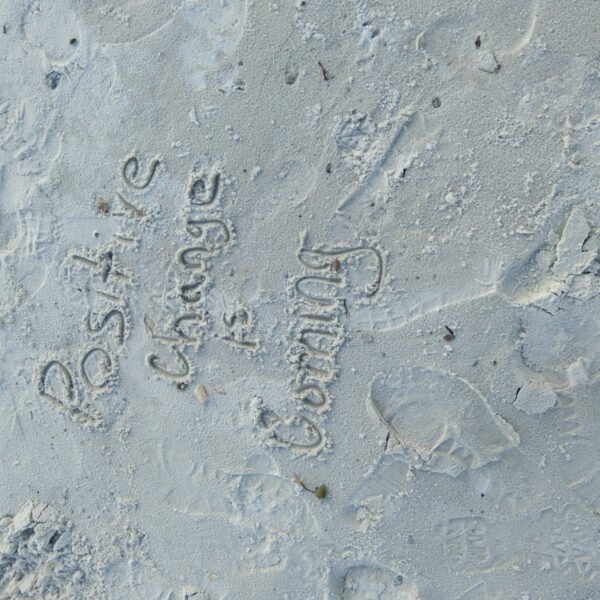 SROs have a pretty good pulse of their student populace and parlay positivity; I'd like to think the young beach calligrapher is a proven example.
Incidentally, now is probably the best time to glimpse at the negative side of GIGO: Garbage In, Garbage Out. Hearing from a long-time friend, 30-plus-year school teacher at a public elementary school, she shared recent invective directed at her by different students in class. One called her a word which rhymes with mothertrucker. Another student called her a word that rhymes with glitch. And a third student told her "Just sit down!" when she redirected him while he was misbehaving.
That friend of mine teaches kindergarteners.
At that age, one can easily imagine the home environment and the language/attitudes being adopted therein. Garbage In, Garbage Out!
That segue covers the ugliness brought into schools. Sadly, it mimics public spectacles too.
By now, you likely saw the recent footage recorded in St. Paul, Minnesota, where a few children (some diapered) are berating, spitting on, and punching uniformed cops searching for a homicide suspect:
Garbage In, Garbage Out! Cops couldn't help but notice.
Back to the goods…
In December 2021, the Midland, Michigan police department, prepping to rekindle the community's student population, unveiled some new police cruisers uniquely representative of the city's public schools.
The four new cruisers are assigned to Midland Police SROs and have school spirit-inspired seals affixed, emblematic of the four schools' respective mascots.
(Jefferson Middle School Huskies cruiser assigned to SRO. Photo courtesy of the Midland Police Department.)
"We know we've had quite a bit of changes over this past year, but this is one of those projects that we are extremely excited about! This is a great way to be able to connect with the students of each school to show our own school pride," a Midland PD post explained.
"These fully marked patrol cars can also be utilized as a normal police car. So don't be alarmed if you see one of these in your neighborhood, patrolling the streets, interacting with the community."
Kids noticed.
As in history, the mainstay of cops engaging with children remains intact. From the looks of it, organic interactions between youngsters and public safety guardians illustrate contentment and peace on all faces fitting in the lens.
In their unique way, cops kept the brights on for kids immersed in a very dark period of life, globally.
Wonder who will get the honor to write this message a hundred years from now, rehashing police guidance for kids to distinguish the appropriateness of Goods In, Goods Out!