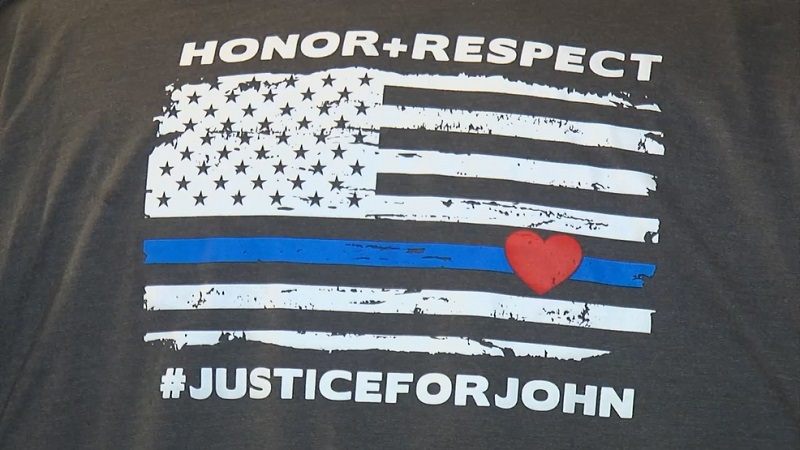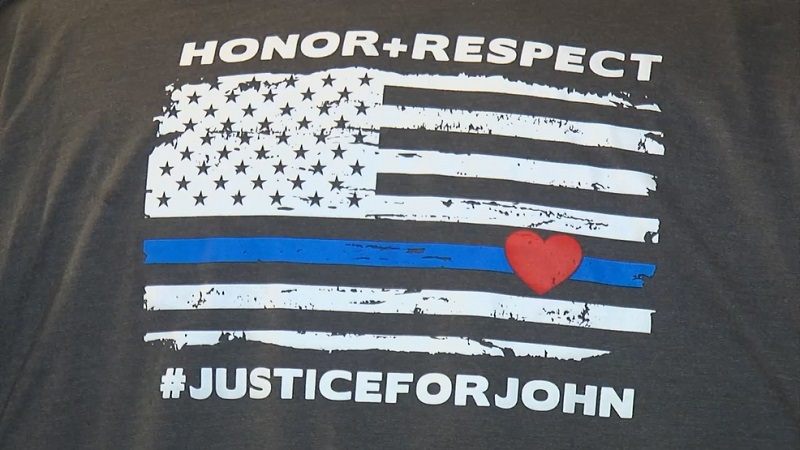 By Steve Pomper 
A police officer got up like always, ready to do his duty during hours when most people are asleep. He put on his uniform, donned his ballistic vest, fastened his gun belt, and pinned on his badge. He said goodbye to his family and headed out the door, once again choosing to put his life between the criminals and the good people of Blackwell, Oklahoma.
And that is exactly what Lt. John Mitchell of the Blackwell Police Department did during his shift early on that May 20th, 2019 morning. As he left his house, he didn't know it yet, but in a few hours, he'd be involved in a shootout. He'd be driving his police vehicle, exchanging gunfire with a homicidal suspect who was careening through town in a pickup truck, indiscriminately shooting at objects, people, and the police. Lt. Mitchell and other officers were finally able to end the incident by shooting the suspect, returning peace and safety to the community.
What the veteran cop also never expected was instead of being universally recognized for his stellar police work, he'd be demonized and slapped with a murder charge. An independent investigative agency, the Oklahoma State Bureau of Investigation (OSBI) would initially clear Lt. Mitchell of any wrongdoing, and then hand the case to the county DA.
His home county prosecutor would recuse himself, which would result in a neighboring district attorney dragging Lt. Mitchell into an unnecessary, ongoing nightmare. The DA would then force the cop and his family to agonize through an over seven-month (and counting) gauntlet of delays, misinformation, and what looks like could be a case of malicious prosecution—or persecution.
KFOR reported the incident started around 3 a.m. when people began calling the police to report someone shooting a gun from a vehicle travelling on South Main Street. At least one of the suspect's rounds had reportedly struck a vehicle.
According to Blue Lives Matter, Lt. Mitchell had recently received active shooter training. Sorry to all you "woke" types all concerned for the "poor tortured soul" shooting at innocent people. Active shooter training teaches cops that their primary impetus is to stop the threat—now! The time for mental health treatment is before a person picks up a gun, not while they're shooting it.
When I went through the training, I'll never forget our instructor teaching us about the increased threat officers have to accept when responding to an active shooter incident. Often an officer has limited resources and split seconds to make life and death decisions.
Now, a person driving a car while firing a gun is an unusual form of active shooter. Here, the shooter was mobile, and the incident was moving throughout the town. From all the evidence, Lt. Mitchell risked his life to stop this active shooter before she killed someone—he did that.
Logic and common sense alone should tell you the best way to stop someone from shooting you or someone else is to shoot them first. Welcome, ladies and gentlemen, to real life.
Police received more calls about a suspect driving through Blackwell and firing rounds at several locations. Lt. Mitchell's attorney, Gary J. James told the Oklahoman that the suspect had shot at her mother, shot at random strangers, shot at objects, and also fired at the police, including Lt. John Mitchell.
Reportedly, Lt. Mitchell maneuvered his police vehicle to a position behind the suspect's truck. He retrieved his AR-15 and, while driving, fired some 60 rounds through his vehicle's windshield at the suspect. For the uninitiated, shooting through glass from within a vehicle plays havoc with ballistics for all kinds of reasons. This makes Lt. Mitchell's actions all the more heroic, not worthy of prosecution.
According to KFOR, "Godsey jerked the wheel and abruptly turned and stopped near Doolin Avenue and 13th Avenue." Lt. Mitchell, along with another officer, fired more rounds at the suspect in the pickup truck. Eventually, police cleared the vehicle where they found the shooter, later identified as 34-year-old Michael Ann Godsey (pronounced Michelle) dead in the driver's seat. Reports indicated she'd been struck by 10 rounds.
The Associated Press reported one officer had received a minor injury during the frenetic shooting incident. The OSBI conducted an independent internal investigation and determined the officers, including Lt. Mitchell, had acted appropriately.
After reading the facts of this case, I'm sure every officer in America concurred. Of course, the officer acted appropriately. But not so fast. With cops, these days, nothing is "of course" unless it's negative. The DA did not charge the other officer involved in the shooting. The fact that officer used his pistol and not a rifle seems to be significant.
Oklahoma District #6 District Attorney Jason Hicks didn't see the lieutenant's actions the same way the people trained to do the job see it. Or even the way the average person sees it. After Lt. Mitchell had already been cleared of wrongdoing and after inexplicably vacillating for over six months, Hicks brought the case to a grand jury, which indicted Lt. Mitchell—for murder.
Though we all know about the ham sandwich grand jury analogy, even the greatest prosecutor in America shouldn't have been able to get an indictment in this case, if the DA had presented all the facts. But, as Hamlet said, there's the rub. Apparently, Hicks did not present all the facts. He presented the grand jury with a Reader's Digest version. A condensed description that left out key exculpatory evidence.
The facts beneficial to the defendant and not provided to the grand jury, according to multiple sources, are the suspect was armed and had been firing shots, striking a police vehicle, when she was killed. If you're thinking this is critical evidence when determining whether the officer's life was threatened and a lethal response necessary, you're right.
So, why did Hicks not provide information positive to Lt. Mitchell to the grand jury? In federal grand juries, prosecutors are not required to provide exculpatory evidence. However, in some state grand juries, the defense is allowed a say.
In a piece about state grand juries that appeared in The Oklahoman, reporter Matt Dinger quoted Oklahoma County District Attorney David Prater who said, "State statutes also allow the grand jury to hear evidence for the accused. In fact, grand juries in the state have enormous investigative power. Rather than just having to hear presented evidence as a trial jury does, the grand jury can request evidence."
Oklahoma Statutes, Title 22, Criminal Procedure §22-312 cites: Challenge of grand jury.
"The state, or a person held to answer a charge for a public offense, may challenge the panel of a grand jury, or an individual grand juror."
So, in such a high-profile case as this, why didn't the DA provide exculpatory evidence to the grand jury? And why didn't they ask for more evidence? What were their instructions? As a cop, in these cases of slippery justice, I always ask what was the officer's reasonable alternative to deadly force when a person was trying to kill him or her—in this case, with a firearm from a moving vehicle?
What was Lt. Mitchell supposed to do instead? Try to bob and weave until he became a bullet-catcher? No, really. What would Hicks have preferred a cop do under those circumstances? And can anyone think of any justifiable reason for a DA leaving out evidence that a suspect was trying to murder police officers when he shot the suspect? Forget about what a DA may be allowed not to put forth as evidence. Isn't it more about what is the right thing to do?
Should a DA get an indictment at all costs, or should a DA work toward justice? Even though that exculpatory evidence will come out in court, just the murder indictment and court process alone can ruin the officer's professional reputation and clean out his or her bank account. An acquittal after an unfair and unnecessary indictment doesn't seem much like a win, when it shouldn't have happened in the first place.
KFOR reported Hicks said, "Mitchell shot and killed Michael Godsey 'without justifiable or excusable cause' while 'discharging approximately 60 rounds.'"
The DA seems mired in the number of rounds the police officer fired during the incident, while he apparently omitted that at the other end of those rounds was the suspect shooting her own bullets at Lt. Mitchell and other officers.
"Without justifiable or excusable cause?" Hang on while I pick my jaw up off the floor. Glad my office is carpeted. If shooting back at a suspect who is shooting at you and innocent bystanders isn't "justifiable or excusable" then no police shooting will ever be. What is Hicks doing and why is he doing it?
In this case, a sprawling pursuit of an armed suspect driving through the town, firing rounds at bystanders and police as she went, the number of rounds the cop fired is irrelevant? It was the number necessary to stop the shooter.
In the best of circumstances, a human being, shooting under stress during a dynamic incident, will miss an intended target a high percentage of the time. It was dark, the officer was in a moving car, the target was also in a moving car, and, oh yeah, the target was shooting back!
According to Oklahoma Fraternal Order of Police President Jason Smith, "A grand jury indicted a Blackwell police lieutenant for murder for killing an active shooter, and the state's police union is questioning why the district attorney held back evidence from the indictment." He added, "I've yet to see in American history when an active shooter was taken out by a police officer or civilian who was then charged with murder—murder isn't defined by that in America."
The Blackwell Journal-Tribune reported, "And now, more than half a year later, he's [Lt. Mitchell] being charged in what may be one of the first cases of its kind in the history of the United States: A case in which a police officer has been charged with murder for killing an active shooter."
Smith added, well-respected by the community, Lt. Mitchell participates in fundraisers for the VFW, coaches football, and has other active community involvement. Blue Lives Matter said Smith, "sounding disgusted," lamented that rather than rewarding him for his heroism under fire, "putting his life between the public and an active shooter," the DA indicted Lt. Mitchell for murder.
Smith told National Police Association (NPA) there were several elements of this case that disturb him. He wonders why Hicks waited over six months to bring charges, citing "new evidence." Smith said, "There hasn't been any new evidence since the initial investigation.? He's also wondering how the other officer who also fired shots at the suspect was given immunity. Was it because he used a pistol while Lt. Mitchell had a rifle? It seems so, at least, to Hicks.
Hicks seems preoccupied with the number of rounds Lt. Mitchell fired. But he wonders how one officer's bullets can be justified while the other officer's bullets are not during the same active shooter incident. After all, Godsey did not surrender, drop her weapon, or put her hands out the window. Instead, she reportedly shouted something to the effect, "I'm not going to jail. You're going to have to kill me." Smith emphasized Godsey died with her gun in her hand with a round in the chamber (meaning, ready to fire again).
Smith emphasized that during Lt. Mitchell's career he has been a patrol officer, has been assigned to SWAT where he participated in many tactical situations, including high-risk warrant services and arrests. But this is the first shooting Lt. Mitchell has ever been involved in. Smith can't understand Hick's passion in prosecuting Lt. Mitchell.
According to Lt. Mitchell's Linkedin page, aside from SWAT, the experienced supervisor has been assigned as an evidence custodian, a field training officer, a law enforcement instructor, a narcotics detective, canine handler, and shift commander.
His most recent assignment was as an investigator with a Major Crimes Unit. He also received an Investigator of the Year award last July, an award he'd previously won in 2011. He also recently won a Presidential Award for Excellence in Rural Drug Enforcement from the Association of Narcotics Enforcers.
So, why does Hicks, who serves as the DA for another district, even have this case? The Journal-Tribune reported "Kay County District Attorney Brian Hermanson recused himself from the investigation… because, as a law enforcement official himself, he's worked with Mitchell on numerous occasions."
The exculpatory evidence left out of information Hick's provided to the grand jury are two of the most essential facts guiding Lt. Mitchell's deadly force response. The grand jury indictment "only says that Mitchell was 'resisting an attempt by Michael Ann Godsey to commit a crime.'" No wonder this smells like a "ham sandwich" indictment.
If Lt. Mitchell shot at a person 60 times, killing her, but the grand jury didn't know for what crime (property damage, reckless driving, reckless endangerment, attempted murder, etc., multiplied by who knows how many people and objects she shot at), then what else could the jurors do but indict?
That's why the questions about Hick's apparent omissions must be answered. No one seems to know for certain why it appears Hicks withheld crucial information from the grand jury that Godsey was an active shooter, shooting at people, cars, and cops. Even if Hick's were technically allowed to omit exculpatory evidence, he has to know how patently unfair it is to Lt. Mitchell.
Kasey Cox, who is organizing the fundraising effort for Lt. Mitchell, and whose husband also works for the Blackwell P.D., told the NPA, "John is an honest man with integrity. He's a pillar in our community who does so much for our youth. He's a great leader and true role model for our future leaders."
Cox also had advice for "other LEO's [law enforcement officers] and future LEO's don't let this incident ever make you second guess your calling or second guess yourself when you are in this position. Fulfill your oath to protect and serve and use the training that's instilled in you. Our outreach is going to be able to do so much education and support for officers across the nation that are faced with absurdity."
The Journal-Tribune wrote, "[Cox] feels that the district attorney is trying to 'target' Mitchell and make a name for himself. I don't know if that district attorney needs a huge case to get his name out there or what, but he picked the wrong town."
Sean Ingram, whose brother is on the police force and who knows Lt. Mitchell from VFW fundraisers and other community functions, is not happy at all. Ingram told NPA, "This is opening a door that will prevent police officers from doing their job properly because they are afraid of being prosecuted. This fine upstanding citizen is being the scape goat for a DA trying to make a name for himself. John only wants to protect the community and make it a great place to live."
Cox's and Ingram's comments reflect a thin blue line that is becoming thinner, fraying, in danger of becoming threadbare with activist DAs across America prosecuting cops just for doing their jobs.
If Lt. Mitchell was such an imminent danger to society, having supposedly shot a suspect without justification, then why did Special District Judge Lee Turner, during the bond hearing, go beyond James' request to reduce Lt. Mitchell's bail from $150,000 to $10,000? Instead, the judge released the lieutenant on his own personal recognizance?
About the $150,000 bond request, Judge Lee Turner said, "I was reluctant." Judge Turner also said something that further increases the suspicions Lt. Mitchell's supporters have for Hick's possibly self-serving motives.
According to KayNewCow.com, "Turner said this is the first case he has done by indictment in all of his years on the bench. 'Usually a judge looks to see if it is a solid case and has input from case factors as bonds are to guarantee defendants will appear in court and meant to punish,' said turner. 'In this case I do not have an affidavit I only have what counsel said.' Turner assigned an own recognizance bond to Mitchell and told him that he would need to report to the county jail for booking." Currently, Lt. Mitchell remains free on paid administrative leave.
Mr. James defended his client as a man with "'significant family ties and an impeccable reputation." James wrote, "There are a number of members of the community willing to vouch for the Defendant's reliability if so required by the Court." But the Journal-Tribune reported community members aren't about to wait for a trial.
Social media is blowing up nationwide, coming to Lt. Mitchell's defense. Believe me, every cop in America knows if this stands, any officer in the country could be the next victim of an over-zealous district attorney trying to make a name for him or herself for whatever reason.
The "#justiceforjohn" effort has been proliferating across the country emphasized by the "thin blue line" flag, showing solidarity with a decent law enforcement officer apparently being prosecuted for doing his job.
Law enforcement officers don't automatically back fellow cops accused of serious crimes, just because. Bad cops hurt good cops more than anyone else because they bring suspicion and shame upon the profession. But in this case, it's saying something when such overwhelming support is coming from those who know the job best, who do it daily, who know use-of-force protocols, and the difference between justice and injustice.
What Hicks is putting Lt. Mitchell, his family, and his police family through has no resemblance to justice. For example, consider another aspect of this case. As alluded to earlier, after Hicks got the case, following Mitchell having been quickly cleared of wrongdoing by the OSBI, Hicks dragged his feet for over six months before empaneling a grand jury to seek an indictment. Again, why the delay?
During that time, Lt. Mitchell, and his friends, family, and supporters had to twist in the proverbial wind not knowing what would happen next. And the small, 15-officer Blackwell Police Department, and the community, has had to make do with three fewer officers.
A Facebook group has formed, "We Stand by John Mitchell," with some 7,500 people nationwide joining to date.
Some supporters have also criticized much of the media who many say appear to have chosen sides, and it's not with the officer. A post on the FB page supporting Lt. Mitchell reads, the "newspaper here is left wing as they come. They are all about Hicks." Others have also said the news coverage has had a decidedly Hicks' slant. This surprises no cops. Nearly every law enforcement jurisdiction is going through this kind of media skew.
For example, a recent story in The Oklahoman reported, "A state grand jury has found a Blackwell police lieutenant at fault in the fatal shooting of a road rage suspect during an early morning pursuit."
A "road rage suspect during an early morning pursuit?" Include important information much? This was the opening sentence of the newspaper report. For some people, this is all they will read about it. Maybe something like: A state grand jury has found a Blackwell police lieutenant at fault in the fatal shooting of a suspect who shot at police from her car. Same number of words but way more accurate.
Another supporter posted, "The case against Officer Mitchell is against every LEO in the state of Oklahoma, should any one of them have to make the same decision that Mr. Mitchel [sic] had to make that day. This DA has started a movement that will affect the safety and well being of every single community in Oklahoma."
Many people are suspicious of Hick's motivations. Are they political in the sense of a simple desire to, as some contend, make a name for himself? Or are his motivations ideological, having an anti-cop bias? At this point, Hick's prosecutorial aggression toward Lt. Mitchell is not clear.
However, accusations aside, Hicks is the one who has made himself suspect. Hicks is the one who allowed Lt. Mitchell to languish for over six months before making a decision to prosecute. Hicks is the one who ignored the results of the OSBI investigation, which cleared the lieutenant. And Hicks is the one who omitted crucial exculpatory information, which led to a grand jury indictment for murder.
I'm not sure why really matters until Lt. Mitchell is cleared—again. But what motivated Hicks is a crucial question that will need to be answered for justice to fully prevail in this case and to prevent future similar cases.
Regardless of Hick's specific motivations, the results are the same. At this point, we have evidence that DA Jason Hicks seems to have little respect for his office, a disrespect for the constitutional oath he swore and, evidently, zero respect for good law enforcement officers—especially one named Lt. John Mitchell.