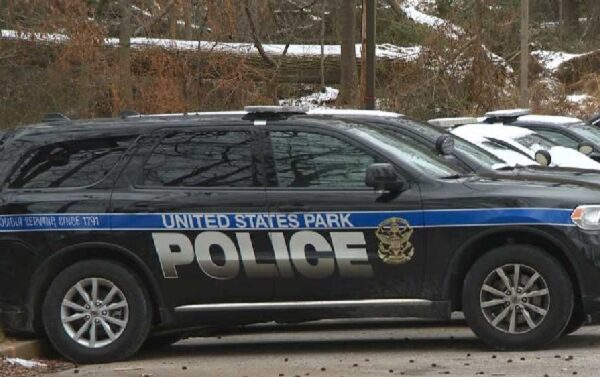 By Steve Pomper
With all the law enforcement officers being maliciously criminally charged by anti-cop prosecutors across the country, it's refreshing to see a judge's ruling that dismisses wrongful manslaughter charges against two U.S. Park Police officers.
So, let's review what happened during an incident that took place on the George Washington Parkway on Nov. 17, 2017. Then we can explore what happened later when criminal justice officials brought charges against police officers who brought a dangerous incident to a close without innocent loss of life.
According to WTOP, allegedly, Bijan Ghaisar, of McClean, VA., had driven away (hit & run) from a "fender-bender" collision. When Ghaisar refused to stop for U.S. Park Police officers in their patrol vehicle, the officers believed the suspect may have driven off and was refusing to stop because he was driving under the influence.
Officers Lucas Vinyard and Alejandro Amaya pursued Ghaiser, who continued to refuse to pull over and continued speeding. The officers called for backup from Fairfax County Police Department (FCPD).
An FCPD officer joined in the pursuit, recording it on his dashcam. FCPD released the video in 2018. On the video, viewers can see the officers driving alongside the suspect twice during the pursuit. Each time, the suspect stopped and when officers got out of their patrol car and approached him, he drove away.
Each time the suspect stopped and then sped away, he continued to put the public at risk, passing many cars, driving in the opposite direction, with patrol cars in pursuit. Of course, the officers are also always at risk of death or injury during any vehicle pursuit.
It was in the suspect's control to stop the incident at any time. After the third time he stopped, this time in a residential neighborhood, the officers, weapons drawn, got out and once again confronted the suspect.
But rather than surrender, the suspect drove forward toward one U.S. Park police officer, at which point the officer opened fire. Even after the shots, it appears the suspect attempts to drive away again, and the two officers fire again. The vehicle finally stops, upending in a ditch.
Reportedly, officers fired 10 shots, of which three struck the suspect. WTOP also reported the suspect succumbed to his head injuries nearly two weeks later.
The FBI closed the case after a 16-month investigation. They found "insufficient evidence" that officers "willfully committed a violation." The DOJ declined to press charges. However, local prosecutors brought state charges against the federal officers. The officers' attorney also raised the "supremacy clause" citing immunity, arguing a state cannot try federal officers who were performing their duties under the authority of the federal government.
They "asked the judge to dismiss a Fairfax County jury's manslaughter indictment against both officers. U.S. District Court Judge Claude M. Hilton found no evidence the officers acted with "malice, criminal intent, or any proper motivation."
The Ghaiser family, which is understandably distraught over the loss of a family member, issued a familiar refrain, placing no responsibility on the suspect and all the blame on the police officers.
The Ghaisar family said, "This ruling ignores that it was Bijan's car that was struck, it was Bijan who was chased by these officers without committing a crime and it was Bijan who these officers charged at with their guns drawn — twice — for being the victim of a fender bender. These officers shot at Bijan 10 times, including several times as his car rolled away from them into a ditch. That's not fearing for their lives, that's murder."
"Without committing a crime?" Leaving the scene of a collision is a crime in Washington D.C., even if you feel you are not at fault. You don't get to make that decision; the investigating officer, or maybe the insurance company decides that. It's also a crime to fail to stop for or attempt to elude the police. So much for not committing a crime.
Cops don't only fear for their lives but also for the potential lives at risk if they were to let the driver escapes again. If a driver is willing to flee from the police—three times, how careful will he be for other drivers on the road?
Circumstances also gave the officers legitimate reason to believe the driver might be intoxicated. The driver also could have been fleeing because he'd just committed another crime, or he had a warrant out for his arrest he was trying to avoid. It's never as easy or simple as police critics would like people to believe. Cops must consider all of these things and more—and in split seconds.
Virginia, a state no longer known for its rule-of-law criminal justice system, the commonwealth's Deputy Solicitor General Michelle Kallen argued "that the local Virginia charges should stand and that the officers should face a jury." She said, Ghaisar "was rear-ended and he's now dead at the hands of Lucas Vinyard and Alejandro Amaya."
For a government attorney (not public defender) to state the officers shot and killed a suspect because he "was rear-ended" is unconscionable. How is that not legal malpractice? How would that not taint a jury pool even if there were a trial? None of the facts support her tainted description apparently intended specifically to incite hate toward cops.
"Kallen argued there were multiple issues to be decided at trial including a dispute of facts in the case, such as whether Ghaisar's vehicle was moving toward Officer Amaya when he opened fire, or away from him. There is also a dispute over whether Ghaisar was driving erratically the night he was shot." What? He was refusing to stop for the police, but his driving was awesome! Is that an affirmative defense, now? How many officers have pulled drunk drivers over for something other than erratic driving, and the driver blows a BAC of .35% when .40% can be lethal? It happens.
It's not surprising that even after the feds declined to press charges and Judge Hilton dismissed the charges that were brought by aggressive state prosecutors, "Virginia Attorney General Mark Herring and Fairfax County Commonwealth's Attorney Steve Descano said in a statement that they intend to appeal the decision to the 4th U.S. Circuit Court of Appeals in Richmond." Of course, they do, and here's the likely reason.
Commonwealth Attorney Steve Descano is an anti-law enforcement George Soros-funded prosecutor. According to the NPA's recently published book, The Obama Gang (April 2021), Steve T. Descano received nearly $400,000 from Soros-affiliated groups to fund his candidacy.
Still, at least for now, a court has made a ruling that helps to let cops know there is still some sanity in the criminal justice system. It's good to know law and order and equal justice under the law are not completely lost to the anti-police radicals.