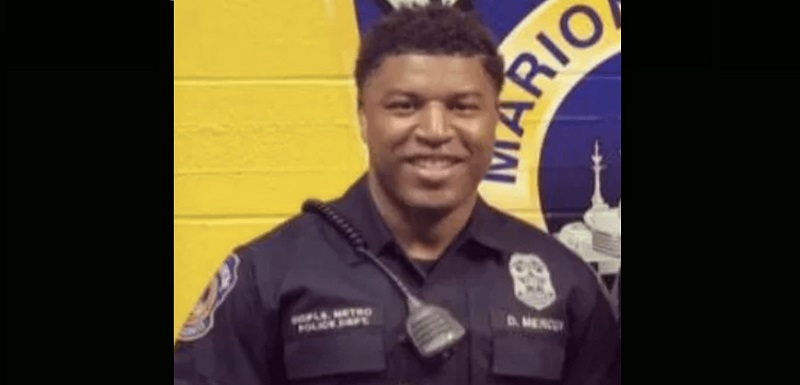 By Steve Pomper
An Indiana police officer is doing what so many more cancel culture victims—cops and non-cops—should be doing: devictimizing themselves by pushing back. Turn it around on those who attempt to "cancel" them. Indianapolis Metropolitan Police Officer De'Joure Mercer has filed a lawsuit against the NFL for defamation.
As Susan Ziegler at Police1.com puts it, Officer De'Joure "shot and killed [Dreasjon] Reed after a pursuit and exchange of gunfire in May 2020." That's according to the police report. Does this sound like a "victim" the NFL should be honoring?
The defamation of the officer came as part of the NFL's virtue signaling blitzkrieg which they have engaged in for the last several years. I'm thinking, someone must have told NFL Commissioner Roger Goodell pro football still had a few fans left, so there was more work to do.
The NFL established a program where players and coaches would wear "helmet decals and badges to honor victims of systemic racism, victims of police brutality, and social justice heroes." [emphases mine]
As I wrote about in The Obama Gang (NPA, 2021), some players removed the decals after learning the true history of the hero-victims they were honoring. Pittsburgh Steelers player Maurkice "Pouncey said he would remove [Antwon] Rose's name from his helmet. Further, the NFL star 'offered a sincere apology to law enforcement officials for not initially doing more due diligence on the facts surrounding Rose Jr.'s death.'" Pouncey added, "he was given only scant information about the incident and should have researched it himself."
Officer Mercer is accusing the NFL of defamation because of their disparaging reports about him despite investigations that have ruled his actions justified, and they deemed none unlawful or having violated any policies. The Indy Star reported, "No charges for IMPD officer who fatally shot Dreasjon Reed."
Regardless, the NFL's anti-police mythmaking persists. According to WISH-TV News, the lawsuit claims, "Despite a highly-publicized investigation and other information that clearly exculpated Mercer of all wrongdoing, all of which was publicly available and was in fact possessed by and known to one of the National Football League's teams, the Indianapolis Colts, the NFLE (NFL Enterprises) published several online statements accusing Mercer of police misconduct." Also, that "Posts made on Twitter and Facebook were 'a substantial factor in causing public hatred and scorn to perpetuate against Mercer….'"
The Indy Star reported about the incident being referred to the Indiana State Police (ISP) for investigation after which a grand jury cleared the officer. "The ISP investigation concluded that Reed was armed, that he fired two shots after he had been tased by Mercer and that he was then shot multiple times by Mercer, including while they were facing each other." Further, the ISP found phone evidence Reed had engaged in two prior drive-by shootings. They also found the gun used in those shootings matched the gun he had in his possession when Mercer shot him.
There's a marvelous hint of a change coming in America that pushback like Officer Mercer's signals. The Left can only victimize, harass, and bully Americans for so long. Americans everywhere should push back and push back hard. Push back to the point the radical leftists regret the day they ever woke a sleeping giant.