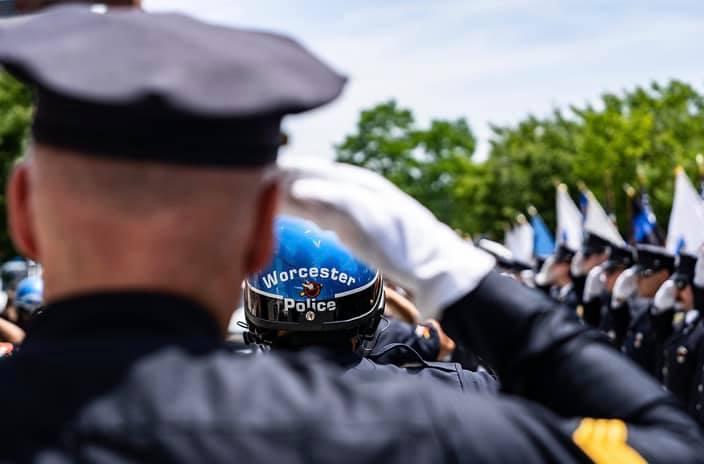 Among myriad matters America's cops tend to, one static certainty is their allegiance to flag and country and, extraordinarily, all citizens living under constitutional guaranty. The police mission is most certainly succeeded by allegiance to each other.
Police presentations of allegiance come in many forms: from patriotic holidays to birthday wish drive-bys to Crime Watch clubs to fallen officers' funeral processions, to name some.
Police personnel employ a brilliant array of special teams and skilled units to honor every moment, any ethnic/cultural recognition, on any given day with unwavering attendance and robust spirit epitomizing stalwart practice in waves of allegiance.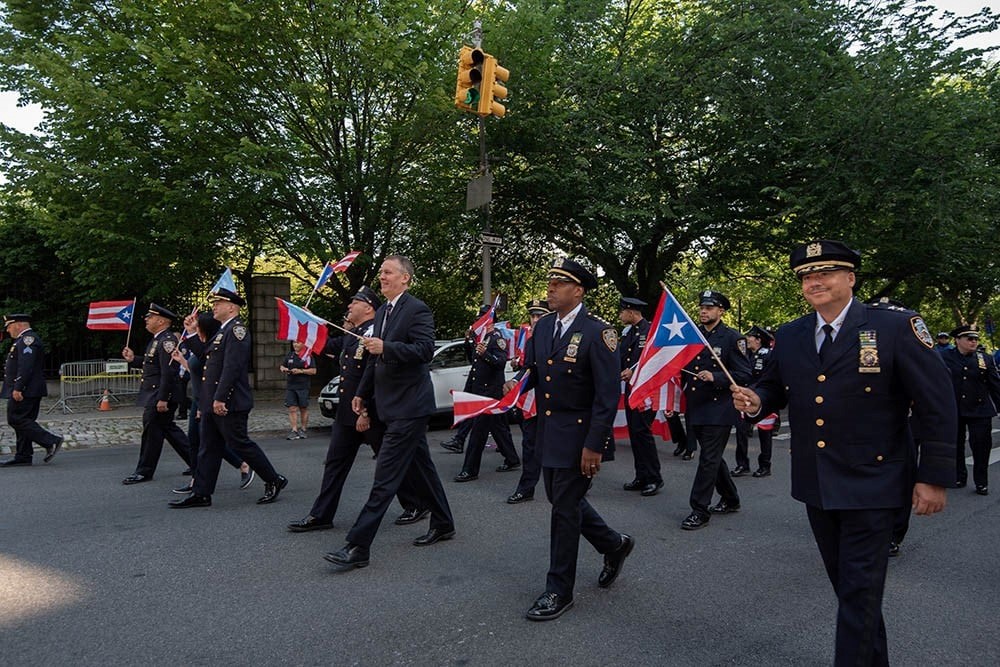 (Photo courtesy of the NYPD.)
Perhaps the saddest of allegiance resulting with a lump in the throat and righteous repose is a police line-of-duty-death (LODD).
Sadly, the Worcester Police Department in Massachusetts recently suffered a tragic loss when police Officer Enmanuel "Manny" Familia, 38, raced to reports of several people in distress in a lake. Once on scene, Officer Familia swiftly jumped into the water and made his way to a drowning teen.
Although other Worcester cops were able to save a few people from drowning, Officer Familia "went under and never came up." Those stark words pierce the heart of anyone, cop and citizen alike. And his wife and two children intimately know this to be inexplicably impactful.
Officer Familia's police funeral materialized like just about every other law enforcement sendoff memorializing cops fallen in the line of duty, stemming from similarly stark circumstances, with American flags propped throughout the somber send-off.
From what I gathered, thousands upon thousands of cops and citizens lined the streets to pledge their allegiance to a community hero who paid the proverbial ultimate price—laying his life down while trying to salvage another.
Relatedly, Officer Familia's son, a baseball league player, found out just how deep allegiance goes among the law enforcement community.
In his deceased dad's stead, a large group of Worcester cops gathered at the baseball diamond to cheer- on 13-year-old Jovan Familia as he pushed through grief and played hard.
According to the Worcester PD site: "More than 100 Worcester Police Officers attended a playoff baseball game that fallen Police Officer Manny Familia's 13-year-old son was playing in [June 6, 2021]. One family."
Per an article published in the Telegram & Gazette, Jovan Familia, his team's shortstop, was given the honor of throwing the first pitch; he delivered a perfect strike and, in reverence regarding his fallen father, scrawled his dad's badge #267 into the mound's substrate.
Incidentally, in my previous article published by the National Police Association, I covered the gracious efforts of the Massachusetts State Police hockey page collecting funds for a little girl battling terminal cancer, granting her wish to go to Disney with her family. Well, I just learned that those same state police officers sent funds to the Familia family also. Cops—the gift that keeps on giving.
Most of our nation's police departments have subunits which train for special events and attend functions with apparatus such as bagpipes assemblies or Honor Guard presentations or motorcade escorts:
Oddly enough, that brief YouTube video was for a slain cop whose last name was also Familia, one whose final call was heard by throngs of cops in allegiance, memorializing a young mother's vow to serve and protect, culminating in the ultimate sacrifice.
No matter the size of the agency, the mainstay is that cops from across the country manifest at a given locale to stand in honor of their brother or sister badge-holder…and pay homage to the loved ones numbed by it all.
During my police career, I've attended seven police funerals, two of which had cops in formation falling from heat exhaustion (Florida), every occasion seared into my brain's circuitry, each one vividly reminiscent of the unwavering camaraderie and cohesion among justice professionals.
Law enforcement officers are trained to always keep their eyes peeled, a requisite appeal to officer safety and, by extension, protection of the public they serve. It is during police funerals, however, when you witness LEOs bow heads, in memoriam of casualties sustained in the course of oath fulfillment.
Turning from memorialization involving somber police presence to celebration engendering cops ensuring public safety during allegiance to a culturally and/or historically noteworthy cause, Rhode Island recently reveled in one of their geo-centric events: Gaspee Day.
Per their homepage, "The Gaspee Days Parade is a celebration of Basta which our neighbors always look forward to.
"When we heard that this year's parade was underfunded and only a month away, we decided that for all the love this community shows us and for the difficult past 18 months we've all endured, Basta would cover 100% of the financial shortfall, which we have as of this morning.
"We look forward to the community stepping out, safely reuniting, and celebrating together at the Gaspee Day Parade and all Summer long!"
And none of that is even remotely possible without security and safety provided by police officials in that area. From what I understand, several law enforcement agencies serve before parade festivities, lining the streets with watchful eyes and diligent presence to ensure things go off without a hitch.
Speaking of hitches, it is sadly conceivable that such events, especially deserving after the "difficult past 18 months" which virtually shelved our society's ways and means, would be on the chopping block if police defunders have their tantrum granted.
But no! This year's Gaspee Parade was made iconic by the Warwick Police Department when cops conjured the following image and recorded it in alignment with and allegiance to the red, white and blue, their police patch exhibiting the same spectrum of patriotic colors: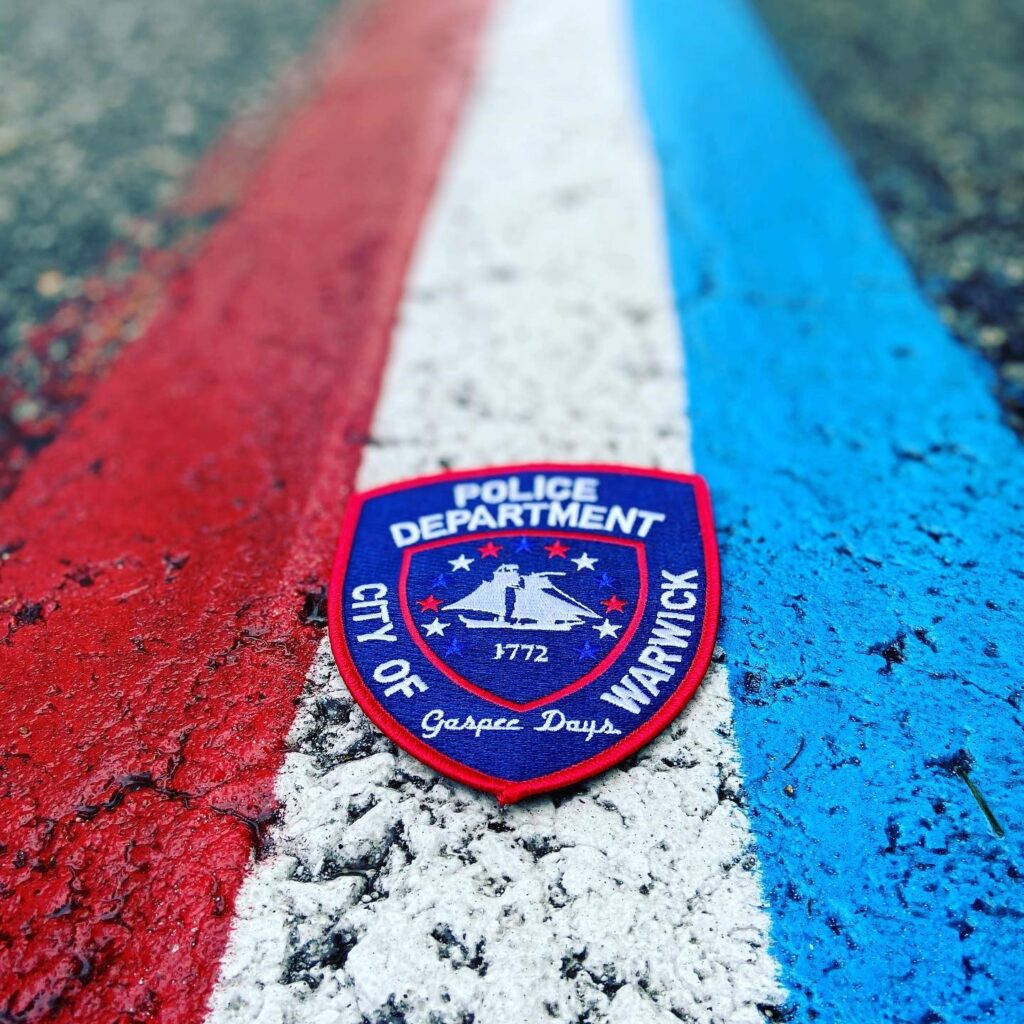 (Photo courtesy of the Warwick Police Department.)
Who among us does not wish to see our beloved nation rekindle patriotic purpose and freedom-loving venues, with traditional exhibitions of cops underscoring the people's rights to assemble in revelry…as opposed to tyranny displayed by many of our grotesquely maniacal modern-day politicians bastardizing liberal-run enclaves?
From Gaspee Day in the Providence, Rhode Island area to swashbuckling Gasparilla Day in Tampa Bay, Florida, police officers convene in large numbers to assure safety and ensure the public have a good time after a precarious 2020, increasingly having each other's backs thanks to the anti-police curse.
When I was a midnight shift cop, the allegiance factor (also known as backup) was often paramount since evildoers love to play dirty in the dark. Often enough, city cops from neighboring agencies, county deputies, or state troopers would show up on traffic stops, especially helpful when I stopped vehicles occupied to the max. At, say, 04:05 a.m., in a known drug-prone area where violence is a norm, a lone cop (my agency has solo patrols, no pairs like some departments) breaths better in the company of other law enforcement officers.
Gotta stick together, because the dangers lurk 24/7. Like I mentioned above, special teams exist and are dutifully equipped to handle business should matters go muddy. One such unique response is the Mounted Unit which, although great for PR and dispersing unruly crowds and even foot pursuits of armed suspects at Mardi Gras, can serve as "routine" backup.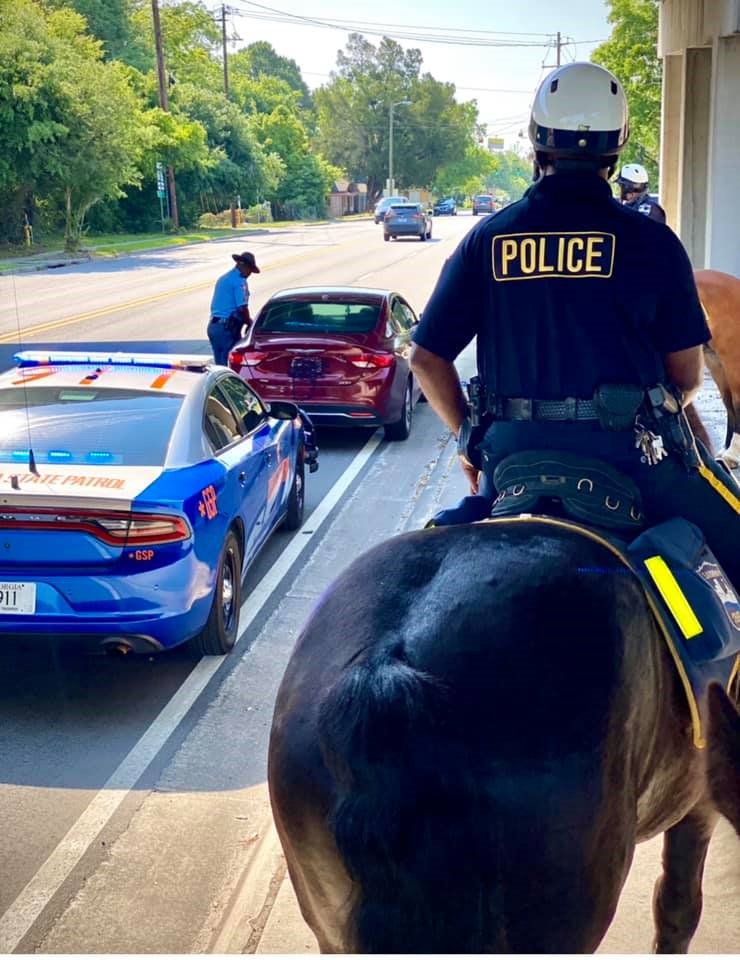 (Savannah Mounted police officers backing up a Georgia State policeman during traffic stop. Photo courtesy of the Savannah Police Department Mounted Patrol Unit.)
As our nation's southern border endures breaches resulting in a burgeoning crisis unmitigated by our present White House administration, states facing the lip of Mexico are up to their necks in the tsunami of illegal alien crossings, trafficked humans, and cartel narcotics streams.
Despite the reversed course since the prior pro-police presidency, sheriffs and police chiefs along the U.S./Mexico border stand tall and proud to defend against violations of our immigration statutes and protect American soil.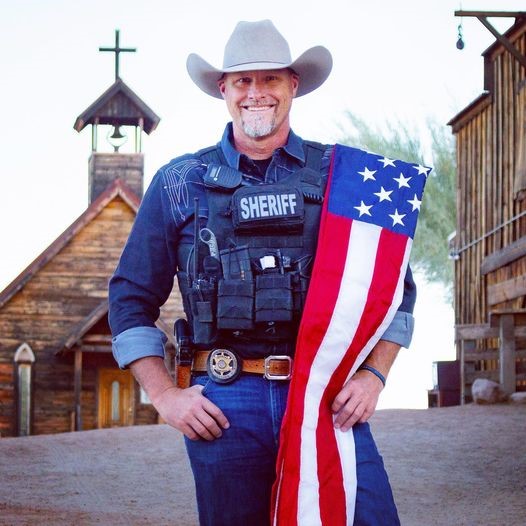 (Photo courtesy of Pinal County Sheriff Mark Lamb.)
Oath keepers requires no clarification, only duly noted presence and tangible achievement of the public safety mission, and allegiance stratified throughout the nation, no matter the localized occasions or cultural specialties, joined together under the same flag is paramount.
It is not at all ironic that I write this material during the week when we annually commemorate Flag Day, highlighting Old Glory and all she has endured, most deeply witnessed by the United States Armed Forces and the nation's cops, the former forging a guaranty and the latter enforcing it all.
While she flaps in the wind to snap our attention to her glory, stitchery of one nation under God, the American flag is at every police academy class, every law enforcement awards and promotions ceremony, and ubiquitously at each fallen cop's funeral, symbolizing allegiance in all circumstances.
Sometimes those circumstances equate to Old Glory being stolen by the mitts of nefarious morons. The North Pole Police Department (NPPD) recently replaced their flags due to larceny. Since cops are in the business of righting wrongs, the NPPD cops donned dress blues and addressed the situation by re-dressing their flag poles.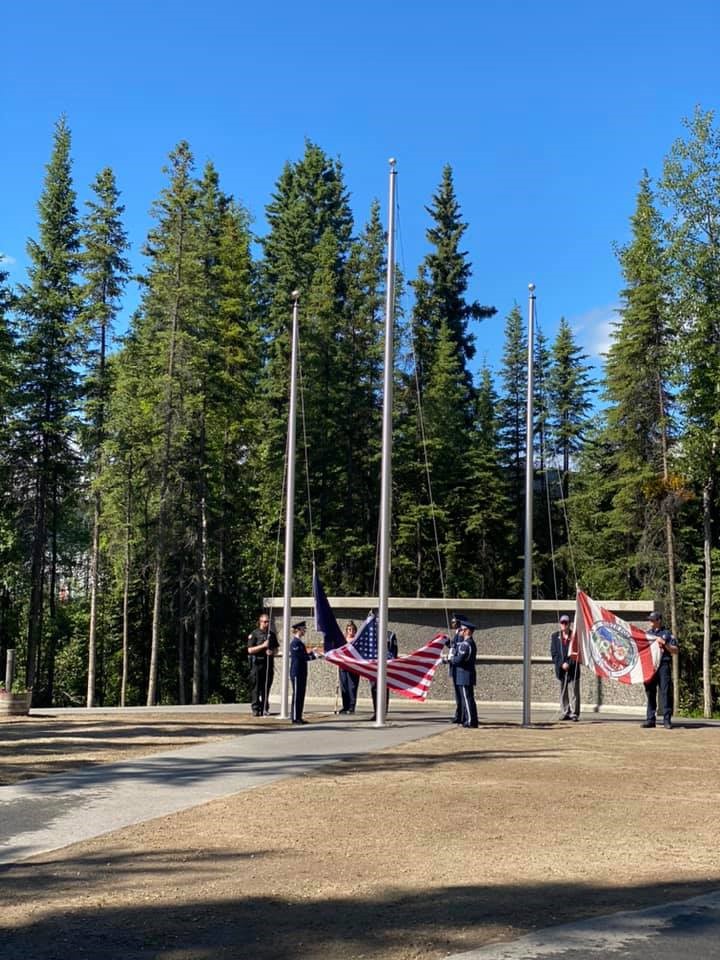 (Photo courtesy of the North Pole Police Department.)
"We would like to thank Officer Sydney Rosenbalm, the VFW Post 10029 North Pole, Alaska and the Eielson Air Force Base Honor Guard for helping us with the Flag Raising Ceremony at the Trooper Gabe Rich and Trooper Scott Johnson Memorial Park this past weekend," the North Pole cops wrote.
During an indelibly low point in American history, we witnessed iconic demonstrations of allegiance amid Ground Zero proportions denoting patriotic display when, even after losing thousands of first responders and innocents, a survivor with a justice badge somehow rose up from the rubble to raise red, white and blue.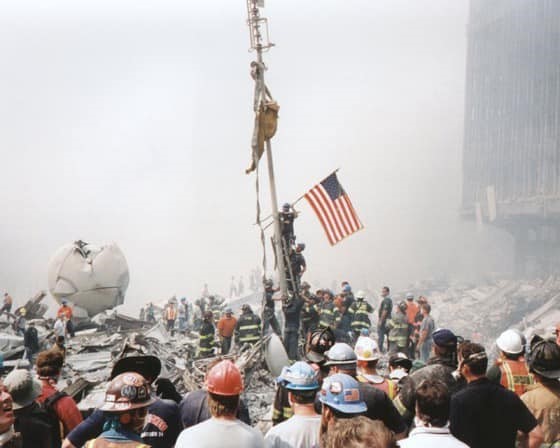 (Photo courtesy of the NYPD.)
Per the New York City Police Department on Flag Day, "On September 11th, [2001], when our nation was under attack, an Emergency Service Unit detective emerged from the rubble & displayed our strength and sacred national symbol – the American Flag."
That scene typifies our subject matter today, when in the face of unspeakable destruction, mayhem and death, our nation exhibited undaunted spirit and lockstep cohesion.
Although anti-cop din and cancel culture seems to have detracted since then, the 9/11-era heralded law enforcement officers. Nevertheless, the fidelity among cops standing tall on our behalf in a time when hateful factions seek to buzzsaw through the American fabric is resilient and forged, as blue line patriotism always is…with liberty and justice for all.