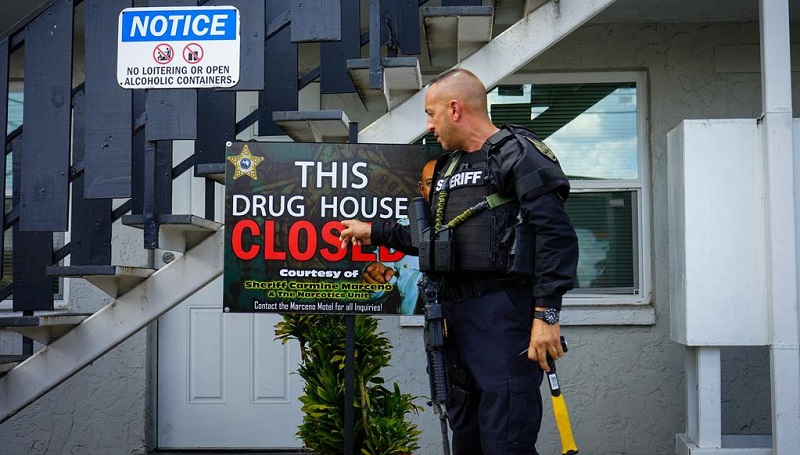 Piggybacking on an article I recently wrote about law enforcement executives leading from the front, Lee County Sheriff Carmine Marceno demonstrated the point by suiting up in special ops gear, saddling up with his agency's narcotics unit deputies, and shutting down a drug operation for good.
In the culmination of a successful drug bust (no deputies or civilians injured), the "law-and-order sheriff" erected an official sheriff's office sign which read, "This Drug House is Closed," as pictured above.
Even though Sheriff Marceno rode in the back compartment of an armored Bearcat containing his drug unit and breach team, he was present and accounted for…while armed and ready, ensuring the same head count they arrived with, otherwise dubbed a high-risk situational success.
From the Lee County Sheriff's Office site is the following: "THIS DRUG HOUSE IS CLOSED. Sheriff Carmine Marceno joined his agency members at the Lee County Sheriff's Office Narcotics Unit as they executed a search warrant today in Fort Myers.
"Sheriff Marceno has made himself clear: those that deal drugs in Lee County, WILL go to the Marceno Motel.
"The sheriff also unveiled his new yard signs sending a clear message: this drug house is CLOSED."
Right to the point! On to the next closure of criminal camps.
But first, the media can help spread the perilous work being undertaken by its public safety officials. Equally vital, the citizenry gets virtual exposure to where in the community criminals are being conquered and how they're defeated by police efforts despite the enormous danger to themselves.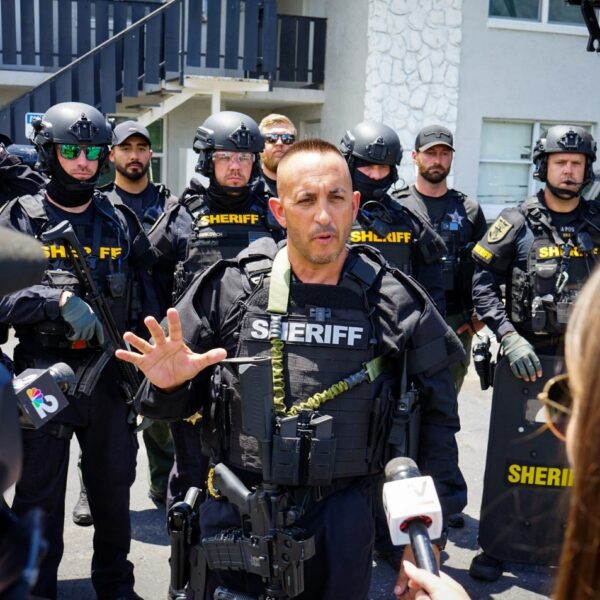 (Photo courtesy of the Lee County Sheriff's Office)
Following the drug-bust operation, Sheriff Marceno hosted a press conference to illustrate the excellent police work his deputies orchestrated and to also publicize the intolerance of drug dens. So much so that the sheriff's office used funds to have specially designed signs printed and posted where scourges have been dealt with.
Other than the peddlers of poisons, who wouldn't be on board with that?
Drug Unit Dynamics
Typically, many months of investigative efforts performed by undercover narcotics officers culminate in the requisite probable cause necessary to petition a judge and procure a search warrant.
Preceding the service of the warrant and busting up a drug operation, undercover units act upon information ordinarily provided by a tip, whether that be from a known informant, a law-abiding neighbor sick of the obvious vehicular traffic which comes and goes before you can blink.
Sometimes, the launch of a narcotics investigation is derived from a patrol officer whose observation skills and gut instincts and police training are a collective signal that something is nefarious. Field intelligence is gathered by said beat cop and forwarded to the department's narcotics unit for development, substantiating the suspicions and opening the aperture toward gross gains (who is the king supplying the suspected target/drug dealer).
Without giving away the playbook and endangering lives of narcotics cops working in an undercover capacity, law enforcement employs some pretty creative methods to cement a case within legal guidelines.
As scene on any of the reality-based cop shows portrayed on television, undercover operatives walk the walk, talk the talk, and look the part, quasi clones of the suspects they are working to "befriend" and get close to for an ideal case and ultimate conviction (should it go to court post-arrest).
Those last few words imply that drug dealers who know they've been had mindfully seek to make/take a deal from the prosecutor's office, in exchange for other actors in the illicit world pushing dope (striving for the kingpin). My agency's narc unit referred to it as "the food chain" (little fish lead to bigger fish… which may altogether lead to something entirely different yet largely illegal as well). Following leads is the denominator equating to exponentials.
Law enforcement entities considering cops for the narcotics unit generally hone-in on a patrol officers' street experience and the prevalence of drug arrests and ridding the jurisdiction of sales spots by heightened police presence. Usually, that equates to frequent patrols in a police cruiser and/or walking the beat where drug sales are suspected or known. It is letting the purveyors of contraband know that the vice is closing and the hammer is falling, often without uttering a word.
As well, besides patrol experience involving a handsome score regarding drug arrests and an array of impounded contraband, a few years of general police experience is the basic requisite to be considered.
Almost everyone I worked with on the force, whoever pitched an internal "letter of interest" (aka pseudo resume) expressing desire to work as a member of the drug unit made the cut.
Similarly, serving among the narcotics squad seemed a jumping-off point for those who had sights on supervisory roles (corporals, sergeants) and maybe command staff aspirations. In any case, getting down and dirty as a phantom (undercover) in a drug gang or cartel or whatever pill-slinging enterprise garners good points for the police career down the road.
And that leads back to Sheriff Marceno whose storied law enforcement career rounded the corner and came full-circle: his county's top cop working in the trenches, leading his cohorts from the front, even if seated in the back.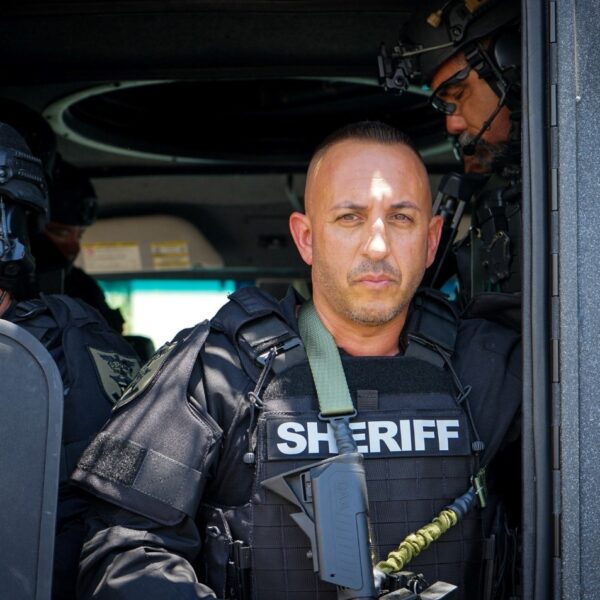 (Photo courtesy of the Lee County Sheriff's Office.)