Despite the ongoing battle-drum noise created by the anti-police movement, cops are honing skills and training fervently for any imaginable dilemma in our society.
Behind the badges are skill-enhancing police personnel conducting either behind-the-scenes drills or open field operations to ensure efficacy and expediency when confronting dangerous situations and implementing lifesaving feats.
Like anything in law enforcement, practicing skills beforehand and continually enables ultra-preparedness for when the real thing ensues.
For example, the photograph above was recorded April 22, 2021, involving the Pasco County, Florida sheriff's office aviation unit deputies gearing up for something ordinarily handled by fire department operators: land-area burns caused by drought.
In fact, yesterday and today, the temperature in my area creeped toward 90, and my laptop's time and weather data had a strange red triangle next to the word "Warning" (also in red). I clicked on it and found a "Fire burn report" for the Tampa Bay region, typically the first signs of a drought which ordinarily equates to dry, brushy terrain igniting, often resulting in wildfires and threats to life both human and wildlife.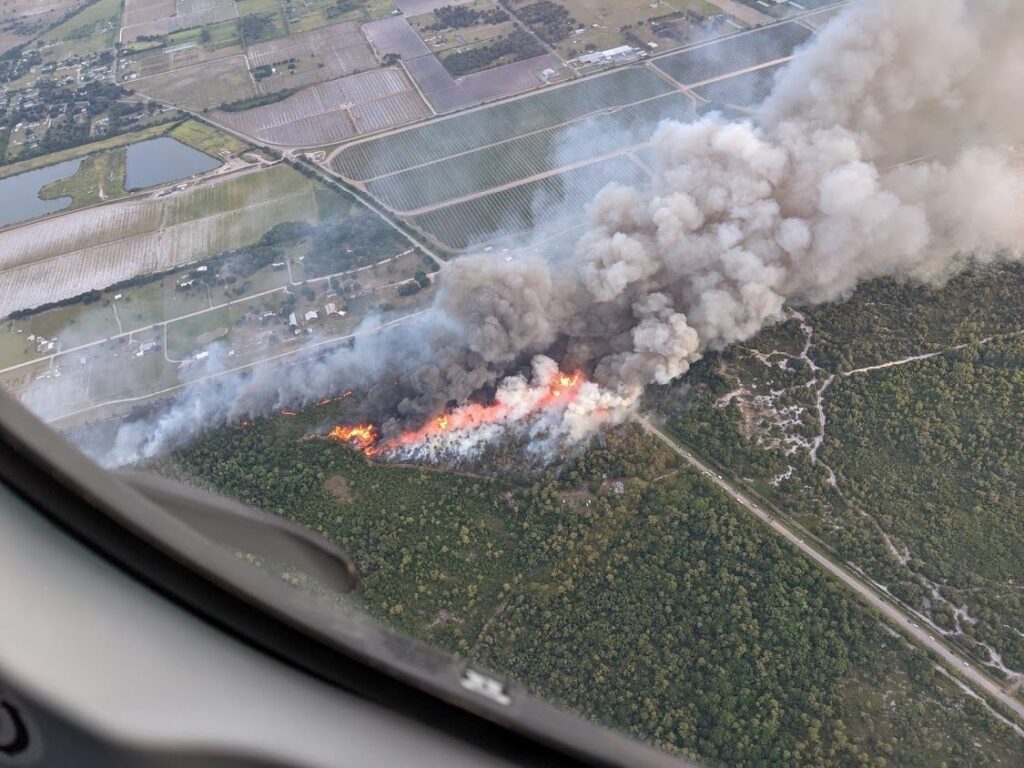 (Photo courtesy of the Hillsborough County Sheriff's Office.)
It is the fire-prone season which preludes hurricane season, otherwise referred to as "dry brush and wet gust." In fact, Hurricane Preparedness Week transpired May 9-15, with reminders from law enforcement regarding what residents should be considering in advance.
In any event, police and fire services prepare for both catastrophe-prone seasons chronologically—according to Mother Nature's calendar.
Although not commonly known, some law enforcement agencies —the ones which have helicopters among their fleet— cross-train and equip themselves for police-oriented flight operations as well as fire-suppression aeronautics.
This exemplifies yet another way police personnel are diligently training, taking on new skills, honing old ones, all to optimize service and protect lives when any manner of threat appears, whether manmade or via elements of nature.
Notice in the following image that a Pasco County law enforcement deputy is co-piloted by a state official from the Florida Forest Service.
(Agent with Florida Forest Service partners with Pasco County Sheriff's Office aviation unit deputy during water drop exercises for wildfire suppression training. Photo courtesy of the Pasco County Sheriff's Office.)
This is a case where a highly knowledgeable conservationist with the state Forest Service is imparting fire-fighting skills to a county deputy who ordinarily works police pursuits and search-and-rescue missions from the skies.
Paramount of fire-suppression via aeronautical means equates to counterbalancing a large trough containing high volumes of water all the while mobile, tilting, and swaying…saturating conflagrations with relative smack-dab precision.
Here is a glimpse of what the training looked like:
(Photo courtesy of the Pasco County Sheriff's Office.)
Incidentally, although more courtesy related and in honor of a fallen cop's daughter graduating college, that same helicopter conducted a fly-over at Aleena Kondek's graduation party last week. In police work, fire suppression and professional exhibitions of respect for the Thin Blue Line, law enforcement officers cover the gambit, and then some.
In the realm of smaller, more affordable drones being employed by police agencies nowadays, one benefit from helicopters which is a drawback of drones is the excess weight of completely filled water drop equipment—only helicopters can handle that aspect of fire-suppression operations. However, police drones transform traffic crash investigations and enhance officer safety, exemplifying how cops use train heavily to use various forms of instrumental equipment to serve the public beyond expectations.
Pairing helicopters with police dive teams to navigate sometimes unforgiving and treacherous ocean waters, Tampa Police divers are certified to the hill and practice skills sets until they grow gills (humor me).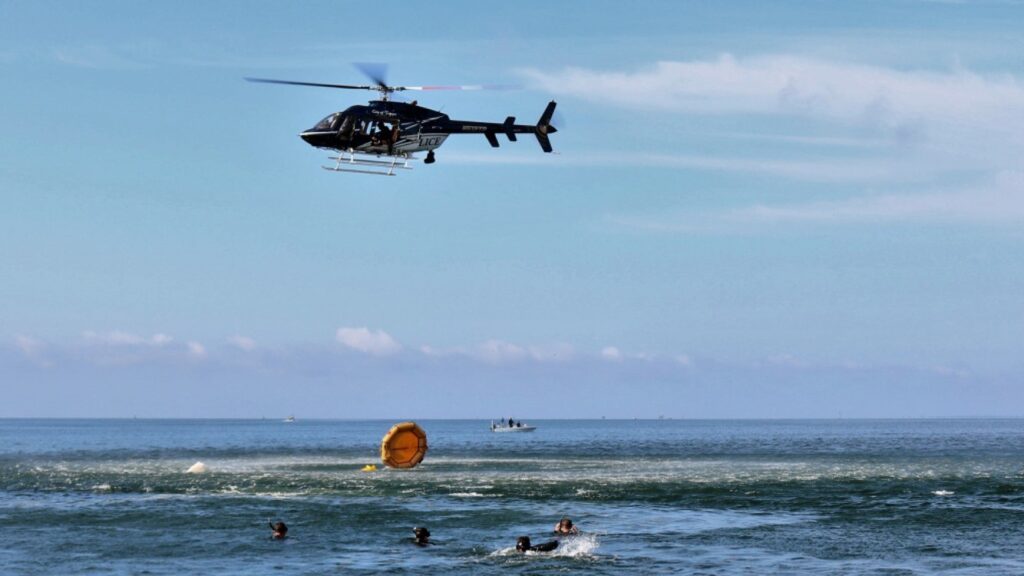 (Photo courtesy of the Tampa Police Department.)
Per the Tampa PD, the police "Dive Team is made up of 10 officers who specialize in responding to water emergencies. Annually, for training, these officers complete a swim across the Tampa Bay which is over 3 miles long and encounter various scenarios along the way.
"This year, the diver's deployed off of the Gandy Bridge, had to swim a 'victim' for one mile at which time TPD Air Service deployed a raft. The 'victim' was then loaded into the raft and swam another mile to safety. The TPD Dive Team is prepared and ready to keep you safe!" Constant training, despite anti-cop measures floating around, do justice to anyone mired in vast bodies of water with fatigue and consternation instilling worst-case scenarios.
Gee, wonder if any of the anti-police mob would change their ridiculous tune if they found themselves being clenched by a riptide or whatever.
Another rather unknown concept in police operational methodologies serves SWAT team members as well as citizens finding themselves in some rather hairy situations.
My agency went to the concept of SWAT Medics a few years ago, cross-training a member of our fire department in law enforcement, meaning candidates interested and qualified for the dual role must enroll and successfully graduate from a law enforcement academy in order to serve on our SWAT contingent. The purpose is to have a readily-available paramedic to administer any medical aid on scene, combined with the ability and certification as a police officer to, if need be, switch to what a cop must do in an instant, as evolving situations dictate.
The Tulsa Police Department has such a design, whereby the duality is manifested and used more readily via cross-trained, prepared SWAT operators can serve various purposes. Although traditions hold that cops engaged in a gunfight would have paramedics "stage" until it was safe enough to come in to the scene, police medics have more immediate applications should a fellow officer get shot or injured in some capacity where medical administration is paramount.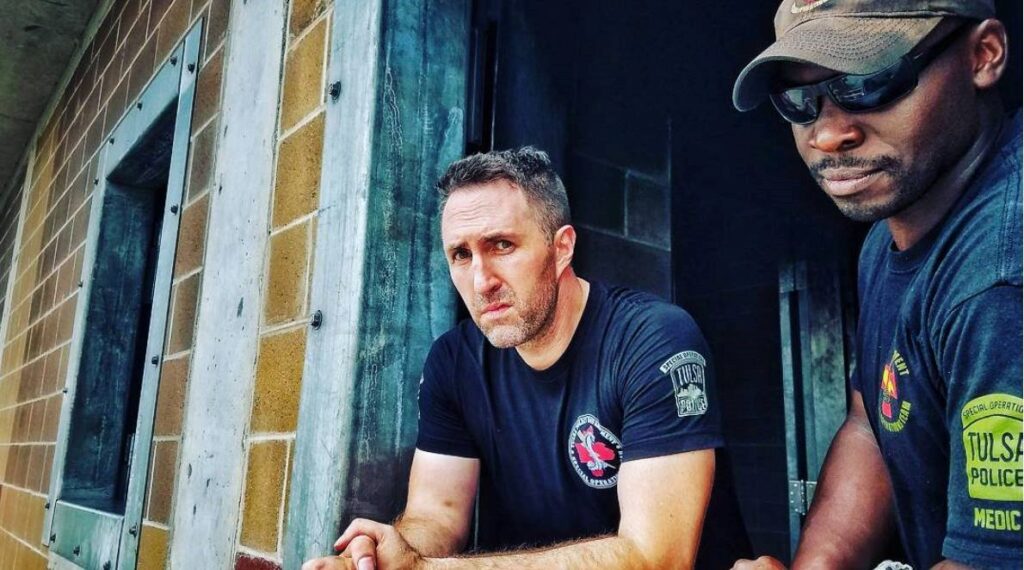 (Photo courtesy of the Tulsa Fraternal Order of Police.)
General SWAT training is extraordinarily grueling and constant, and varying subsets of specialties among the unit's members typically enroll the requisite discipline of snipers, calm and calculating negotiators, and critical-thinking tacticians all under the command of a vastly experienced lead overseer. The exceedingly honed skills forged by SWAT officers historically employ them when situations are absolutely dire and after multilayered measures from field troops are exhausted.
Since most of America's law enforcement agencies are categorically "small" and thus probably have neither the affordability factor in the realm of acquiring every piece of police equipment nor budgetary allowances to train personnel, the concept of "mutual aid" is a covenant among public safety entities whereby one agency will request specialized units/personnel to help handle a call necessitating resources which they lack.
My agency did not have a dive team, so we were aided by either of the two larger metropolitan agencies: the Tampa police or the county sheriff's office. Conversely, if all their police canines were tied up and they suddenly needed one for a drug search or to sniff out a fugitive who fled on foot, we dispatched ours. Although some highly specialized police units are common in mostly large-scale police departments and sheriff's offices, shared resources is not uncommon—the objective is to optimally serve the public.
In the context of abolitionists' and police defunders' unrealistic perspectives and fantastical utopia, the greatest disservice will be to everyday citizens whose personal safety would be forfeited. One need look no further than the cities overrun by criminality due to demands for a hands-off or totally police-less environment run by pandering politicians intoxicated by sinister strongholds and derivatives of power, thus endangering lives by defeating public safety purpose and devaluing rescue operations involving citizens in harm's way.
So, yes, cops go above and beyond routinely, continually training to provide traditional police service while also garnering unique skills to successfully administer unorthodox measures to preserve lives and property, despite the chronic din made by those who wish all these benefits and covenants would vanish because they say so. In effect, many lives are in danger because of the ludicrous to whittle away at police and the inherently necessary budgets to effectively safeguard everyone, including the misguided.
Nevertheless, the police beat goes on…