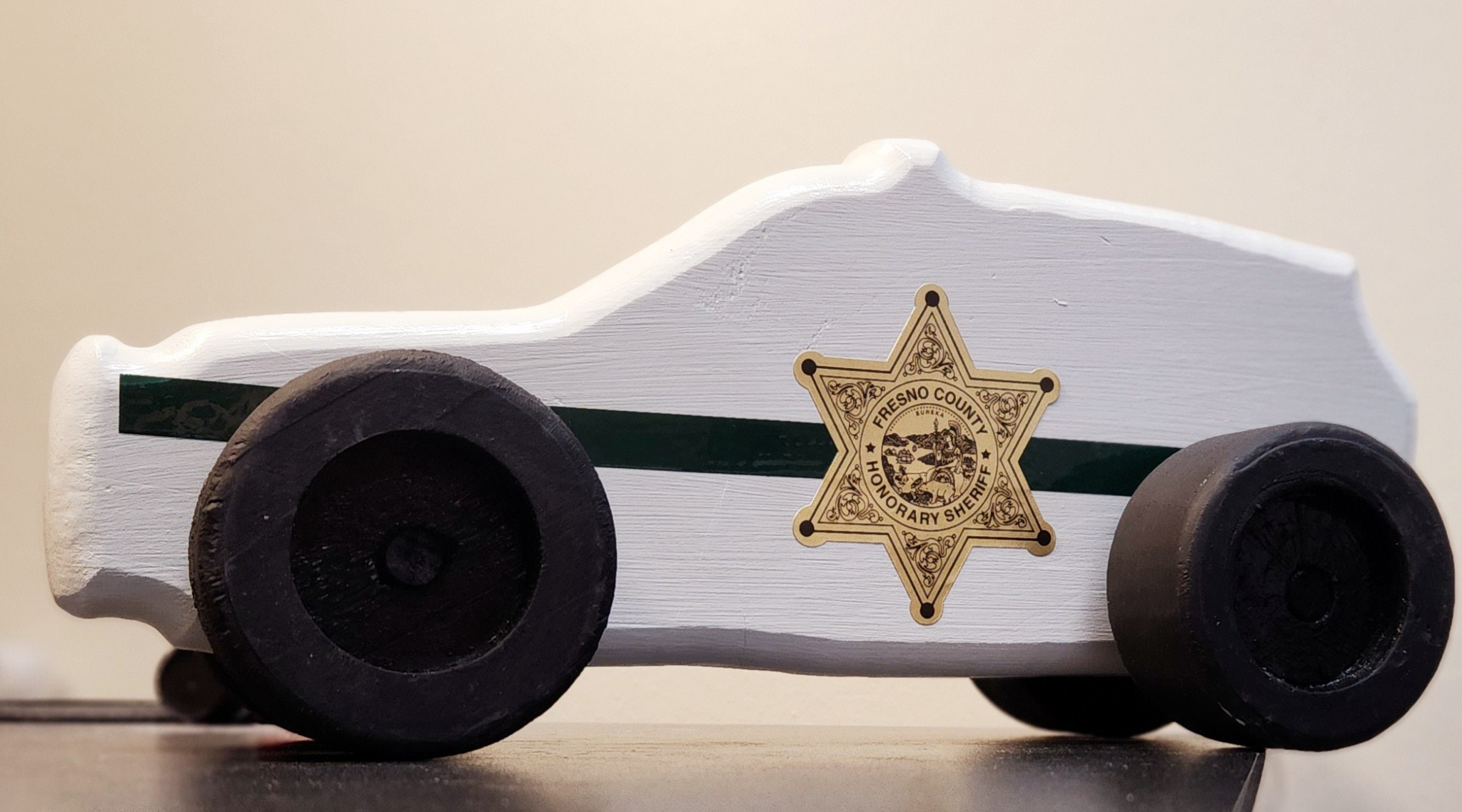 Recently, the National Police Association published a piece on how much kids love law enforcement badge stickers gifted by cops they encounter on their travels. Kicking it up a notch, the Fresno County Sheriff's Office will now slap those "junior police officer" stickers on handmade wooden patrol cars which their deputies will hand out to youngsters in traumatic situations…or just because.
And it is all made possible thanks to a police supporter who happens to be a retired software engineer spending his golden years crafting wood-carved cruisers for kids. Just in time for Christmas, too…
Because of the very nature of policing a beat, being positioned to come across people in various dire straits, many involving children with little/no access to a stream of presents, wooden patrol cars can be the gesture influencing hope and casting light where darkness may be the norm.
The hard part about working as a cop, especially so during Christmas, is that you meet kids with pleading eyes looking up to you as a savior. The even harder part is that there are so many examples out there.
Police officers buttress community resources and provide wherever as best they can, sometimes with a little help from friends.
(Photo courtesy of the Fresno County Sheriff's Office.)
Aswe've been reporting, community relations aspects among law enforcement agencies are crucial to not only our nation's police personnel but also to the citizens in hamlets, townships, cities, and counties comprising the United States.
Contrary to the divisiveness fanned by the present political party whose soapbox is one of wholesaling public safety by way of defunding cops and diapering bona fide bad elements, upstanding citizens do their darndest to pillar police in whatever ways imaginable.
The gentleman showcased in our story today epitomizes such an American.
Per a Fresno County Sheriff's Office press release, kudos were lavished on a man whose vision is of consoling children via the hands/hearts of cops…and there is a bonus at the end of the sheriff's words:
"78-year-old Michael Vogt of Fresno is a retired software engineer who is passionate about improving the lives of children. He is now dedicating his time to handcrafting wooden patrol cars in hopes they will help comfort children involved in traumatic situations, and also create a positive relationship with law enforcement.
"Michael donated a total of 111 different wooden vehicles to our office. Deputies will carry these toys in their patrol cars to hand out to kids across the county just as they do with books and teddy bears.
"The Sheriff's Foundation for Public Safety organization has secured some discounts on materials at local Lowes and Home Depot stores to reduce Michael's expenses as he continues this partnership." The right-hand collabs with the left hand, as others' hands join to bring to fruition common causes bolstering the community. That's what it's all about!
Circling back to the Sheriff's Foundation for Public Safety which "secured some discounts on materials," I am reminded of several occasions whereby, as a cop on light duty writing grants for my department, some of the big-box stores routinely post what was referred to as "Community Grants." This means that any funds granted to petitioning organizations or individual parties must agree to use those monetary supports within the community in which they operate/reside. Nowadays, they're literally called "Local Community Grants."
For example, Walmart's current stipulation reads: "Eligible nonprofit organizations must operate on the local level (or be an affiliate/chapter of a larger organization that operates locally) and directly benefit the service area of the facility from which they are requesting funding."
One way to think about these community grants is that for every item I purchase at the retailer, funds are earmarked for grants relegated to community investments, thereby improving the quality of life for inhabitants in the jurisdiction—a proverbial win-win.
As I recall, the grants filled by mega-retailers such as Target and Walmart (my department's go-to back in the day) were considered substantial, anywhere from $1000 and up. Now, they range from $250 to $5000.
In that context, it is likely the method employed by the Sheriff's Foundation for Public Safety, if not something similar, was via a grant of some sort, helping obtain the materials for Mr. Vogt's hands to shape into patrol cars.
"The Sheriff's Foundation for Public Safety members were able to serve their community by contributing to various organizations. An undeterminable number of people are benefited directly via those organizations. Funding comes from the different fund-raising events and grants," a section on their website spelled out.
In any event, the key factor is a lone gentleman's skilled hands and altruistic intentions partnered with his local law enforcement agency which, in turn, conjoined with a few big-box retailers, parlaying in robust dividends enriching the lives of youngsters.
In similar fashion to big-box stores' local community grants and what Mr. Vogt does by his own hands, some lesser-known retailers in specialty sectors such as bicycle gear either donate to police organizations cases of helmets for children or provide discounts to law enforcement entities whose in-house funds come from civic groups or the area Chamber of Commerce or churches or police supporters with philanthropic purposes. In any of these and others, everything goes back to the community via the cops who serve its constituents, young and old alike.
In the bicycle-helmets example, police personnel put on bicycle rodeos routinely as one among multiple events that cops sponsor, attend, and administer with safety principles at its core.
(Photo courtesy of the Temple Terrace Police Department.)
Ultimately, though, cops and kids enjoy thrills together, the youngsters wheeling away with cool bike stuff, the officers feeling fulfilled from positive interactions, with kids adopting mindsets of skilled riders observing self-preservation and property retention (at these bicycle rodeos, LEOs bring engraving devices to permanently etch OANs —owner assigned numbers— as unique personal identifiers in the event the bike is stolen).
In all, cops and citizens carve out viable solutions for their respective communities. Anti-police politicians…eat your heart out!