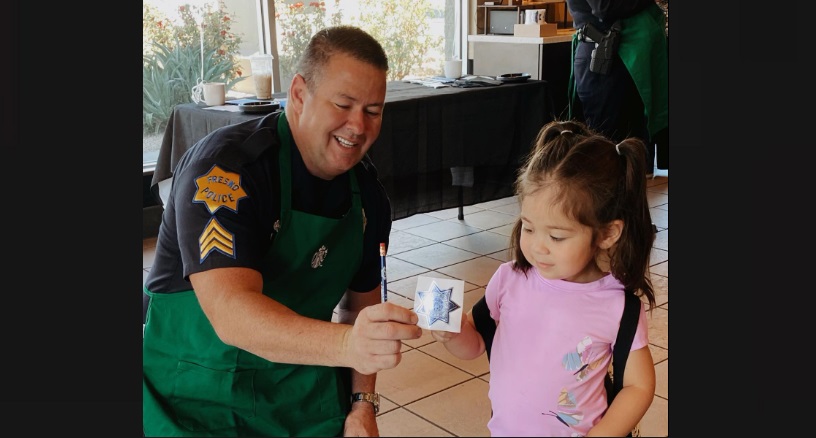 By all accounts, children everywhere come aglow in the presence of law enforcement officers, and police stickers typically provide the glue to form bonds that often carry forward throughout a kid's lifespan. Maybe, just maybe, the distribution of police badge stickers is not only cherished as a souvenir for that day but as a trinket seeding the mindset of becoming a police officer…one day.
Like the California Highway Patrol does for its officers, spools or sheets of police stickers representing the respective agency badge shape and mottos are manifested from specialty print shops and distributed to law enforcement officers to hand out to young ones. They are always a hit.
There are generic stickers purchased by police supply retailers also. Whether generic or custom-made, cops foot the tab out-of-pocket. The real value is not in the cost of the stickers but in the lasting impressions of youth pondering careers as police professionals.
(Photo courtesy of the California Highway Patrol – Merced.)
Given the Halloween and Fall festivals we just saw, plenty of youngsters donned make-shift but unmistakable police officer costumery. Besides traditional treats, kids clamored for and received law enforcement badge stickers from any of the bona fide coppers on duty and participating in the revelry.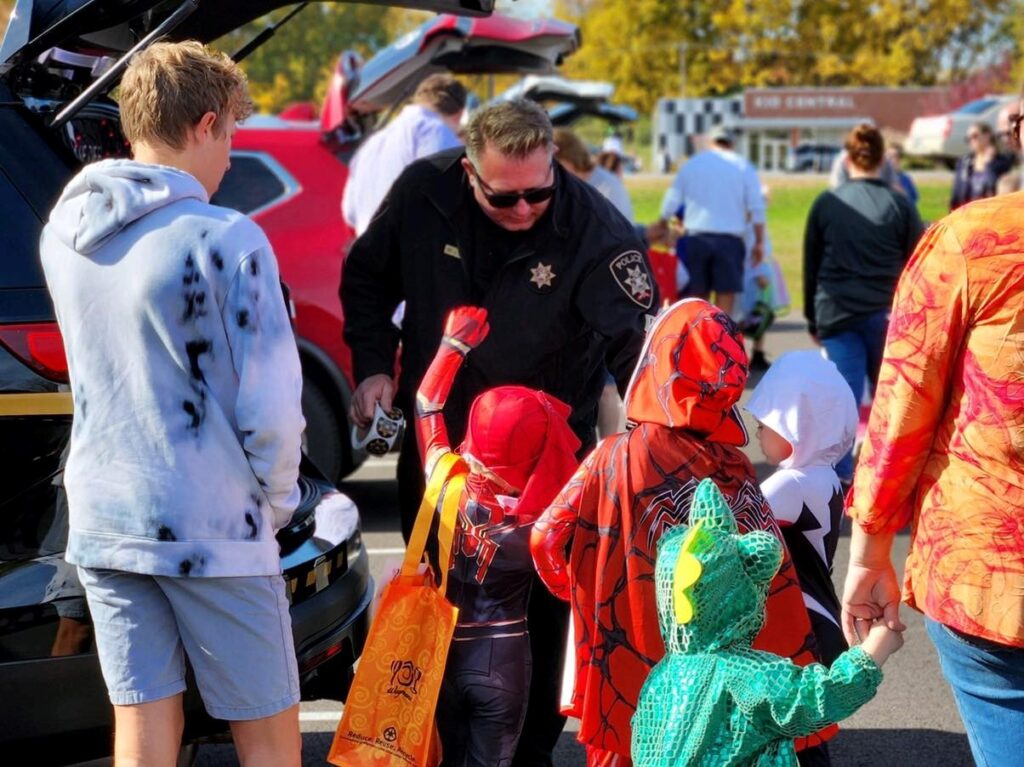 (Photo courtesy of the Onondaga County Sheriff's Office.)
Poring through hundreds of police posts, I noticed that kids from all over the nation, in states and cities represented by different political stripes, wore police get-ups, as if the anti-police noise is entirely irrelevant to youthful ears and developing brains. How refreshing!
Like Father, Like Son
In that context, I came across a solid message from our friends at the National Police Wives Association:
"Yesterday my son announced to me early in the morning that he wanted to change his superhero costume for school to a Police Costume. He noted that after his dad and SLMPD officers saved kids at a High School from a shooter one week ago today that he wanted to be like them. Well after some quick shopping on Amazon this came last night and there he is. His dad put his uniform on to pose with him!

"Our kids know, and they understand, it's still all right to be a Police Officer for Halloween!"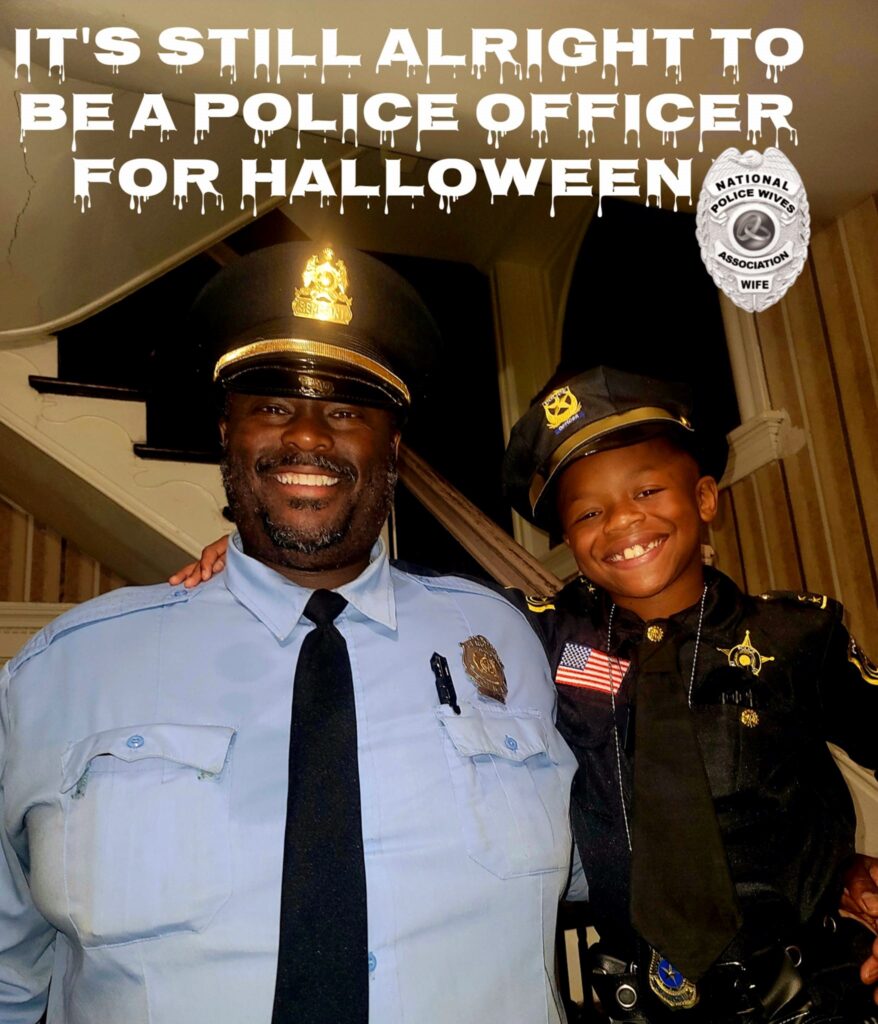 (Photo courtesy of National Police Wives Association.)
At Halloween or any time, a young mind looking at a cop career is music to recruiters' ears—rightly so, with all the guff which discouraged many from applying in recent years.
I bet that smiling young man has an ample supply of police stickers to cherish, perhaps until the real thing is pinned by his family. Maybe even storing his spool to repeat the process of handing out the icons to the next wave of future LEOs.
Same for this little guy whose deputy dad continues to batten down the hatches in hurricane-blasted Lee County, Florida. Class-A status right here…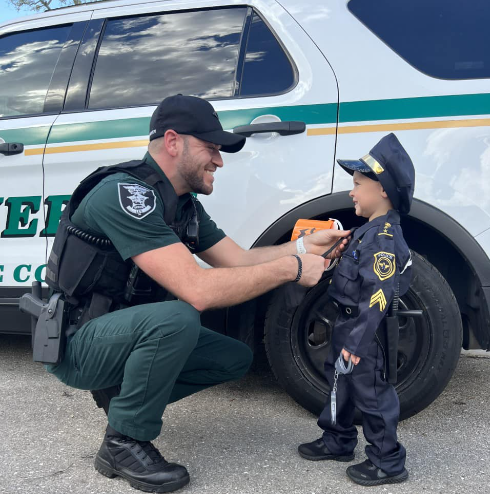 (Photo courtesy of the Lee County Sheriff's Office.)
You see, public safety agencies ensure they never run out of stickers representing badges in the jurisdiction, tagging everyone who has a mindset of helping others.
Our brothers and sisters in fire/rescue agencies distribute fire-centric stickers to youngsters. There may or may not be a bona fide firefighter who admires police work, admitting envy, so a slapstick police officer, maybe somewhere in the great state of Texas, tacked support to that closet cop's dream.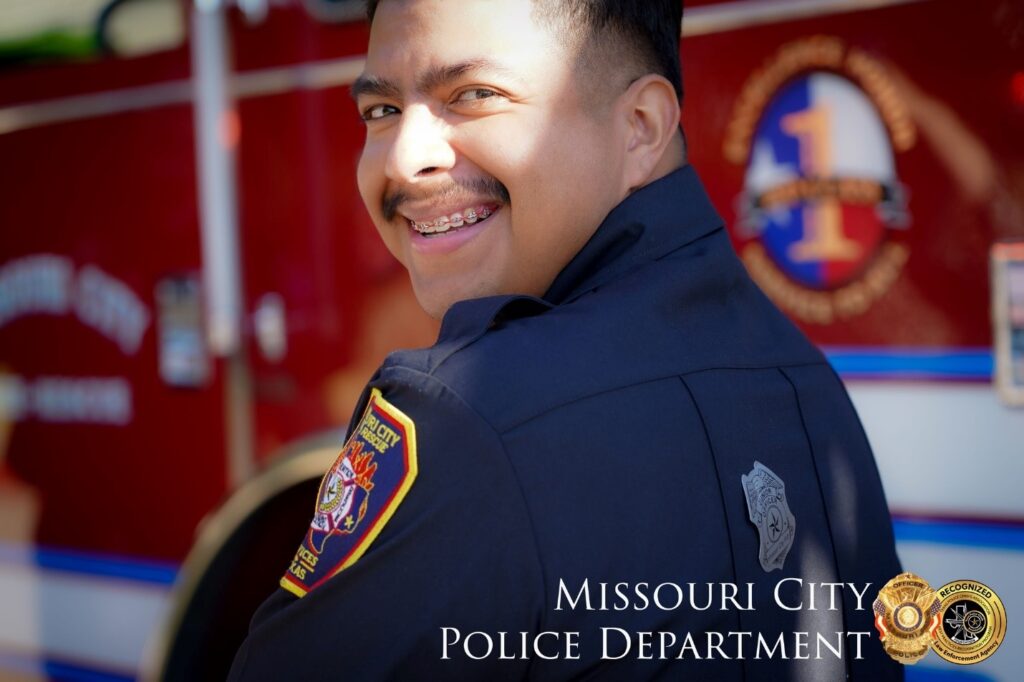 (Photo courtesy of the Missouri City Police Department.)
After viewing that picture of a firefighter tagged with a police badge sticker, the now-defunct Toys R Us jingle, "I'm a big kid now," echoes in my mind. Either way, a cop made more than one person's day, and one may not find out until they are back in quarters, wondering why everyone is asking if they are leaving to attend the police academy.
Generally, cops carry an array of trinkets to give out to kids. They are instrumental mood modifiers for children finding themselves on-scene of a criminal event or as an occupant in a traffic crash. Police officers and deputies and troopers recognize not only the inherent duty to investigate the motor vehicle wrinkle but also invest efforts in subduing emotional flux from such an impactful event, especially involving frightened children.
From local merchants and church groups recognizing the need and having the ability to fill that need, my department received donations of stuffed animals which, in turn, were heat-sealed in protective plastic wrap (packaged in the Evidence Processing section) and stored in trunks of police cruisers, each one earmarked for a child in need of comfort…for whatever reason. I always gifted a "stuffy" and a police sticker to youngsters. It dutifully distracted them from godawful matters… Every. Single. Time.
As alluded to above, we've noticed a growing sentiment of youngsters expressing their desires to be law enforcement officers, some donning replicated police outfits while hanging out with the brass at the Sunny Isles Beach Police Department.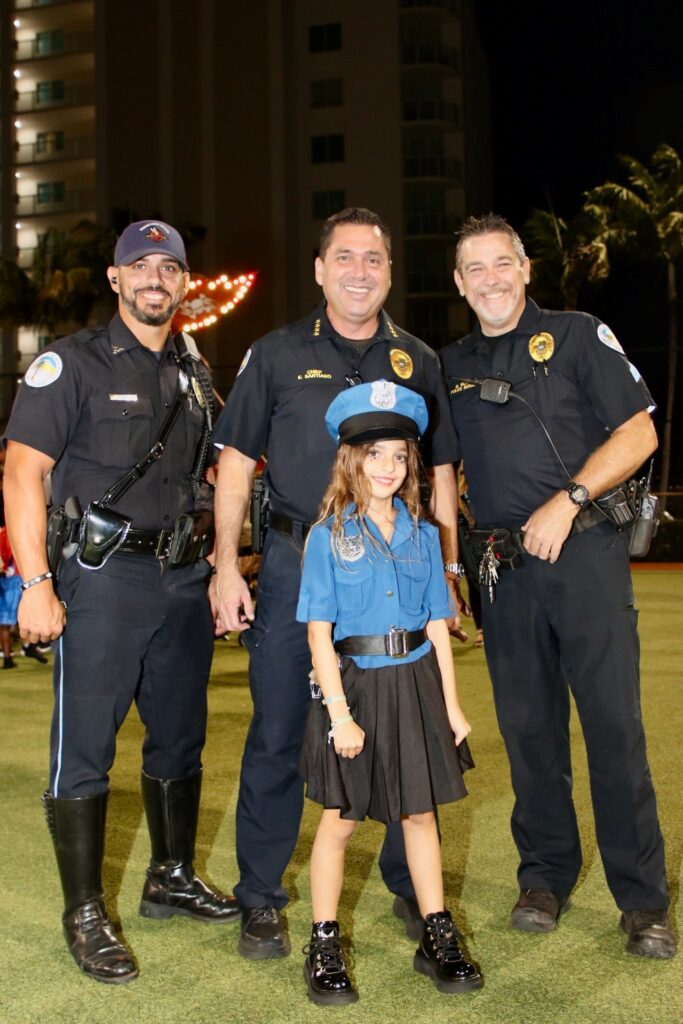 (Photo courtesy of the Sunny Isles Beach Police Department.)
In general, law enforcement officers serve as informal recruiters by handing out stickers (and other police-specific icons) to kids anywhere. All the time, not only on special occasions like Halloween.
Such interactions and acts of kindness are mutually uplifting: kids beam with glee and cops cherish the cause and effect.
In a recent Coffee with a Cop event, Fresno police Sergeant Sotelo had the cute company of a young girl who was enamored by the policeman donning an apron (cover photo above). Never mind the apron part…he had police-badge stickers, and she eyeballed that detail. Like the many great deeds by cops, Sergeant Sotelo obliged, made a child's day, and maybe sparked her public safety future as well.
Patch Me Through
Although trading official police shoulder patches is a tradition primarily maintained among certified cops and police retirees, occasionally, agency executives authorize a patch sale to raise funds for a certain feature or function (like giving away turkeys at Thanksgiving).
Like police stickers, the glee on kids' faces when they are gifted a bona fide police patch is priceless. Then again, the value may go far beyond the issuance, perhaps even kindling in any kid's mind the envisioning of becoming a law enforcement officer down the road, with threads already in hand.
Whenever I was in a position to issue a patch to one child (or an entire class of school-age children), I ordinarily seeded in the parents' or teachers' ears for the kids to try to relegate the patch at home, for safekeeping, as a gesture of honoring and cherishing something rather sacred. So, it became a gift from local law enforcement officers bonded by a pact to harbor it as a keepsake shrouding reminiscence of… that day a police officer trusted me to safeguard an icon symbolizing service to others.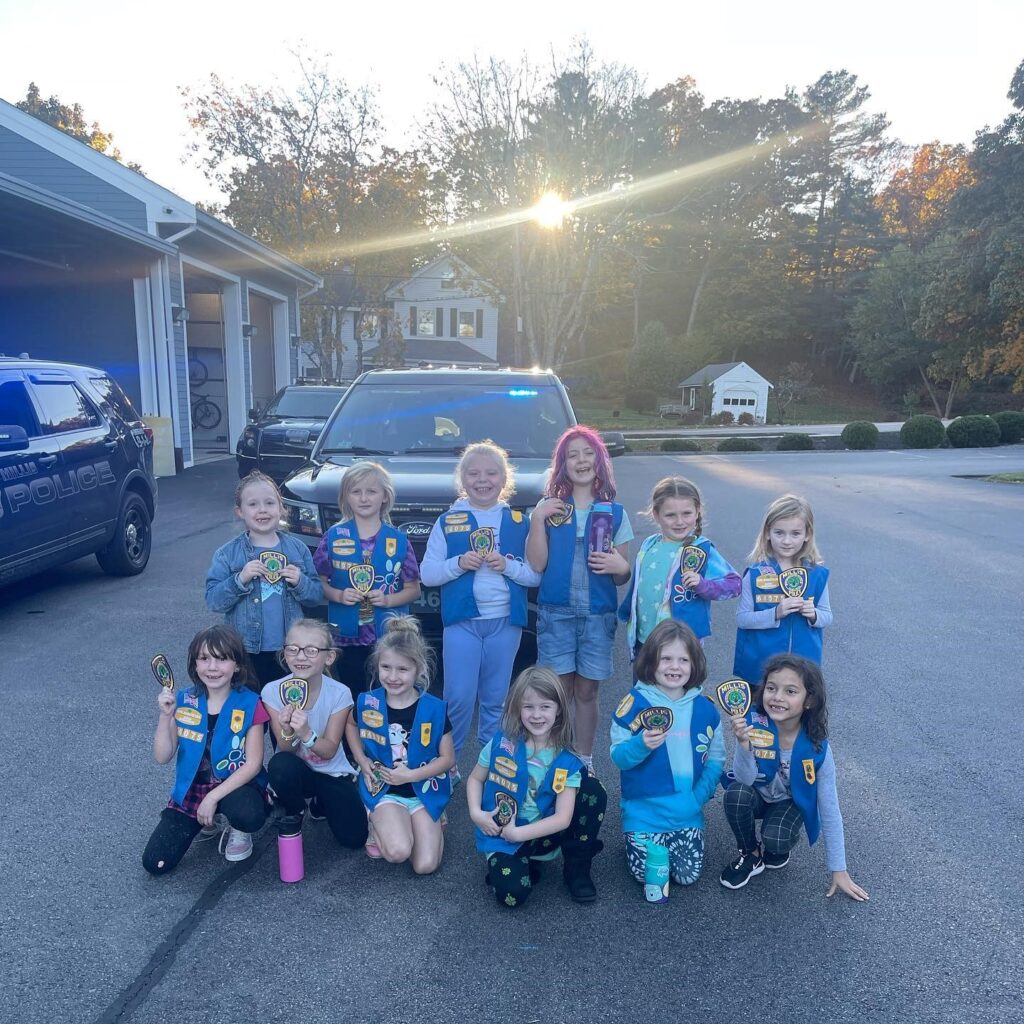 (Photo courtesy of the Millis Police Department.)
I mean, look at every one of those illuminated expressions. They'll never forget that moment on that day when a police officer (or a few) provided their logotype as a kind gesture, sealing a covenant of healthy human interactions.
The police administration at the Millis, Massachusetts, police department welcomed the batch of Girl Scouts who wished to tour police headquarters, the inner sanctums of case-solving cops, and all the crime-fighting apparatus. "Today we had a visit from the Millis Girl Scouts. We hope they had as much fun as we did!" As I said, these events are always mutually beneficial.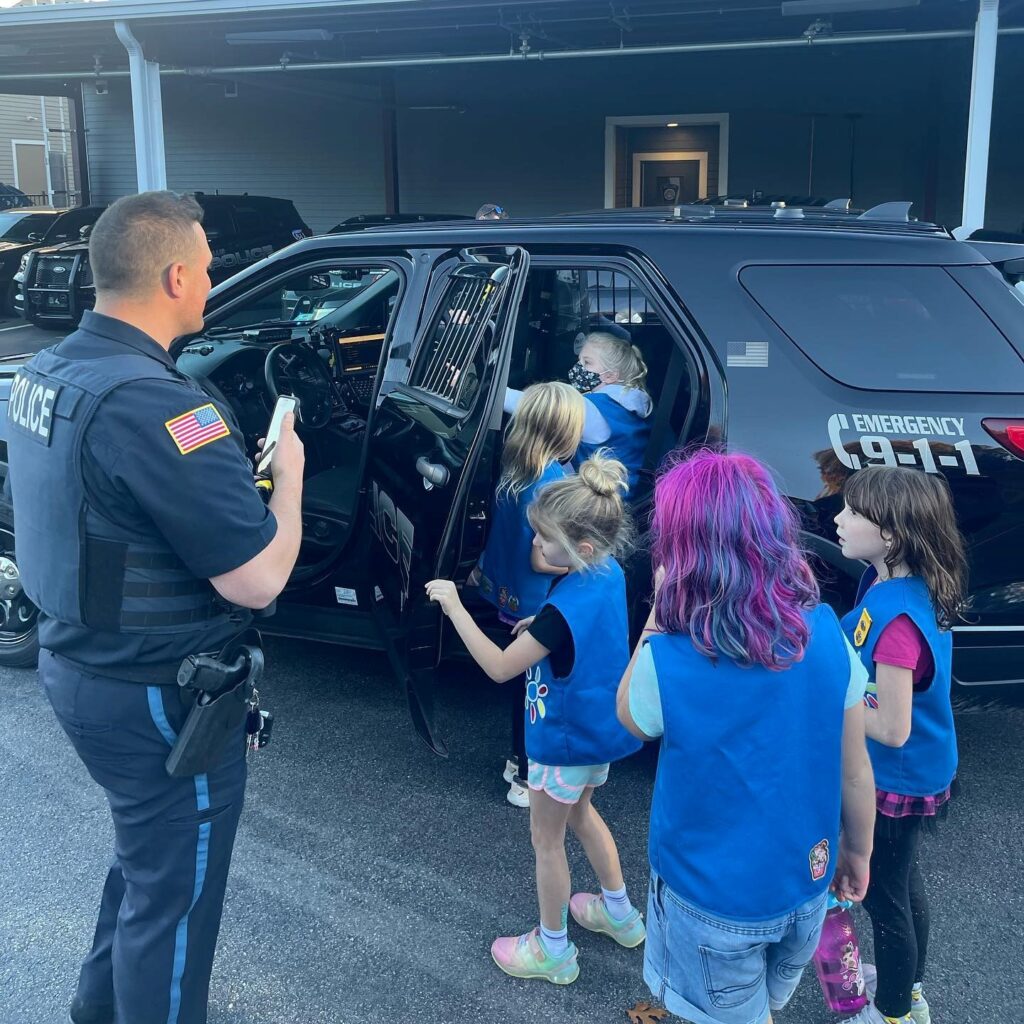 (Photo courtesy of the Millis Police Department.)
When I think back, I remember my childhood days as a Boy Scout and the array of patches sewn on my uniform, each one representing something earned, symbolizing a honed skill, or a good deed done on someone's behalf. So, it comes as no surprise that we see youngsters in uniform representing formal organizations such as Girl Scouts or Boy Scouts…as well as informally, donning costumed police uniforms, the tiny wearers seemingly admiring and respecting the presence of certified police officials.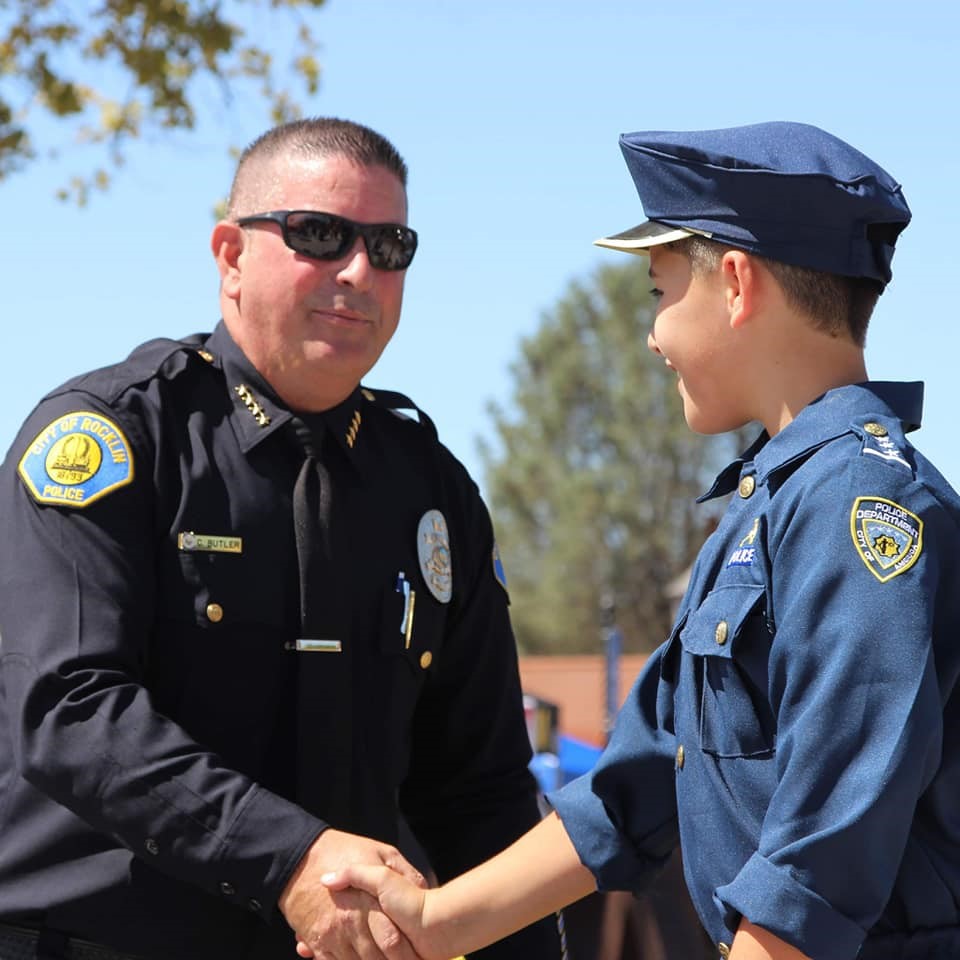 (Photo courtesy of the Rocklin Police Officers' Association.)
Maybe it's for Halloween. Maybe It's for real…some day in the future.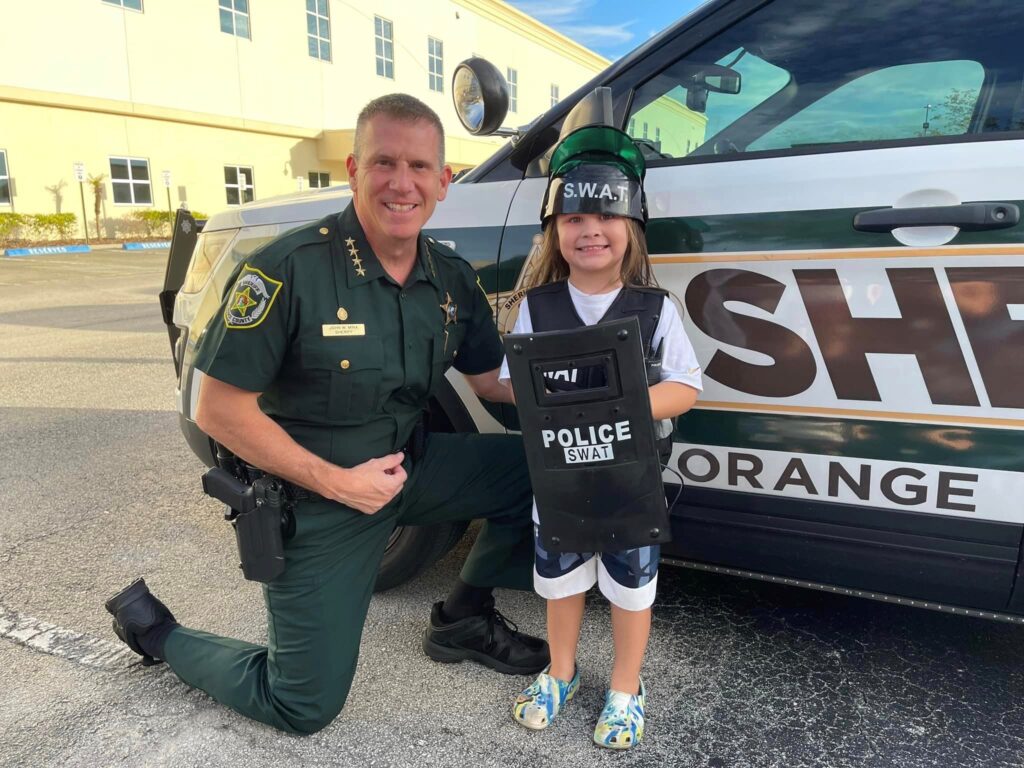 (Photo courtesy of the Orange County Sheriff's Office.)
In either case, kids love their cops as much as they love the police-badge stickers they sport around…envisioning authentic tin ones bestowed at a swearing-in ceremony some years down the road.
Given the season and the shortage of police officers nowadays, recruitment is amping up and law enforcement agencies meme business, kindling kids who just might fancy themselves as future cops:
I bet the tradition lasts and adherable law enforcement stickers are customarily divvied up among youngsters. With that, we end with this nugget from Paulo Coelho…
"The world is changed by your example, not by your opinion."
Seems it's safe to say plenty of youngsters are sticking to the future plan of becoming a cop.