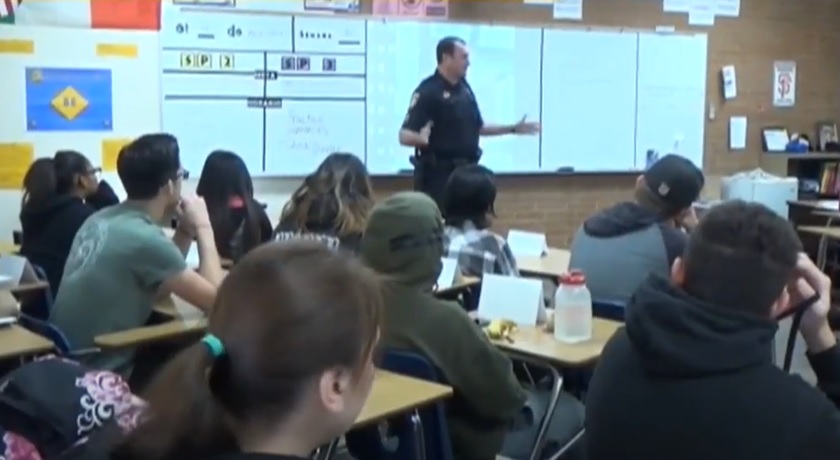 Lessons, lessons, lessons. Our planet is spinning at such a rapid clip. So much is going on. Some things are rounding the corners. Others are stagnant or obsolete. Many matters are unfortunate due to circumstances related to the pandemic and the dubious state of governance. In all of this, cops continue to step up, don many hats, and mitigate woes on behalf of everyone.
A worsening shortage of teachers is gnawing at the future of our children and academic conventions and concerns, calling for "emergency substitutes" in some school districts.
More studies are coming out, each explaining data-driven findings explaining significant physical and mental harms sustained by children, largely due to the shaken society and the school systems to which kiddos were so accustomed being severed from their everyday norms.
Vaccine mandates for first responders such as law enforcement officers were also visited upon teachers. Comparably, dictates regarding government stomping personal choice and rights to decide what is best for self has been endured by cops and educators.
Having said that, and with all due respect for our country's teachers, a staff deficit in the latter has segued to a stand-in by the former: Cops are entering classrooms and instructing youngsters in academic settings.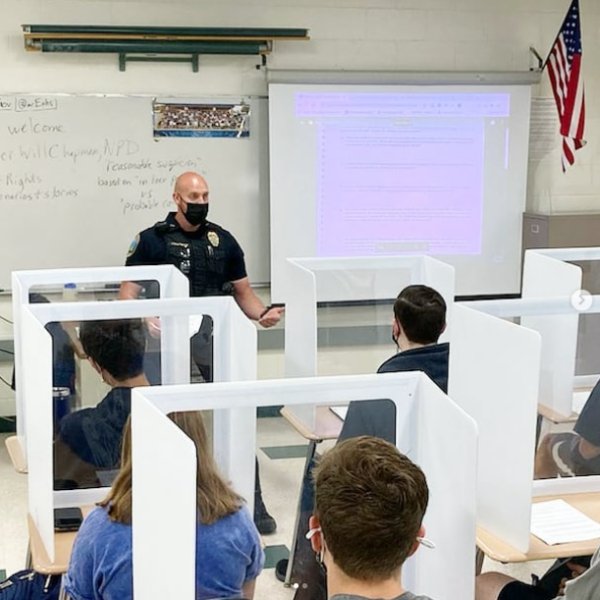 (Photo courtesy of Newtown Police School Resource Officers.)
Although this may be reported as a novel idea at a time when there is no time to waste, it has actually been a rudimentary duty for police personnel for quite some time. It is generally one realm among the many provisions of school resource officers (SROs). And to think some political factions boisterously demanded SROs be eliminated from educational settings. Tsk tsk tsk…
Indeed, it takes a village. And cops know this well, not only relating to the proverbial phrase and its meaning but also exhibiting what it looks like with qualified hearts, heads, and hands in the mix.
The Moore, Oklahoma school district recognizes the imperative and hugely helpful nature of selfless cops volunteering to stand in front of classrooms, take to the chalkboard, crack open books ripe with information, invest time, bond with young minds, forge rapport, and be a lifeline in undeniably tumultuous times. Children everywhere deserve everything we've got to offer, and cops respond to fill the voids.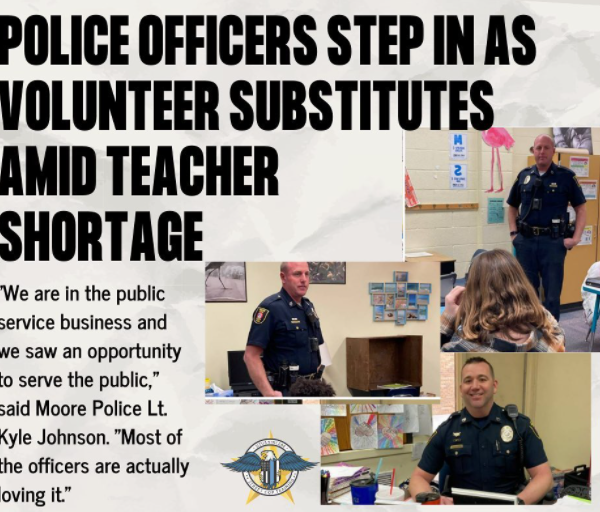 (Photo courtesy of Street Cop Training.)
Yet obstacles persist. Despite the greater good Moore, Oklahoma cops are doing for so many, some people remain stuck. Antithetical sentiments indicating anti-police hissers coiled up at the idea of cops subbing as teachers deprives youngsters of reasoned voices trying to allay FUD—fear, uncertainty, doubts. Seems naysayers are specifically uncomfortable with uniformed and armed cops in the classrooms.
In a statement to the media, Moore Public Schools officials offered gratitude and wisdom for narrow-minded thinkers, saying, "These officers are assigned to our school sites every day through safety partnerships we have with the Moore Police and Oklahoma City Police Departments," school officials wrote in a statement to KOCO 5. "Our students see and interact with their on-site School Resource Officers (SROs) while they attend school."
Cops in classrooms in any capacity goes way back. Wokeism and anti-police rubbish does nothing for forward momentum.
In my early years working a midnight-shift beat, one of our newest police officers assigned to my squad paid acute attention to subpoenas issued by the judicial circuit in which we operated/testified. Nothing new, nothing alarming, just one of the clerical duties of every LEO under the sun; court appearances are endemic in policing.
I knew this rookie officer and his wife recently gave birth to their first child. So, I figured he and his spouse were doing shifts to ensure caregiving duties; been in those circumstances several times, trying to "make it work" for my loved ones. So, I inquired. Not to dig into his business but to offer a collection of babysitter choices in which I had bona fide experience/contacts.
I was completely off the mark.
He shared how he and his wife had the caregiving structure down pat, save for a few occasions whereby hiccups arose (court dates mentioned above). Other than extremely grievous reasons, court doesn't offer flexibility to simply ease up or allow convenience to anyone listed in a criminal report affidavit, hinging to defendants' rights to speedy trials (including depositions recorded before anyone goes before the judicial bench).
Police agencies customarily have written policies delineating court-issued subpoenas and its officers meeting the standards. In hierarchical fashion, penalties ensued when an officer somehow didn't balance those matters conducted outside of regular duties and the 12-hour shifts. Subpoenas ordinarily arrived well in advance of the official date for which LEOs were requested to testify. (The first time I failed to honor a subpoena and missed traffic court, I heard about it from command staff. The first blow is usually a reprimand from the brass, followed by harsher measures—to include suspensions. I never recidivated after that oopsy.)
The cop in question shared that, besides regular duty days and court dates, he was also "teaching down at the elementary schools," balancing it all as best possible. As a "substitute teacher" (his official title back then), his professional life's priorities were street duty, attending court, and teaching grade school classes. As a rookie officer, he had yet to clear the probationary periods allowing him to work "extra duty details," such as providing security at churches and traffic control for bid-winning private contractors constructing sewage systems or repaving public streets and the like.
I remember him telling me that, although he specialized in teaching history, he filled in wherever he was needed, no matter the subject. The growing student population back then, coupled with teacher call-outs and whatever else caused absences of educators, enabled him a steady stream of additional income (to the point he was called by the school more often than not).
Essentially, his teaching gig supplemented his modest police salary. I was curious and interested also.
He offered how he had to complete a background check (even though he was a newly state-certified cop who just endured an extensive background vetting to be hired as a LEO), submitted college transcripts/degree status, and a list of subject matter he preferred to teach.
Although I opted a different route (time was relegated to coparenting an intensely autistic child), a batch of other police cohorts signed up and took to the chalkboard on many school days, bright and early in the morning. Some of these multi-hat-wearing cops did show up in police-blue uniform wrapped by a duty belt, since they got off street duty at 07:00 a.m. and drove take-home police cruisers to the schools for teaching roles. With cop cars parked out front, schools had sub teachers and visible deterrents (cruisers) all in one.
Wanting to partake in the cops teaching mission nagged at me, so I signed up with varying teachers whose classes welcomed me as a book-reading policeman who floated from class to class, engaging young students in story-time.
Like any profession oriented to the lifesaving mission, first responders are adept at stepping up and filling the void. As a police colonel who taught my academy class always declared back in the day, "If you see a need and can fill that need, do it!"
Moore police officers saw a need and stepped in to help, saying, "Moore PD is a proud community partner of Moore Public Schools. This week, several on-duty officers are serving in the classroom as schools continue to face teacher and staff shortages. Today, Officers Stromski and Lewis covered 6th grade classes at Apple Creek Elementary. Additional officers are serving Houchin and Broadmoore [schools]. We are thankful to be able to assist our community during these difficult times."
With the reported hubbub from some naysayers in the Moore school system upset about cops volunteering to fulfill vacant teacher positions, I suggest those same folks watch the adoration and respect kids have for cops in regalia. That alone is a lesson for both children and police personnel engaged in mutually benefitting activities.
Heck, some children even dress up as police look-alikes.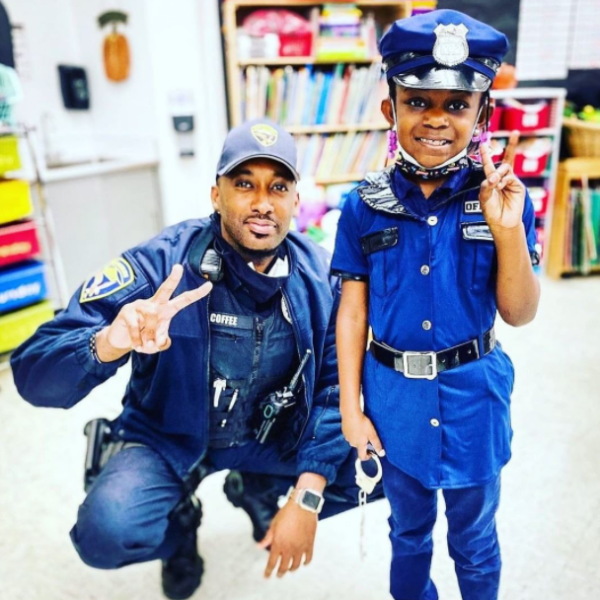 (Photo courtesy of Police Fitness Nutrition.)
No mistaking how kids love their cops. Undeniable how cops go above and beyond for kids, each with constructive expressions in peaceful atmospheres exuding growth while pursuing life, liberty, and happiness.
Ever muse how many youngsters matured and eventually became a law enforcement officer, especially after influencers in police uniforms stood at the front of the class and spawned growth by watering seeds with wisdom? Pretty fascinating beginnings. From my experience, kids hatching interest in becoming police explorers ordinarily starts with cops on campuses, making connections, providing information, motivating minds to give back to communities.
In terms of cops substituting as teachers, the historical pattern persists. Nowadays, with the significant shortage of teachers due to varying reasons, cops step up and pay it forward for youngsters who take a seat and open their minds to the flow of information. Forming friendships is a built-in bonus. As an article posted on the National Association of School Resource Officers (NASRO) site expounded, "It's all about relationships."
As Newtown, Connecticut police Officer Chapman wrote, "I love my students, and I am thankful that my children get to grow up in the world [we] are building," together.