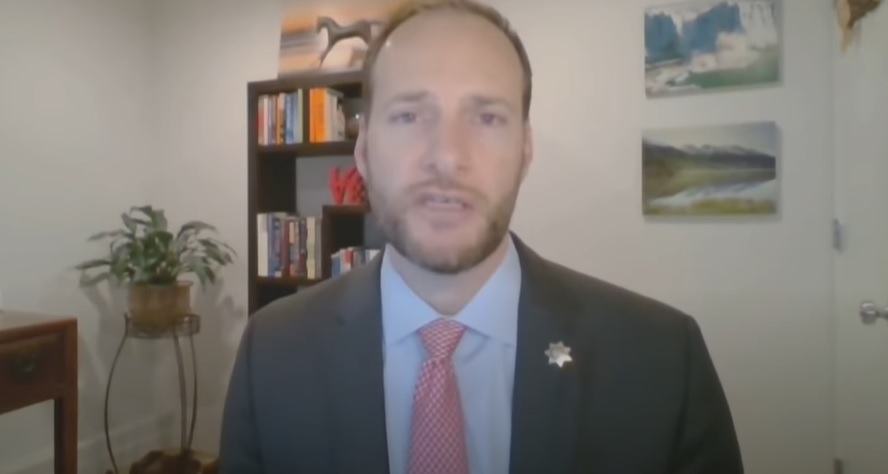 By Steve Pomper
When will this abomination stop? When voters stop voting these criminal justice system saboteurs into office. Once again, Chesa Boudin, the San Francisco DA, has charged police officers with crimes for apparently doing their jobs back in 2019.
Here's the nutshell version: A witness calls 911 to report a man assaulting a woman, grabbing her, and dragging her by her neck. She describes the suspect for police. She also reports a friend is videorecording the incident with her phone.
The officers arrive, and they locate a suspect who matches the witness' distinctive description. He's not assaulting her at the time, but he reportedly resists arrest. Officers use necessary force, including baton strikes to his legs, to take him into custody. The suspect is taken to the hospital for injuries he's sustained while allegedly resisting arrest.
But rather than investigating and charging the suspect for the alleged DV assault and resisting arrest, the DA investigated and charged the officers for "assaulting" the suspect.
Just to show what officers are up against in San Francisco with a DA more likely to charge them with a crime than charge those they arrest, consider his choice of words. Remember, he's the person ostensibly responsible for working with the police to fight crime in the city.
As if reading from a radical leftist playbook, the late Venezuelan Dictator Hugo Chavez' former "trusted propagandist," Boudin said, "This case is an example of an officer unnecessarily escalating a situation and then violently beating a Black man whom he had no legal basis to even arrest."
Boudin and other cop-critics keep emphasizing the officers (as viewed in the chaotic video footage) didn't see him beating the alleged victim at the time of arrival. That's not unusual. It's strange, I know, but suspects often stop committing crimes when they see cops coming.
Officers must also take action based on witness 911 reports. Could the witness be lying? Of course, but officers cannot assume that going in, and there's nothing to show that happened in this case.
In the 911 recording, the witness reported, "She got away, and he came behind her and said… 'I got you now.' He grabbed her by the waist and dragged her the other way." In the recording, the police radio traffic sounds normal. Body worn cameras weren't very useful, dark and chaotic. However, an officer keeps repeating "hands behind your back," which is a thing cops say to suspects who are not putting their hands behind their backs.
In the video, the officers appear to be approaching the suspect normally, and it's not unusual for officers to go "hands-on" with a DV suspect to gain immediate control of a potentially violent person, so they can conduct the investigation safely. It does not help the suspect's case if he resists the officers, who then must escalate their force to overcome the resistance.
This brings us to the suspect, 31-year-old Dacari Spiers, who has filed a civil rights lawsuit against the officers. According to the San Francisco Examiner, SFPD officers responded to a witness' report of a "strangulation" in progress when Spiers "violently attacked the officers" who were attempting to apprehend him.
However, Spiers is accusing the officers of attacking and beating him with their batons "mercilessly" for no reason other than his race. Spiers says he was in a "loving embrace" with his girlfriend, leaning against a car "when at least two officers grabbed him from behind and began to strike him…." Hey, even if you're not a cop, you just chuckled at "loving embrace," right?
The San Fran Examiner said Spiers is a musician "and former gig worker who is black…" also, for some non-journalistic reason, emphasizing his race. Having read several reports on this story from both sides of the incident, there is zero evidence race played any part in this situation.
The officers' attorney, Nicole Pifari, tells a very different story. A story that rings so much truer and matches the witness' initial reporting.
Pifari said, "Unless it is Mr. Spiers's practice to 'comfort' his girlfriend by putting his hands around her neck, I am confident these officers will be exonerated," Pifari said. "The officers may even be congratulated for interrupting a dangerous domestic violence incident."
Reportedly, police arrested Spiers for resisting arrest. Although, the DA says Spiers has not been charged with a crime directly related to the alleged DV assault. If I recall the workings of the criminal justice system correctly, the DA files charges. But with DAs such as Boudin, not charging criminals is nothing new.
In another report at SFist.com, Pifari addressed Boudin's apparent accusations the incident was racially biased. Pifari said, "The evidence shows she [the witness] is a Black [sic] woman. Everyone in San Francisco should be concerned the DA can't get his facts straight and is attempting to frame an innocent officer who was doing what society asks of him — protect the public."
San Francisco Police Officers Association President Tony Montoya said, "The District Attorney is doing all he can to try this case in the public and not the courtroom and he's withholding all of the facts while doing so. Boudin is more interested in headline chasing than administering justice in a fair and impartial manner."
The lawsuit reads like fiction. The Examiner reports, "In the lawsuit, attorneys for Spiers allege that police fabricated the 'story about domestic violence' as part of a campaign to silence Spiers and cover up the incident.
"The lawsuit alleges police obtained an emergency protective order against Spiers to keep his girlfriend out of the hospital [courts do this to protect DV victims].
"Five officers then allegedly went into his hospital room and 'attempted to threaten [Spiers] to remain silent' and not seek 'legal representation for the beating.'" Right. That happened.
The alleged DV incident occurred at a Fleet Week event, one of the city's major annual events. Why would two police officers walk up to a man supposedly peacefully hugging his girlfriend and just start beating him? Because he's black? Well, it does fit Boudin's preferred narrative.
This humorous quip someone told to me recently is also strangely poignant because it seems so true. "Any city with a progressive prosecutor should be appointed a guardian ad litem to protect its interests."
This observation points out how the voters have sadly shown themselves to be vulnerable to abuse by electing a Trojan Horse DA who so obviously doesn't have their best interests at heart.
Instead, critics assert Boudin routinely fails to prosecute even violent criminals who prey on San Franciscans but seems eager to prosecute police officers who protect them. This is illustrated by this following SFist.com observation.
"The charges against [the officer] mark the third high-profile case being brought by Boudin's office in the last three weeks [during 2020] against SFPD officers." Charges against various officers include manslaughter and other "unspecified charges," related to officer-involved shootings.
Here's another example of Boudin's disrespect for his office. It's pathetic that, according to NBC Bay Area, San Francisco Supervisor Catherine Stefani has accused Boudin's "office of 'incompetence' for failing to prosecute 86 percent of felony domestic violence arrests in the final quarter of 2020." Strange. The incident discussed herein also involved an alleged domestic violence.
In this case, despite the very specific evidence provided by the reporting witness, which obviously screamed out for further investigation, Boudin has not charged the DV suspect. He's only charged cops. Further, NBC also reported, "lawmakers" felt it necessary to propose a "law that would mandate new crime data reporting…" because they obviously cannot trust Boudin to report his "work" accurately.