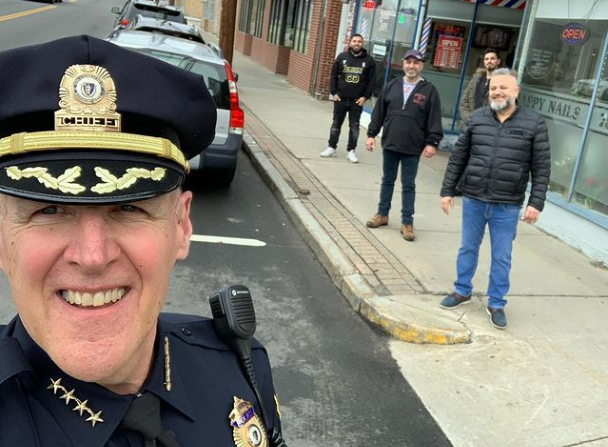 You might think it is not too often that you see the police chief on the beat, but it does occur, even on midnight shifts. As one might expect, it does a world of good for patrol officers seeing their CEO of cops taking calls and clicking cuffs on bad actors.
What chiefs on police beats uniquely offers is a bona fide set of experiences from which they can convey to the city council at monthly meetings, articulating from personal experience the true grit of what is transpiring in their jurisdiction, revelations to paint pictures to go with the statistical data aggregated by all frontline cops heeding calls for service.
Shields in the Fields
When I was a rookie officer many years ago, I was informed our foremost police executive, "the chief," would likely show up on some of my calls, providing backup, even on the graveyard shift.
My police chief at that time would honor his ritual of working on each squad during both day and night shifts. He took calls (despite patrol officers who tried to "jump it" and take the incident on his behalf). He showed up on others' calls. He conducted traffic stops. He issued tickets. He did his investigation…and didn't just hand off what he started.
Heck, if he initiated something and it wound up with a vehicle impound, he completed his inventory of the suspect vehicle and itemized it all on an Impound Sheet. Talk about a cop's cop!
Similarly, beat cops seeing the chief among the squads of officers undergoing state-mandated recertifications (firearms qualifications, EVOC training, Taser drills, etc.) was another venture chock full of camaraderie, symbolic of everyone fighting the good fight and training together to ensure everyone goes home at shift's end. It sure goes a long way when the cops working the trenches see the brass alongside, meeting the same muster, all together.
(Police chief and officers in active-shooter training. Photo courtesy of the Norwood, MA, police department.)
Want to ensure morale is even-keeled? Wish to altruistically embrace cops doing a dirty job, taking down dastardly individuals? Go out there and get your hands dirty.
Moreover, when budget talks were on the table, and police chiefs backed by command staff were in front of a podium mic —breaking down what resources are necessary to beef-up law enforcement officers and strengthen their public safety resolve— personal accounts bolstered funding petitions. Talking from experience goes a looong way.
And it was made even easier when elected officials had their first-hand observations to rely on…
Our municipality had a tradition of encouraging newly elected council members to ride along with any of our Patrol Division officers. This allowed them to easily comprehend the practical applications regarding what police department figureheads were requesting during city council meetings, providing a relative depth of practical experiences to accompany the spreadsheets accounting for the asks.
Disclaimer: Our city manager (possessing more authority than the mayor) was a retired firefighter, knowing full well what public safety officials endure and how resource allocations were paramount.
Some police chiefs may have a lock on everything we just praised—they are either one-officer law enforcement agencies or presiding over only a few sworn cops in locales whose budgets are lean enough to require the all-hands-on-deck approach. So, some police chiefs work beats by choice, some by circumstance.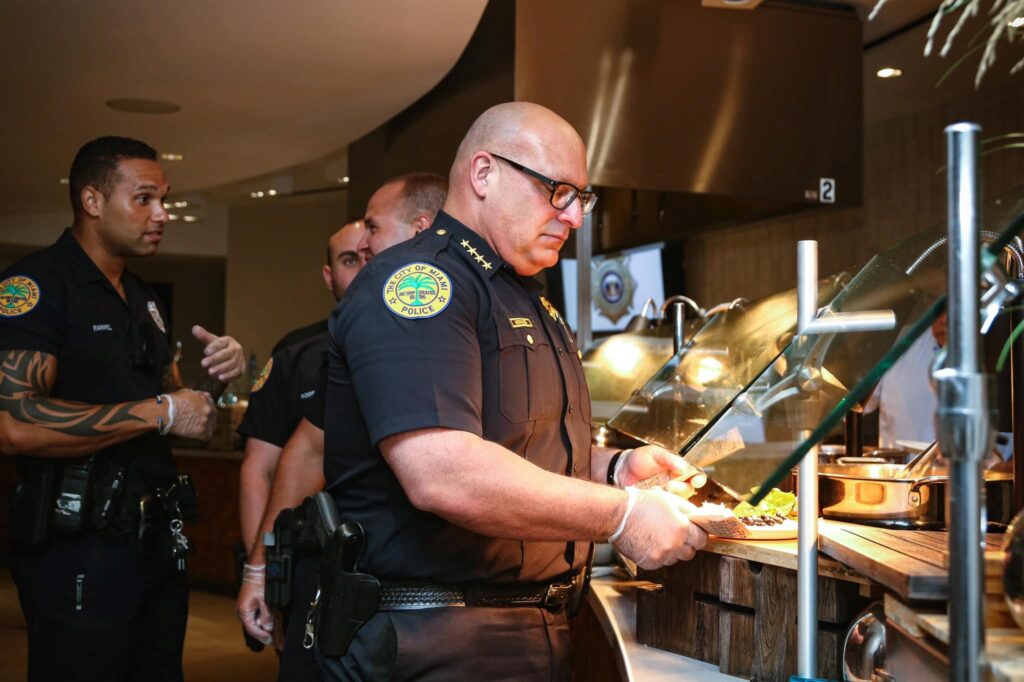 (Miami police chief breaks bread with a Patrol squad. Photo courtesy of the Miami Police Department.)
In either case, chiefs vacate office seats and occupy city beats for members of the public to exchange information and extend accolades for the department's dutiful endeavors to protect and preserve the environs and its inhabitants.
For some police chiefs, walking the beat never went away after they climbed the police administration ladder.
In Norwood, Massachusetts, police Chief William G. Brooks III has an idyllic example of today's topic. From patrolman all the way up to chief of police rank, Mr. Brooks professes he has been an avid runner throughout his life, so for him, walking the beat every single day is no biggie, it is a ritual.
Via his Instagram page —which is chock full of foot-post patrols by this old-school copper— Chief Brooks shared one poignant relationship developed by walking the beat:
"Ruan Pablo is from Brazil. He speaks 3 languages, gets good grades in school, and wants to be a cop when he grows up. I'm going to help him with that," Chief Brooks declared.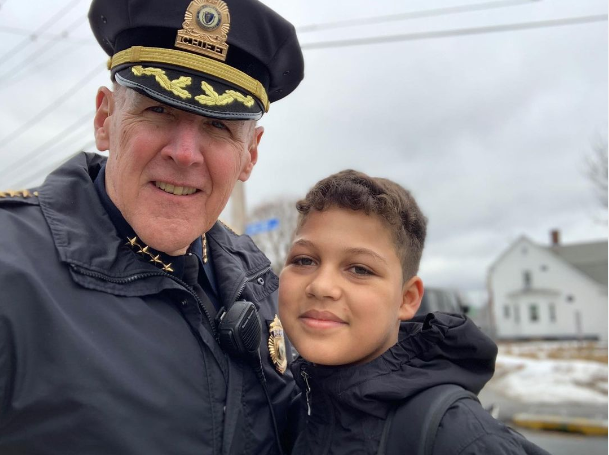 Young Ruan's mom replied with gratitude for the beat-walking chief who keeps tabs on the community and everyone in it:
"Thank you so much for caring for my son. He was very happy to have met you and the experience at your police barracks. Thank you for everything. God bless you always and the wonderful work you do."
Had Chief Brooks not been walking the beat, that may have been a missed opportunity for several people, especially a youngster with eyes for law enforcement.
Stars and Street Smarts
Where I reside, the current county sheriff does the same thing as police chiefs (described above). In full uniform donned by the gold "Sheriff" star, the top cop on the county level conducts traffic stops, sleuths evildoing, and gets down on the ground to effect arrests.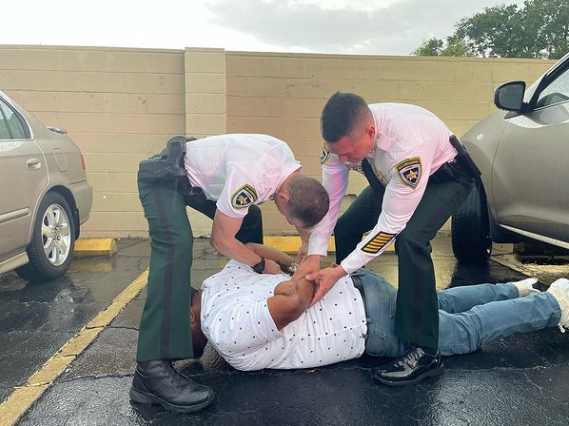 (Sheriff Chad Chronister and one of his deputies affecting an arrest. Photo courtesy of the Hillsborough County Sheriff's Office.)
Our county sheriff is highly noted for being out in the field, serving alongside his deputies, while also managing to rudder the law enforcement mission without sacrificing equilibrium. I often wonder about his phenom circadian rhythms; he attends just about every function, no matter the time of day. Media and their mics? Professionally, he conveys answers to questions while also relegating inherently confidential information, a necessity to uphold integrity in investigations and honor his detectives' meticulous work toward the victims they embrace.
I say this, with emphasis on the sheriff having ample command staff subordinate to him, each just as able to handle the task(s), but he opts to be the front man in the band of LEOs, always extending them absolute credit for performing dangerous duties on behalf of countless citizens who rely on stellar leadership. In that context, it's never a one-man show.
Sheriff Chronister's chief deputy (the number two spot among thousands of sworn staff) also gets out there and works directly with citizens. Chief Deputy Donna Lusczynski was a hit among youngsters when she showed up in class-A uniform, seemingly stirring the policewoman mindset of one young girl admiring the official sheriff's office necktie, while others appreciated her company.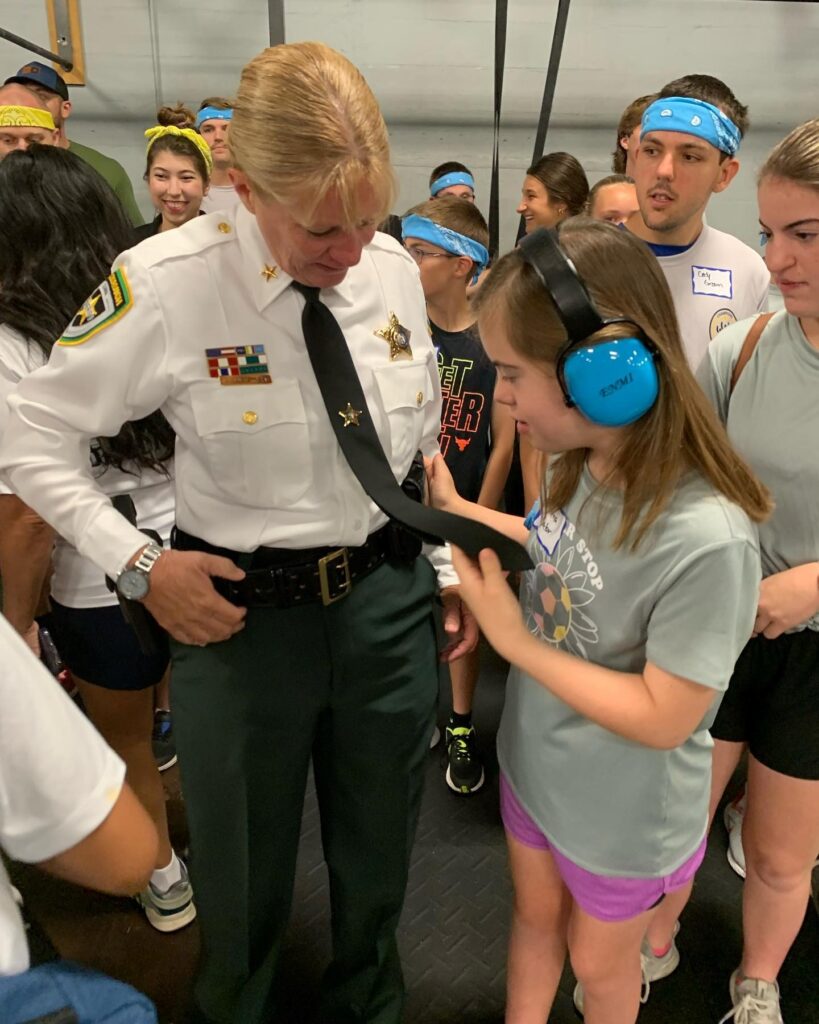 (Chief Deputy Donna Lusczynski participates in an event for youth. Photo courtesy of the Hillsborough County Sheriff's Office.)
The law enforcement executives mentioned herein, and others just like them, are not necessarily descendants of General George Patton, but they do reflect the military maven's brand of leading from the front. That goes a long way among the frontline law enforcers who, despite being increasingly beleaguered through recency, are duly reassured by their top cops rubbing elbows and doing the job.