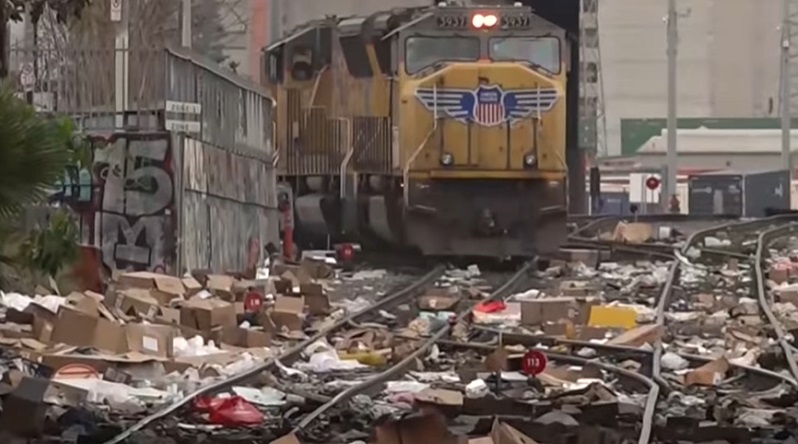 Enduring the supply chain clot and the inert status of 100s of humongous ships bloated with merchandise destined for American consumers has been exacerbated by rashes of thievery of goods which made it through and loaded onto railcars in California.
Recent reports of the ongoing issue portrayed scenes resembling an apocalypse, with smashed boxes covering almost every inch of railyards. The looters having a literal field day and picking frenzy of brand-new products is surreal.
Many of the thefts are believed to be the sticky hands work of drug addicts sifting for the most readily useable goods which they can use to barter for narcotics. Merchandise deemed not exactly good fare for trade is left behind. In the aggregate, the discarded goods amount to whopping losses for the corporations expecting inventory from afar, with the consumer ultimately paying increased prices to sustain the companies' losses.
If all this sounds way too easy for looters raiding the train yards, be mindful of the soft-on-crime district attorneys office (DAO) in Los Angeles, and the port being in their jurisdiction. The DAO's perennial prosecution negligence is hard to miss, with grotesque criminal activities seemingly aided and abetted by district attorneys whose actions (inactions) betray the oath they took.
It comes as no surprise that Los Angeles County's top cop, Sheriff Alex Villanueva, indicated no confidence in the DA when he circumvented the county prosecutor's office. Instead, Sheriff Villanueva, understandably frustrated by the do-nothing DA, petitioned the US Attorney's Office to federally prosecute a case involving a slain Los Angeles police officer.
Returning to the facts on the tracks, various law enforcement agencies have partnered to thwart the rash of railcar burglaries. Just like the San Francisco shoplifting bonanza broadcast via national headlines, leading to shoplifter task forces, the railyard thefts now have increased police presence comprised of several different law enforcement agencies.
Given the increased costs due to theft being generally passed on to consumers, this merits recognition whereby a few local police entities are effectively striving for just about every citizen, namely the law-abiding ones, even during hard-pressed times due to the defunding blitz and staffing shortages.
A press release disseminated Monday stated that the "Los Angeles County Sheriff's Department major crimes bureau detectives in conjunction with Union Pacific Railroad Police have been investigating and attempting to deter theft at the commerce railyard in the City of Commerce. Detectives from both agencies have been participating in meetings with LAPD Hollenbeck station and their captain to better understand the problem and work together in reducing theft."
Much of the problem lies in the DA's office either unloosing or not pursuing criminal cases altogether. Had prosecutors done what they swore to do, we'd be discussing something entirely different, something resembling justice served.
Although an ugly situation, it brings to the fore that commercial railway transportation corporations have their own police forces responsible for an arterial-like jurisdiction spanning the nation, and they also rely on the respective jurisdiction's DA doing his/her job. Per the BNSF Police Department, generally, "Railroad police are provided police authority from state and local governments and are authorized interstate authority by the federal government." The Federal Register outlines jurisdictional authority of America's railroad police officers.
Union Pacific, CSX, BNSF Railway, Amtrak and the like, operate year-round cop shops whose LEOs are more commonly referred to as "special agents."
For those anti-police voices who may be expecting packages of merchandise via Amazon and UPS and FedEx, stumped and irate over being disappointed due to the nation's current supply chain woes, police officers are standing up for you too, despite scaled-back resources and a DA handing out free passes to already-proven criminals.
Los Angeles Sheriff Villanueva noted that in one year alone, roughly 12,000 criminal cases were declined by the prosecutor's office. The equilibrium in the "city of angels" criminal justice system is definitely off.
One of the railroad transportation companies affected by this craziness is Union Pacific. Conveying info directly supplied by Union Pacific Railroad police officers, UP spokesperson Lupe Valdez paints a candid picture regarding the burgeoned problem, its enormous losses/costs, and how "insane" it is that the Los Angeles DA plays a no-show role in this ordeal, leaving millions of consumers longing for parcels and justice:
Footage of Los Angeles railyard burglaries having been receiving ample airtime lately. It continues, to include some arrests. Now, reports of train derailments, potentially due to the debris field created by thieving hands, are starting to hit the wire.
In a Yahoo!Finance article, Dani Romero wrote, "Piles of looted packages littering Los Angeles' [railroad] tracks have become a testament to brazen train robberies, but according to Union Pacific Corp., the problem is under control."
That may be the assessment now, a relative contrast in appearance, after being exposed to third-world-country-looking debris fields of smashed product boxes strewn as far as the eye can see, freight trains coursing through it all. Public health concerns come to mind.
The still festering supply chain woes involving 100s of massive cargo ships from all corners of the globe are buoyed off the Port of Los Angeles coastline, waiting for passage, docking, and unloading. Far from a festive sandbar collective of party boats, the hulking ships moored in the bay and awaiting their turn to lighten up, have been monitored, aided, and escorted by the Los Angeles Port Police Department, a law enforcement entity entirely separate from the LAPD and railway corporation police agencies.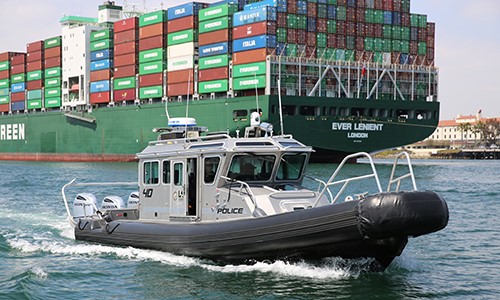 (Photo courtesy of the Los Angeles Port Police.)
After attending a class on commerce, discussion groups engaged in discourse having to do with responsibility and customer service and liabilities and insurance claims (recoup losses) and a bevy of extenuating circumstances. The one stand-out thing, though, is the climate in which these travesties are allowed to give birth and fester: Soft-on-crime conditions and anti-police miasma, both stinking up the place, shortchanging people at Christmas time, and impacts of exorbitant prices on consumables…during inflation challenges.
Union Pacific General Director of Public Affairs Adrian Guerrero blasted the Los Angeles DA's soft-handedness regarding criminality and liberated recidivists returning to the streets, stealing at will with little to zero ramification.
"These individuals are generally caught and released back onto the streets in less than twenty-four hours. Even with all the arrests made, the no-cash bail policy and extended timeframe for suspects to appear in court is causing re-victimization to UP by these same criminals. In fact, criminals boast to [Union Pacific police] officers that charges will be pled down to simple trespassing—which bears no serious consequence."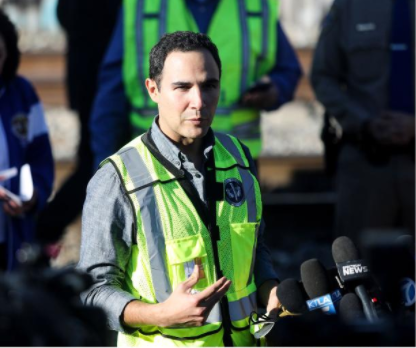 (UP General Director of Public Affairs Adrian Guerrero. Photo courtesy of the Union Pacific Railroad.)
Per a Washington Examiner report, District Attorney George Gascón's office replied: "Some cases presented to our office by Union Pacific have been filed, such as burglary and grand theft, while others have been declined due to insufficient evidence. Our office takes Union Pacific's concerns seriously and hopes to discuss the issue more in the coming weeks."
Implicitly, any discussions between any parties and the Los Angeles DA's office ought to primarily entail jailing bona fide criminals so as to thwart recidivism; that's definitely one way to preclude subsequent cases and not have to levy prosecution viability based on existence of evidence or lack thereof.
How deeply does the LA DA care for the criminal elements? Dated December 2020, a Directive to "All  Deputy District Attorneys" working for Mr. Gascón —a former police officer— outlined language indicative of justice scales favoring bad actors, referencing "policy" to "reimagine public safety and best serve the interests of justice and community well-being."
Reimagining public safety while witnessing this string of off-the-rails looting with free-for-all implications is one crack in the criminal justice walls in Cali. 100 arrests by railroad company cops over three months, and not even one cop called to testify in court?
A passage from a Union Pacific Railroad communique expressing company efforts to mitigate the matter while also throwing shade at DA Gascon went as follows: "In response to these thefts, Union Pacific increased the number of special agents, drones, specialized fencing and trespass detection systems. Thursday's cleanup effort signaled the support Union Pacific is receiving from its community partners to continue to invest the necessary resources to move forward."
Incidentally, an expected face showed up for the planned cleanup efforts on Thursday. Just like DA Gascon facing a recall, Cali Governor Gavin Newsom, who was also in the reticle of politico recall proponents, was hauling the detritus left upon railyard tracks. Saving face? Tapping Gascon on the shoulder would be a well-appreciated effort also.
As Zachary Faria wrote, Gascon's "term is a failure, and residents of Los Angeles should reevaluate their criminal justice priorities the next time he [or anyone just like him] is on the ballot."
Between the police defunders/abolitionists whittling away at enforcers of law, and the prosecutors allowing kleptomaniacs and miscreants to simply towel off and walk away, this is the result…one LEOs all over telegraphed with certainty.