In the miasma generated by the anti-this or anti-that mouthpieces, America's law enforcement community is smack dab in the middle of mayhem. The Officer Down Memorial Page is getting laden with official reports of casualties and the oft-violent catalysts involved in deaths of police officers.
In all this, cops continue to step forward and hold each other up.
One of the latest murders of a police officer amassed an incredible outpouring from the citizenry and LEOs alike, the latter exhibiting bonds among blue brothers and sisters.
(Photo courtesy of the NYC Police Benevolent Association.)
The mass gathering took place in the heart of the Big Apple, doors away from Rockefeller Center and the everyday bustle where, if one were to pay acute attention, major movie stars and celebrities can be seen walking about (some incognito, others openly mingling).
When I first came upon the cover photo above, depicting the police funeral hosted/posted by the NYPD, it reminded me of the annual thought-provoking photos of major publications such as National Geographic or something similar. The kind of imagery which conveys much meaning—no actual words are even necessary.
The images of cops dressed in class-A uniforms, standing in a close assemblage of tens of thousands of police professionals, braving chilly winds and slick streets indicating early signs of an approaching blizzard, populated law enforcement forums and news sites. Very moving scenes…extremely befitting a police hero.
Recorded aerially from a skyscraper's loftiness, a particularly riveting piece of footage portrayed a hearse containing slain NYC police Officer Jason Rivera (posthumously promoted to detective first grade), a cadenced escort beside both flanks of the black vehicle traversing 5th Avenue, on its way to world-renowned St. Patricks' Cathedral.
(Photo courtesy of the New York City Police Benevolent Association.)  
Watching it carefully, you'll notice the slo-mo wave of white-gloved hands synchronizing, like choreographed saluting, right as the hearse passes their stance on the street. (They remained in salutary stance for quite some time, given the solemn pace.) Officer Rivera's family, in the vehicle behind the hearse, witnessed that respect and honor for their fallen loved one. That got my gullet moving.
Talk about indelible scenes and experiences in life…and in death.
Those cottony white gloves generally come out of closet or locker storage when another line-of-duty death (LODD) hits the wire.
(Photo courtesy of the New York City Police Department.)
Those white gloves convey the spectrum of highs and lows, the polarity among cops who don them for gleeful moments pursuant to academy graduations as well as sorrowful sendoffs of comrades felled while doing the job.
The black elasticized mourning bands midway across shields and stars always accompany the stark symbolism of the black hearse strolling to cemetery grounds, where Honor Guard contingents posture perfectly, their cadence so synchronistic. Despite the somber purpose, Honor Guard cadres exhibit dividends of chronic training, all in the name of ultimate honor for the fallen.
How much more can our nation's law enforcement community endure? When do we plant a heavy boot against the southside of contrarian lawmakers and judges and prosecutors and politicians openly contributing to the morass? I'm certain many more questions could fit the bill, beckoning changes to things such as the political winds blowing through elected office, the chosen occupiers incontrovertibly foisting more antithetical notions, each factoring into the heavy toll on public safety officials plowing toward perils without buckling.
Ever muse over your chosen profession and configure in your mind how you would deal with unrelenting hatred and personal-safety dangers while trying to do your best, on behalf of others?
Amid the churning of fabrications about and gross distortions of police work, cops from all corners continue to show up. And that indelible feature was respectfully emphasized as the latest NYPD police cadet class stood where no cop ever wishes to be: On the edge of police culture and its worst-case scenario. Hats off to these future's Finest!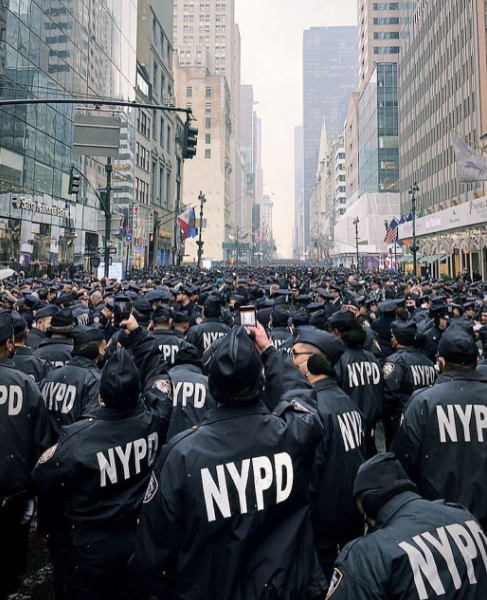 (Photo courtesy of Law Enforcement_IG.)
In a mostly tacit way, America's cops attending police funerals for brothers and sisters fallen in the line of duty are exposed to confirmed commitment that scores of badged heroes stand thickly together on the proverbial Thin Blue Line—a bittersweet layer of their devotion and conviction to each other and the public, on unambiguous display.
The other NYPD cop who was shot alongside Officer Rivera succumbed to his bullet wound days after the shooting. The police funeral commemorating Officer Wilbert Mora, who was also posthumously promoted to detective first grade, is being held as these words are written.
The white gloves donned by thousands of law enforcement officials are getting plenty of jut lately, in both the gleeful and sorrowful occasions we mentioned above. In either event, cops band together to support each other in the ongoing fight to safeguard themselves and the citizens they serve, striving to keep streets safe and ranks robust.
We conclude with a heartfelt message from the National Fraternal Order of Police, words underscoring our topic today: "Nothing we do, do we do alone. While the Thin Blue Line may bend, the more than 800,000 men and women of law enforcement will not let it break. Not now, not ever. We have the watch from here…"