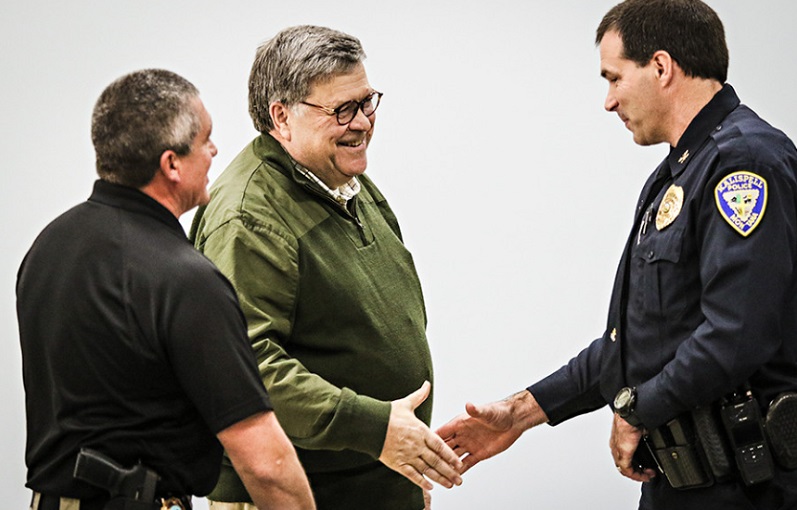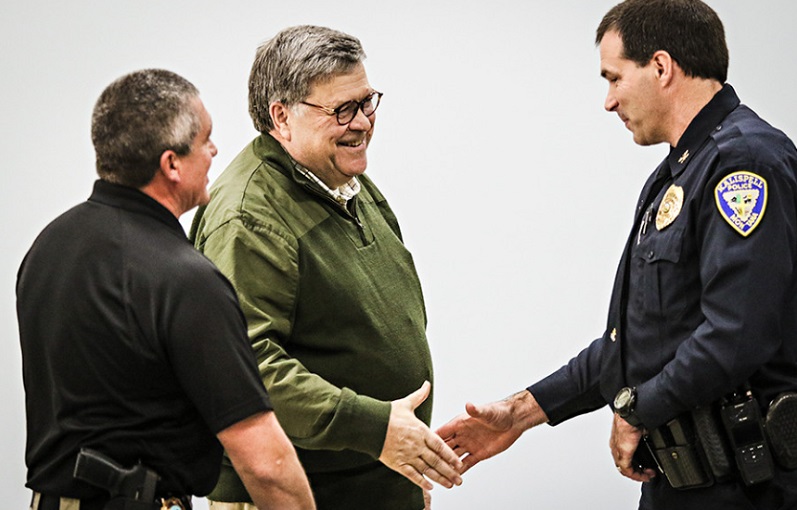 By Steve Pomper 
For law enforcement officers, especially those who've suffered under previous anti-police U.S. attorneys general, current Attorney General Bill Barr is the gift that keeps on giving, which is appropriate as Christmas is nigh (no, I'm not going to break out, singing carols).
Last September, I wrote about a marvelous speech at an FOP conference in New Orleans AG Barr gave to support the nation's law enforcement officers. "Any official can utter nice-sounding but insincere words and they often do. But not only did Barr hit the right notes but also, he sang a sincere aria of praise for the nation's cops. Between the 'chaos and the carnage' and the 'civilized and tranquil society we all yearn for,' he said, 'is the thin blue line.'"
I'm happy to say, unapologetically pro-cop AG Barr isn't through praising the police. While his actions and words, have shown how much he supports law enforcement, it seems he's not done declaring to the public—and the police—how he feels about cops. He has a genuine respect and affection for these dedicated public servants.
The Attorney General recently wrote an article published by the New York Post. His first sentence captures the environment police work in today. "Serving as a cop in America is harder than ever–and it comes down to respect."
AG Barr blames an ominous "deficit of respect" for cops that hurts police recruiting and officer retention, which places communities at risk. Too many jurisdictions seem to believe their cops are robots who are not emotionally affected by disrespect the way other human beings are. The AG's heartfelt sentiments humanize law enforcement officers.
The Attorney General calls attention to the murders of three American police officers just this month: Sgt. Christopher Brewster, Houston (TX) P.D., Ofc. Stephen Carr, Fayetteville (AR) P.D., and Det. Joseph Seals, Jersey City (NJ) P.D. They were all shot, respectively, while responding to a domestic violence incident, ambushed while sitting in a patrol vehicle, and killed by suspects in the Jersey City massacre.
It's likely Det. Seals was planning on Christmas being his next family gathering. Instead, his family, friends, and thousands of officers gathered for his funeral, which AG Barr noted was last Tuesday. And, a sad coincidence, Ofc. Stephen Carr's father is a retired Houston police officer.
The Attorney General reiterates his belief law enforcement is the toughest job in the country and laments, "Policing is only getting harder." He emphasizes cops have to "handle the fallout from a vast range of social pathologies" that family members, social workers, and psychologists used to handle. AG Barr highlights the proliferation of untreated mental health, homelessness, and drug addiction as primary concerns for law enforcement.
The AG again channels officers concerns when he comments on how "demoralizing" it is for cops to work in jurisdictions where officers risk their lives to take dangerous criminals off the streets only to have "social-justice" DAs and judges lose those predators back into their communities to revictimize people. He says these criminal justice system officials no longer believe their duty is to protect communities from criminals. Their duty seems to be to serve their political ideologies above all else.
He mentions prosecutors who place cops at greater risk because they refuse to prosecute suspects who resist police. Boston's Suffolk County DA Rachael Rollins springs to mind. AG Barr calls the nation's attention to the fact, "Assaults against police jumped 20 percent from 2014 to 2017, up to about 60,000 a year."
Referring to law enforcement as a "noble calling," AG Barr also notes the profession's dichotomy having both "demanding" and "uniquely rewarding" characteristics. Although while demanding persists, rewards are harder to find.
He calls attention to crime fighting as unending with "no final victory." He notes the severe toll the job takes on cops, which places police officers, more than any other profession, at a higher risk of suicide.
Here's just one firsthand abbreviated account of what cops see that most people never will. About twenty years ago, just before Christmas, I responded with another officer to a domestic disturbance that turned out to be a robbery with a stabbing.
A family had temporarily taken a man in to help him out over the holidays. The father was at work and mom and her 10-year-old son were at home. The man arrived, knocked and then kicked in the locked door, knocking the boy who had come to open the door onto the floor. The boy ran and hid, as the man grabbed a knife and demanded the woman write him a personal check. She wouldn't, so he stabbed her—five times.
When we arrived, the boy met us. He was hiding behind the bottom of the steps to their apartment. He was crying, "He's killing my mom!"
We entered the apartment and saw a man flipping through a checkbook. There was a bloody knife sitting on the counter next to the man. We arrested and secured him and began performing CPR on the woman. Medics arrived and raced her to the hospital where she was pronounced dead. Her husband worked at that hospital.
We later learned the little boy had watched the man stab his mother while hiding behind the family's Christmas tree.
Not one Christmas has come where I don't think about that family, especially that little boy.
As bad as this incident was, cops respond to similar incidents and even worse all the time. This is what AG Barr is referring to when he praises law enforcement officers and recognizes the carnage and chaos officers have to deal with daily.
He reminds us that three times the number of cops killed in the line of duty kill themselves. Triple! While there are many circumstances driving officers to take such drastic actions, I think there is an argument that some of them might also qualify as line-of-duty deaths. Stress and trauma affect people in different ways. It's so often hard to recognize until it's too late.
AG Barr delves deeper into the difficulty agencies are having finding and attracting qualified candidates who even want to enter the profession. Further, it's increasingly difficult to retain officers they already have.
For example, in the most recent departures from my department, the Seattle P.D., most of the officers who left did not retire; they resigned. As I've said before, I retired at least 10 years sooner than I might have because of not only a lack of city government support for officers but also because of its outward antipathy toward them.
He refers to a "stark reality," when he says without "a renewed appreciation" for the nation's cops, "there won't be enough police officers to protect us." I can vouch for this sentiment. After the 911 attacks, I saw, heard, and felt the appreciation from the public. People proactively thanking us for our service was a strange but a pleasant experience. But it didn't last long, and the bad feelings toward cops got worse than it had been before 911.
And after eight years of an anti-law enforcement federal administration, hostility toward cops has never been worse. Many politicians who previously had quiet ambivalence for law enforcement officers abandoned it for an active antagonism for cops. With these people in charge of discipline, how can a police officer possibly hope to be treated fairly if they become entangled in a high-profile use-of-force incident?
AG Barr writes, "As a country, we need to do more to recognize the sacrifice and the service of law enforcement." He would like to see citizens showing their appreciation for people who chose such a difficult "life of public service."
The Attorney General stresses the Trump administration has as a top priority backing cops. In furtherance of his goals, the President has formed a commission to study the main challenges law enforcement faces. No such commission has been formed since the 1960s.
Like a great big Barr hug (yes, I just did that) for the nation's peace officers, the AG concludes his "Christmas card" to America's cops with this eloquent notion: "When we show our respect and appreciation for our police, it says more about our love of liberty and justice than perhaps any other act."