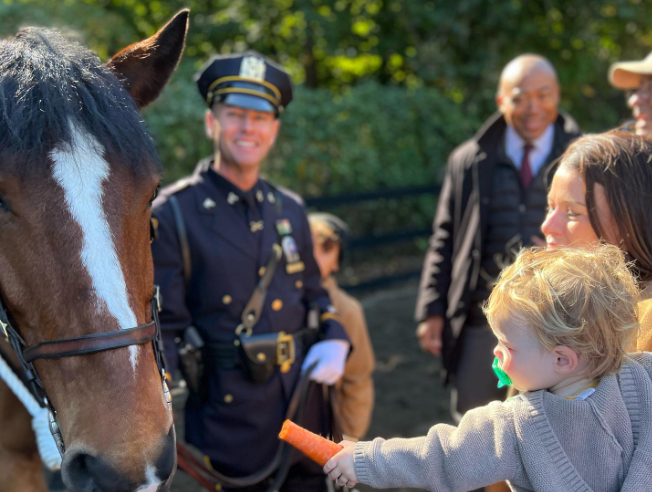 It is not every day that police cadets endure the rigors of the police academy and receive carrots as rewards for their hard work, but a batch of 10-foot NYPD cops did and hoofed it to a generous round of applause.
On October 20, 2022, the New York City Police Department's Mounted Unit welcomed a fresh batch of police horses to its stable of four-legged crimefighters who also serve as excellent public relations icons, and those in attendance who were specially invited had a graciously warm gesture in store.
The brass at One Police Plaza generated honorable sentiments by naming the newly minted police horses after some of its fallen law enforcement officers who perished in the line of duty.
"Congratulations to the newest 10-foot cops who graduated from our remount school in the Bronx. They will now join the select members in the Mounted Unit along with 5 horses named for fallen NYPD heroes," read an NYPD bulletin.
The fallen officers' family members were invited and gifted shadowboxes containing a full-size NYPD police badge, a photograph of the respective horse that will bear their loved one's name, and a commemorative inscription atop which are the words New York City Police Department, all beautifully framed with a medium-blue background.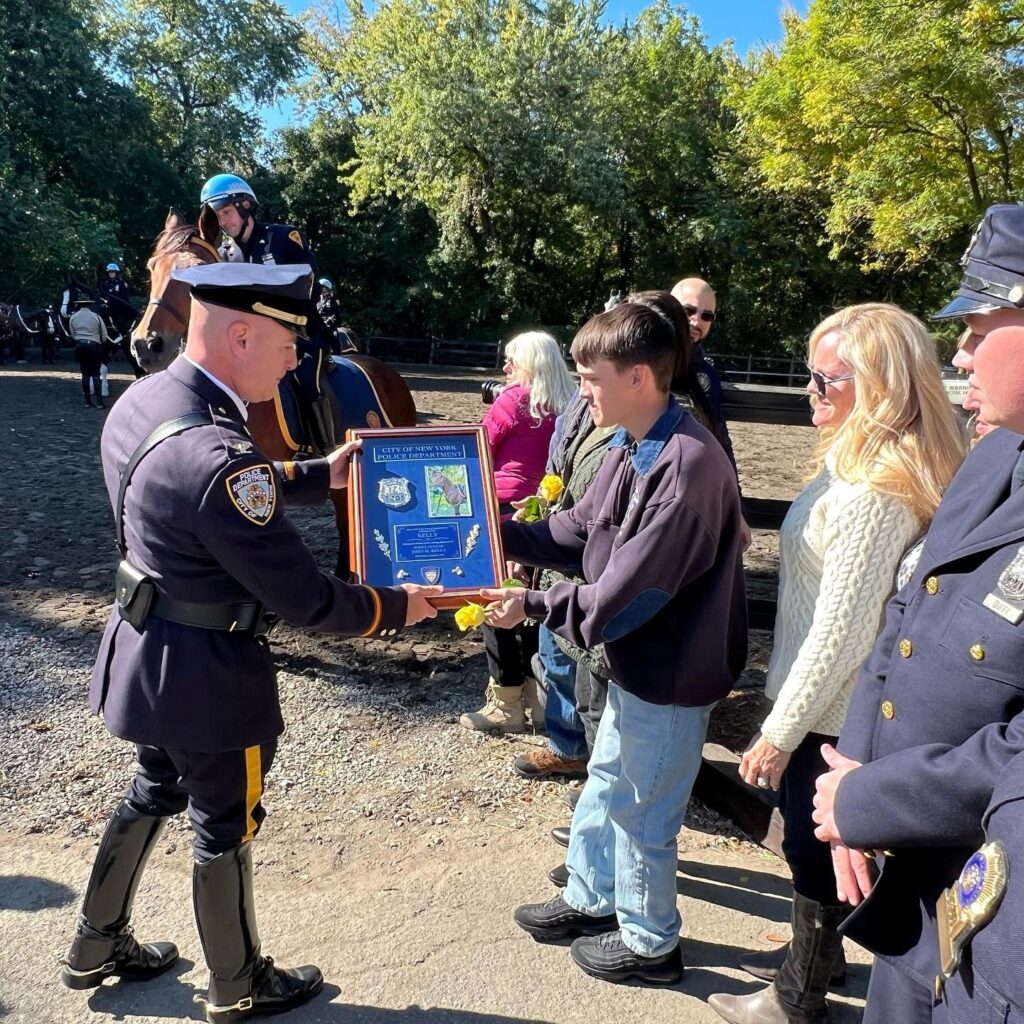 (Photo courtesy of the NYPD.)
Just like the fallen NYPD cops whose duties engaged a variety of aspects on the beat, Gotham's saddled service animals are busy in multiple facets of law enforcement.
Operating under the Special Operations Bureau of the nation's largest municipal law enforcement agency, the NYPD's Mounted Unit officers "are normally assigned to patrol duties, but also play an important public relations role in police and community relations. The Mounted Unit is an effective crime deterrent and is often used for crowd control at demonstrations, protests, concerts, sporting events, and parades throughout the city," the department's organizational chart indicated.
(Photo courtesy of the NYPD.)
The NYPD's Mounted Unit has been in existence since the agency's inception in 1858, regulating and enforcing traffic laws "on horse riders and carriages on the streets of the city."
Per Deputy Inspector Barry Gelbman, the NYPD's Mounted Unit commanding officer, the agency's police horses serve roughly ten years before they are retired from city-owned stables and receive retirement support while living out the rest of their lives on any of three farms as retirees of the city of New York.
While in service, though, NYPD horses work full time.
Anyone from anywhere who has visited New York City's world-renowned Times Square has invariably observed an NYPD cop atop a police horse whose significant height enables the human partner to have the advantage of an aerial view of the goings-on and navigate spaces too narrow for police cars.
Similarly, the citizenry can readily see police officers on horses, and render feelings of safety. Conversely, any illicit-minded malcontents in the crowd may reconsider intentions of unlawful activities.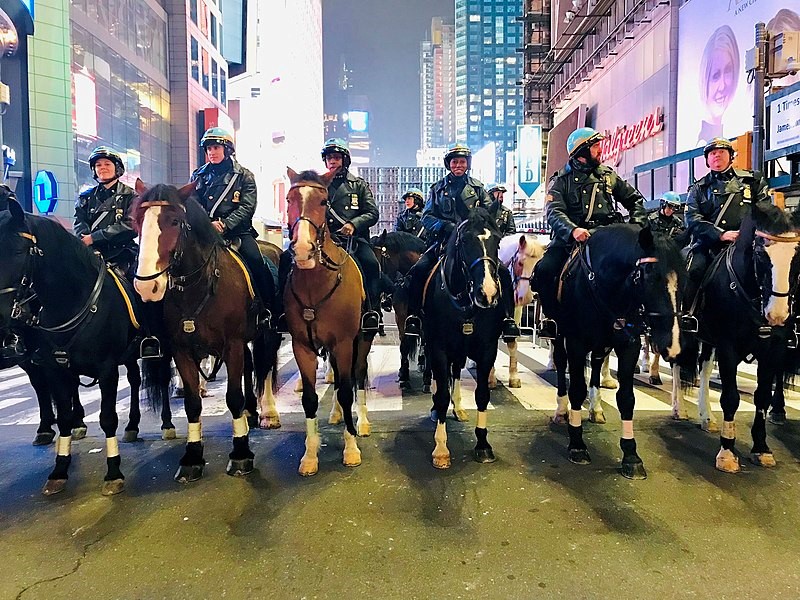 (Photo courtesy of the NYPD Mounted Unit wiki.)
Teambuilding
NYPD police executives and certified cops trained and knowledgeable in equine dynamics frequently take trips to Pennsylvania, spend time observing horses offered for sale on ranches, select a batch they believe have certain features lending well to police work (highly trainable with admirable dispositions), then narrow it down to five or so horses to purchase and take home…much like talent scouts do in any teambuilding realm.
Once sworn in as certified NYPD police service animals, each horse is trained by the NYPD cops who comprise the Mounted Unit, specifically tailored to duty on city streets and all that goes with public safety operations in a metropolis whose buzz never ceases.
In total, the NYPD Mounted Unit has about 100 police personnel and a complement of 55 police horses divested across four of its five boroughs (counties) comprising the NYPD's jurisdictional scope. Troop B in Manhattan employs many horses, especially in Central Park and its expansive terrain laden with a landscape whose navigation is ideal for horseback patrols.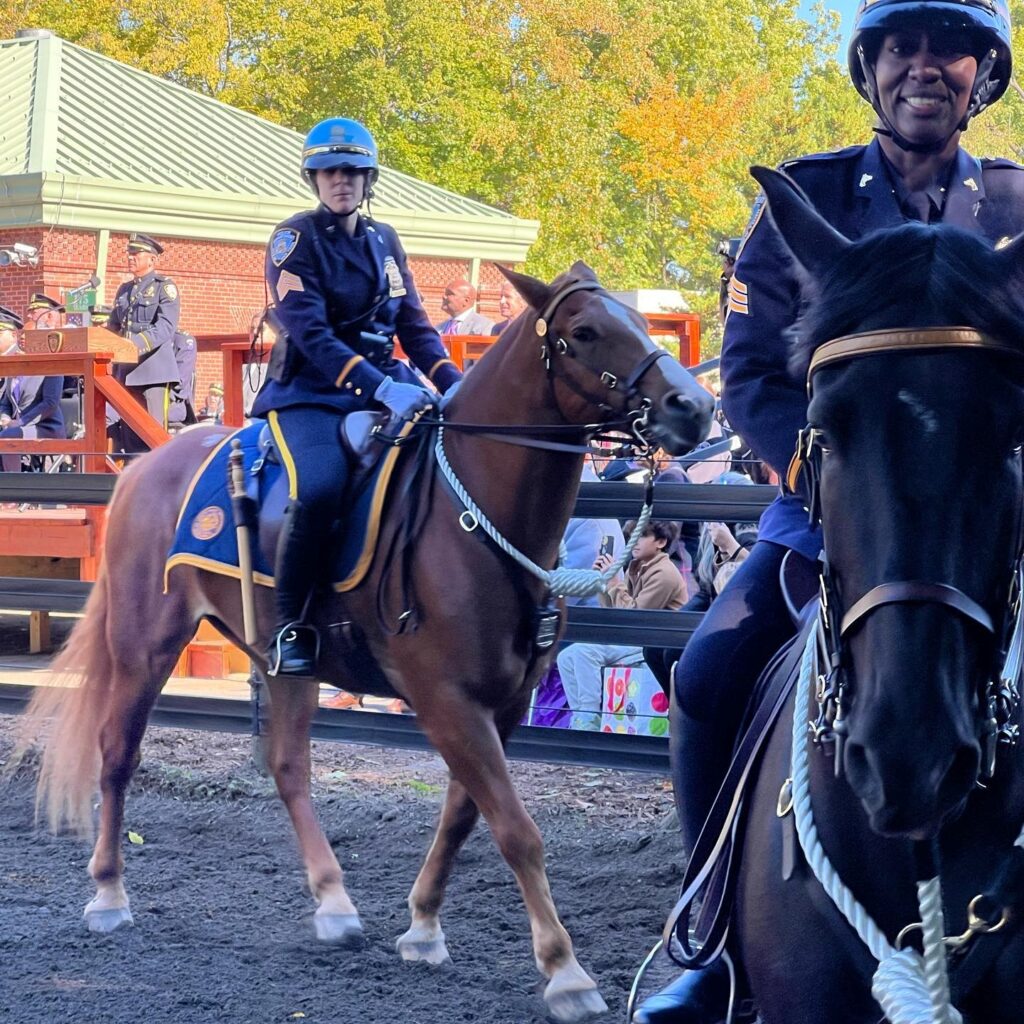 (Photo courtesy of the NYPD.)
Speaking of ideal navigation, the oft-called "concrete jungle" referencing the labyrinth of New York City streets and gobs of motor vehicular traffic and sidewalk gratings venting the subterranean train system, the equine skills and calculus involved in police horse riders' observations can seem like a major motion picture acted out right before your eyes. It is real, though…
Unlike the bygone era of the wild, wild west whereby sheriffs caught their criminals and secured them on horseback for the ride back to the town pokey, modernity's not-gonna-go-willingly human nature mitigates feisty catches by Mounted Unit cops by giving chase while radioing for radio mobile patrol (RMPs) officers to intersect and go hands-on with suspects. Here is a brief example that occurred recently:
That sensational police response reminds me of a hugely popular TV series I watched as a child growing up in NYC. Called "McCloud," it was a cop show based on a cowboy-type lawman (played by actor Dennis Weaver) crimefighting in Manhattan, with chase scenes exactly like the one in that video you just viewed.
New York City has a rich history of horses among its crimefighting complement of resources trained to ensure public safety in "the city that never sleeps."
Farriers and Police Horse-Centric Duties
Despite the pandemic-caused lockdowns virtually reducing Gotham to a ghost town, the city that never sleeps carries on with routine maintenance of law enforcement assets to keep ship-shape mobility at the drop of a hat.
Like NYPD RMPs (cop cars) cruising the streets 24/365, the agency's Mounted Unit jockeys in for pit stops now and then. Employing specialized equine tools made for custom work on horses, the unit's farriers are skilled in performing necessary refurbishments such as de-planting and implanting horseshoes after city-street wear and tear requires attention, even deploying a mobile NYPD van uniquely outfitted to meet horse needs right where the horse stands, anywhere in the city.
Akin to police canines, the department's horses are well cared for, certified crimefighters going the distance on behalf of the community and its constituents.
One of the fascinating attributes the NYPD invented for its entire cadre of horses is an ultra-healthy grain feed formulated and patented by department personnel. That is esoteric info; however, it highlights the care and compassion mounted cops exude for their equine assets.
Moreover, as animal therapy has become increasingly rooted in law enforcement, catering to the welfare of those who serve and are psychologically impacted by raw depravity encountered during daily responses, police service animals herald a barnful of beneficiaries, honorably carrying on the legacies of duty-related casualties.
Thus, the newest batch of Mounted Unit horses culled from Pennsylvania ranches arrive with origins commemorating officers killed in the line of duty and honored by their namesakes bestowed upon these 10-foot cops. Newly acquired and specially trained police horses named after fallen cops is an NYPD honor harnessing the public safety mission.